This Easy Split Pea Soup with Ham is like your favorite cozy blanket, in soup form! Smoky, hearty, and full of protein, this is a meal worth savoring.
Split Pea Soup Recipe
I love classic recipes! The tried-and-true favorites are often fun and easy to master, and they're so rewarding to serve up to a hungry tribe. This split pea soup is definitely one of those, thanks to its delicate but smoky flavor and light but hearty texture. The magic is in the split peas, a truly humble ingredient! Split peas are cheap and easy to find, and they have a wholesome, natural flavor that's something between sweet English peas and dried beans: flavorful but light and just a touch sweet.
I love the floury texture of well-cooked split peas, and how some of them fall apart while others keep their form. It gives the soup a lovely warming thickness, without having to add a slurry or roux to get there.
What Are Split Peas?
Split peas are a legume, often prepared in saucy or soupy dishes. The flavor is mild and slightly sweet, perfect for various spices! For this split pea soup, we'll skip the heavy seasonings and go with simple flavors: carrots, onions, some ham, and earthy herbs.
You might also be familiar with split peas as "dal" or "daal." Indian recipes call for dal all the time, and it is really tasty and makes an amazing variety of delicious dal dishes.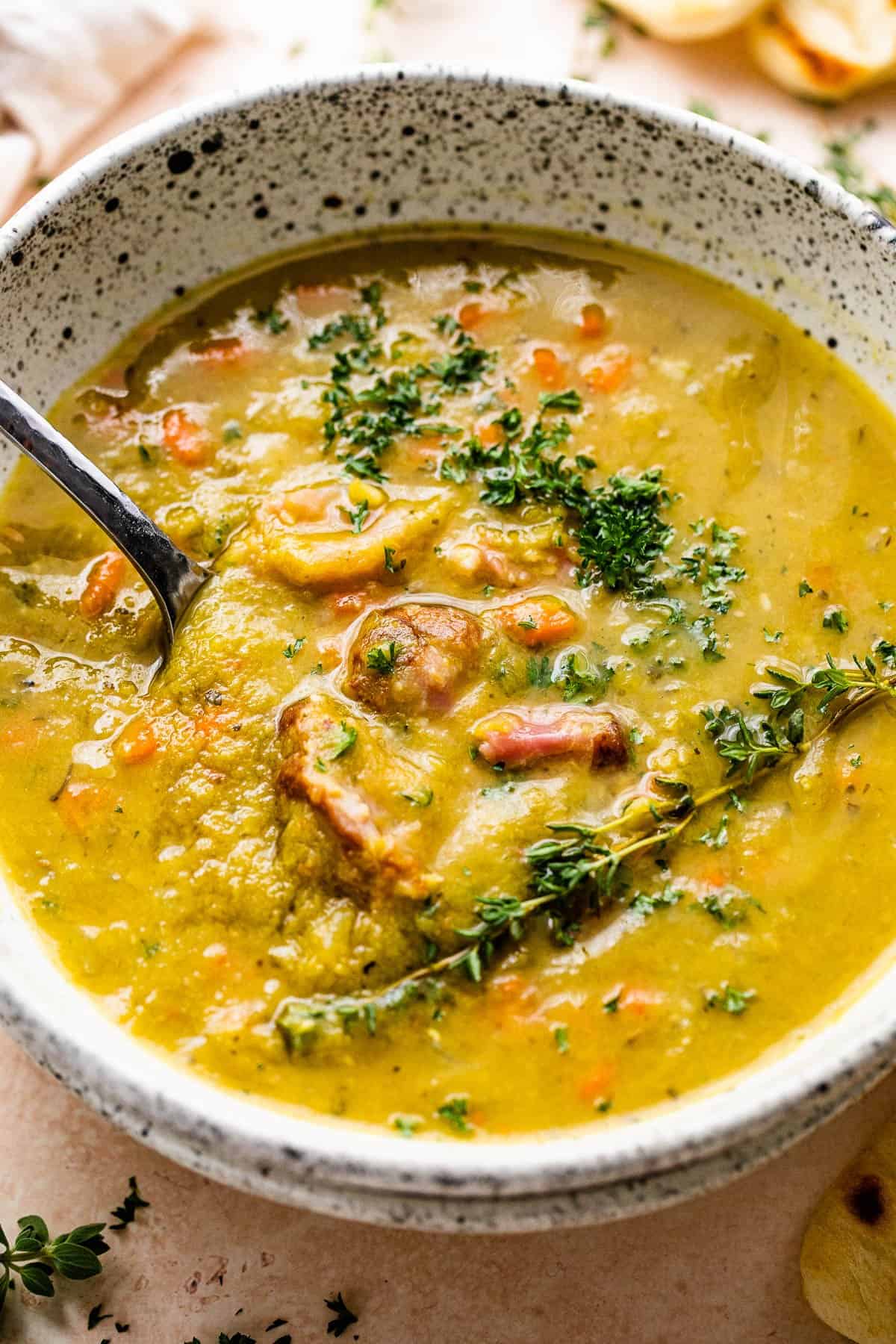 Ingredients For Split Pea Soup
The ingredients for this recipe are simple, and that's part of what gives it its homespun flavor! It's a perfect soup for an easy weekend meal. Please scroll down the page to the recipe card for the complete recipe.
Butter & Olive Oil: I use a tablespoon of butter and a tablespoon of olive oil for sautéing.
Celery: You'll need three celery stalks, diced.
Carrots: Along with the celery, dice up two small carrots.
Onion: For the onion, you can go with any type, but I usually use yellow onion.
Garlic: Mince or press three cloves of fresh garlic.
Broth: Have ready 6 cups of low-sodium chicken broth. If you'd like to substitute, this recipe also works well with vegetable broth or homemade bone broth.
Water: You'll need two cups of water in addition to the broth.
Split Peas: You can use green or yellow dried split peas; green is most common. Either way, 16 ounces are needed for this recipe.
Bay Leaves: Two medium bay leaves give a classic homemade flavor.
Dried Thyme & Oregano: Use one teaspoon of each.
Salt & Pepper: To taste.
Ham: I recommend ham hocks or a meaty ham bone.
How to Make Split Pea Soup
Cook Veggies: In a large pot, melt butter with olive oil over medium-high heat. Sauté chopped celery, carrots, and onions for 4 minutes, then add garlic for 1 minute.
Add Ingredients: Add chicken broth, water, split peas, thyme, oregano, salt, pepper, bay leaves, and ham bone. Caution: go light on salt as the ham is salty!
Cook: Bring to a boil, then simmer covered for 1 hour and 20 minutes, checking at the one-hour mark for doneness.
Chop Ham: Remove ham bone carefully (avoid splatters), let cool, then shred or chop the meat, discarding bones or skin.
Finish Soup: Return ham to soup, cook for 1 minute, and adjust seasoning if needed. If too salty, add water to dilute it.
Enjoy! Serve garnished with parsley.
How To Make It In The Crockpot
Exclude the 2 cups of water and parsley, and add all the other ingredients to a 6-quart slow cooker. Cook on LOW for 8 hours or on HIGH for 5 hours.
Remove the ham, shred it or chop it, and return it to the soup. Garnish with parsley and serve.
Do split peas need to be soaked before cooking?
Split peas, like lentils, cook fairly quickly and don't have to be soaked first as many large beans do. However, a lot of cooks swear that a good overnight soak helps to remove some of the chemicals that make legumes hard to digest. So, if you have a sensitive stomach when it comes to beans and peas, feel free to give them a soak first. Rinse them well after soaking and proceed with the recipe.
Tips and Variations
What can help you make sure this recipe turns out perfect? These handy tips and tricks, of course! Here's to a delightful dinner!
Change It Up: Split Pea Soup can work with almost any add-ins, from curry sauce to potatoes, to fresh crab meat (that one should go in at the last minute to avoid overcooking!). Some people also love adding fresh English peas to their split pea soup.
Ham Options: If you'd rather not use ham hocks or a ham bone, you can still get the flavor by simply stirring cubed ham into the simmering soup. Plus, there's no need to remove and chop. Split pea soup is also great with leftover corned beef, sliced sausage, bacon crumbles, or no meat at all.
Rinse & Sort: Don't forget that raw split peas, like other legumes, are natural ingredients that should always be rinsed and sorted before eating. "Sorting" means that you look through the peas to remove any damaged ones (or the occasional small pebble!). Pro tip: it's easiest to rinse split peas in a large sieve. They are so small that many times they run right out of the holes in a colander!
What To Serve With Split Pea Soup
I think a good bowl of soup is a meal in and of itself, but my kids say it isn't complete without something on the side! If you're on the fence, maybe one of these tasty side ideas will tip you over:
How to Store and Reheat Leftovers
To store leftovers, place the soup in an airtight container and refrigerate it for up to 4 days.
To reheat it, place the desired amount into a saucepan and cook over medium heat until piping hot, stirring frequently.
To freeze, transfer the completely cooled soup to airtight containers. Leave a little room for the liquid to expand as it freezes. Freeze for up to 4 months.
Thaw overnight before reheating.
ENJOY!
Easy Split Pea Soup with Ham
Smoky, hearty, and full of protein, this Easy Split Pea Soup with Ham is a meal worth savoring!
Ingredients
1

tablespoon

butter

1

tablespoon

olive oil

3

celery stalks,

diced

2

carrots,

diced

1

small

yellow onion,

diced

3

cloves

garlic,

minced

6

cups

low sodium chicken broth

2

cups

water

1

bag (16 ounces)

dried split peas

2

bay leaves

1

teaspoon

dried thyme

1

teaspoon

dried oregano

salt and fresh ground black pepper,

to taste

1¼

pound

ham hocks or a meaty ham bone

chopped fresh parsley,

for garnish
Instructions
Heat olive oil and melt butter in a large pot or Dutch oven set over medium-high heat.

Add chopped celery, carrots, and onions; cook for 4 minutes. Stir in garlic and cook for 1 minute.

Stir in chicken broth and water.

Stir in split peas, bay leaves, thyme, and oregano; season with salt and pepper. Don't use too much salt because the ham hocks are already salty.

Add ham hocks to the pot and bring mixture to a boil.

Reduce heat to low, cover the pot, and let simmer for about 1 hour and 15 minutes. Stir occasionally. The soup is ready when the peas are soft. Start checking it for doneness around the 55-minute mark.

Remove ham from soup and let rest for several minutes, or until cooled enough to handle. Then, shred or chop up the meat into smaller pieces. Discard bones and skin.

Add chopped ham back into the soup. Cook for a minute.

Remove from heat. Taste the soup for salt and pepper and adjust accordingly.

Ladle the soup into bowls, garnish with parsley, and serve.
Notes
Ham Alternatives: If you don't have a ham bone, you could use diced ham or even smoked sausage for a different twist on flavor.
Adjusting Consistency: If the soup is too thick for your liking, you can add more broth or water to reach the desired consistency. If it's too thin, let it simmer uncovered for a little longer.
Vegetarian Version: You can make a vegetarian version by omitting the ham and using vegetable broth instead of chicken broth.
Spice It Up: Feel free to add more herbs or spices to taste, such as a pinch of cayenne for heat or some fresh rosemary for depth.
Avoid Over-Salting: Since the ham (especially if cured or smoked) adds saltiness, taste as you go, adding salt gradually as needed.
Storing and Reheating: This soup freezes well. Store in airtight containers for up to three months. Reheat on the stove, adding a bit of water or broth if it's too thick after freezing.
Slow Cooker Option: If you prefer, you can make this soup in a slow cooker, excluding the 2 cups of water, and adjust the cooking time to 5 hours on high or 8 hours on low.
Nutrition
Serving:
1.5
cups
|
Calories:
500
kcal
|
Carbohydrates:
40
g
|
Protein:
38
g
|
Fat:
21
g
|
Saturated Fat:
8
g
|
Polyunsaturated Fat:
2
g
|
Monounsaturated Fat:
10
g
|
Trans Fat:
0.1
g
|
Cholesterol:
81
mg
|
Sodium:
276
mg
|
Potassium:
1086
mg
|
Fiber:
16
g
|
Sugar:
6
g
|
Vitamin A:
2754
IU
|
Vitamin C:
4
mg
|
Calcium:
77
mg
|
Iron:
4
mg
|
Net Carbs:
24
g
Nutritional info is an estimate and provided as courtesy. Values may vary according to the ingredients and tools used. Please use your preferred nutritional calculator for more detailed info.
Categories:
More Soup Recipes to Try
Craving more comforting soups to cozy up with? These recipes will warm your heart and treat your tastebuds!