My Crispy Air Fryer Onion Rings are sweet, crunchy, and delicious! Lightly breaded with egg, milk, and seasoned Panko, they're also a healthy option, cooked in the Air Fryer!
Crispy Air Fryer Onion Rings
I might be a little bit obsessed with my air fryer, you guys. The food it makes is just so good! And I really love the fact that you need just a spoonful of oil in order to use it. Using my air fryer saves not only time, money, but even calories! 🙌
Don't get me wrong! Deep frying can be fun, the results are super tasty, and I'll always be a big fan of traditionally fried onion rings 👈 here's my favorite recipe for those, by the way. But, these are a fabulous, easy, and a light alternative. With minimal effort and just a few simple ingredients, you can throw a batch of scrumptious, hot onion rings together, and makes for an ideal side dish, anytime!
Is Air Fried Food Healthy?
So, is food cooked in an Air Fryer good for you? Well, it depends on what you fry! If you are using highly processed foods, there's just not much you can do to make them healthy. But, simple dishes like this one are definitely healthier in the air fryer.
The innovative high-heat cooking design of the Air Fryer produces crispy, crunchy, delicious "fried" food with only a tiny bit of oil. That means a lower-calorie, lower-fat version of all your favorite fried foods! Works for me. 🤷‍♀️
Recipe Ingredients
Onions: For this recipe, you'll need one or two large, sweet onions. Trim the ends off, peel away the skin, and cut into thick rings.
Flour: You can use any type of flour to bread the onion rings! Almond flour, coconut flour, a gluten-free blend, or your favorite all-purpose flour. It's all good, it all works! My favorite choice is coconut flour.
Eggs: Lightly beat 3 large eggs.
Milk: 1/3-cup of milk adds a touch of sweetness and improves the texture of the batter.
Panko: I use 2 cups of the gluten-free pork panko crumbs for this recipe, but you could also use regular panko, or your favorite breadcrumbs.
Chili Powder, Garlic Powder, and Paprika: Half a teaspoon of each, to season the breading mix.
Salt and Pepper
Dipping Sauces: For serving, you can use use ranch, ketchup, honey mustard, or whatever you like.
What Type of Onion is Best for Rings?
Onion rings are usually made from white or yellow onions, and they do make tasty rings! However, I think that what really makes an onion ring special is the sweetness of the onion. For that reason, I recommend using Vidalia onions, Maui onions, or even red onions.
How to Make Homemade Onions Rings
Prep Your Air Fryer, Onions, and Breading Ingredients. Preheat your air fryer to 375˚F. Carefully separate the onions into single rings. Place the flour in one shallow bowl, and whisk the eggs and milk together in a second shallow bowl. Finally, combine the panko crumbs, chili powder, paprika garlic powder, salt, and pepper in a third bowl.
Bread the Onion Rings. Dip the onion rings in the egg mixture, then the flour, coating well on all sides. Then dip the onion rings back into the egg mixture. Finally, dip each ring into the panko mixture; use your fingers to press the crumbs onto the onions. This part gets a wee bit messy, but it's worth it. 😋
Air-Fry the Onion Rings. Spray the air fryer basket with cooking oil. Working in batches, place onion rings in the basket, leaving a little bit of room in between the onion rings. Spray the onion rings with cooking oil, then air-fry for 5 minutes. Flip the onion rings; spray with cooking oil again, and cook for 5 more minutes.
Serve. Remove the onion rings from the air fryer basket and set aside as you work through the batches. You can keep them warm in a low oven (set at 250°F), if you like, until all of them are cooked. Serve with dipping sauces.
Tips for Success
What else should you know about making onion rings in an air fryer? Good question! I do have a few tips and tricks here to help make the process smooth and successful!
Chill Out: Some chefs swear by using chilled onion rings, saying that the chilling process helps the onion rings cling to the breading mixture more effectively! I'll take it!
Go Easy on the Egg: You'll notice that there's not a traditional thick batter in this recipe, and that's very important! Very wet or battered ingredients don't do well in the air fryer. So be sure to let the excess egg and milk mixture drip off of each onion ring before you finish breading it!
Avoid Aerosol: You probably already know this, but when you mist or spray oil into the air fryer, it's best to use ordinary cooking oils in non-aerosol containers. The aerosol agents in those spray cans can actually damage the air-fryer basket over time. Just an FYI.
What Goes with this Crispy Air Fryer Onion Rings Recipe?
So what should you serve with your snazzy fresh onion rings? Well, that's a great question, and it's one with plenty of answers. Read on for some of the tastiest!
How to Store Extras
To refrigerate, store the onion rings in shallow, airtight containers or in food storage bags. Keep in the refrigerator for up to 3 days.
To reheat, you can choose to briefly re-fry the onion rings, or place them on a baking sheet and bake at 350°F until heated through. You can also heat a little oil in a skillet, and briefly saute the onion rings. Cool on paper towels before serving.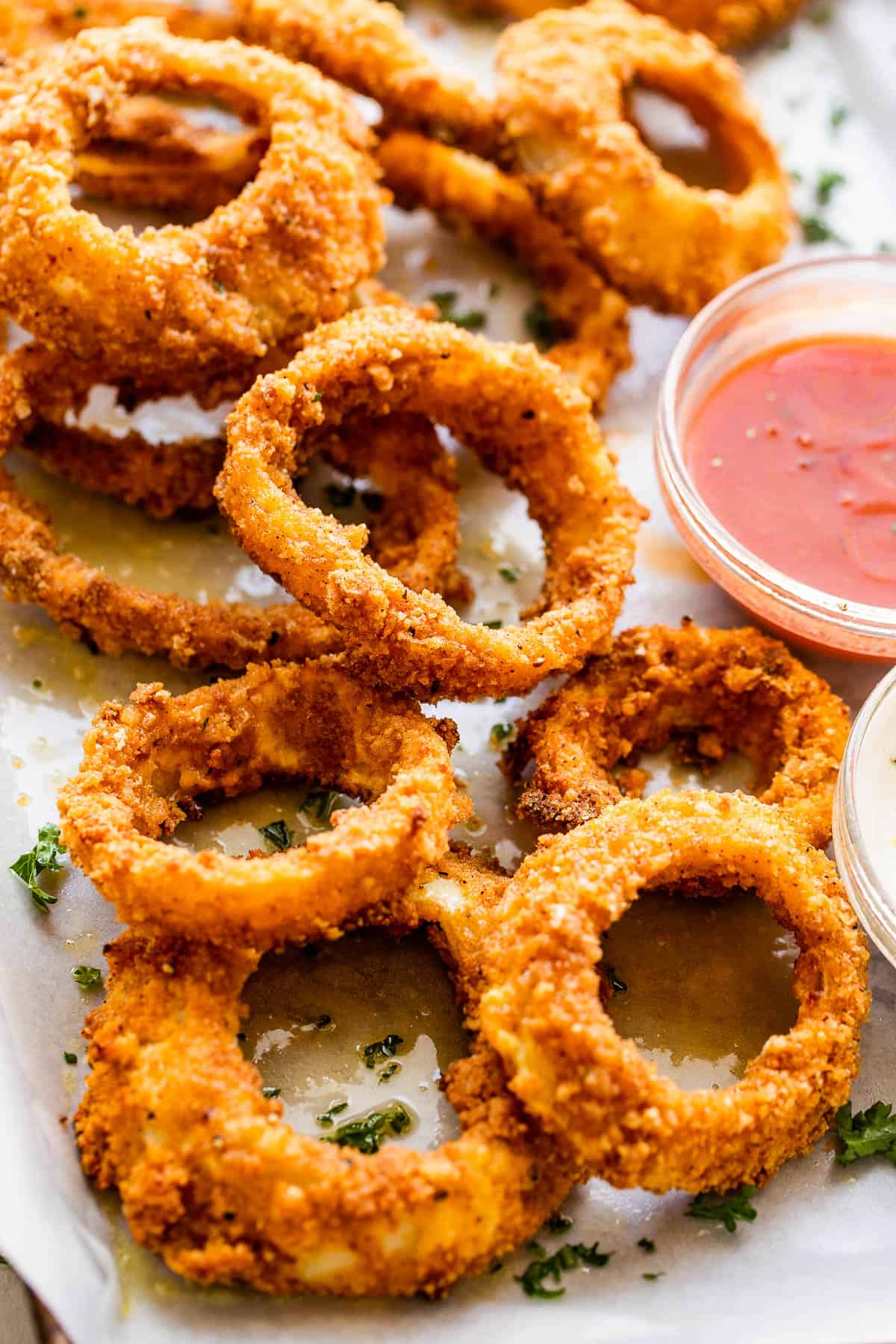 Can I Freeze Cooked Onion Rings?
Yes, you can freeze the cooked onion rings to serve another time! Just place them in a single layer on a tray to cool, and then in the freezer until frozen solid. Transfer the frozen onion rings to freezer bags, and store for up to twelve months in the freezer!
Reheat following the instructions above, keeping in mind that it may take longer to reheat from frozen.
ENJOY!
AIR FRYER ONION RINGS
Crunchy, golden onion rings are breaded with flour, milk, panko, and seasonings, before air-frying to a crispy perfection.
Ingredients
1 to 2

large sweet onions,

trim the ends, peel off the skin, and cut the onions into 1/2-inch-thick slices

¾

cup

coconut flour,

almond flour, gluten free flour, or all-purpose flour work just as well.

3

eggs

⅓

cup

milk

2

cups

pork panko crumbs, you can also use plain breadcrumbs

½

teaspoon

chili powder

½

teaspoon

sweet or smoked paprika

½

teaspoon

garlic powder

½

teaspoon

salt

¼

teaspoon

fresh ground black pepper,

or to taste

Dipping sauces,

for serving: ranch, ketchup, hot sauce, honey mustard, etc…
Instructions
Preheat the Air Fryer to 375˚F.

Carefully separate the sliced onions into rings.

Place the flour in a shallow bowl.

In a separate shallow bowl, whisk the eggs with the milk.

Place the panko crumbs in a separate bowl; whisk in the chili powder, paprika garlic powder, salt, and pepper.

Dip the onion rings in the egg mixture; then, dip in the flour and coat all sides with the flour.

Again dip them back in the egg mixture, coating completely.

Add to the breadcrumbs-mixture to thoroughly coat; use your fingers to press the crumbs to the onions.

Spray the air fryer basket with cooking oil.

Place each onion ring in the air fryer basket; DO NOT crowd the basket. Leave a little bit of room in between the onion rings. You will have to cook the onion rings in several batches.

Spray onion rings with cooking oil.

Cook for 5 minutes.

Flip over the onion rings; spray with cooking oil, and continue to cook for 5 more minutes.

Remove onions from air fryer basket.

Serve with dipping sauces.
Nutrition
Serving:
4
g
|
Calories:
130
kcal
|
Carbohydrates:
10
g
|
Protein:
9
g
|
Fat:
6
g
|
Saturated Fat:
3
g
|
Trans Fat:
1
g
|
Cholesterol:
69
mg
|
Sodium:
331
mg
|
Potassium:
94
mg
|
Fiber:
4
g
|
Sugar:
3
g
|
Vitamin A:
208
IU
|
Vitamin C:
2
mg
|
Calcium:
32
mg
|
Iron:
1
mg
|
Net Carbs:
6
g
Nutritional info is an estimate and provided as courtesy. Values may vary according to the ingredients and tools used. Please use your preferred nutritional calculator for more detailed info.
More Easy Air Fryer Recipes
Air Fryer Steak
Crispy Air Fryer Potatoes with Herb Butter
Air Fryer Buffalo Cauliflower Bites