This Apple Cider Braised Pork Shoulder is an easy and beautiful autumn main course! Made with unfiltered apple cider, Granny smith apples, onions, garlic, and white wine, the flavors are out of this world—and so perfectly cozy.
An Elegant Braised Pork Recipe
When you think of a braised roast, you may immediately think of beef—it's pretty common! In this recipe, though, we're making pork roast, and let me tell you—this easy apple cider pork roast might just become your new favorite! Made with fresh garlic, lots of sliced onions, and seasonal apple cider, this recipe is full of the tastes of fall. It's a great main course for a special occasion or just a Sunday dinner!
Although this recipe has a lot of gourmet flavor, it's very simple to make. Braising is an easy technique that anyone can do, and it turns pork shoulder (and other cuts of meat) into tender, fall-apart masterpieces!
What You'll Need
This simple recipe is warm and cozy, with a classic French vibe thanks to the wine, garlic, herbs, and spices. Let's take a closer look!
Pork Roast: This recipe makes one 3 pound pork shoulder roast.
Salt and Pepper: To taste. I use kosher salt.
Olive Oil: For browning the pork roast, before you braise it.
Onions: Thinly sliced onions give this roast an especially luscious flavor during the low, slow cooking process.
Fresh Garlic: Mince or press 6 cloves of garlic.
White Wine: You'll need ¼ cup of a good dry white wine. If you don't want to use wine, you can omit it and use additional chicken broth, but the flavor won't be quite as deep and developed.
Thyme and Rosemary: Fresh or dried both work!
Paprika: Classic smoked paprika brings a pleasant, barbecue-ish note to the dish.
Cider: In this recipe, I use unfiltered apple cider. If you can't find it, try using an apple juice with no added sugar.
Chicken Broth: Use any chicken or veggie broth that you like.
Apples: Core and quarter two granny smith apples, or another kind of tart apple.
Chopped Fresh Parsley: For garnish.
Is pork shoulder the same as pork butt?
Technically, pork shoulder and pork butt are from the shoulder of the pig. Pork butt, also known as Boston butt, is above the shoulder blades, while pork shoulder roasts come from lower down on the shoulder.
Both cuts are tougher cuts naturally. That's why they also tend to be more affordable (hey hey!). Pork shoulder, like other tough cuts, benefits amazingly from a long, moist cooking process, like braising. That's because a long, slow cooking time breaks down the toughness in the meat, leaving pork shoulder roasts tender, juicy, and super flavorful!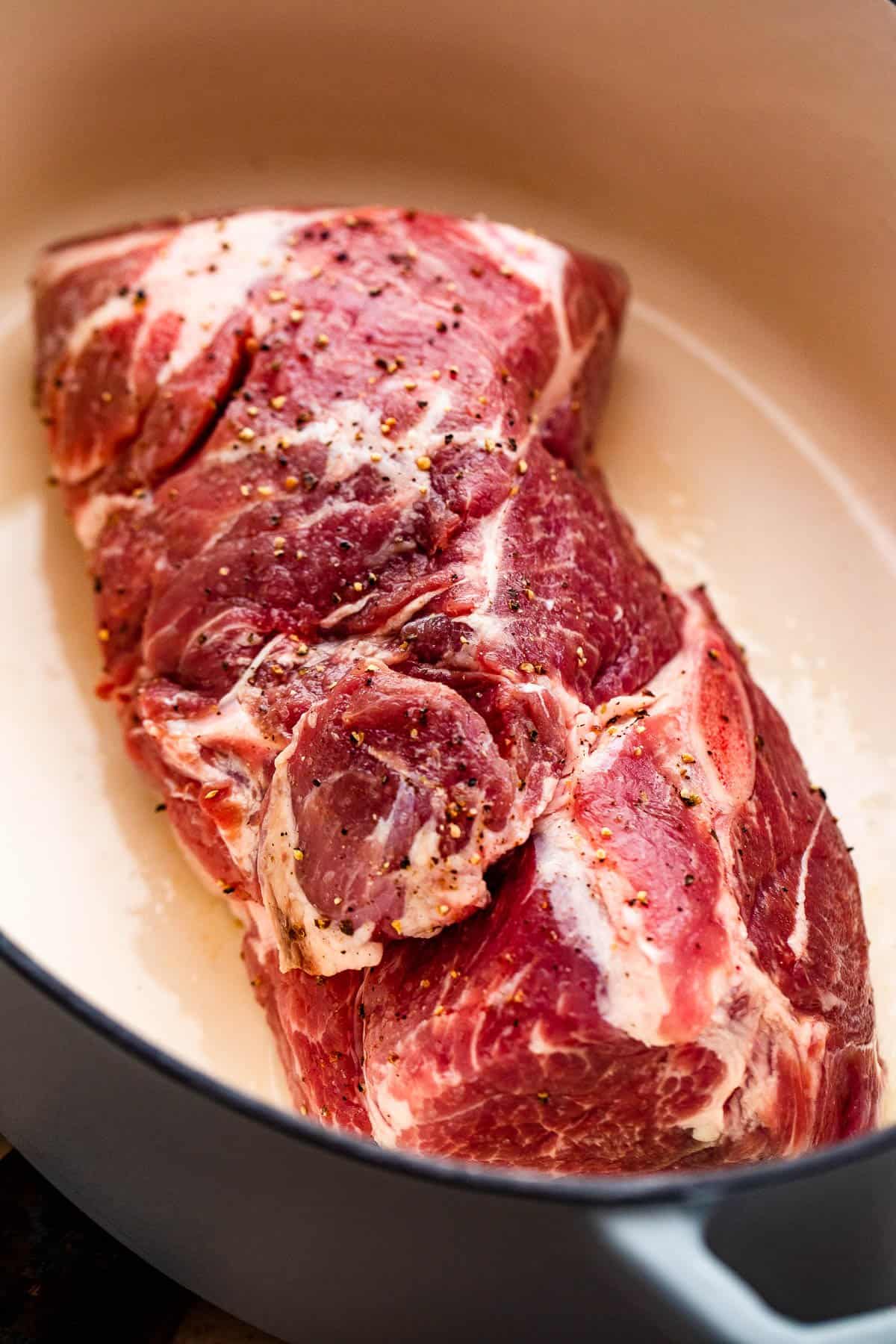 How to Make Apple Cider Braised Pork Shoulder
The Dutch oven is my secret weapon for making this easy roast! It's great, because you can brown the pork shoulder on the stovetop, and then cover it with the lid and put it right into the oven. After that, the pot goes right back on the stove to thicken the sauce. Easy!
Prep the Oven and Brown the Pork Roast. First, preheat your oven to 400˚F. Then pat the pork dry all over, using paper towels. Season it generously with kosher salt and black pepper. After that, heat the oil in your Dutch oven over medium-high heat, and brown the pork for about five minutes on each side.
Make the Braising Sauce. Take the pork roast out of the pot, and set it aside while you cook the onions and garlic. Once the onions are soft, splash the wine into the pot and use a wooden spoon to scrape up any browned bits. Next, add the herbs to the pot, along with the broth and cider.
Braise the Pork. Carefully place the pork roast back into the pot, and bring the liquid to a boil. Next, turn off the heat, and cover the pot with a tight-fitting lid. Finally, place the pot in the oven, reduce the temperature to 350˚F and cook for 2 hours.
Rest the Pork Shoulder and Reduce the Sauce. After two hours (your house will smell heavenly at this point!), uncover the pot and add in the apples. Then replace the lid, and cook for another half hour, or until the pork is done.
Remove pork from the pot and transfer it to a cutting board; let rest for 10 minutes. While it rests, set the pot over high heat and bring the braising liquid to a boil, cooking it for several minutes until it thickens.
Serve. Cut pork and serve with onions, apples, and sauce.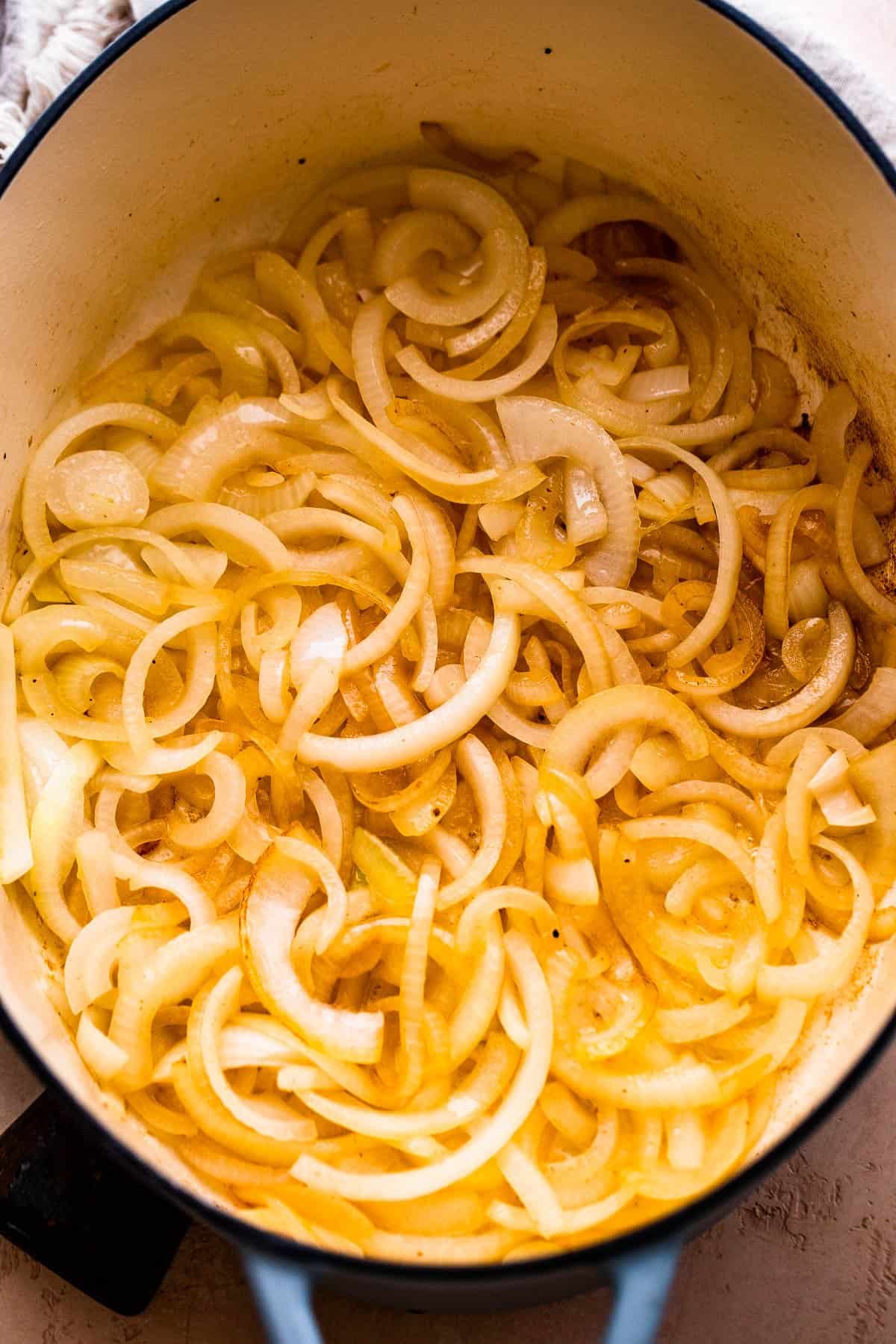 Tips for Success
This recipe is super simple as written, but do check out these helpful tips for making it the best it can be! Bon appetit!
If You Don't Have a Dutch Oven: You can brown the pork and make the sauce in a skillet, and then braise in almost any baking dish. It just needs to have room for the liquid, and a tight-fitting ovenproof lid. No lid? Cover the dish with aluminum foil.
Cube the Pork: If you like, you can make this recipe with cubes of pork shoulder. That makes for easier portioning and serving, and cubes of pork generally cook faster than a whole roast. Win-win!
Add Cream: To make the gravy creamy, whisk in ¼ to ½ cup of heavy cream as it boils.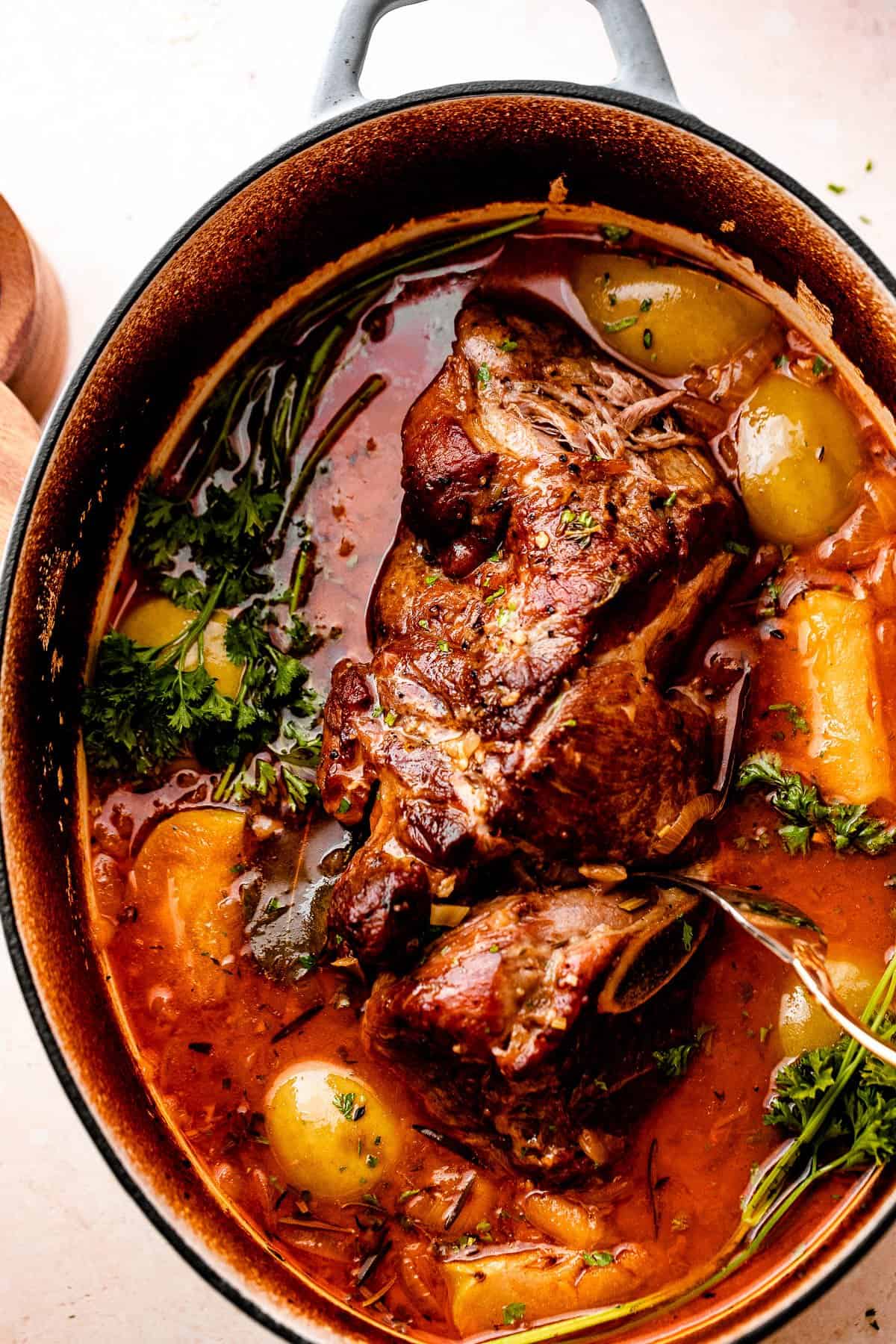 Serving Suggestions
After a long flavorful braise, this pork shoulder is so tender and juicy, I could devour it as-is! And, we have but, for a casual dinner, I like to serve this easy recipe with a simple salad and garlic bread. However, you can also go real big! Here are some amazing sides that are perfect with apple cider braised pork shoulder.
Broccolini: A side of my easy Garlic Broccolini brings a nice touch of green to the table, in a simple skillet side dish you can whip up in no time!
Butternut Squash: A pan of Honey Roasted Butternut Squash is the perfect savory-sweet, seasonal pairing with apple cider braised pork shoulder. This is one you won't be able to stop eating!
Baked Macaroni: Another family favorite! I love to make a big dish of Oven Baked Macaroni and Feta when it's cold out. The warm, inviting aroma puts everyone in a good mood—it's classic comfort food!
How to Store and Reheat Pork Roast Leftovers
To refrigerate leftover pork shoulder, place in shallow containers with the gravy, and store for up to three days.
If you want to freeze your leftovers, place the pork in the gravy and freeze in freezer bags or airtight storage containers for up to two months.
To reheat, thaw overnight in the refrigerator (if frozen). Then place leftovers in a covered skillet or saucepan over low heat, until heated through.
ENJOY!
Apple Cider Braised Pork Shoulder
Apple Cider Braised Pork Shoulder cooked with apple cider, Granny smith apples, onions, garlic, and white wine.
Ingredients
3

pounds

pork shoulder roast

2

tablespoons

olive oil

4

yellow onions,

thinly sliced

6

cloves

garlic,

minced

¼

cup

dry white wine

1

tablespoon

fresh thyme,

or use 1 teaspoon dried thyme

1

tablespoon

fresh chopped rosemary leaves,

or use 1 teaspoon crushed dried rosemary

1

teaspoon

smoked paprika

1½

cups

Apple Cider, (NOT Apple Cider Vinegar)

1½

cups

low sodium chicken broth

2

bay leaves

2

granny smith apples,

cored and quartered
Instructions
Preheat oven to 400˚F.

Pat dry the pork with paper towels and season all over with kosher salt and black pepper.

Heat the oil in a large oven-safe Dutch oven set over medium-high heat.

To the heated oil add the pork and brown on all sides; about 5 minutes per side.

Remove pork from the pot and set it aside.

Add onions to the pot and cook over medium heat for about 4 to 5 minutes, stirring often, until softened.

Stir in the garlic and cook for 20 seconds.

Deglaze the pot with wine.

Stir in thyme, rosemary, and paprika.

Add the pork back to the pot.

Add in the apple cider, chicken broth, and bay leaves; bring mixture to a boil.

Cover the pot with a tight fitting lid.

Transfer the pork to the oven.

Reduce the oven temperature to 350˚F and cook for 2 hours.

Remove lid from the pot and drop in the apples.

Cover and continue to cook in the oven for 30 minutes, or until internal temperature of the pork registers at 145˚F.

Remove from oven and return the pot to the stovetop.

Remove pork and transfer it to a cutting board; let rest for 10 minutes.

In the meantime, set the pot over high heat and bring to a boil; cook for a couple minutes, or until sauce is slightly reduced and thickened.

Cut pork and serve with onions, apples, and sauce.
Nutrition
Calories:
358
kcal
|
Carbohydrates:
24
g
|
Protein:
30
g
|
Fat:
15
g
|
Saturated Fat:
4
g
|
Polyunsaturated Fat:
2
g
|
Monounsaturated Fat:
8
g
|
Cholesterol:
93
mg
|
Sodium:
130
mg
|
Potassium:
788
mg
|
Fiber:
3
g
|
Sugar:
15
g
|
Vitamin A:
265
IU
|
Vitamin C:
13
mg
|
Calcium:
59
mg
|
Iron:
3
mg
|
Net Carbs:
21
g
Nutritional info is an estimate and provided as courtesy. Values may vary according to the ingredients and tools used. Please use your preferred nutritional calculator for more detailed info.
Categories:
More Pork Recipes