This Tender and Juicy Instant Pot Pork Shoulder is elegant, full of flavor, and easy to make! You'll love the tender slices of juicy pork and savory onion sauce with wine, herbs, and garlic.
Juicy Sliced Pork Shoulder with Onion Sauce, Made in the Instant Pot
When you think of pork shoulder, does any specific recipe come to mind? I often see pork shoulder used to make carnitas (yum), pulled pork (double yum) or simple smoked pork (yum to the max!).
All of those are good uses, but sometimes I like to go with a different flavor profile, one that's a little more Julia Child-esque. At least, that's what I tell myself as I splash in my favorite Sauvignon blanc, and throw in clove after clove of garlic! ?
Whatever you call it, this is a beautiful way to prepare pork shoulder. I think it's fancy enough for a special occasion, but easy enough for a weeknight meal – maybe split the difference and make it for a Sunday dinner? ?
And, if you have leftovers, all the better! Those can be served up in a totally different sauce, such as old-fashioned barbecue, for a totally different second-day option. Although it's so good as-is, you probably won't object to having it a second time!
What Is Pork Shoulder?
Just like the name says, pork shoulder is cut from the shoulder, making it a tough cut that's usually sold more cheaply than other, more tender pieces of pork. You can sometimes find it labeled "pork butt" or Boston butt," and it can be boneless or bone-in.
Ingredients You'll Need to Make This Dish
Pork shoulder is very versatile, and goes well with all kinds of seasonings, from Asian to Mexican to classic barbecue. In this recipe, I'm going with a French-inspired wine and garlic combo, which cooks up once the pork is done into a savory onion sauce. Here's what you'll need:
Pork Roast: You'll need one pork shoulder roast. About three and a half pounds is the size I use in my instant pot.
Salt and Pepper: To taste.
Butter and Olive Oil: For browning and sautéing.
Onions: I used yellow onions, but you can use whatever type of onion you prefer. Slice them thinly.
Garlic: You'll need a lot of garlic cloves to flavor this roast – I used about eight, minced.
Herbs: You'll need thyme, rosemary, and a couple of bay leaves.
Wine: Dry white wine is best, although a dry rose is also a good option. The wine does not need to be expensive, but do avoid cooking wines that have been treated with salts and preservatives.
Chicken Broth: I used low sodium chicken broth, but you could also use water if you prefer.
Cornstarch and Water: To thicken the sauce at the end of cooking, have ready a couple of tablespoons each of cornstarch and cold water.
Step-by-Step Instructions
This cooking method involves three simple steps: browning the meat and other ingredients, cooking the meat, and then making the sauce. Let's take a look at each one, and how they work in the instant pot!
Brown the Pork Shoulder. Set your Instant Pot to the "Saute" function. If you have to choose a temperature setting, choose "Medium." Add the butter and olive oil to the instant pot, and let the butter melt. While it melts, pat the pork shoulder dry with paper towels, and then sprinkle it all over with salt and pepper. Brown the pork on all sides in the hot oil and butter. It will take about 5 minutes per side to brown properly. If the instant pot seems to be too hot, you can press "Cancel," and then "Saute" on "Low."
Create the Cooking Liquid. Take the browned roast out of the instant pot, and set it aside for now. Stir the sliced onions into the instant pot, and sprinkle them with salt. Saute for about three minutes, adding more oil if the pot seems dry. Next, add the garlic, followed by the herbs, wine, and chicken broth. cooking each ingredient for about 15 seconds. Finally, scrape the bottom of the pot with a wooden spoon to deglaze the pot and incorporate all the yummy browned food into the cooking liquid.
Pressure-Cook the Pork Shoulder. Gently place the pork shoulder into the cooking liquid, and pour in any juices that accumulated on the dish while it was resting. Lock the lid into place, make sure the valve is set to sealing, and then set to pressure cook on "High" for one hour. Once the hour is up, let the pressure naturally release for 15 minutes, before quick-releasing the remaining pressure.
Make the Onion Sauce. Carefully transfer the cooked pork shoulder to a cutting board or large platter. Set the instant pot to "Saute" again, on "Medium." Make a cornstarch slurry by whisking the cornstarch and water together in a small bowl or measuring cup, and pour about half of it into the simmering liquid in the instant pot. Whisk until the liquid thickens into a sauce, adding more cornstarch if it isn't thick enough. Taste the sauce for salt and pepper, and adjust as needed.
Enjoy! Use a sharp knife to slice the pork, and serve it with the onion sauce and your favorite sides.
Can You Overcook Pork Shoulder in the Instant Pot?
Readers often wonder about overcooking roasts like pork shoulder, chuck, and other tough cuts. The answer here is that it's pretty hard to overcook these cuts because, they're very fatty and have a lot of connective tissue that melts down and keeps the meat moist.
Once the meat's internal temperature registers at about 190˚F, it is ready to be pulled, in fact. You can serve the pork at 165˚F, but it won't be tender enough to pull apart. If you let it cook to 200˚F, the pork will be even softer. Use an Instant Read Meat Thermometer to check for doneness.
Thus, if you open the instant pot and the meat seems tough, you didn't overcook it! It actually needs more time. Overcooked pork shoulder will be falling apart, mushy, and stringy.
My Favorite Tips and Variation Ideas
Pork shoulder in the instant pot is an easy recipe with a classic French flair, made easily in the Instant Pot. If you'd like to know more, keep reading! I'm sharing my favorite tips for making this recipe a guaranteed success.
Cut to Fit: If your pork shoulder is too large to fit comfortably in the instant pot for browning, no worries! Just use a sharp knife to cut it into a few larger pieces. Brown each piece separately, and then finish cooking them all together.
Remove the (Cooked) Fat: This cut is typically very well marbled, so when you are slicing or pulling the meat, feel free to remove any large pieces of fat and discard those. Do not remove fat before cooking the roast, however, as it adds a ton of flavor!
Troubleshooting Texture: If you find that your pork shoulder isn't very tender, don't worry! It probably just needs a bit more time. Each pork shoulder roast is different, so plan to allow an extra 20 minutes or so, just in case. That way, you can pressure cook the meat a bit longer, if needed. I recommend cooking for additional increments of 5 to 10 minutes.
Pulled Pork: You don't have to slice this recipe, if you don't want to! It also makes beautiful pulled pork and gravy. In fact, you can use the same technique, but serve the final dish with barbecue sauce or Korean barbecue sauce, on sandwiches, if you like.
What Should I Serve with Pork Shoulder?
Serving this savory, ultra-tender roast is so simple! Just make one or two of your favorite sides. A green salad and crusty bread would be perfect, or you could try one of these beautiful, easy side dishes.
Storing and Reheating the Leftovers
To refrigerate your leftover pork shoulder, place the meat and any gravy in an airtight container. Place in the fridge. It will stay fresh for 3 to 4 days.
To reheat, place the desired portion in a skillet over low heat. Cover, and allow to heat until the pork reaches a safe internal temperature.
Can I Freeze This?
Definitely! Pork freezes well. Just cool it down, and then place in a freezer bag or airtight container. Try to leave as little air in the container as possible.
Store in the freezer for up to 4 months.
Thaw in the refrigerator overnight before reheating.
ENJOY!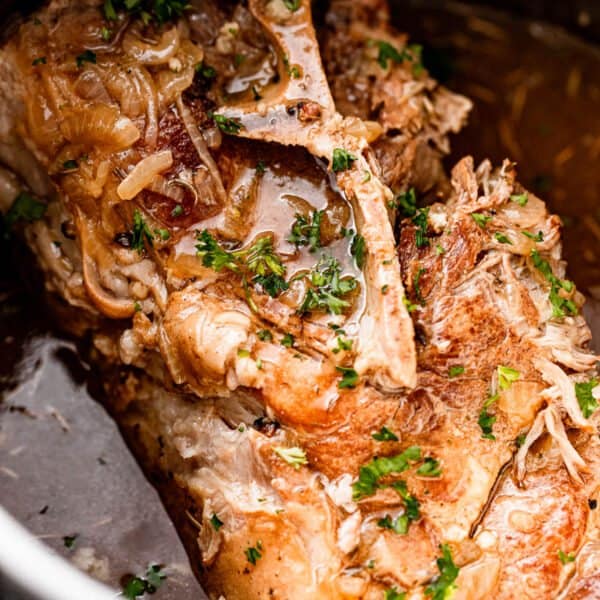 Instant Pot Pork Shoulder
This Tender and Juicy Instant Pot Pork Shoulder is elegant, full of flavor, and easy to make! You'll love the tender slices of juicy pork and savory onion sauce with wine, herbs, and garlic.
Instructions
Press the "Saute" function on the instant Pot.

Add the butter and olive oil to the pot.

In the meantime, pat dry the pork shoulder with paper towels and season it well with salt and pepper.

Place the pork in the Instant Pot and brown for 4 to 5 minutes on each side.

Remove the browned pork from the IP and set aside.

Add sliced onions to the IP, season with a pinch of salt, and cook for 3 minutes, stirring frequently. Add more olive oil, if needed.

Stir in the garlic and cook for 15 seconds.

Stir in the dried thyme, rosemary, and bay leaves; cook for 15 seconds.

Pour in the wine and cook for about 20 seconds.

Using a wooden spoon, stir in the chicken broth, scraping up all the browned bits from the bottom of the pot.

Return pork shoulder and all its juices back to the IP.

Close the lid, turn knob to sealing position and pressure cook at HIGH PRESSURE for 60 minutes; then do a Natural Release for 15 minutes.

Release remaining pressure and remove the lid.

Pull out the pork shoulder and transfer it to a cutting board.

On the IP, press the "Saute" function.

In a small mixing bowl whisk together the cornstarch and cold water.

Add half of the cornstarch mixture to the IP and cook until thickened. Add remaining mixture if you want it thicker.

Taste the onion sauce and add more salt and pepper, if needed.

Slice the pork shoulder and serve with the onion garlic sauce.
Notes
Safe Internal Temperature for Pork
Safe cooked temperature for Pork is 145˚F. However pork shoulder needs more time.
While you can finish cooking pork shoulder when internal temperature registers at 165˚F to 180˚F, if you plan to serve it as pulled-pork, let it cook to 190˚F, and up to 205˚F.
Nutrition
Serving:
8
ounces
|
Calories:
293
kcal
|
Carbohydrates:
8
g
|
Protein:
28
g
|
Fat:
14
g
|
Saturated Fat:
5
g
|
Polyunsaturated Fat:
1
g
|
Monounsaturated Fat:
7
g
|
Trans Fat:
1
g
|
Cholesterol:
98
mg
|
Sodium:
132
mg
|
Potassium:
575
mg
|
Fiber:
1
g
|
Sugar:
2
g
|
Vitamin A:
77
IU
|
Vitamin C:
5
mg
|
Calcium:
42
mg
|
Iron:
2
mg
|
Net Carbs:
7
g
Nutritional info is an estimate and provided as courtesy. Values may vary according to the ingredients and tools used. Please use your preferred nutritional calculator for more detailed info.
Categories:
More Easy Instant Pot Recipes