Every bite of this tender, juicy, beef barbacoa is a fiesta of flavors! Wrap this flavorful Mexican beef in warm tortillas with your favorite taco toppings and a squeeze of zesty lime.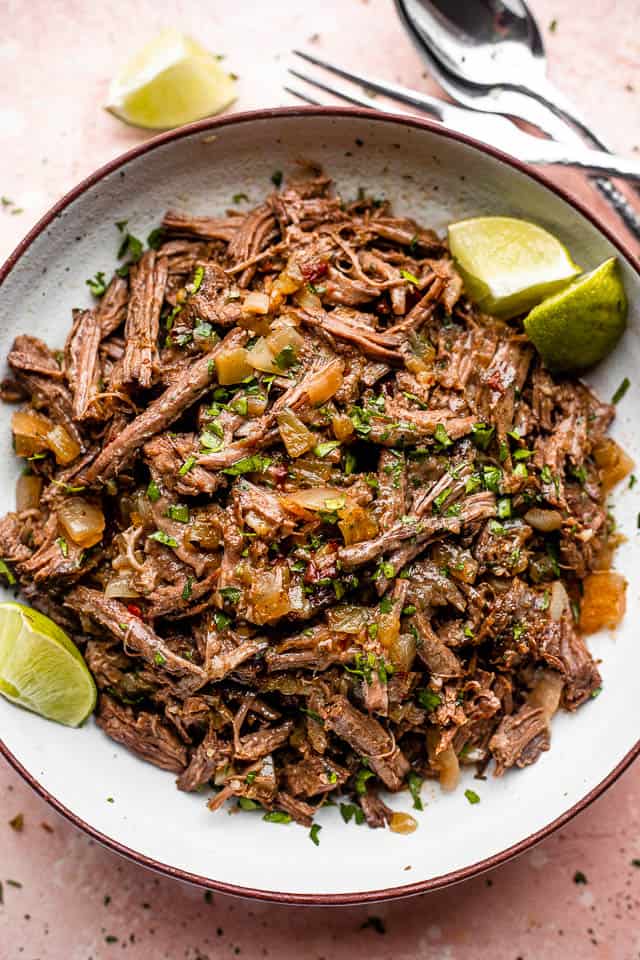 My Favorite Way to Make Barbacoa Beef
Taco night is kind of a big deal in my house. I love tacos, the hubs loves tacos, and the kids love tacos, too. 🌮 We have our favorite go-to taco recipes (hola, pork carnitas tacos), and this Slow Cooker Beef Barbacoa is definitely one of them! This Mexican pulled beef recipe is rich and spicy, with a burst of brightness from lime juice and chopped cilantro. It's delicious wrapped up in a warm flour tortilla, and just as tasty in burritos, taco bowls, and salads.
Why You'll Love Beef Barbacoa Recipe
Perfect for taco night. Beef taco lovers, rejoice. Slow cooker barbacoa is the best way to savor an authentic taste of Mexico. It's make-ahead friendly and perfect for meal prep, and you barely have to lift a finger.
Rich, zesty flavor. This recipe is cooked low and slow for hours in the crock pot. The result is tender, succulent beef that pairs perfectly with warm tortillas and a squeeze of fresh lime.
Made right in your crockpot or slow cooker. Cooking beef this way makes it incredibly tender. It's so easy to pop the ingredients in the slow cooker, walk away, and return hours later to the most delicious Mexican-style dinner.
Easy clean-up. Making this recipe in one pot means hardly any dishes to wash. What's better than that?! 😁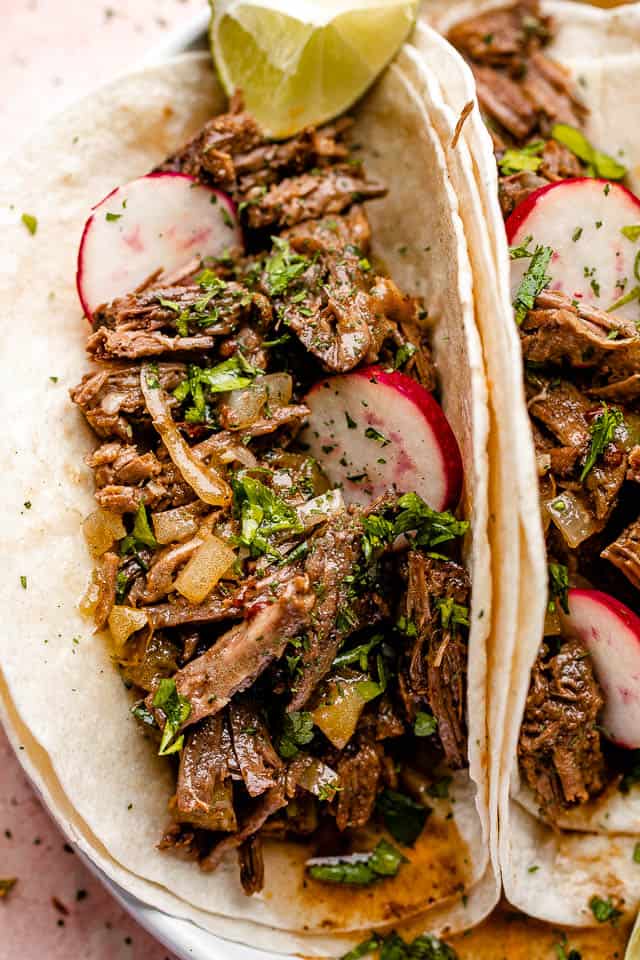 What is Barbacoa?
Barbacoa, Spanish for "barbecue", is an authentic Mexican pulled beef recipe. And despite the name, no, we're not firing up the grill! I like to compare beef Barbacoa to a Mexican pot roast. The beef is seasoned with a flavorful blend of spices and then simmered in a smoky sauce over low heat until it becomes tender and easily shredded. I love using beef barbacoa for everything from tacos and tamales to enchiladas and quesadillas. Don't forget to check out the section later on with serving suggestions!
What Does Mexican Barbacoa Taste Like?
The flavors of this beef barbacoa are deliciously spicy and a little tangy, thanks to chipotle chilies, a few Mexican spices, and a splash of vinegar. Barbacoa isn't super hot, but then again, that can depend on the chipotles you're using! The addition of lime juice makes the sauce a little tart and cuts the richness of the beef. Is your mouth watering yet? Same, girl, same.
Ingredients You'll Need
What is beef barbacoa made of? I've included a quick overview below. Please refer to the recipe card at the bottom of this post for complete information.
Chuck Roast: I make my barbacoa from a 3-4 pound chuck roast, chopped into smaller chunks. See below for details.
Onion and Garlic
Chilies: This fiery Mexican beef gets its flavor from a combination of zesty green chilies and chipotles in adobo sauce. You can adapt the amount of chili to taste.
Seasonings: You'll need cumin for that distinctive Mexican flavor, dried oregano (even better if you can find Mexican oregano), salt, and pepper.
Lime: Make sure to use freshly squeezed lime juice and not the bottled kind!
Apple Cider Vinegar: For a hit of bright acidity. I love the sweetness of apple cider vinegar, but red or white wine vinegar also works.
Broth: Beef broth brings out a rich, beefy flavor. If you'd prefer, you can use chicken broth instead. I recommend using low-sodium broth in either case.
Bay Leaves
Cilantro
Equipment
Slow Cooker: This recipe will work in just about any size slow cooker or crock pot. If you're scaling the recipe, make sure your cooker is large enough.
Meat Shredder Claws: I use my "claws" for everything from this beef barbacoa to slow cooker pulled pork. It makes shredding so much easier! Alternatively, you can use two forks to shred the beef after cooking.
What's the Best Cut of Beef to Use?
When it comes to slow cooking and braising, my favorite cut is a chuck roast, also called a shoulder steak or boneless chuck roast. This is an inexpensive cut that's well-marbled and cooks up super juicy and flavorful after long hours over low heat. Chuck roast is cut from the shoulder area, and it's slightly fattier than similar cuts, like brisket or round roast.
How to Make Beef Barbacoa
This barbacoa is one of those dump-and-go recipes that you can chuck into your slow cooker in the morning, and let it cook allllll day. It's SO easy. Here's what you do:
Add the ingredients to the slow cooker. Combine the pieces of chuck roast with onions, garlic, chilies, chipotle, and seasonings in the slow cooker.
Add the marinade. Next, whisk together lime juice, vinegar, and beef broth, and pour this over the slow cooker contents. Toss in some bay leaves.
Cook. Place the lid over the cooker and cook the barbacoa on low for 6-8 hours (or on high for 3-4 hours). After, remove the beef and place it onto a cutting board.
Shred the beef. Use your shredder claws or two forks to pull the beef apart. To finish it off, add the shredded beef back into the slow cooker to soak up all those spicy, rich juices.
Tips and Variation Ideas
Dinner doesn't get much more hands-free than this! Here are some quick, final tips to ensure your slow cooker beef barbacoa lives up to its full juicy, tender potential:
Season generously. Don't be sparing with herbs and spices! All those flavors combine and infuse every inch of this beef barbacoa.
Sear the beef. This part is optional. But if you'd like to really amp up the flavor and texture of the roast, sear the beef pieces in a skillet before adding them to the slow cooker.
Keep the beef moist during cooking. This recipe uses a combination of beef broth, cider vinegar, and lime juice. Feel free to change up the flavors of your sauce with different options, like orange juice. The acidity in the liquid helps to tenderize the beef.
Save the cooking liquids. After tossing the shredded beef in the cooking juices, if there are any leftovers, don't throw them out! Save any remaining cooking liquid and reduce it on the stovetop to make a delicious taco sauce. See the recipe card notes for details.
Serving Suggestions
We use this beef barbacoa to make the most outrageously mouthwatering Mexican-inspired meals. Here are some of our favorite serving ideas:
How to Store and Reheat Leftovers
Fridge. If you end up with leftovers of this slow cooker beef barbacoa, let the beef come to room temp and then place it in an airtight container with the juices. Refrigerate leftovers for up to 5 days (this beef is great for meal prep!). To reheat, warm the barbacoa with the juices in the microwave or in a skillet on the stovetop until hot throughout.
Freezer. Beef barbacoa freezes wonderfully. Store the cooled beef in airtight containers and keep it frozen for up to 3 months. Defrost leftovers in the fridge overnight and then reheat before serving.
ENJOY!
More Slow Cooker Beef Recipes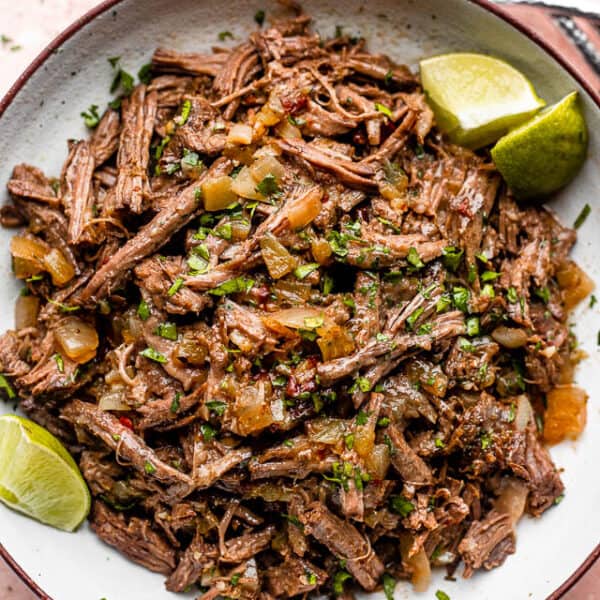 Slow Cooker Beef Barbacoa
Tender, juicy, slow cooker beef barbacoa is a fiesta of flavors! It's perfect wrapped up in warm tortillas with your favorite toppings and a squeeze of fresh lime.
Ingredients
3 to 4

pounds

chuck roast,

cut into 6 to 8 pieces

1

large

yellow onion,

diced

4

cloves

garlic,

minced

1

can (4-ounces)

green chilies

2

chipotles in adobo,

diced

1

tablespoon

ground cumin

1

tablespoon

dried oregano

1 ½

teaspoons

salt

¾

teaspoon

fresh ground black pepper

½

cup

beef broth,

(try to use low-sodium beef broth whenever possible)

2

tablespoons

apple cider vinegar

juices from 2 limes

2

bay leaves

¼

cup

chopped fresh cilantro or parsley,

for garnish
Instructions
In the bowl of your slow cooker combine the chuck roast pieces, onions, garlic, green chilies, chipotles, ground cumin, oregano, salt, and pepper.

In a small bowl, whisk together the beef broth, vinegar, and lime juice; pour the broth mixture over the ingredients in the slow cooker. Add bay leaves.

Cover and cook on LOW for 6 to 8 hours, or on HIGH for 3 to 4 hours. Cooked beef should be tender and should fall apart easily when shredded with a fork.

Remove the beef from the slow cooker and transfer it to a cutting board.

Using two forks, or shredder claws, shred the beef into bite-size pieces.

Transfer the shredded beef back into the slow cooker; stir everything together until completely incorporated.

Garnish with cilantro or parsley and serve.
Notes
We use chuck roast in this recipe because it is a well-marbled, flavorful beef cut suitable for slow cooking.
Season generously: Don't skip on any herbs and spices to infuse the beef with robust flavors.
For enhanced flavor and texture, sear the beef in a hot skillet before transferring it to the slow cooker.
To keep the beef moist and tender during the slow cooking process, add flavorful liquids. I like lime juice, beef broth, and apple cider vinegar. You can also add orange juice. The liquid will help break down the collagen in the meat, resulting in melt-in-your-mouth tenderness.
When finished with the cooking process, reduce the liquid and use it as a dipping sauce or drizzle it over your tacos. Strain the cooking liquid and transfer it to a saucepan. Simmer the liquid on the stovetop until it reduces and thickens slightly.
Use the beef barbacoa to create mouthwatering tacos, burritos, and quesadillas, or enjoy it over rice.
Nutrition
Calories:
262
kcal
|
Carbohydrates:
3
g
|
Protein:
27
g
|
Fat:
16
g
|
Saturated Fat:
7
g
|
Cholesterol:
94
mg
|
Sodium:
559
mg
|
Potassium:
514
mg
|
Fiber:
1
g
|
Sugar:
1
g
|
Vitamin A:
184
IU
|
Vitamin C:
3
mg
|
Calcium:
41
mg
|
Iron:
4
mg
Nutritional info is an estimate and provided as courtesy. Values may vary according to the ingredients and tools used. Please use your preferred nutritional calculator for more detailed info.
Categories: