Crispy, crunchy, and finger-lickin' good—that's what you get when you cook in an air fryer! Oh, and let's not forget, easy. In this roundup of 16 Awesome Air Fryer Recipes, I'm listing my all-time favorites in mouthwatering detail!
The Best Easy Air Fryer Recipes
What's your favorite recipe to make in the air fryer? I've tried to pick one, but I just can't! Frying in my air fryer makes so many of my favorite recipes possible, with no mess. On top of that, the air fryer cooks quickly and gives the food inside a great crispy crunch. It doesn't get better than that!
Whether you're new to air frying or a major fan, I hope you'll take a look at this fun recipe roundup and find something you love. There's something (or hey, maybe a lot of things) for everyone! We'll start with appetizers, move on to main courses, and highlight a few simple side dishes.
Love onion rings? Then you're going to love this easy air fryer version! Each golden ring is dipped in egg, milk, and Panko for a rich flavor and crispy crunch.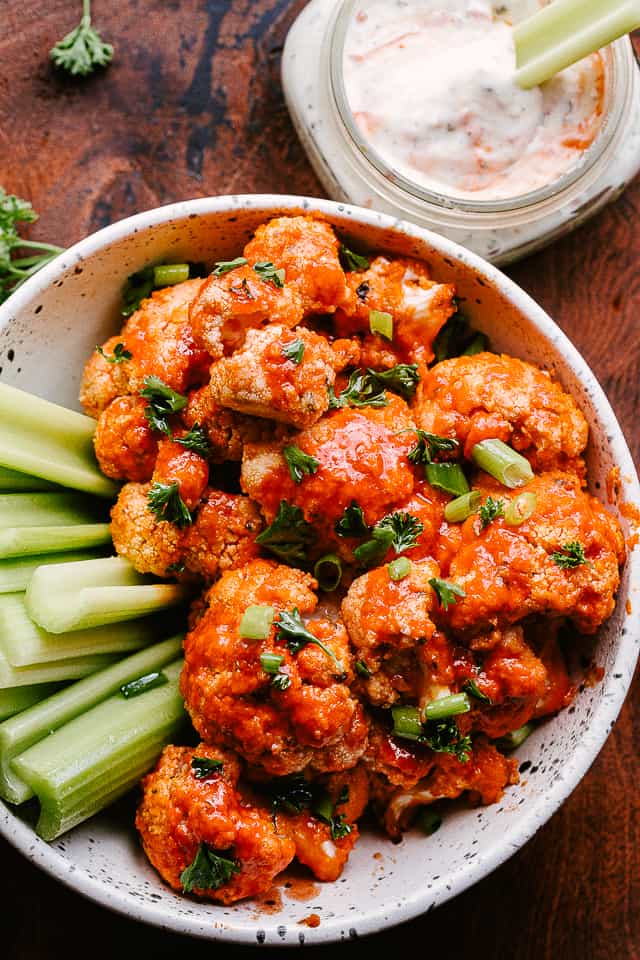 Buffalo… cauliflower? You read that right! With this easy recipe, bite-sized chunks of cauliflower cook up golden brown, perfect for slathering in buffalo sauce.
Love popcorn shrimp? Me too! Love hot wings? Me toooo. So why not get the best of both worlds with this killer buffalo shrimp appetizer? Perfect for game night… or any night, for that matter.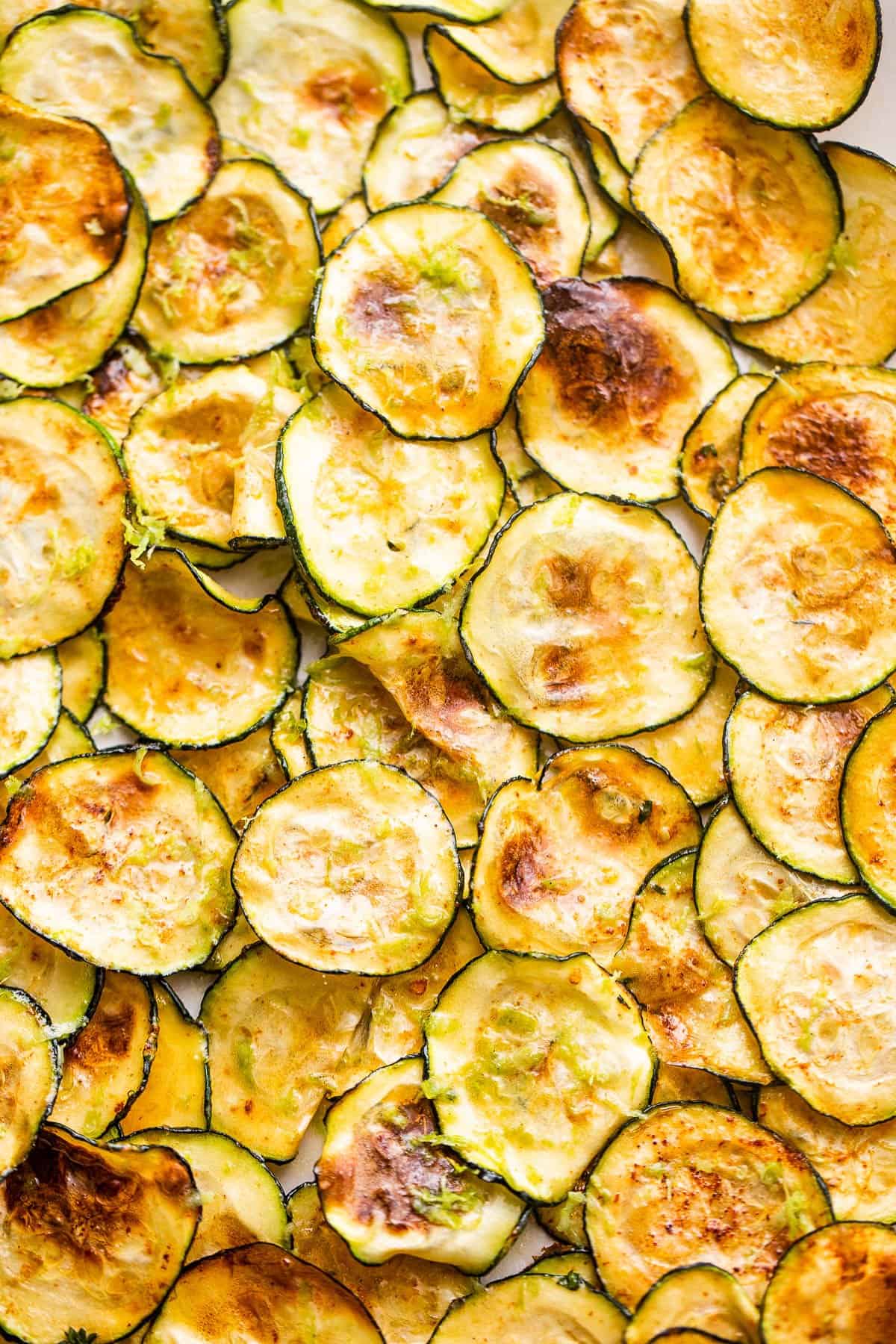 I think we can all agree that fried zucchini are pretty magical. The mellow, wholesome flavor of everyone's favorite summer veg really shines when it's fried, you know? And with this recipe, you also get a delicate crunch! Give 'em a try. You'll be glad you did!
Have you ever made your own potato chips? If not, you're in for a treat. Freshly made chips are just a whole different level of amazing. And with an air fryer, the whole process is super easy and mess-free.
The O.G. reason for getting an air fryer? Almost certainly chicken wings. Who doesn't love savory, spicy buffalo wings (or any kind of wings!), fresh out of the fryer? But traditional fryers use a lot of oil and are messy to operate. That's why I love, love, love making wings in the air fryer! All you need is a teeny bit of oil, and the perfect appetizer is only minutes away.
I can hear some of you saying, "What is a fritter?" I mean they aren't exactly the most common appetizer out there. But here's the thing: THEY SHOULD BE. Fritters are lightly-fried patties made of just about anything you love: apple, onion, chicken, or in this case, fresh summer zucchini and sweet corn. You're gonna love them!
I have four words for you. Brined. Rubbed. Fried. Perfection.
Okay, maybe that was a little confusing. Here's the deal: this recipe for air fryer chicken is super special, because of the 20-minute salt brine that we do to prep the chicken breast! It makes each piece juicy and full of flavor. From there, a flavorful spice rub seasons the chicken to perfection, and the air fryer does the rest! This may just be the perfect easy chicken recipe.
Fried chicken is one of those American comfort food dishes that I just crave from time to time. And while bone-in, old-fashioned, Sunday picnic fried chicken will always have a special place in my heart… I have to admit, this easy air fryer version is pretty special! And nowhere near as messy. I marinate the chicken in buttermilk and Frank's hot sauce (don't worry, it won't be spicy) followed by a Panko coating. The result? Mouthwateringly juicy and crunchy chicken!
This easy recipe is full of the Asian flavors you love! Honey and soy sauce, along with garlic and a few other goodies, whip up into a tasty marinade you'll want to make again and again. And all you have to do is reserve ¼ cup or so to glaze the chicken after it's fried. Then, voila! Sticky, sweet, and perfectly cooked chicken the whole family will devour!
Your favorite steak just got even more sizzlin'. Cooking up a juicy T-bone, ribeye or other special steak is super easy in the air-fryer, and the meat comes out tender and delicious every time! You're going to love this well-seasoned, tender and juicy steak dish.
This is one of my favorite ways to enjoy salmon! Healthy and low-carb, these salmon fillets are topped with garlic, lemon, and butter, and then air-fried until they delicately flake. Just ten minutes and your air fryer are your key to a fabulous, easy dinner.
Super-easy cooking method? Check. Gorgeous presentation? Check. Amazing buttery flavor and meltingly sweet lobster meat? Double check! Yep, this beautiful lobster recipe has everything you could want, and more. Try it, you'll love it!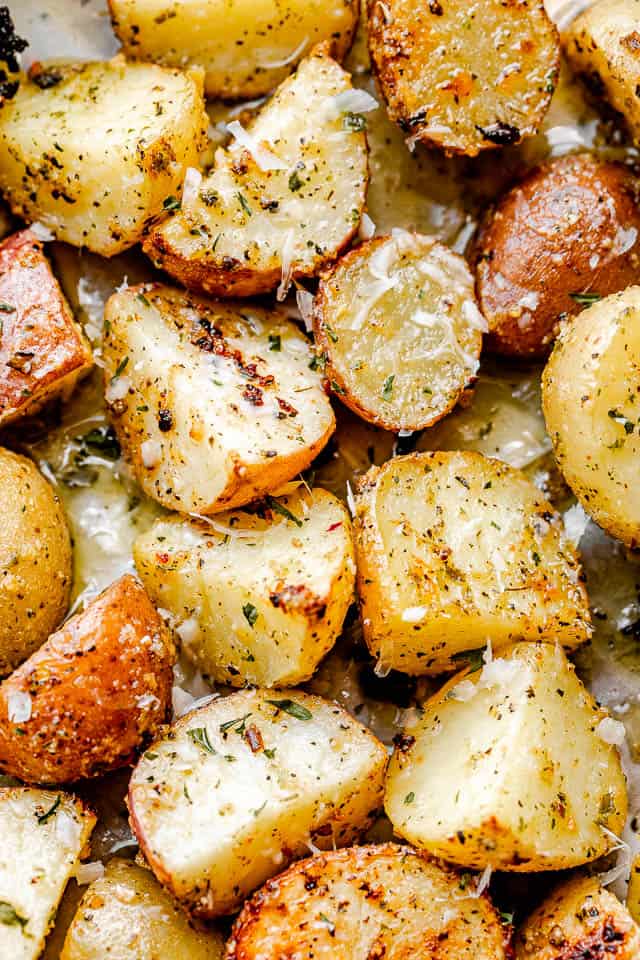 Olive oil, fresh garlic, and Parmesan cheese take yummy fried potatoes to new heights! And since this easy side cooks up fast and crispy in the air fryer, it's a great choice for busy weeknights. You'll want to serve these all the time, and since they go with everything—why not!
Broccoli, in the air fryer? You bet! Like most veggies, broccoli really shines when you let it roast in the oven, and that includes the air fryer – which is a type of convection oven, anyways! So, you don't even have to heat up the oven to get that deep, sweet, lightly caramelized result.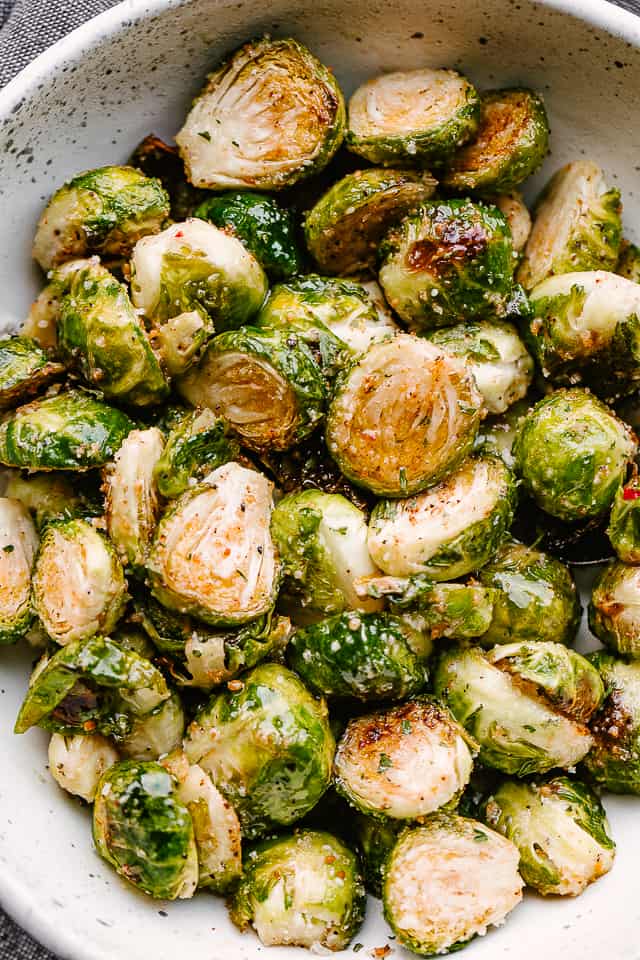 If you love brussels sprouts like I do, you'll adore this easy recipe! Super-crunchy and dripping with flavor, these sprouts are coated with garlic, olive oil, and Parmesan—plus Panko! Yum!
And, that's a wrap! I hope you enjoy the ease of cooking in an air-fryer, and the tasty recipes you can make using it! It's truly one of my favorite ways to make crispy, crunchy food, fast.