This gourmet recipe for Air Fryer Lobster with Cream Sauce is sure to become your new food obsession! Meltingly buttery lobster is super easy to make in the air fryer, and the creamy shallot and garlic sauce comes together in minutes.
Also? DON'T skip my Grilled Lobster recipe. ? ?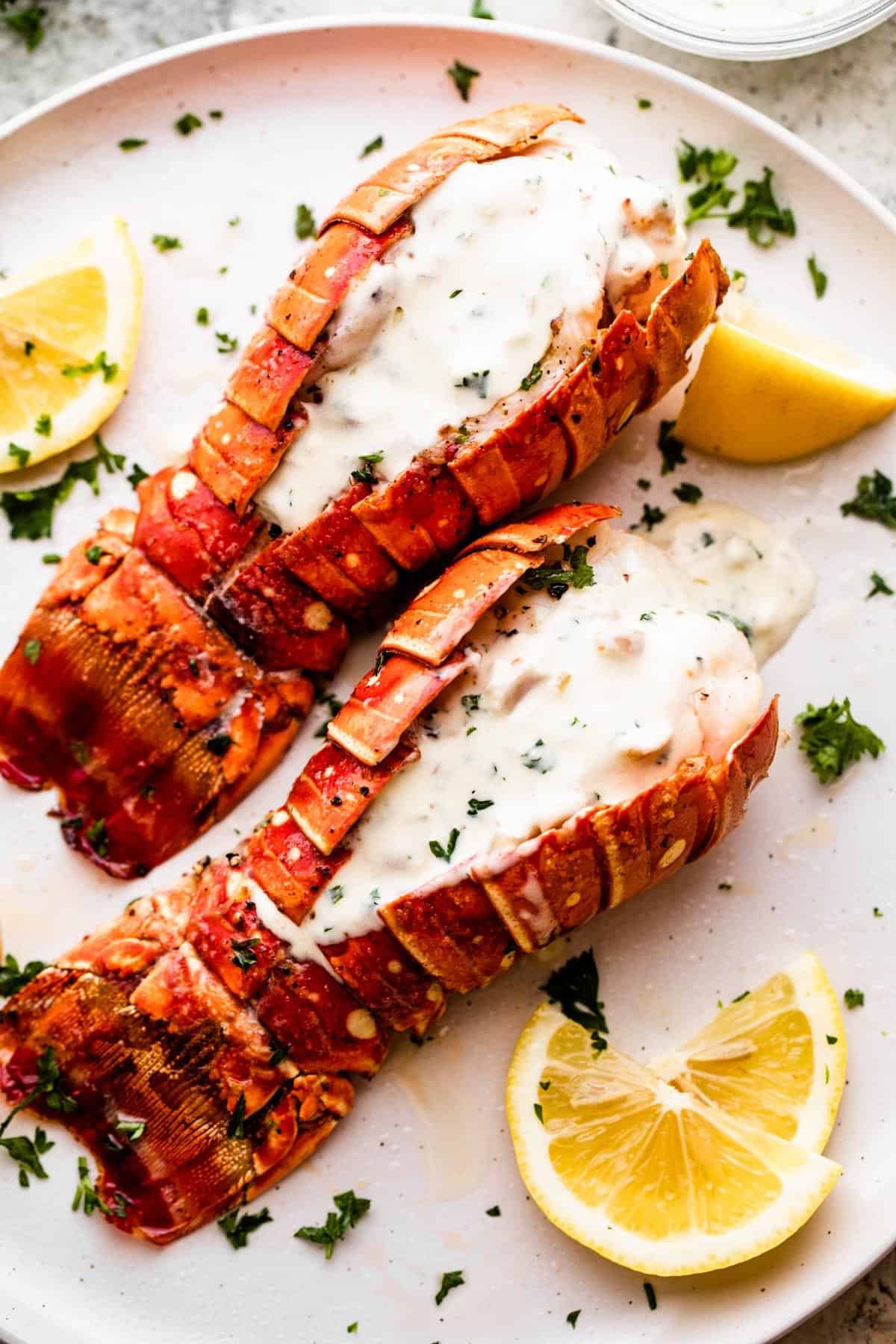 Simple, Elegant Lobster Tails – in the Air Fryer!
Sometimes you want pizza. Sometimes you want chicken nuggets. And sometimes… you want a gourmet lobster dinner. ? Right? Well, I have to tell you, creating that restaurant-style lobster dinner might be just as easy as making chicken nuggets, if you use your Air Fryer!
Okay, okay. There might be a little more prep work involved, since you usually don't have to butterfly a chicken nugget, after all. And, I don't usually serve chicken nuggets with homemade cream sauce (although now that I think about it, maybe that's not such a bad idea). But, it really is incredibly easy to air-fry a lobster tail!
So, don't save lobster for a restaurant outing – try this recipe for succulent air-fried lobster with creamy shallot and garlic sauce, and say hello to your new favorite meal. ?
Are Lobster Tails Good in the Air Fryer?
Definitely! Lobster works really well with cooking methods that apply heat efficiently, like broiling and grilling. As a mini-convection oven, the air fryer is perfect for cooking up mouthwateringly juicy lobster fast, without drying it out. I think you'll love this buttery, savory seafood dish.
The Ingredients You'll Need
This recipe has two basic components – the lobster, and the sauce. Even though it may sound complicated, it isn't! You only need a few basic ingredients to pull it all together. Here's the list:
Lobster Tails: This recipe serves two, so you'll need two lobster tails.
Butter: You'll want a little bit of butter for air-frying the lobster, and a little for the sauce.
Salt and Pepper
Shallots and Garlic: Finely dice a small amount of shallot and a couple of garlic cloves.
Parsley: Chopped, fresh parsley is the way to go! You will want some for the sauce, and some for garnish.
Cream: Heavy cream will thicken the sauce and give it a dreamy richness.
Parmesan: Just a spoonful. Freshly-grated is the yummiest, but pre-grated is fine.
Lemon Juice: This brightens and lifts the whole dish.
Lemon Wedges: For serving.
What Kind of Lobster Tails Are Best?
In general, cold-water lobster is considered the best quality (and the prices reflect that!). Lobster from cold water areas tends to be sweeter and firmer. However, warm-water lobster can be good as well, so if that's what you have, go ahead and use it. Here's what to look for, and what to avoid, when it comes to lobster tail:
Look for Lobster That Is…
Frozen. That way, you can thaw it yourself right before you cook it, keeping it nice and fresh as long as possible.
Uniform in Color. While warm-water lobster tails can have spots or stripes on the tail, the meat itself should be an even, slightly gray color. This goes for cold-water lobster, too.
From a Reputable Seller. Seafood can be expensive, and it's incredibly disappointing to get home and realize that your purchase is low-quality or downright bad. Make sure to buy from stores and shops that you trust.
Avoid Lobster That Is…
Thawed. Unless you are sure that the lobster is freshly-caught and good quality, skip the "fresh" or thawed lobster tails. Thaw them yourself just before cooking, for the freshest taste.
Discolored or Uneven. Again, this is about the meat, not the shell, since warm-water lobsters tend to have more colorful shell markings. The meat should not have an uneven, blotchy, or spotted appearance! And if it is an odd color (raw lobster meat is typically a translucent grayish shade), avoid that, too!
Strong-Smelling. The best seafood smells, well, like the ocean. Stay away from lobster that has a bad, foul, "fishy," or ammonia-like smell.
How to Make Air Fryer Lobster with Cream Sauce
So just how do you make this recipe? Seafood lovers, rejoice! It's super simple, and is practically guaranteed to become your favorite way to make lobster at home.
Thaw the Lobster Tails. First off, make sure to thaw your lobster tails, if they are frozen. This means starting the night before!
Cut the Lobster Shells Open. Once your lobster tails are thawed, place them on a clean cutting board used for meats and seafood, and cut the top of the shell open with kitchen shears. Start at the "front" and cut toward the tail, but don't cut through the tailfins.
Butterfly the Lobster. Next, pull the shell halves apart gently, and run a spoon between the shell and the meat to loosen it on top. Pull the meat up and away from the bottom of the shell to loosen it on the bottom as well, but leave it attached near the tailfins. Finally, use a knife to cut a slit down the center of the meat, without cutting all the way through.
Season and Cook. Preheat your air fryer to 380˚F. Melt a tablespoon of butter, and brush the lobster tails with it. Sprinkle with salt and pepper, and air-fry for 5 to 7 minutes, or until the lobster is opaque and cooked through. Check the temperature with a meat thermometer – it should be 145°F.
Saute the Aromatics. While the lobster is cooking, melt the remaining butter in a skillet, and then cook the shallots in the melted butter for about one minute. Add the garlic and the parsley, and cook for another 20 seconds or so, stirring it to prevent scorching.
Make the Sauce. Turn the heat down to medium-low and add the cream. Let that heat for a moment, and then stir in the parmesan. Bring the sauce to a simmer, and cook for just a minute or so, until the sauce has thickened. Whisk in the lemon juice, add salt and pepper as needed, and take the sauce off of the heat.
Enjoy! Serve the sauce with your air-fried lobster tails.
Tips and Tricks
I am so excited to be sharing this recipe with you, and I hope you're excited to give it a try! But before you do, make sure to look over these helpful tips for the best lobster-cooking-experience ever.
Skip the Sauce: If cream sauce isn't your thing, feel free to skip it. Just serve your lobster with plenty of melted butter and a lemon wedge or two.
Broiler Method: If you don't want to air-fry these lobster tails, they're also great broiled. Just turn your oven's broiler on to high heat, and move the oven rack so it's about 5 inches from the upper heating element. Broil the lobster on a sheet pan for about a minute per pound, and use a meat thermometer to check for doneness – the internal temperature should be 145°F. You should also try my Baked Lobster Tails recipe! AH.Maaaze!
Sauce Notes: This recipe makes plenty of sauce. If you end up with extra, don't toss it! Store in an airtight container and place in the fridge for 2 to 3 days.
What to Serve with Air Fryer Lobster
To serve an elegant lobster dinner, you'll want a side dish or two, and maybe a savory starter! These recipes are the perfect inspo for a fabulous meal.
Zuppa Toscana: Savory, milky, and almost sweet, a starter of Gnocchi Zuppa Toscana Soup is guaranteed to get your meal off on the right food. In fact, you might want to make extra and have the leftovers for lunch the next day!
Asparagus: Simple Grilled Asparagus is healthy, flavorful, and perfect with just about any entree.
Drop Biscuits: It doesn't get easier, or tastier, than these crumbly, moist, Garlic Cheddar Drop Biscuits. Fair warning: these buttery little bites are highly addictive!
How to Store and Reheat Leftover Lobster
Leftover lobster should be refrigerated right away. For best results, take it out of the shell first, and seal in airtight bags or containers.
It should keep for up to three days, but if it seems off or has an unpleasant odor, be sure to toss it!
To reheat, place the lobster meat and any sauce in a covered skillet over low heat. Reheat gently until the lobster is warmed through, but don't overcook or turn the heat up too high. If you don't have sauce to cook the lobster in (or don't want to use sauce) substitute chicken broth, seafood broth, or milk.
Can I Freeze This Dish?
You can definitely freeze leftover lobster – if you are lucky enough to have any extras! Seafood enthusiasts often freeze their fish and other seafood in water, to seal out any air. Lobster can be frozen that way, too, but it is even better frozen in milk.
Just take any meat out of the lobster tails, and place it in a clean zip-top bag (or a small airtight container). Cover with milk, and freeze for up to 2 months.
Thaw in the fridge and drain well before reheating.
ENJOY!
Air Fryer Lobster with Cream Sauce
Tender, buttery Air Fryer Lobster with Cream Sauce is super easy to make. Lobster cooks fast in the air fryer, and the creamy shallot and garlic sauce comes together in minutes.
Ingredients
2

fresh lobster tails,

each weighing about 6 ounces

3

tablespoons

butter,

divided

salt and fresh ground black pepper,

to taste

1

tablespoon

finely diced shallots

2

cloves

garlic,

minced

2

tablespoons

fresh chopped parsley,

plus more for garnish

⅓

cup

heavy cream

1

tablespoon

grated parmesan cheese

1

tablespoon

lemon juice

lemon wedges,

for serving
Instructions
Thaw lobster tails, if frozen.

Place thawed lobster tails on a cutting board or working surface.

Using kitchen shears, cut straight along the center of the top of the lobster shell, cutting towards the fins of the tail, but do not cut through the fin.

Gently open up the shell and run a spoon between the meat and the shell to loosen it up.

Open up the shell, carefully so you don't break it, and pull and lift the lobster meat off the bottom of the shell, but do not remove it.

With a knife or kitchen shears cut halfway through the meat down the center, but do not cut all the way through.

Melt 1 tablespoon butter and brush the lobster tails with the butter.

Season the lobster tails with salt and pepper.

Place the lobster tails in the air fryer basket and cook at 380˚F for 5 to 7 minutes, or until the lobster meat is opaque and cooked through.

In the meantime, prepare the sauce and melt remaining 2 tablespoons butter in a skillet.

Add shallots to the skillet and cook for 1 minute.

Stir in the garlic and parsley and cook for 20 seconds while stirring.

Reduce heat to medium-low.

Stir the heavy cream into the skillet.

Add the parmesan cheese and bring sauce to a simmer; continue to cook for about 1 to 2 minutes, or until slightly thickened.

Whisk in the lemon juice.

Taste and adjust with a little salt and pepper, if needed.

Remove from heat.

Serve sauce with lobster tails.
Nutrition
Calories:
356
kcal
|
Carbohydrates:
4
g
|
Protein:
13
g
|
Fat:
33
g
|
Saturated Fat:
20
g
|
Polyunsaturated Fat:
1
g
|
Monounsaturated Fat:
8
g
|
Trans Fat:
1
g
|
Cholesterol:
173
mg
|
Sodium:
461
mg
|
Potassium:
232
mg
|
Fiber:
0.4
g
|
Sugar:
2
g
|
Vitamin A:
1470
IU
|
Vitamin C:
10
mg
|
Calcium:
120
mg
|
Iron:
1
mg
Nutritional info is an estimate and provided as courtesy. Values may vary according to the ingredients and tools used. Please use your preferred nutritional calculator for more detailed info.
Categories:
More Scrumptious Seafood Recipes