Good things come to those who wait! This is my best ever turkey recipe for juicy, tender and incredibly delicious Honey-Soy Glazed Turkey Breast prepared in the slow cooker. Spiced with warm ginger, cinnamon, and clove, flavored with sweet honey and soy, this turkey breast is perfect for Thanksgiving dinner and easy enough for cooking all season long!
Easy Slow Cooker Honey Glazed Turkey Breast
It's the most wonderful time of the year, y'all! Turkey season is upon us, and I'm not just talking about Thanksgiving. As soon as the temperatures take a turn for the lower digits outside, it's time for delicious and juicy turkey dinners of all kinds in this house! Roasted in Garlic Lemon Butter, Wrapped in Bacon, or Drowned in Maple Gravy, the limit does not exist.
My favorite, best ever turkey recipe is this Honey-Glazed Turkey Breast prepared easily in a slow cooker. This is a succulent, tender and flavorful turkey breast that looks right at home as the centerpiece of a Thanksgiving dinner, but is painless enough for everyday cooking.
This is a seriously simple but oh-so-incredible turkey breast recipe that never disappoints, no matter the occasion. I cook the turkey breast bone-in and skin-on, glazed with a delicious homemade honey-soy marinade, spiced with the warm flavors of ginger, cinnamon, and clove that really come out in the slow cooking process. What's that? Your mouth is watering already? My work here is done!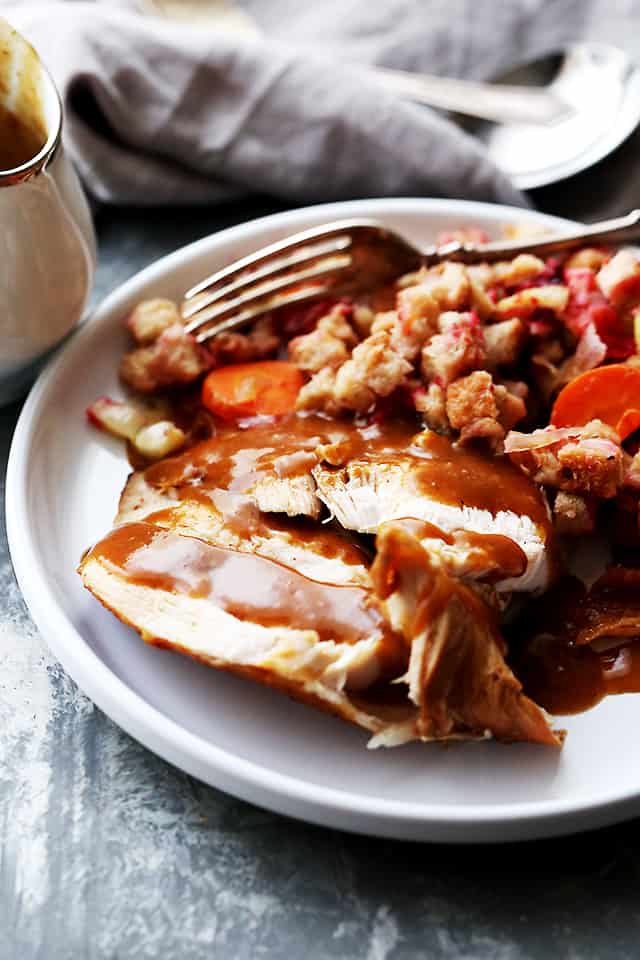 What You'll Need
Just a few simple ingredients come together to make the bold flavors of this honey-glazed turkey breast really shine. Here's the list of what you'll need:
Turkey Breast: I use a six-pound breast for this recipe, bone-in and skin-on.
Honey: Naturally sweet honey paired with soy sauce really is flavor perfection.
Soy Sauce: Regular soy sauce or the lighter, low sodium version.
Vegetable Oil: Alternatively, canola oil.
Ground Spices: Ground ginger, cinnamon, and cloves for some extra spice in the marinade.
Garlic Powder
Salt & Pepper
Can I Use Boneless Turkey Breast?
Something about cooking a turkey breast bone-in and skin-on gives me all the warm and fuzzy, traditional turkey dinner vibes that I love. But you can absolutely use boneless turkey breast of the same weight without changing up this recipe too much. (Boneless will even cook a little quicker, and is easier to slice and serve!)
How to Cook Honey Glazed Turkey in the Crock Pot
This recipe is honestly like magic. Just a bit of prep is needed for the ingredients, and then into the slow cooker they go, to emerge hours later in the form of an impressive and totally delicious turkey dinner!
Marinate the Turkey Breast: First you'll marinate the turkey breast in the mixture of honey, soy sauce, oil, ginger, cinnamon, ground cloves, garlic powder, salt and pepper for at least 1-2 hours (the longer, the better!).
Slow Cook the Turkey: Once ready, transfer the whole turkey breast along with your turkey marinade into the slow cooker, and then leave everything to cook on low with the lid on for a few hours. The turkey is done when the internal temperature reaches 165°F.
Finish in the Oven: Bake the turkey for another 30 minutes to achieve that nice crispy skin and beautiful mahogany color. If your slow cooker comes with a removable ceramic pot, you can pop the whole thing in the oven, otherwise transfer the turkey and all the juices to an oven-safe pan. Don't forget to baste the turkey as it bakes!
Make the Turkey Gravy: To make a delicious and simple honey-soy turkey gravy from scratch, collect all the drippings and juices from the bottom of the slow cooker once the turkey is out of the oven. If you're short of some liquid, you can make up the difference using chicken stock. Combine the drippings with flour in a saucepan to thicken, and whisk until the mixture is completely blended.
Dish up the gravy in a gravy boat alongside your tender and juicy, glazed turkey breast. Carve, drizzle, and serve!
Tips for Success
Finishing in the Oven is Optional: Roasting the turkey breast in the oven is optional for a crispy skin finish; if you'd prefer to skip this step, let the turkey finish cooking in the slow cooker instead, making sure the internal temperature of the thickest part still reaches 165°F.
Let the Turkey Meat Get to Room Temperature: It's kind of my rule of thumb with most meats, but allowing the turkey breast to sit out at room temperature as opposed to in the fridge before cooking/while it marinates will ensure an even cook!
Plan for the Number of Guests: This recipe featuring a 6lb turkey breast is suitable for 5-6 people, so it's perfect for a smaller Thanksgiving gathering or easy family meal! Smaller or larger turkey breasts will feed less or more accordingly. If you're looking for a recipe for the whole turkey that will feed a crowd, try my Rosemary Lemon Roasted Turkey!
Give the Turkey Time to Thaw: If you're using a frozen turkey breast, make sure to give it enough time to thaw completely – which can be longer than you think! Depending on the weight, this can take nearly 2 full days (approx. 24 hours per 4lbs of turkey); so let it defrost in the fridge thoroughly before prepping and cooking.
Serving Suggestions
Oh gosh, where to begin?! Serve this Honey-Soy glazed turkey as an effortless weeknight dinner, as a downsized Holiday turkey, or just all year round next to easy sides like roasted veggies. I even love slicing up the cold turkey breast a day later to top healthy salads like my Heirloom Tomato Salad or Apple Bacon Salad.
Here are some easy dishes to serve alongside this deliciously flavorful slow cooker turkey breast:
How to Store and Reheat Leftovers
Leftover turkey can be stored in the fridge for 3-4 days, sealed in an airtight container (the same goes for the turkey gravy). Reheat leftover turkey in either the microwave or oven following the instructions below!
Microwave: Drizzle the turkey breast slices with gravy and heat the turkey on a microwave safe dish for a minute or two, or until hot.
Oven: In a 300°F oven, warm the turkey breast wrapped in foil with a few spoonfuls of gravy to help with moisture, until heated through.
Turkey leftovers also make great additions to Soups, Sandwiches, and even breakfast Frittatas!
Can I Freeze Crock Pot Turkey?
Freezing leftover turkey is a great way to enjoy it at a later date! This crock pot turkey can be sealed in an airtight freezer bag or wrapped tightly in plastic wrap, and stored frozen for 2-3 months. Freeze the turkey with any leftover gravy for extra moisture, and then thaw and reheat as usual.
More Thanksgiving Turkey Ideas
Whether you're planning ahead or browsing last minute, you can't go wrong with these other delicious ideas for Thanksgiving Turkey your guests are guaranteed to gobble up.
Slow Cooker Honey-Soy Glazed Turkey Breast
The best turkey recipe for juicy and tender, easy Honey-Soy Glazed Turkey Breast prepared in the slow cooker. Great for Thanksgiving dinner!
Ingredients
FOR THE TURKEY BREAST
1

(6-pound) turkey breast, bone-in and skin-on

1/2

cup

honey

1

cup

low sodium soy sauce

1/4

cup

vegetable oil

1

teaspoon

ground ginger

1

teaspoon

ground cinnamon

1

teaspoon

ground cloves

1

teaspoon

garlic powder

salt and fresh ground pepper

, to taste
FOR THE TURKEY GRAVY
2

cups

liquid from turkey drippings

1/4

cup

flour
Instructions
Place the turkey breast in a large bowl.

Whisk together honey, soy sauce, oil, ginger, cinnamon, ground cloves, garlic powder, salt and pepper in a mixing bowl.

Pour the mixture over the turkey breast and marinate at room temperature for 1 hour; turn the turkey and continue to marinate breast side up for 1 more hour.

Transfer the turkey and the marinade to the pot/bowl of your slow cooker.

Cover and cook on LOW for 5 to 6 hours. The turkey is done when it reaches 165°F in the thickest part of the breast meat.

Preheat oven to 400F.

Remove ceramic pot from the slow cooker; take the ceramic pot, with the turkey breast in it, and put it in the oven.

Continue to cook for 30 minutes, basting the turkey breast every 5 minutes, until the pop-up timer in the turkey breast pops.

Remove turkey from oven and reserve 2 cups of the liquid. If you don't have full 2 cups of liquid left over, add chicken broth to make 2 cups.
FOR THE TURKEY GRAVY
Put the flour in a saucepan; slowly pour and whisk in the turkey drippings.

Set the saucepan over medium-high heat and bring to a boil while constantly whisking.

Lower the heat to a simmer and continue to whisk until thickened; about 2 minutes.

Remove from heat and pour it into a gravy boat.

Serve with the turkey breast.
Notes
Putting the turkey in the oven is completely optional; if you don't want to do that, just let the turkey finish cooking in the slow cooker until the pop-up timer in the turkey breast pops.
Nutritional Analysis includes gravy.
Nutrition
Calories:
469
kcal
|
Carbohydrates:
24
g
|
Protein:
68
g
|
Fat:
12
g
|
Saturated Fat:
6
g
|
Cholesterol:
165
mg
|
Sodium:
1910
mg
|
Potassium:
860
mg
|
Fiber:
0
g
|
Sugar:
18
g
|
Vitamin A:
60
IU
|
Vitamin C:
4.2
mg
|
Calcium:
57
mg
|
Iron:
2.8
mg
|
Net Carbs:
24
g
Nutritional info is an estimate and provided as courtesy. Values may vary according to the ingredients and tools used. Please use your preferred nutritional calculator for more detailed info.
Categories: