Slow Cooker Honey-Soy Glazed Turkey Breast – Juicy, tender and incredibly delicious turkey breast glazed with a flavorful honey-soy mixture, and prepared in the slow cooker.
SLOW COOKER TURKEY BREAST
Should I have named it Crock Pot? Or is Slow Cooker okay? I just had an argument about this decision with myself, and it lasted over an hour. At least we know what's going down on Thanksgiving Day: Honey-Soy Glazed Slow Cooker Turkey Breast!
Hi friends!! Nice to see you!! Guess what? It's tiiiime! We're only a week away and it's finally time to think about TURKEY! AND all the things that you are grateful for. And then turkey, again. And cranberry sauce, and stuffing, and booze. Mashed potatoes, too.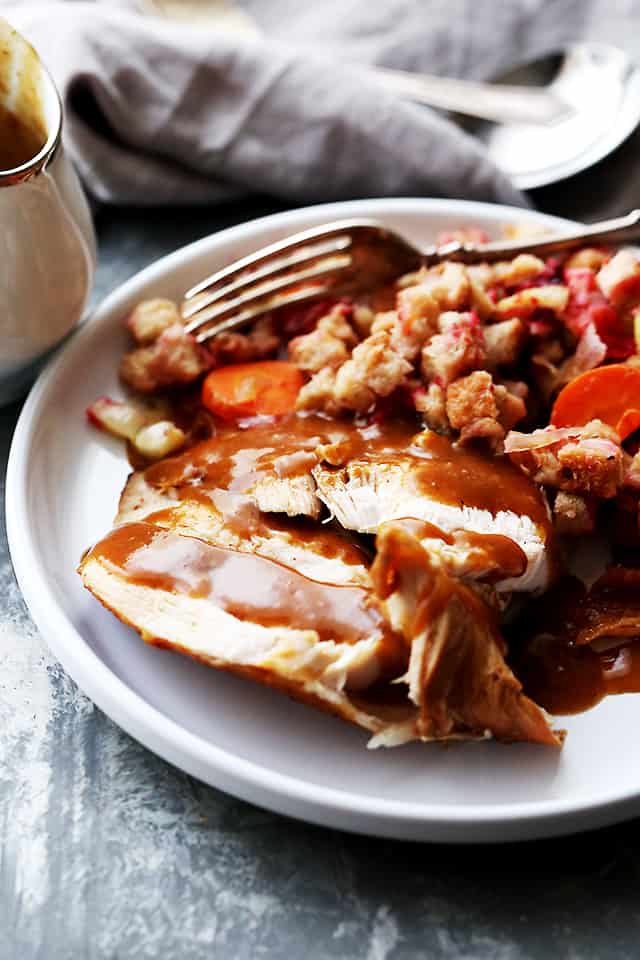 You probably thought about your Thanksgiving turkey long before I came into your life today with this marvelous recipe, but let's pretend that you hadn't the slightest clue about that Thanksgiving menu and I came to save the day. M'kay? Thanks, friend. 😊
Some of you might really want to shake me, angrily, because you need a recipe for a whole turkey and not just a 6-pound turkey breast, BUT I figured that the internetS is filled with whole turkey recipes and not enough recipes for something smaller. Trust me. I did my research. Turkey yields 125M results in Google search, and turkey breast is 7.8M.
If all else fails, please refer to this post for a delicious bird that I call, Rosemary Lemon Roasted Turkey. She is a beauty!
Said in my best way possible, but are you ready to stuff your face with the most flavorful turkey breast of evvvverrrr? YAY! Meet my bird – errr, her breast – errr say what?! Okay. Let's just meet my favorite flava flav Slow Cooker Honey-Soy Glazed Turkey Breast.
I love how tender and perfect my chicken cooks in the slow cooker, however I feared that this turkey deal may not turn out, but thaaaaank goodness I was wrong. This was really juicy, perfectly tender, and the flavor was on point. Honey & Soy Sauce go together like Milk & Cookies. Peas & Carrots. Cheech & Chong! You know what I'm sayin'…
Here's what went down:
HOW TO PREPARE TURKEY BREAST IN THE SLOW COOKER
First, you have to marinate the turkey breast for at least one hour, but if you can give it 3 hours? Even better!
Secondly, pop the turkey breast in the slow cooker and give her a good 6-ish hours on LOW.
Thirdly, pop her in the oven for another 30 minutes just to get that slightly crispy skin and the beautiful mahogany color on top.
HOW TO MAKE TURKEY GRAVY
Take all the juices and drippings from the bottom of the slow cooker and make turkey gravy from scratch.
Just pour the juices/drippings in a saucepan over a 1/4-cup flour, whisk and whisk and whisk until completely blended and thickened. 3 minutes. 4 minutes, tops!
Taste for salt and pepper and adjust as needed.
Serve.
LASTLY, slice the turkey breast, pop it in your mouths and make all your taste buds super duper happy!
Sixthly ( not a real word), make my Sweet Potato and Cranberry Stuffing.
ENJOY!

CRAVING MORE? SIGN UP FOR THE DIETHOOD NEWSLETTER FOR FRESH NEW RECIPES DELIVERED TO YOUR INBOX!
FOLLOW DIETHOOD ON FACEBOOK, TWITTER, PINTEREST AND INSTAGRAM FOR ALL OF THE LATEST CONTENT, RECIPES AND UPDATES.
TOOLS AND INGREDIENTS USED IN THIS RECIPE
Print
Slow Cooker Honey-Soy Glazed Turkey Breast
Slow Cooker Honey-Soy Glazed Turkey Breast - Juicy, tender and incredibly delicious turkey breast glazed with a flavorful honey-soy mixture, and prepared in the slow cooker.
Ingredients
FOR THE TURKEY BREAST
1

(6-pound) turkey breast, bone-in and skin-on

1/2

cup

honey

1

cup

low sodium soy sauce

1/4

cup

vegetable oil

1

teaspoon

ground ginger

1

teaspoon

ground cinnamon

1

teaspoon

ground cloves

1

teaspoon

garlic powder

salt and fresh ground pepper

, to taste
FOR THE TURKEY GRAVY
2

cups

liquid from turkey drippings

1/4

cup

flour
Instructions
Place the turkey breast in a large bowl.

Whisk together honey, soy sauce, oil, ginger, cinnamon, ground cloves, garlic powder, salt and pepper in a mixing bowl.

Pour the mixture over the turkey breast and marinate at room temperature for 1 hour; turn the turkey and continue to marinate breast side up for 1 more hour.

Transfer the turkey and the marinade to the pot/bowl of your slow cooker.

Cover and cook on LOW for 5 to 6 hours. The turkey is done when it reaches 165°F in the thickest part of the breast meat.

Preheat oven to 400F.

Remove ceramic pot from the slow cooker; take the ceramic pot, with the turkey breast in it, and put it in the oven.

Continue to cook for 30 minutes, basting the turkey breast every 5 minutes, until the pop-up timer in the turkey breast pops.

Remove turkey from oven and reserve 2 cups of the liquid. If you don't have full 2 cups of liquid left over, add chicken broth to make 2 cups.
FOR THE TURKEY GRAVY
Put the flour in a saucepan; slowly pour and whisk in the turkey drippings.

Set the saucepan over medium-high heat and bring to a boil while constantly whisking.

Lower the heat to a simmer and continue to whisk until thickened; about 2 minutes.

Remove from heat and pour it into a gravy boat.

Serve with the turkey breast.
Notes
Putting the turkey in the oven is completely optional; if you don't want to do that, just let the turkey finish cooking in the slow cooker until the pop-up timer in the turkey breast pops.
Nutritional Analysis includes gravy.
Nutrition Facts
Slow Cooker Honey-Soy Glazed Turkey Breast
Amount Per Serving
Calories 469
Calories from Fat 108
% Daily Value*
Fat 12g18%
Cholesterol 165mg55%
Sodium 1910mg80%
Potassium 860mg25%
Carbohydrates 24g8%
Protein 68g136%
Vitamin A 60IU1%
Vitamin C 4.2mg5%
Calcium 57mg6%
Iron 2.8mg16%
* Percent Daily Values are based on a 2000 calorie diet.
Keywords:
crock pot turkey recipe, thanksgiving turkey
Want To Save This Recipe?