Rigatoni Bolognese is a stick-to-your-ribs, meaty, saucy pasta dinner made with ground beef, garlic, and plenty of fresh basil giving the homemade sauce a ton of flavor.
A Hearty Rigatoni Bolognese Recipe
Pasta has always been a lifesaver in our household. It's the hero of last-minute dinners and the star of the spread during family gatherings. While I do appreciate a good low-carb option, like the flavorful Bolognese Stuffed Peppers, there's something irresistibly comforting about a bowl of pasta, especially when it's decked out with a rich and savory sauce. Enter, Rigatoni Bolognese. This dish is our family's go-to when we want something soul-warming yet uncomplicated. The robust rigatoni noodles are ideal for clutching onto the thick, meaty bolognese sauce packed with perfectly cooked ground beef.
But there's more to this Rigatoni Bolognese than just its convenience and delectable flavor. It's a versatile dish that welcomes a touch of creativity. Feel free to sprinkle in some extra herbs for a burst of freshness or toss in a handful of parmesan for that cheesy indulgence. This will contribute to a homemade dining experience adding comfort, satisfaction, and a dash of Italian flair to every bite.
Ingredients For Rigatoni Bolognese
Most of the ingredients in this recipe are versatile, wholesome items that you probably keep stocked in your fridge and pantry. One exception might be fresh basil leaves, but if you need to, you could substitute dried.
Rigatoni: A box of rigatoni, or you can substitute penne.
Olive Oil: For sautéing.
Onion, Celery, and Carrots: Chop up one small yellow onion, and dice the carrots and celery.
Garlic: Minced, fresh garlic adds the brightest taste, but garlic powder will work, if that's what you prefer.
Ground Beef: Lean ground beef doesn't have to be drained, but fattier ground beef like ground chuck may have a beefier taste.
Crushed Tomatoes: A large can or box of crushed tomatoes.
Fresh Herbs: Again, dried will work, but fresh herbs definitely elevate this sauce. Parsley and basil for the sauce, and a little extra parsley for garnish.
Salt and Pepper
Pecorino Romano: Freshly grated, for serving.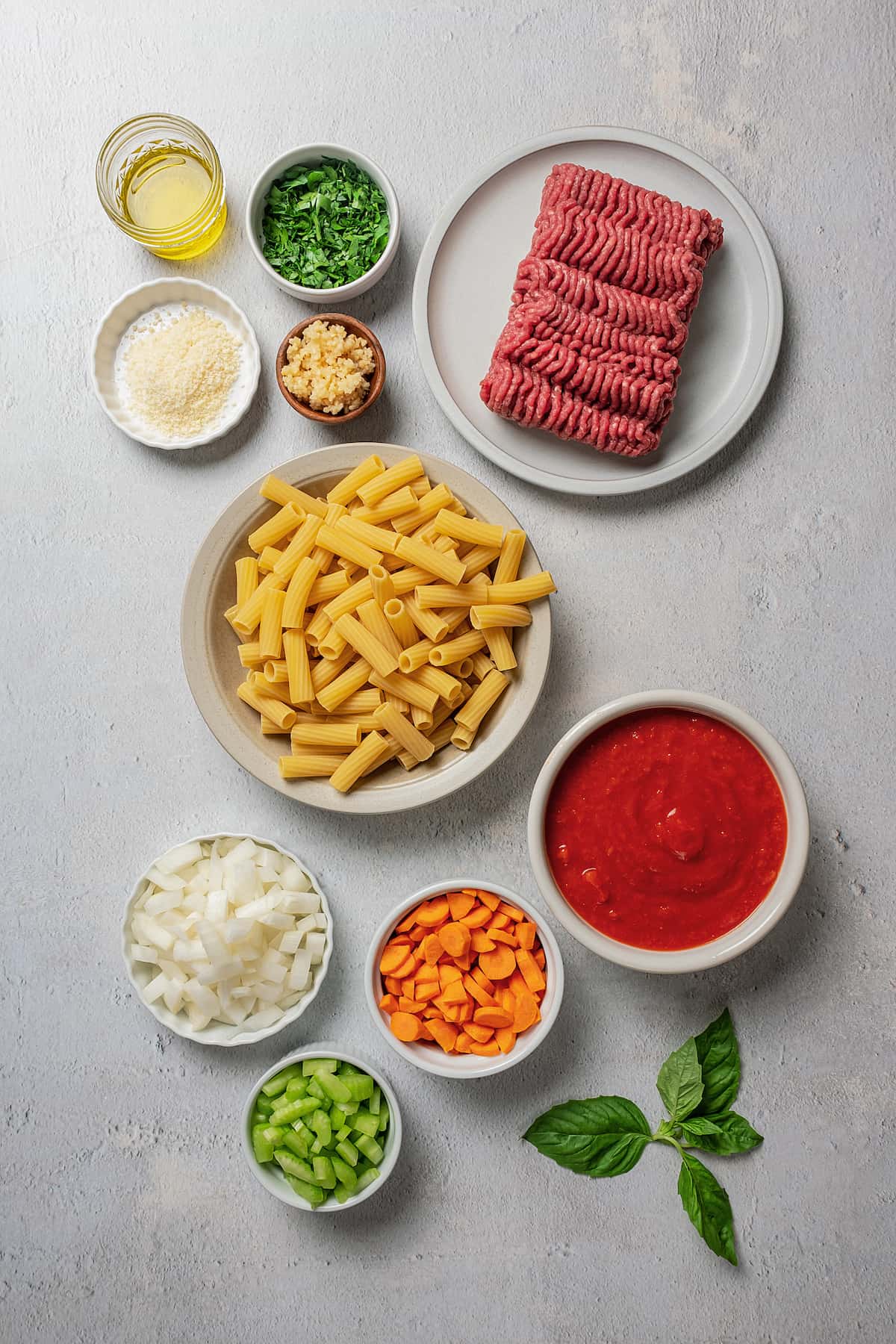 What Does Rigatoni Mean?
Rigatoni comes from the word "rigate" in Italian, which means "ridged." These tube-shaped pasta pieces have ridges along the outside, which helps them cling to the pasta sauce. The tube shape helps, too! Rigatoni is a fairly large pasta shape, which is great for this big, bold dish.
What's the Difference Between Rigatoni and Penne Pasta?
Penne is also a tube-shaped pasta with ridges, but it's thinner and sometimes a little longer than rigatoni. Penne also has pointed ends cut on the diagonal, while the ends of rigatoni are blunt. Both pasta shapes work well with bolognese sauce, but I think rigatoni is a slightly better choice since it's very robust and hearty.
How to Make Rigatoni Bolognese
There are basically two parts to this dish: cooking the pasta, and making the sauce. You can simply cook the pasta according to the package directions, and the sauce is easy to make in one pot.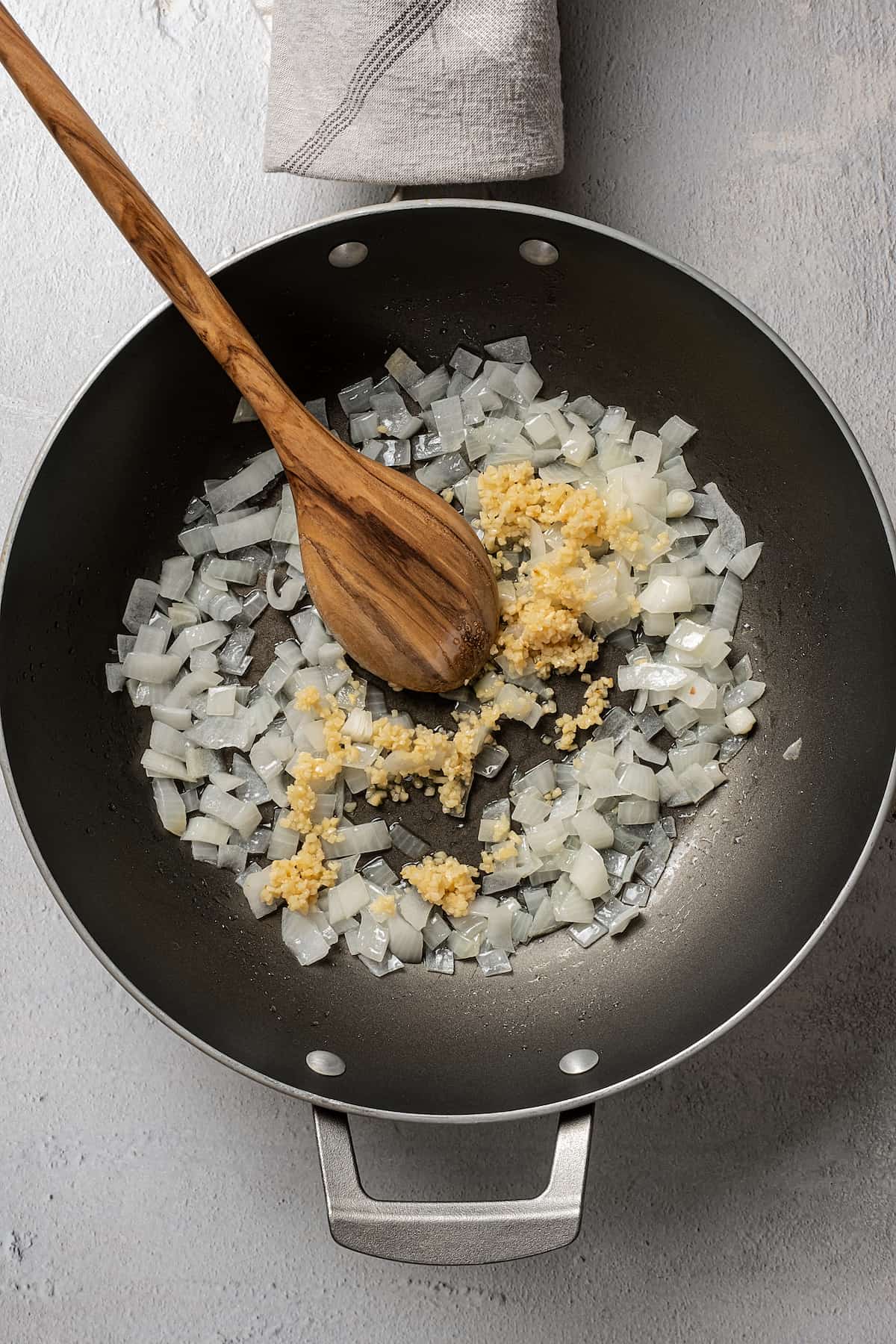 Start the Pasta. You'll want to cook the pasta according to the directions on the box. Start heating the pasta water first, or check out the Tips and Tricks section below for timing the pasta and sauce to finish cooking at roughly the same time.
Cook the Vegetables. To get started with the sauce, heat your olive oil in a large skillet or Dutch oven over medium heat. Once the oil is hot, add the onions and cook those for about 3 minutes. Then stir in the garlic, and let that cook for a minute or so, stirring often so it doesn't scorch. Burnt garlic tastes very bitter. Finally, add your diced celery and carrots to the pot, and cook all of the veggies for 5 minutes more. If the pan seems dry, add a bit more oil.
Add the Ground Beef. Turn up the heat to medium-high. Add the ground beef to the pot, and cook it for about 10 minutes, breaking it up as it browns.
Add the Remaining Ingredients and Simmer. Once the beef is browned, you can add the crushed tomatoes and herbs to the pot. Bring this to a boil, turn the heat down to medium-low, and add the salt and pepper to taste. Cook the sauce for 25 minutes or until it has thickened a bit.
Finish the Dish. Taste the finished sauce for salt and pepper, and adjust as needed. Then, serve the bolognese sauce over the cooked, drained rigatoni, and top each plate with a sprinkle of grated pecorino romano and fresh chopped parsley.
Tips and Tricks For Homemade Rigatoni Bolognese
Salt the Water: To maximize the flavor in your rigatoni (and other pasta dishes), make sure to sprinkle salt into the pasta water generously. You might not want the pasta water to be quite as salty as ocean water, but it should definitely have a little flavor. That way, the pasta itself will have some flavor, instead of a plain flour taste.
Time the Pasta: It might be easiest to start the pasta and the sauce at the same time, but if you don't want the pasta to sit and wait while the sauce finishes simmering, you can time them to be done together. To do this, start heating the water for the pasta about 20 minutes before the sauce is done. If the water takes 10 minutes to heat, and the rigatoni takes 10 to 15 minutes to cook, you should have both items done at almost the same time.
Protein Substitutes: I love this dish with ground beef, but it's also amazing with ground turkey, or with Italian sausage. You can go with spicy or sweet sausage – either would be delicious.
Add Dairy: For a creamier version of the sauce, try adding a small amount of whole milk, half and half, or heavy cream. The richer the dairy, the more it will enrich the flavor of the sauce.
Tasty Side Dishes For Pasta
Serve this dish as dressed-up or dressed-down as you please. It makes a great meal as is, and plays well with all kinds of side dishes. These are some of our favorites:
Storing and Reheating Leftovers
To store leftovers, let them cool down and then place them in an airtight container or a zip-top bag. Refrigerate for up to 3 days.
You can reheat this dish in the microwave or in a covered skillet set over low heat. Add a splash of water if you think the pasta seems a bit dry.
To freeze, cool down the cooked pasta and sauce, and then transfer it to a disposable foil pan for freezing. Cover it tightly in two layers of foil or plastic wrap and freeze for up to 3 months. Reheat in the oven at 350˚F, covered with foil, until the pasta and sauce are hot.
ENJOY!
Rigatoni Bolognese
Rigatoni Bolognese is a meaty, saucy pasta dinner prepared with ground beef, tomatoes, garlic, and plenty of fresh basil, giving the homemade sauce a ton of flavor.
Ingredients
1

box (16 ounces)

rigatoni pasta

2

tablespoons

olive oil

1

small

yellow onion,

finely chopped

5

cloves

garlic,

minced

2

celery ribs,

diced

1

large carrot,

diced

1

pound

ground beef

1

can (28 ounces)

crushed tomatoes

¼

cup

chopped fresh parsley

8

fresh basil leaves,

finely chopped

salt and freshly ground black pepper,

to taste

freshly grated Pecorino Romano,

for serving

fresh chopped parsley,

for garnish
Instructions
Cook the pasta according to the directions on the box.

Meanwhile, heat the olive oil in a large skillet or Dutch oven set over medium heat. Add the onions to the hot oil and cook for 3 minutes. Stir in the garlic and cook for 1 more minute. Stir frequently.

Add celery and carrots; cook for 5 more minutes. Add more oil, if needed. Increase heat to medium-high and add the ground beef; cook for 8 to 10 minutes or until browned, stirring frequently to break up the beef.

Stir in the crushed tomatoes, parsley, and basil; bring to a boil, then reduce heat to medium-low. Season with salt and pepper and continue to cook for 25 minutes, or until the sauce has thickened.

Taste for salt and pepper; adjust accordingly.

Spoon the bolognese sauce over the cooked and drained rigatoni. Top with grated pecorino romano and parsley.

Serve.
Notes
Pasta: Rigatoni is a tube-shaped pasta with ridges along the outside, which helps it cling to the bolognese pasta sauce. You can also use Penne pasta. Generally, heartier sauces are served with wider, bigger noodles, and noodles like fettuccine or linguine are best paired with cream sauces.
Fresh is Best: Use fresh herbs when possible for a more vibrant flavor. Fresh basil, oregano, or thyme can make a noticeable difference.
Ground Beef: I love my bolognese prepared with ground beef, but it's also really good with ground turkey or even Italian Sausage.
Low and Slow: Let the bolognese sauce simmer gently. The longer it simmers, the more the flavors meld together, enhancing the taste.
Adjust Accordingly: Always taste your sauce as it cooks and adjust the seasoning. It's the best way to ensure a well-balanced flavor.
Cheese: Opt for high-quality parmesan or pecorino cheese. Freshly grated cheese melts beautifully and offers a superior flavor.
Add Dairy: For a creamy version, add a small amount of heavy cream to the meat sauce while cooking.
Nutrition
Calories:
362
kcal
|
Carbohydrates:
52
g
|
Protein:
22
g
|
Fat:
8
g
|
Saturated Fat:
2
g
|
Polyunsaturated Fat:
1
g
|
Monounsaturated Fat:
4
g
|
Trans Fat:
0.2
g
|
Cholesterol:
35
mg
|
Sodium:
187
mg
|
Potassium:
696
mg
|
Fiber:
4
g
|
Sugar:
7
g
|
Vitamin A:
1711
IU
|
Vitamin C:
14
mg
|
Calcium:
66
mg
|
Iron:
4
mg
Nutritional info is an estimate and provided as courtesy. Values may vary according to the ingredients and tools used. Please use your preferred nutritional calculator for more detailed info.
Categories:
More Family-Friendly Pasta Recipes