Light and sweet Pumpkin Scones are flavored with pumpkin creamer, rich fall spices and coated in a simple but delicious cream glaze. Similar but healthier than Starbucks Pumpkin scones and a perfect easy cream scone recipe for Fall baking!
Homemade Pumpkin Scones Recipe
Whenever I whip up cream scones, I aim for the stars. I crave scones that strike the right balance – not too heavy, not too airy, and with a lovely golden hue. This recipe achieves just that, offering the ideal height and texture with the inclusion of wholesome oats and a pronounced pumpkin flavor.
These Pumpkin Scones are robust with a slight crunch on the surface while maintaining a moist and slightly sweet core. Ideal for breakfast or brunch, they single-handedly cover my fondness for Fall's flavors – the essence of pumpkin, the comfort of the season, and the timely return of Pumpkin Pie Spice Creamer.
How to Make Pumpkin Scones
These cream scones contain 150 calories less than the Starbucks Pumpkin scones they were inspired by. Along with pumpkin pie spice creamer, they're made with healthy yogurt, oats, and half the butter! They are fabulous for breakfast, brunch, lunch, or even a cozy dessert served with coffee or tea.
Ingredients For Pumpkin Scones
Pumpkin Pie Spice Coffee Creamer: Infuses the scones with a delicious burst of creamy Pumpkin spice flavor. My forever favorite is the seasonal Pumpkin Pie Spice Creamer from International Delight. I stock up every year!
Rolled Oats: I love the hearty texture that oats give these scones. Something about oatmeal and spices gives me all the fall vibes!
Sugar: Regular granulated sugar, or light brown sugar also works for an added hint of caramelized flavor.
Butter: Chilled unsalted butter, chopped into pieces.
Plain Yogurt: Nonfat yogurt or regular kind will add moisture to the scones.
Flour
Ground Cinnamon
Vanilla Extract
Baking Powder
Salt
Ingredients For the Glaze
Ground Spices: Cinnamon, ground cloves, and nutmeg. You can also use premixed pumpkin pie spice often found in the spice aisle, which contains all three!
Powdered Sugar
Pumpkin Pie Spice Coffee Creamer
Directions
Combine the Dry Ingredients: Mix together the flour, oats, sugar, baking powder, cinnamon and salt.
Cut in the Butter: Cut the cubed butter into the dry ingredients. I always use my fingers, but you can use a pastry cutter if preferred. Mash the butter and dry ingredients together until the mixture is fine and crumbly.
Add in Wet Ingredients: Make a well in the center of the dough where you'll pour in the creamer, yogurt, and vanilla. Use a wooden spoon to mix everything just until the dough comes together.
Knead & Cut the Dough: Knead the dough on a floured surface and shape it into a disk. Using a large knife, cut the dough disk into even sized wedges and then transfer these to a prepped baking sheet, leaving a bit of space for the dough to expand.
Bake: Bake the scones until they're puffed up golden brown, and then let them cool on a wire rack.
Prepare the Glaze: To make the glaze, whisk together the powdered sugar, cinnamon, cloves, nutmeg and coffee creamer. You can add extra milk or sugar as needed to get the glaze to your desired consistency. Give each scone a generous spoonful of glaze, let it set, and then serve!
Can I Make Scones in Advance?
You can absolutely make the dough in advance and freeze it for baking as needed at a later date. To make these scones in advance, place the unbaked scones in a single layer on a baking tray, freeze them until they're solid, then transfer them to a resealable freezer bag. Bake the scones from frozen in a preheated oven, adding a couple of extra minutes to the baking time.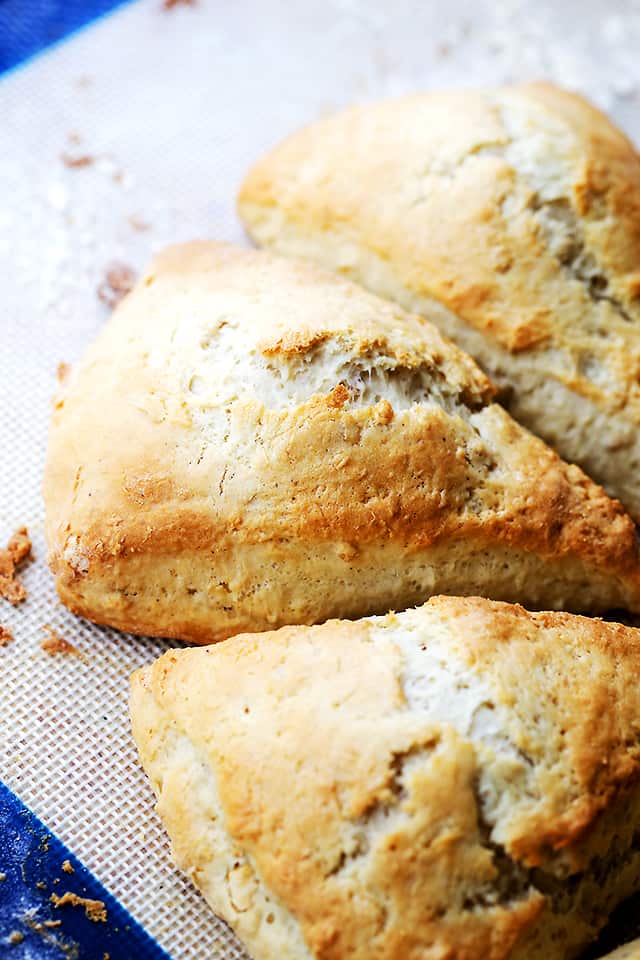 Tips for Successful Pumpkin Scones
Don't Overmix the Dough: It's fine if you still have visible pieces of butter after mixing your scone dough! Overmixing can lead to a not-so-nice texture.
Bake with Cold Butter: Chilled butter is necessary when cutting into the flour for a fine crumbly texture! Cold butter also prevents the scones from spreading too much as they bake.
Flavor Variations For Scones
You can really let your imagination take hold when it comes to scones. They're just such a perfect recipe for customizing! Here are some ways you can mix it up:
Give the tops of the scones a sprinkle of brown sugar prior to baking.
Drizzle your favorite icing or frosting overtop of the cream glaze.
Mix a handful of chocolate chips, crushed nuts, or dried cranberries into the dough.
Add in fresh blueberries, raspberries, or apple chunks.
Swap out the yogurt for buttermilk.
Instead of a cream glaze, try these scones with a tangy cream cheese frosting.
Serving Suggestions For Pumpkin Scones
If you can't get enough of cozy fall flavors like me, why not pair your scones with a Pumpkin Spice Latte or Cinnamon Dolce Latte? You can even dunk the scones right into your drink! You can also enjoy these cream scones warmed up with a nice indulgent slab of butter or your choice of fruit preserve. Apricot, marmalade, and cranberry jam are all super delicious paired with pumpkin spice.
How to Store and Warm Scones
Store these scones in an airtight container or zip seal bag at room temperature. They'll keep for up to 3 days, otherwise they also freeze super well – see freezing directions below.
You can warm scones in the microwave for a few seconds or in the oven for a few minutes, until heated through.
Can I Freeze Scones?
As mentioned earlier, my favorite way to freeze scones (either baked or unbaked) is by pre-freezing them first and then transferring them to a freezer-safe container. You can leave them unwrapped, wrap them individually, or separate the layers with parchment paper.
Allow baked scones to thaw to room temperature before serving (and glazing!). Unbaked scones can be baked in the oven straight from frozen.
More Fall Recipes
Fall is the best season for baking, and you can't miss out on these other festive recipes:
Pumpkin Pie Spice Scones
These homemade Pumpkin Pie Spice Scones are full of warm flavors and coated in a delicious yet simple spiced cream glaze. An easy cream scone recipe for fall baking!
Ingredients
For The Scones
2½

cups

all-purpose flour

⅓

cup

rolled oats

⅓

cup

granulated sugar

1

tablespoon

baking powder

¼

teaspoon

ground cinnamon

¼

teaspoon

salt

5

tablespoons

cold butter,

cut in pieces

½

cup

nonfat plain yogurt

1

teaspoon

pure vanilla extract
For The Glaze
1

cup

powdered sugar

¼

teaspoon

ground cinnamon

¼

teaspoon

ground cloves

pinch of nutmeg

2

tablespoons

Pumpkin Pie Spice Creamer
Instructions
For The Scones
Line a baking sheet with parchment paper or Silpat and set aside.

In a large mixing bowl combine flour, oats, sugar, baking powder, cinnamon and salt; whisk until completely incorporated.

Rub the butter into the dry ingredients with your fingers, or with a pastry cutter; rub until the mixture resembles fine crumbs.

Make a well in the center and pour in the creamer, yogurt, and vanilla.

Using a wooden spoon, combine all the ingredients just until the dough comes together.

Transfer the dough onto a lightly floured surface; flour your hands and knead the dough five times.

Shape the dough into a disk and cut it into 8 wedges.

Transfer all the wedges to the baking sheet, leaving about 1-inch space between each scone.

Bake the scones for 15 to 18 minutes, or until golden brown.

Remove from oven and let cool for 2 minutes, and then transfer the scones to a wire rack.
For The Glaze
Meanwhile, in a small mixing bowl, combine the powdered sugar, cinnamon, cloves, nutmeg, and creamer; whisk until smooth.

If the glaze is too thick, add more milk; if the glaze is too thin, add more powdered sugar until you reach the desired consistency.

Spoon and spread the glaze over each scone.

Allow the glaze to set before serving.
Notes
Pumpkin Pie Spice Creamer:

I used a pumpkin-flavored creamer for this recipe, but feel free to use any flavored (or unflavored) creamer you want.
Chilled Ingredients: Ensure your heavy cream and any butter or fats you use are cold. This helps achieve a flakier texture in the scone.
Gentle Mixing: When combining the wet and dry ingredients, stir just until they come together to avoid overworking the dough and ending up with tough scones.
Pre-chill Before Baking: Once your scones are shaped and on the baking sheet, pop them into the refrigerator for about 15 minutes before baking. This will help solidify the fats and result in a higher rise during baking.
Flavor Enhancements: Because heavy cream is rich and has a subtle flavor, consider adding complementary flavors to your scones, like a hint of orange zest, to elevate the pumpkin spice notes.
Watch the Bake: Be attentive to the baking time. They might need a few more minutes than regular scones, but you also don't want them to dry out.
Storage: Store them in an airtight container and enjoy them within a few days for the best freshness. If storing longer, consider freezing and reheating when ready to enjoy.
Nutrition
Serving:
1
g
|
Calories:
341
kcal
|
Carbohydrates:
62.6
g
|
Protein:
5.2
g
|
Fat:
9.5
g
|
Saturated Fat:
5.7
g
|
Cholesterol:
19.9
mg
|
Sodium:
21.1
mg
|
Fiber:
1.8
g
|
Sugar:
31.6
g
Nutritional info is an estimate and provided as courtesy. Values may vary according to the ingredients and tools used. Please use your preferred nutritional calculator for more detailed info.