Pumpkin Spice Spritz Cookies are a new twist on a classic cookie and fabulous for holiday baking! I can't get enough of these buttery and delicious press cookies flavored with pumpkin spice for fall. This is one of the easiest and best spritz cookie recipes for the festive season!
Looking for more Pumpkin Spice recipes? You'll also love these Pumpkin Pie Spice Thumbprint Sugar Cookies!
Festive Pumpkin Spritz Cookies for Fall
I think we can all agree, there's not a more classic fall flavor than pumpkin spice. And when it comes to classic cookie recipes, Spritz cookies are just the best for holiday baking! Delicate, buttery press cookies are easy and delicious, very snackable, and super customizable – which is what led to this fall-inspired recipe for Pumpkin Spice Spritz Cookies.
I absolutely love this foolproof recipe for spritz cookies. Not only because it calls for my favorite zingy Pumpkin Pie Spice. I swear. These foliage-themed cookies are just so crisp and pretty! There's a lot to love, from their festive orange color to their adorable leaf shape courtesy of one of the best kitchen gadgets IMO: the cookie press!
Spritz cookies are the perfect addition to any holiday or Christmas cookie tray this season, and I can't wait for you to try these!
What Are Spritz Cookies?
Spritz Cookies actually get their name from a German word ("spritzen"), meaning "to squirt" in English. They're a buttery Christmas cookie made of basic ingredients like flour, butter, sugar and eggs, named after the fact that the beautiful designs and shapes come from the dough being "squirted" through a cookie press directly onto a baking sheet.
Recipe Ingredients
The ingredients list for these Pumpkin Spice Spritz Cookies is short and sweet (just as sweet as these cookies!). Here's what you'll need:
Butter: It could be the sheer amount of butter in this recipe that makes these cookies so delicious, I'm convinced! You'll need to let the butter sticks get to room temperature for an even bake.
Pumpkin Pie Spice: The special ingredient for this recipe, Pumpkin Pie Spice is a warm blend of ground spices including cinnamon, ginger, nutmeg, and cloves, found in most spice aisles, a true fall favorite.
Powdered Sugar: Using powdered a.k.a. Confectioner's sugar is the secret to keeping the dough smooth and less likely to crumble when pressing!
Flour: All-purpose flour or your alternative of choice (like almond or oat), so long as it is finely ground.
Eggs: To bind everything together. I like to let eggs reach room temperature whenever I bake for the best results! Just take them out of the fridge a couple of hours beforehand.
Vanilla: Pure vanilla extract for flavor, almond extract also works.
Orange Food Coloring: Optional but so fun and fitting for a fall foliage theme!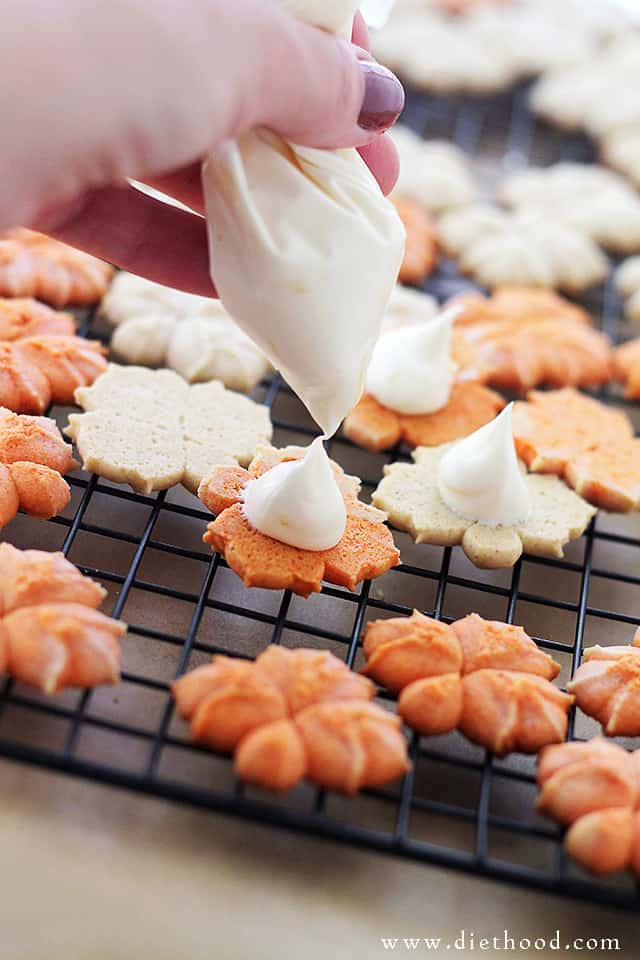 How to Make Pumpkin Spice Spritz Cookies
I love how easy spritz cookies are to make. Just mix your wet and dry ingredients separately, combine, press out your dough and get baking. You'd be hard-pressed to come away from this pressed cookie recipe with anything but perfect, delectably buttery Pumpkin Spritz Cookies!
First thing's first, for this cookie recipe, do not grease your baking sheet! You'll need it cool and clean in order for the dough to stick.
Cream Together Butter and Sugar: First, while the oven is preheating, cream together the butter and powdered sugar in a mixing bowl until it's nice and fluffy. Then mix in the vanilla extract and the egg.
Mix Dry Ingredients: You'll whisk together the flour, baking powder and pumpkin pie spice in a separate bowl. Sifting the flour will make it easier to mix but is totally optional!
Combine Wet and Dry Ingredients: Slowly add the flour mixture to the butter mixture and beat the batter on low until everything is combined. If you're adding food coloring, mix in a few drops and continue to mix enough to get an even color!
Press The Cookies: Fill the Cookie Press with cookie batter. Make sure the dough is room temperature (not cold), and if needed place the press somewhere warm to let it get to the right temperature! If you don't have a cookie press, use a piping bag with a pastry tip to pipe out the cookies instead. Press out the cookie dough onto your bare baking sheets, about half an inch to 1 inch apart.
Bake: Once you've successfully spritzed your cookies, bake them until they're firm and lightly golden. Let the cookies stand for a couple minutes after they leave the oven before transferring them to a rack to cool.
Once your cookies have cooled completely, leave them plain or glaze or frost them to get creative with decorating!
Tips for Success
Press Alternatives: If you don't have a cookie press handy, use a piping bag with different tips or just a regular plastic bag with the corner snipped to pipe the dough out onto a baking sheet. You can also use a fork or other utensil to create the shapes and designs you're after. Let your creativity reign supreme!
Use a Cold Baking Sheet: For the best results when using a cookie press, your dough should be warm (room temperature or above) and your baking sheet must be cold in order for the dough to stick. If your cookies aren't sticking, try placing the sheet in the freezer for a few minutes. Use a light-colored baking sheet to avoid too much browning on the bottoms!
Don't Line the Pan: While we all love an easier clean-up, these pressed cookies won't adhere to a silicon baking mat or parchment paper.
Create Shades of Fall: Add the orange food coloring gradually for different shades of cookies! Add one drop to the dough and mix until just combined, then fill the cookie press and press out one row of cookies onto the sheet. Add another drop of color to the remaining dough, mix, and refill the press. Repeat until your rows of pressed cookies look like a gradient of fall leaves!
Easy Decorating Ideas
Here are some ideas and suggestions for decorating that go great with these Pumpkin Spice Spritz Cookies.
Make Cookie Sandwiches: Decorate your cookies by piping frosting on the undersides of two cookies and sandwiching them together. Pumpkin Spice pairs like a dream with a simple Cream Cheese Frosting or my favorite Maple Frosting!
Glaze Your Cookies: Dip the tops of the cookies in a Vanilla Glaze or Salted Caramel Glaze. While the glaze is setting, decorate your cookies with your choice of topping:
Sprinkles
Crushed nuts, like walnuts or pecans
Cinnamon sugar
Currants
How to Store Leftovers
Store your cookies in an airtight container at room temperature or keep them in the fridge for longer storage. They also travel really well, and can be transported easily to special get-togethers!
Can I Freeze These?
Spritz Cookies are a breeze to freeze – even when decorated! Store the cookies in a freezer bag or freezer-safe container and keep frozen for up to 4 months. Thaw them overnight at room temperature.
Pumpkin Spice Spritz Cookies
Pumpkin Spice Spritz Cookies are buttery and delicious press cookies flavored with festive pumpkin spice, for a new twist on classic holiday baking! The best Christmas cookie recipe to enjoy all year round.
Ingredients
2

sticks

(16 tablespoons) butter, softened

1

cup

powdered sugar

1

egg

1

teaspoon

pure vanilla extract

2-1/4

cups

all-purpose flour

1

teaspoon

baking powder

1

teaspoon

pumpkin pie spice

orange food color

(optional)
Instructions
Preheat oven to 350.

Combine butter and sugar in your mixer's bowl; beat with an electric mixer until fluffy and combined, about 4 to 5 minutes.

Add the vanilla and the egg; mix to incorporate.

In a separate bowl, whisk together flour, baking powder and pumpkin spice.

Add to the butter mixture and, with electric mixer on low, continue to mix until combined.

Add a few drops of food color and mix just until combined.

Press the cookies onto ungreased baking sheets.

Bake until firm and golden, about 7 to 8 minutes.

Remove from oven and let stand 2 minutes.

Transfer cookies to a rack and cool.

Fill with your favorite frosting or you can use my

Maple Frosting

– then sandwich two cookies together.

If you don't have a cookie press, insert a pastry-tip in a pastry bag.

Fill bag with cookie batter and pipe out onto ungreased baking sheets.
Nutrition
Calories:
13
kcal
|
Carbohydrates:
2
g
|
Protein:
0
g
|
Fat:
0
g
|
Saturated Fat:
0
g
|
Cholesterol:
2
mg
|
Sodium:
1
mg
|
Potassium:
8
mg
|
Fiber:
0
g
|
Sugar:
1
g
|
Vitamin A:
5
IU
|
Calcium:
4
mg
|
Iron:
0.1
mg
|
Net Carbs:
2
g
Nutritional info is an estimate and provided as courtesy. Values may vary according to the ingredients and tools used. Please use your preferred nutritional calculator for more detailed info.
More Fall Treats to Try
If you love fall themed treats as much as I do, here are more seasonal recipes to try: