Pumpkin Spice Spritz Cookies are buttery and delicious press cookies flavored with everyone's Fall-favorite, pumpkin spice! These spritz cookies go perfect with a cup of coffee or tea.
If you love pumpkin flavored cookies as much as I do, you should also try these Pumpkin Pie Spice Thumbprint Sugar Cookies!
Pumpkin Spice Spritz Cookies
Hey, Friends!! I have something a little special for you today. Actually, it's A LOT special. It involves KIDS and that ugly "C" word. 🙁 I thought for sure we'd have that word knocked out by now, you know? Cured 'n all. But nope. Not yet.
My sister's little Godson, Filip, is battling this horrific disease as we speak and my heart goes out to him and to his entire family.
For these reasons, today I am partnering with OXO for their Bake a Difference Campaign in partnership with COOKIES for Kids' Cancer. During the entire month of September, OXO will be donating $100.00 for each blog post dedicated to said campaign.
These Spritz Cookies Are Perfect For Fall
If my Pumpkin Spice Spritz Cookies can make a difference, (fingers crossed that they can!) count me in!
Last year, for the same campaign, I made you Pumpkin Cupcakes with Maple Frosting, thus in keeping with the pumpkin-theme, I decided to go with my favorite Fall spice and include it in these pretty, Fall Foliage Spritz Cookies.
OXO was also gracious enough to send me a package filled with all the goodies that I needed to make these cookies.
Using A Cookie Press Makes This Recipe Very Easy
I felt super fancy using the cookie press instead of my good ole plastic bag fitted with whatever tip I could find. What was more surprising was that in the end ALL the cookies were presentable! They ALL looked the same! With my old method, I'd get one cookie the size of my head, another one was missing a limb, a third one had holes in it, yaddi yaddi yadda… But this time? This time I was armed with all the proper tools and the cookies turned out beautifully! Every single one of them.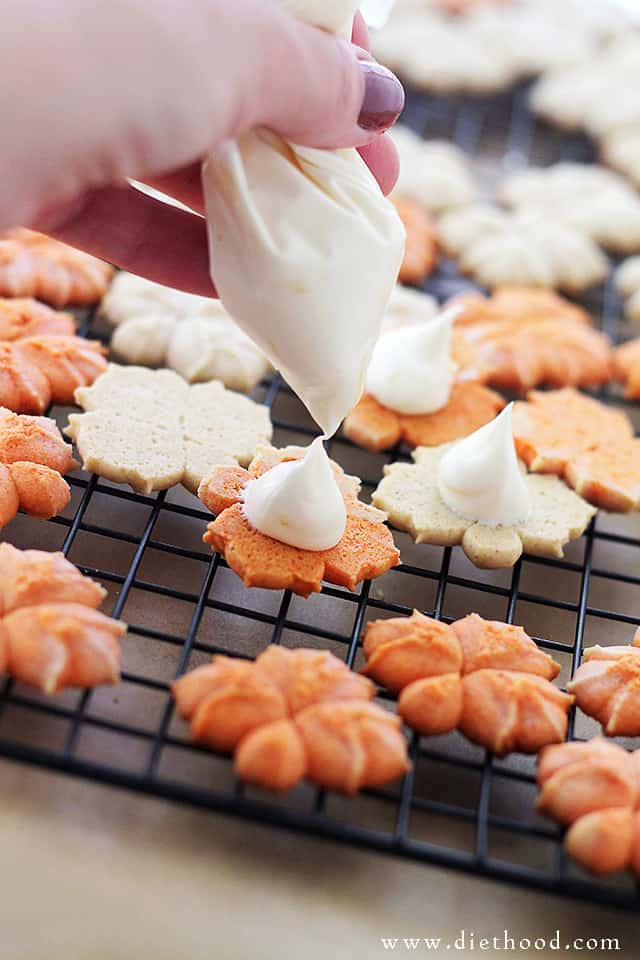 How Do You Make These Spritz Cookies?
The recipe for these cookies is very straight forward and foolproof. Like, there's NO WAY we can mess this one up. For reals. It's THAT easy. Buttah, eggs, more buttah, some sugar, a bit of spice and voila!
Get your cookie press ready and let's do this!
Also? Would you like to join me in the Bake a Difference Campaign for Cookies for Kids' Cancer? PRETTY, PLEASE?
Okay, good! Thank YOU!
So. For every stickered item sold, OXO will donate 25 cents in support of pediatric cancer research as part of its $100,000* pledge to Cookies for Kids' Cancer. Look for specially marked OXO products at participating retailers in September.
KEEP AN EYE OUT FOR THIS STICKER
ENJOY!
Print
Pumpkin Spice Spritz Cookies
Pumpkin Spice Spritz Cookies are buttery and delicious press cookies flavored with everyone's Fall-favorite, pumpkin spice! These spritz cookies go perfect with a cup of coffee or tea.
Ingredients
2

sticks

(16 tablespoons) butter, softened

1

cup

powdered sugar

1

egg

1

teaspoon

pure vanilla extract

2-1/4

cups

all-purpose flour

1

teaspoon

baking powder

1

teaspoon

pumpkin pie spice

orange food color

(optional)
Instructions
Preheat oven to 350.

Combine butter and sugar in your mixer's bowl; beat with an electric mixer until fluffy and combined, about 4 to 5 minutes.

Add the vanilla and the egg; mix to incorporate.

In a separate bowl, whisk together flour, baking powder and pumpkin spice.

Add to the butter mixture and, with electric mixer on low, continue to mix until combined.

Add a few drops of food color and mix just until combined.

Press the cookies onto ungreased baking sheets.

Bake until firm and golden, about 7 to 8 minutes.

Remove from oven and let stand 2 minutes.

Transfer cookies to a rack and cool.

Fill with your favorite frosting or you can use my

Maple Frosting

- then sandwich two cookies together.

If you don't have a cookie press, insert a pastry-tip in a pastry bag.

Fill bag with cookie batter and pipe out onto ungreased baking sheets.
Nutrition Facts
Pumpkin Spice Spritz Cookies
Amount Per Serving
Calories 13
% Daily Value*
Fat 0g0%
Cholesterol 2mg1%
Sodium 1mg0%
Potassium 8mg0%
Carbohydrates 2g1%
Protein 0g0%
Vitamin A 5IU0%
Calcium 4mg0%
Iron 0.1mg1%
* Percent Daily Values are based on a 2000 calorie diet.
Keywords:
homemade cookies, press cookies recipe, pumpkin spice cookies, pumpkin spice cookies recipe, recipe for press cookies, recipe for spritz cookies, spritz cookies recipe
Want To Save This Recipe?
* In 2014, OXO will donate up to $100,000 to Cookies for Kids' Cancer through specially marked baking tools, bake sale matches and other fundraising efforts. Cookies for Kids' Cancer is a recognized 501c(3) public charity duly incorporated under the laws of the state of New Jersey. Your donations are tax deductible to the fullest extent allowable by law. 100% of proceeds raised by Cookies for Kids' Cancer fund pediatric cancer research.