Grilled Chipotle Chicken Salad – Oven grilled chicken seasoned with chipotle powder and tossed with all your favorite southwestern fixings. An incredibly delicious salad with a bite!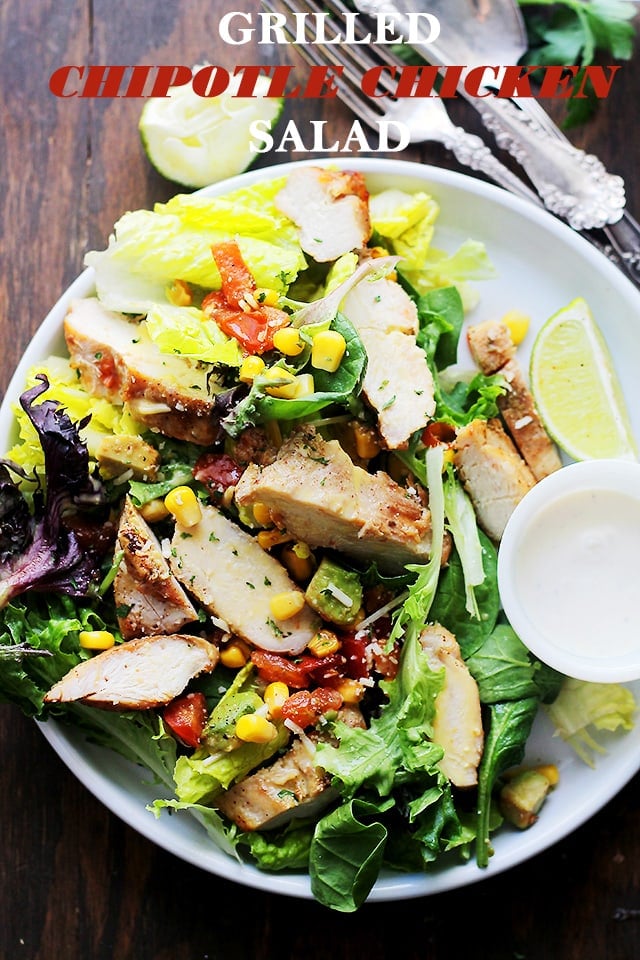 Juicy, bit spicy, super moist oven grilled Chipotle Chicken – perfect for salads, tacos, enchiladas, and so on and so forth! It's so delicious!
Hi Hey Hello!
How's it going, friends? Remember, it's Wednesday… we're half way to the weekend!!
Speaking of… I got a little ahead of myself and thought that Mother's Day was this coming Sunday. Turns out, it's not.
I was all prepared with serving you breakfast fares and boozy drinks these next couple of days, but I guess I'll pull those off the shelf and wait until next week. I was also very much prepared to open up some gifts… dang it! Have to wait 10 more days.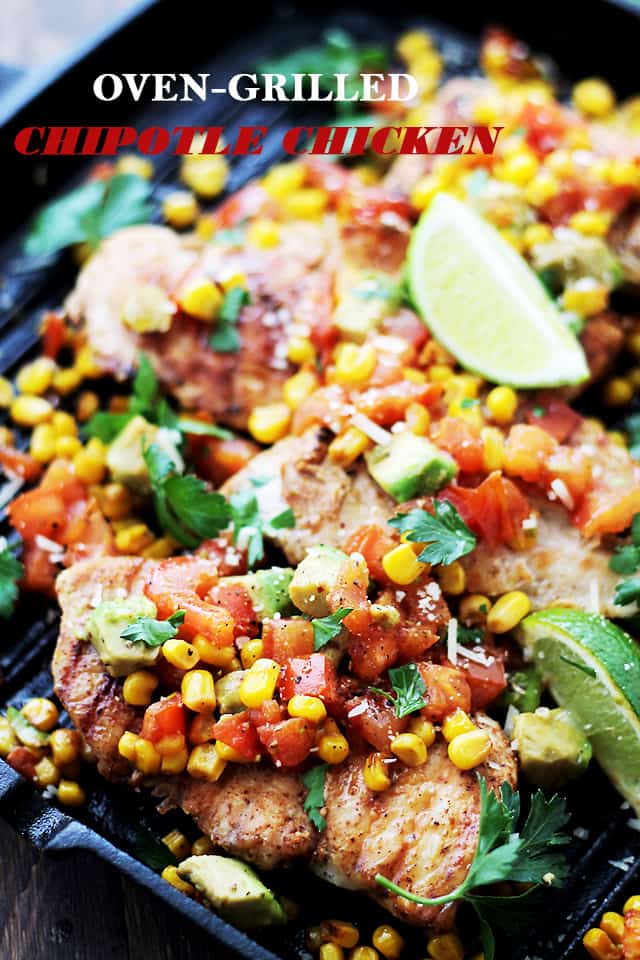 Also?? After taking these pictures, I told my husband I was going house hunting for a place with windows all around every wall. I am tired of these rainy days, but annoyed by the lack of light in the house, especially when it's grey and dreary outside.
So, now that you're caught up with all my struggles and complaints – world problems, right? – we can talk salads! AND oven grilled chicken!
OVEN GRILLED CHICKEN
I have to tell you this. My Mama thought I was a genius when she saw how I "grilled" chicken at home.
But, let's track back a bit. My Mom cooks Macedonian food, exclusively. She doesn't need grill pans, and laughs at the idea of owning a waffle maker. She's quite happy with flipping crepes every weekend. Thus, when she had a bite of my oven-grilled chipotle chicken, she was very surprised that I hadn't cooked it on the grill.
Can you guess what I got her for Mother's Day?! Cast Iron Grill Pan. If you don't have one, get it.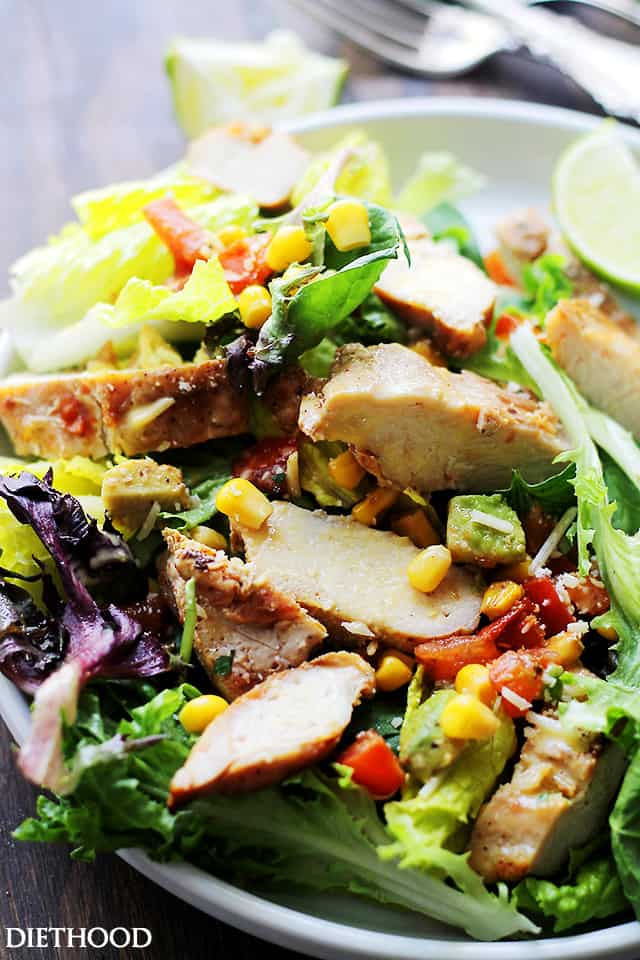 Let's welcome chipotle and chicken to the table. Let's pound down the chicken and throw it in a bag to meet up with its almost destiny.
Then, 6 minutes on the stovetop, 20 minutes in the oven, and we have our perfectly tender, juicy and extremely flavorful piece of meat. Wam bam thank you ma'am!
Cut it up, layer it on top of some greens, throw in a few corn kernels, slices of avocado, fresh tomatoes, cheese, a drizzle of LIGHT Salad Dressing and we're done!
This can be dinner, this can be lunch, this can be your new favorite grilled chicken salad.
ENJOY!
Craving more? Sign up for the DIETHOOD Newsletter for a fresh serving of content delivered to your inbox! Follow Diethood on Facebook, Twitter, Pinterest and Instagram for all of the latest recipes and updates.
Grilled Chipotle Chicken Salad
Oven grilled chicken seasoned with chipotle powder and tossed with all your favorite southwestern fixings. An incredibly delicious salad with a bite!
Ingredients
4

(4-ounces each) boneless, skinless chicken breasts

1

teaspoon

chipotle powder

1/2

teaspoon

cumin

1/2

teaspoon

salt

6

cups

salad greens

1

cup

corn kernels

1

avocado

, diced

2

to 3 fresh tomatoes

, chopped

1

cup

low fat shredded cheddar cheese
Instructions
Preheat oven to 350.

Pound chicken breasts to an even thickness; do not pound thin.

In a large ziploc bag, combine chipotle powder, cumin, salt and chicken; close bag and using your hands, massage the seasonings around the chicken pieces. Let stand 5 minutes.

Grease a grill pan with cooking spray and set it over medium-high heat.

Add chicken pieces and cook for 4 minutes; flip, and continue to cook for 2 more minutes, or until lightly browned.

Place grill pan in the oven and cook for 18 to 20 minutes, or until chicken is cooked through.

Remove from oven and let stand 5 minutes.

In the meantime, prepare the salad.

In a large salad bowl, toss together salad greens, corn kernels, diced avocados and chopped tomatoes.

Cut up the chicken and layer it on top of salad.

Sprinkle with cheese.

Serve.
Nutrition
Calories:
304
kcal
|
Carbohydrates:
14
g
|
Protein:
33
g
|
Fat:
13
g
|
Saturated Fat:
3
g
|
Cholesterol:
78
mg
|
Sodium:
710
mg
|
Potassium:
864
mg
|
Fiber:
4
g
|
Sugar:
1
g
|
Vitamin A:
1230
IU
|
Vitamin C:
21
mg
|
Calcium:
141
mg
|
Iron:
1.8
mg
|
Net Carbs:
10
g
Nutritional info is an estimate and provided as courtesy. Values may vary according to the ingredients and tools used. Please use your preferred nutritional calculator for more detailed info.