A light & easy crock pot chicken recipe perfect for weeknight dinners! This flavorful chicken recipe is cooked in the crock pot to a tender perfection with vegetables and balsamic vinegar.
Whoever came up with the phrase, "As easy as pie", must not have owned a crock pot! THIS is easy. Crock Pot Balsamic Chicken – our game day and/or weeknight savior!
I know what you're thinking. Another chicken in the crock pot recipe?! OF COURSE! Would you rather me demonstrate how to prepare an Italian Salted Cod Fish? It takes an entire week! Let's stick to what we know – crock pots and slow cookers. Err. what?
This slow cooked entree couldn't be easier to prepare and it should come with a warning label: "CAREFUL! You'll eat all of it in one sitting!"
***This post is sponsored by STAR FINE FOODS, maker of awesome Olive Oils, Vinegars, olives, glazes, capers, anchovies, onions, and the list goes ON and ON!***
I first tried this Crock Pot Balsamic Chicken last winter, right before completely running out of the best Balsamic Vinegar, STAR's Balsamic Vinegar of Modena Gold Edition.
As soon as I got a new bottle, I made what is in front of you and we lived happily ever after.
STAR's Balsamic Vinegar of Modena Gold Edition is the perfect balance of flavor and consistency. Because it's aged in oak casks, it is thicker and the oak gives the vinegar a distinctive undertone. Last time, we used it in my Garlic and Rosemary Balsamic Roasted Pork Loin, and that is pretty much the tastiest pork of all. Don't believe me? Read the comments.
Here's the idea this time. Tomorrow night is Monday Night Football  AND!?! DA BEARS!  Yes, yes, Eagles, too… but let's focus on the Bears.
If you are looking for something to serve, or even kill two birds with one stone – dinner and game-day-food – THIS chicken is your pal!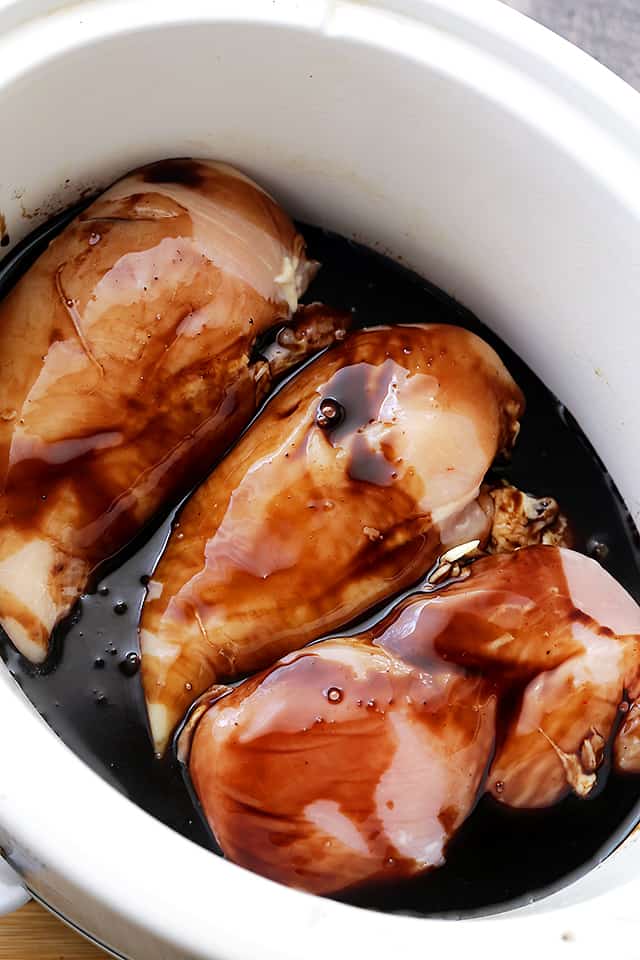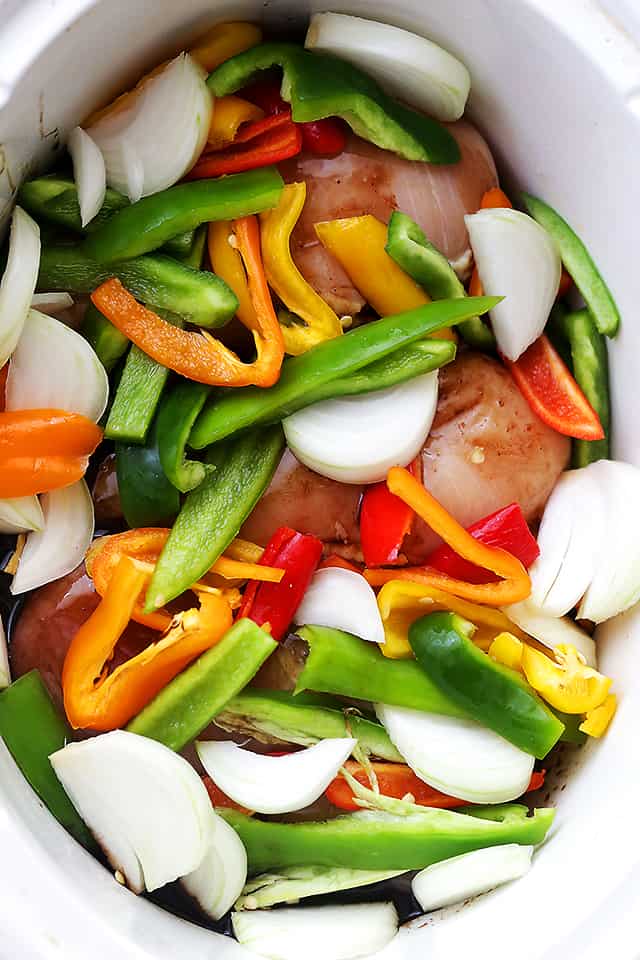 BALSAMIC CHICKEN
You only need like 6-ish ingredients: a bit of STAR Olive Oil, some garlic, a few chicken breasts, nice full drizzle of STAR's Balsamic Vinegar, couple of bell peppers, onions, seasoning, salt and pepper. And that is it!
That was more than 6 ingredients, buuuuut culinary professionals say not to count oil, salt, and pepper. Or water. At least, that's what I've heard? To be honest, I barely remember what I talked about 5 minutes ago, so… I may not be a credible source.
ANYWHO!
Perhaps the best part of the entire dish, aside from the tender, flavor-bursting chicken and veggies, is the fact that once you shred it, you can stuff this into burgers, or tacos, or eat it as is, straight from the pot. Which is in fact my favorite way to eat it because, low-carb and less dishes to wash.
ENJOY!
For more information on STAR Fine Foods Products, please check them out on Facebook, Twitter, and Pinterest.
STAR Balsamic Vinegar of Modena Gold Edition is available at select Walmart stores and >>> ONLINE <<<

CRAVING MORE? SIGN UP FOR THE DIETHOOD NEWSLETTER FOR FRESH NEW RECIPES DELIVERED TO YOUR INBOX!
FOLLOW DIETHOOD ON FACEBOOK, TWITTER, PINTEREST AND INSTAGRAM FOR ALL OF THE LATEST CONTENT, RECIPES AND UPDATES.
TOOLS AND INGREDIENTS USED IN THIS RECIPE
Crock Pot Balsamic Chicken
Crock Pot Balsamic Chicken - Light, easy, and perfect for weeknight dinners, or even game days, this flavorful chicken dish is cooked in the crock pot to a tender perfection with vegetables and balsamic vinegar.
Ingredients
1

tablespoon

STAR Original Olive Oil

3

garlic cloves minced

2

pounds

skinless

, boneless chicken breasts

salt and fresh ground pepper

, to taste

1/3-

cup

STAR Balsamic Vinegar of Modena Gold Edition

2

tablespoons

brown sugar

1

large yellow onion

, sliced

1

red bell pepper

, thinly sliced

1

green bell pepper

, thinly sliced

1

teaspoon

Italian Seasoning
Instructions
Grease the sides and bottom of the crock pot with olive oil; sprinkle minced garlic over it.

Season chicken breasts with salt and pepper.

Add chicken to the crock pot and arrange it in one single layer.

In a small mixing bowl combine balsamic vinegar and brown sugar; whisk until thoroughly combined and pour it over chicken.

Top with sliced vegetables and Italian Seasoning.

Cover and cook on HIGH for 3 to 4 hours, or on LOW for 5 to 6 hours.

Remove cover and transfer chicken breasts to a cutting board; using two forks, shred the chicken.*

Stir the shredded chicken back into the crock pot.

Taste for seasonings and adjust accordingly.

Serve.
Recipe Notes
WW Smart Points: 3
*You can serve this with flour tortillas, sandwich bread, burger buns, or over pasta. You can also serve it as is.
*Place leftovers in a container and cover with a lid; refrigerate for 3 to 5 days.
Nutrition Facts
Crock Pot Balsamic Chicken
Amount Per Serving (1 g)
Calories 193.1
Calories from Fat 51
% Daily Value*
Fat 5.7g9%
Cholesterol 86.7mg29%
Sodium 245.4mg10%
Carbohydrates 6.4g2%
Protein 31.3g63%
* Percent Daily Values are based on a 2000 calorie diet.
Want To Save This Recipe?