Authentic French Bouillabaisse is easy to make at home! Made with fennel, saffron, white wine, garlic, and plenty of seafood, this fragrant fish stew is a tried-and-true classic.
A Flavorful French Seafood Stew
There's nothing more satisfying than a bold, hearty, yet delicate dish of bouillabaisse, served up with crusty bread. This timeless French seafood dish hails from Provence, where the freshest seafood is a huge part of the local cuisine. Traditionally, French cooks made this with a variety of different fish that might be available at the time of cooking, along with a few shellfish as well. The irresistible broth gets its special flavor from anise-flavored fennel, golden threads of saffron, and a splash of wine.
Making bouillabaisse might seem intimidating, since it's such a famous recipe with so many specialty ingredients, but like many old recipes, it's actually very simple! This authentic recipe will teach you how to make it yourself, and believe me, once you try it, there's no going back! You're about to meet your new favorite fish recipe!
What's the Difference Between Cioppino and Bouillabaisse?
Bouillabaisse is very similar to another popular fish stew, cioppino – which is especially associated with Italian immigrant fishermen in San Francisco, during the 1800s. Both use a variety of fresh seafood options, but cioppino tends to lean more heavily on shellfish, while bouillabaisse is more about the fish. Also, cioppino soup broth is tomato-based and garlicky, while the broth in bouillabaisse is more of a fragrant fish broth with a unique aromatic fragrance, thanks to the fennel and saffron.
What You'll Need
So what will you need to make this recipe at home? Let's take a look at the list of ingredients. Keep in mind that the fish selections are really more suggestions than requirements. You can substitute the fish that works best for your area and budget, no problem.
Olive Oil and Butter: Using both adds a wonderfully rich, satisfying flavor.
Fennel: Core and finely chop the fennel bulb. You can discard the stems or save them for making homemade broth later.
Onion: Dice up one yellow onion (or a white onion, or a sweet onion… whatever you've got).
Garlic: You'll want a lot of garlic here, finely minced or pressed in a garlic press.
Spices and Herbs: Dried thyme, paprika, saffron, bay leaves, and cayenne pepper. 🌶
White Wine: Aim for a dry wine here, like a Sauvignon Blanc or Pinot Grigio. Sweet wine won't give the right flavor.
Clam Juice: Clam juice is easy to find in most grocery stores, next to the canned tuna, canned sardines, and other similar ingredients. However, if you have access to real fish stock, that's fine to use as well!
Diced Tomatoes: Fresh tomatoes are fine, but I usually use a can of diced, undrained tomatoes. So easy!
Seafood: I typically use halibut filets, scallops, shrimp, and mussels. Make sure that the fish is cut into chunks, the scallops have their tendons removed, the shrimp are peeled and deveined, and the mussels have been scrubbed and debearded. Often, your fishmonger can take care of some or all of these tasks for you.
Salt and Pepper
Garnishes: Finely chopped fresh basil, parsley, and some red pepper flakes make beautiful and flavorful garnishes.
Baguette Slices: Toasted baguette slices are a must with bouillabaisse!
Which Is Better, Fresh or Frozen Fish?
You might think that the best fish comes from the fresh fish case at your grocery store, but that's not necessarily true – sometimes, the highest quality is right there in the frozen section, just needing to be thawed out before use. Why? Because frozen fish is often frozen right at the peak of quality, and then defrosted just before you're ready to cook.
The "fresh" fish behind the counter might be more convenient, but it has usually been frozen for transportation and then thawed at the store to sell. That fresh fish fillet you pick up may have been sitting around on ice for hours and hours before you buy it, take it home, and cook it, making it less "fresh" than seafood you thaw out in your own fridge.
Let's Make Bouillabaisse!
Okay, let's get into the method for making this mouthwatering meal. We will cook up the aromatic ingredients, create the broth, and then add the more delicate ingredients last so they don't overcook. Here we go!
Cook the Aromatic Ingredients. To begin, set a big Dutch oven or soup pot over medium-high heat. Add the olive oil, and let that get hot before you stir in your chopped fennel and onion. Cook those ingredients for about 5 minutes, or until they are softened. Next, stir in the garlic, thyme, paprika, saffron, and cayenne pepper, and let those cook for just about 20 seconds.
Add the Liquids. Use a wooden spoon or similar to stir the white wine into the hot ingredients – it will bubble and steam. Let this cook down for a minute or so, stirring to scrape any browned bits off the bottom of the Dutch oven and into the liquid. After one minute, add in your clam juice, undrained tomatoes, and bay leaves. Bring the soup to a boil before reducing the heat and letting it simmer for about ten minutes.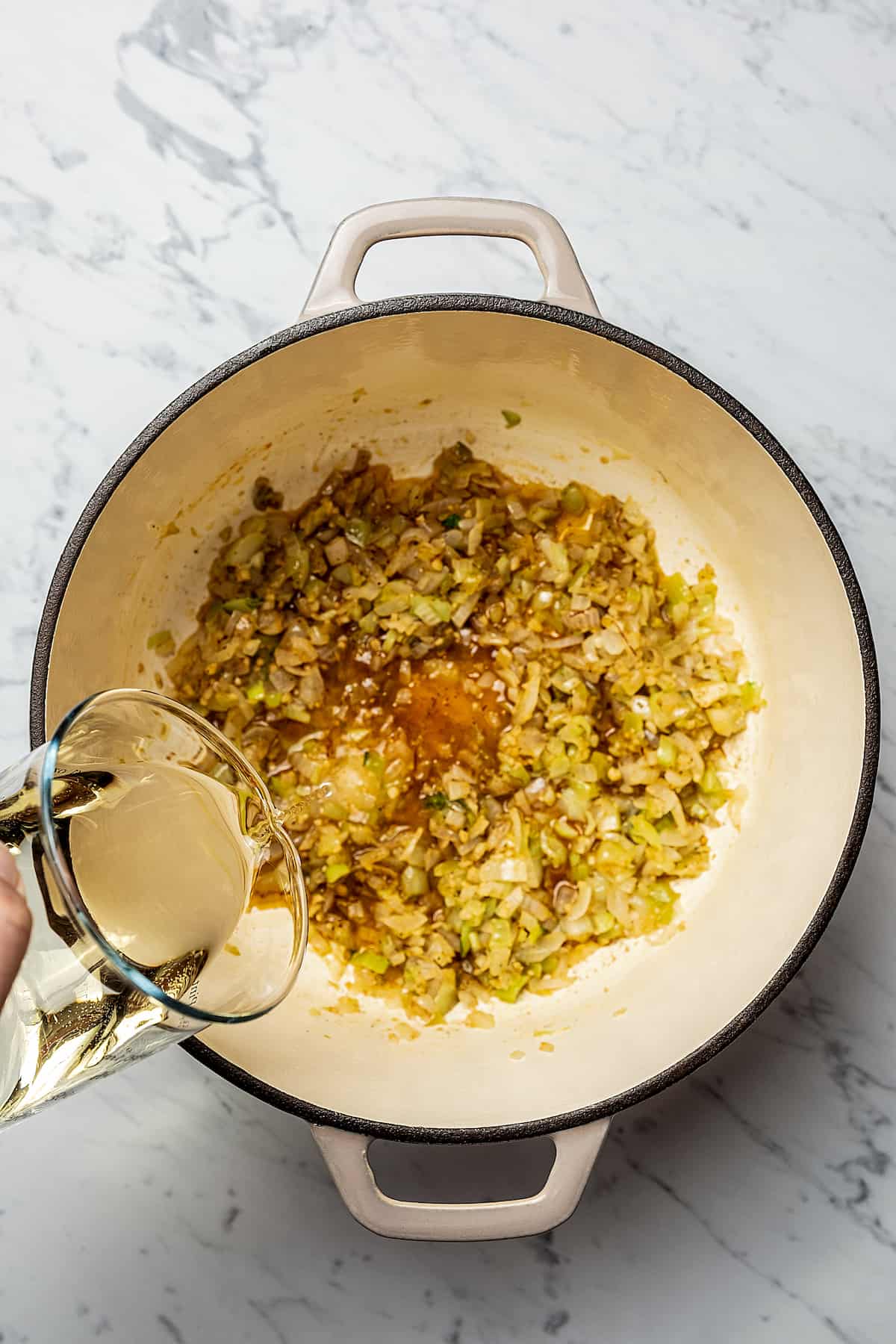 Add the Halibut. After ten minutes, the liquid in the pot should have reduced by about half. To this slightly thickened broth, add your halibut pieces (season them with a little salt and pepper first). Cover and cook over medium-low heat for two minutes.
Add the Mussels and Scallops. Mussels and scallops are next – they need to be arranged in the simmering soup alongside the halibut, covered, and cooked for three minutes.
Add the Shrimp. Shrimp cook the quickest, so they go in last. Uncover the pot and scatter in the shrimp. Cover it again, and cook them for two or three minutes, or until they are opaque and pink but not shrunken or rubbery. At this point, the halibut chunks should be cooked through, most of the mussels should be open, and the scallops should be firm. If you need to cook another minute or so, that's fine.
Finish the Dish. Once the seafood is all cooked, take the bouillabaisse off the heat and discard the bay leaves as well as any unopened mussels. (Unopened mussels are considered unsafe to eat, and should not be served.) Stir in the fresh basil and parsley, give the soup a taste, and add more salt and pepper as needed.
Serve. Ladle your soup into bowls, and serve it with freshly toasted baguette slices.
Tips and Tricks
There are a lot of ways to tweak your bouillabaisse to suit your taste, dietary needs, and the ingredients you have available to you. Here are a few helpful hints to make your meal extra magical!
Wine-Free: Some cooks don't care to add wine to their dishes, but don't let that stop you from making an awesome bouillabaisse! Some great substitutes include chicken broth with a tiny bit of dijon mustard whisked in (dijon mustard has a distinctly wine-like taste), or water mixed with a bit of vinegar.
Optional Flavor Boosts: You can stir a little tomato paste into the sauteing veggies for more depth of flavor – this is especially helpful if you're not using wine in the dish. A little orange or lemon zest is also fabulous for giving bouillabaisse a nice lift.
Fish Options: As you can see, I used a combination of firm, meaty fish, tender shrimp, sweet scallops, and mussels to get some variety in my bouillabaisse. However, you can make all kinds of substitutes here – remember, bouillabaisse was traditionally based on the day's catch. You can use a combination of meaty, flaky, fatty, and lean fish, plus whatever shellfish you have (or no shellfish at all). If some of the fish "dissolves" while cooking, that's okay! It will enrich the soup broth, and taste delicious either way.
Yummy Serving Suggestions
For me, this meal needs some crusty baguette slices, and nothing else! It's so hearty and filling. However, if you'd like to round out the menu with a side dish or two, try one or two of these easy side dishes. Bon appetit!
Salad: A fresh, highly-textured salad is always welcome with warm soup and fish. Try this Spinach Blackberry Salad with Lemon Poppyseed Dressing for a summery, sweet side dish that'll make your mouth happy.
Homemade Bread: Skip the baguette slices, and create a homemade artisan loaf of bread in your slow cooker! It's incredibly easy, and your kitchen will smell ah-mazing. No-Rise Slow Cooker Basil Pesto Bread is a natural with hearty bouillabaisse!
Zucchini Noodles: Craving something creamy? These healthy zoodles are just the thing. Creamy Ricotta Zucchini Noodles have tons of texture and flavor, and work beautifully next to the rich, tomato and wine broth in this soup.
Storing and Reheating Instructions
Store leftover bouillabaisse in an airtight container in the refrigerator for 3 days.
To reheat, just pour it into a saucepan set over medium heat, and let it cook until the soup just simmers. Don't overcook it, or the fish and seafood will be dry and rubbery.
Does Bouillabaisse Freeze Well?
Yes, you can freeze bouillabaisse for up to three months.
First, make sure you cool it down to room temperature, and remove any mussels from their shells (discard the shells).
Pour the soup into a freezer bag or container, making sure all of the fish and seafood are covered by the soup broth. Label with the date, and store in the freezer.
Thaw in the fridge before reheating.
ENJOY!
Bouillabaisse
Bouillabaisse is easy to make at home, prepared with fennel, saffron, white wine, garlic, and plenty of delicious seafood.
Ingredients
3

tablespoons

olive oil

1

tablespoon

butter

1

fennel bulb,

cored and finely chopped

1

yellow onion,

diced

8

cloves

garlic,

minced

¼

teaspoon

dried thyme

¼

teaspoon

paprika

¼

teaspoon

saffron threads

⅛

teaspoon

cayenne pepper

1

cup

dry white wine

4

cups

clam juice, seafood stock can also be used

1

can (14 ounces)

diced tomatoes,

undrained

2

bay leaves

1

pound

halibut filets,

cut into 3-inch pieces

salt and fresh ground black pepper,

to taste

12

ounces

mussels,

scrubbed and debearded

1

pound

sea scallops,

tendons removed

8 to 10

ounces

raw shrimp,

peeled and deveined

2

tablespoons

finely chopped fresh basil

1

tablespoon

finely chopped fresh parsley

red pepper flakes,

for garnish, optional

baguette slices,

toasted, optional
Instructions
Heat the olive oil and melt the butter in a large Dutch oven set over medium-high heat.

Add the chopped fennel and onion and cook for about 5 minutes, or until softened. Stir frequently to prevent burning.

Stir in the garlic, thyme, paprika, saffron, and cayenne pepper; cook for 20 seconds.

Stir in the wine, scraping up all the browned pieces from the bottom of the pot, and cook for 1 minute.

Add in the clam juice (or seafood stock), tomatoes with the tomato juices, and the bay leaves.

Bring to a boil; reduce heat to medium and simmer for 8 to 10 minutes, or until the liquid has reduced by half.

Season the halibut pieces with salt and pepper.

Add the halibut to the pot; reduce heat to medium-low, cover, and cook for 2 minutes.

Next, nestle in the mussels and scallops, cover the pot, and cook for 3 minutes.

Remove cover; add in the shrimp, cover, and cook for 2 to 3 more minutes, or until shrimp is opaque, halibut is cooked through, mussels have opened, and scallops are firm.

Remove from heat.

Discard bay leaves and any unopened mussels.

Stir in the basil and parsley.

Taste for salt and pepper; adjust accordingly.

Ladle into wide bowls, garnish with red pepper flakes, if using, and serve with baguette slices.
Nutrition
Calories:
278
kcal
|
Carbohydrates:
23
g
|
Protein:
22
g
|
Fat:
9
g
|
Saturated Fat:
2
g
|
Polyunsaturated Fat:
1
g
|
Monounsaturated Fat:
5
g
|
Trans Fat:
0.1
g
|
Cholesterol:
51
mg
|
Sodium:
852
mg
|
Potassium:
813
mg
|
Fiber:
2
g
|
Sugar:
7
g
|
Vitamin A:
507
IU
|
Vitamin C:
19
mg
|
Calcium:
67
mg
|
Iron:
2
mg
|
Net Carbs:
21
g
Nutritional info is an estimate and provided as courtesy. Values may vary according to the ingredients and tools used. Please use your preferred nutritional calculator for more detailed info.
Categories:
More Tantalizing Seafood Dishes