This Spanish Seafood Paella is a traditional rice dish filled with shrimp, shellfish, smoked sausage, and colorful veggies. Best of all, this incredible meal is super easy to make at home!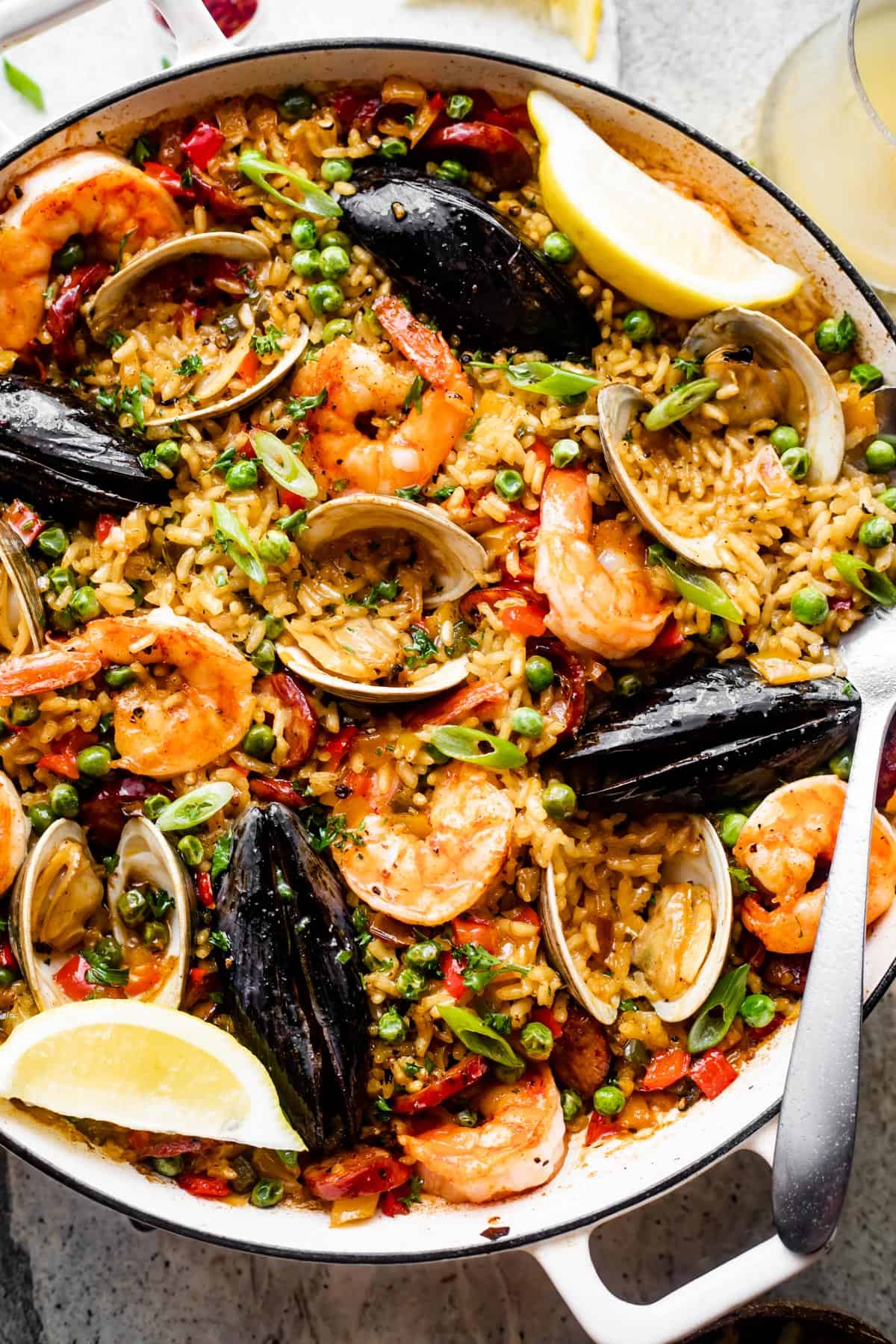 Paella might just be the ultimate seafood dish. Originating in Valencia, Spain, it's a very old peasant dish that can be made in many different ways depending on the meats and veggies that are in season. But, no matter how you make it, paella almost always features saffron and tender, short-grain rice cooked with plenty of spices and seasonings. Seafood paella is especially popular stateside, with a medley of favorites like scallops, shrimp, chopped fish, calamari, etc.
Why You Should Make This Recipe
Versatile and Customizable: Paella's adaptability to various meats and seasonal veggies makes it a versatile dish suitable for any palate.
Seafood Lovers Delight: The combination of various seafood like scallops, shrimp, and calamari offers a delicious ocean-fresh experience.
Flavorful: The mix of saffron, white wine, seafood stock, sausage, and garlic creates a deep and truly tasty flavor.
Rich in Heritage: As a traditional dish from Valencia, Spain, it carries a rich history and cultural significance.
Ingredients For Seafood Paella
Olive Oil: For sautéing.
Shrimp: Use any size, and they need to be peeled and deveined.
Seasonings: Smoked paprika and crumbled saffron threads add a honey-like note.
Onion: Yellow onion is my go-to, but any type of onion is fine.
Sausage: You'll need a smoked pork sausage, like Andouille.
Bell Peppers: I use red and green pepper, but you can use any color.
Garlic: Minced or pressed.
Rice: Short-grain rice like Arborio.
White Wine: You can sub with white wine vinegar, apple cider vinegar, or lemon juice.
Seafood Stock
Clams: I used manila clams, scrubbed and purged.
Peas: Fresh or frozen green peas add a pop of color and sweetness.
Mussels: The mussels should be scrubbed, rinsed, and their beards removed.
Parsley: Chopped, fresh parsley finishes the dish perfectly.
How to Make Paella
This recipe is so rewarding to make! There are a few steps and processes involved, but the overall cooking method is easy. Try this one for a fancy occasion or a favorite holiday.
Cook the Shrimp: Heat 2 tablespoons of olive oil in a paella pan or large skillet. Season the shrimp with paprika, salt, and pepper; cook 1 to 2 minutes per side. Remove shrimp and set aside.
Cook Sausage and Aromatics: Add more oil; cook the diced onions, then add sausage and cook for 2 minutes. Add peppers and cook until tender; stir in the saffron and garlic.
Add Rice and Simmer: Add rice (unrinsed) to the skillet; season and toast for 3 minutes. Deglaze with the wine, scraping up the browned bits. Add seafood stock, boil, and then simmer for 5 minutes.
Add Seafood and Peas: Add clams (open edge up), reduce heat, and cook for 5 minutes. Stir in peas, mussels, and return shrimp; cook for 10 minutes without stirring.
Bake: Move pan to oven; bake for 10 minutes until clams and mussels open.
Serve: Let stand for 10 minutes covered, garnish with parsley, and serve.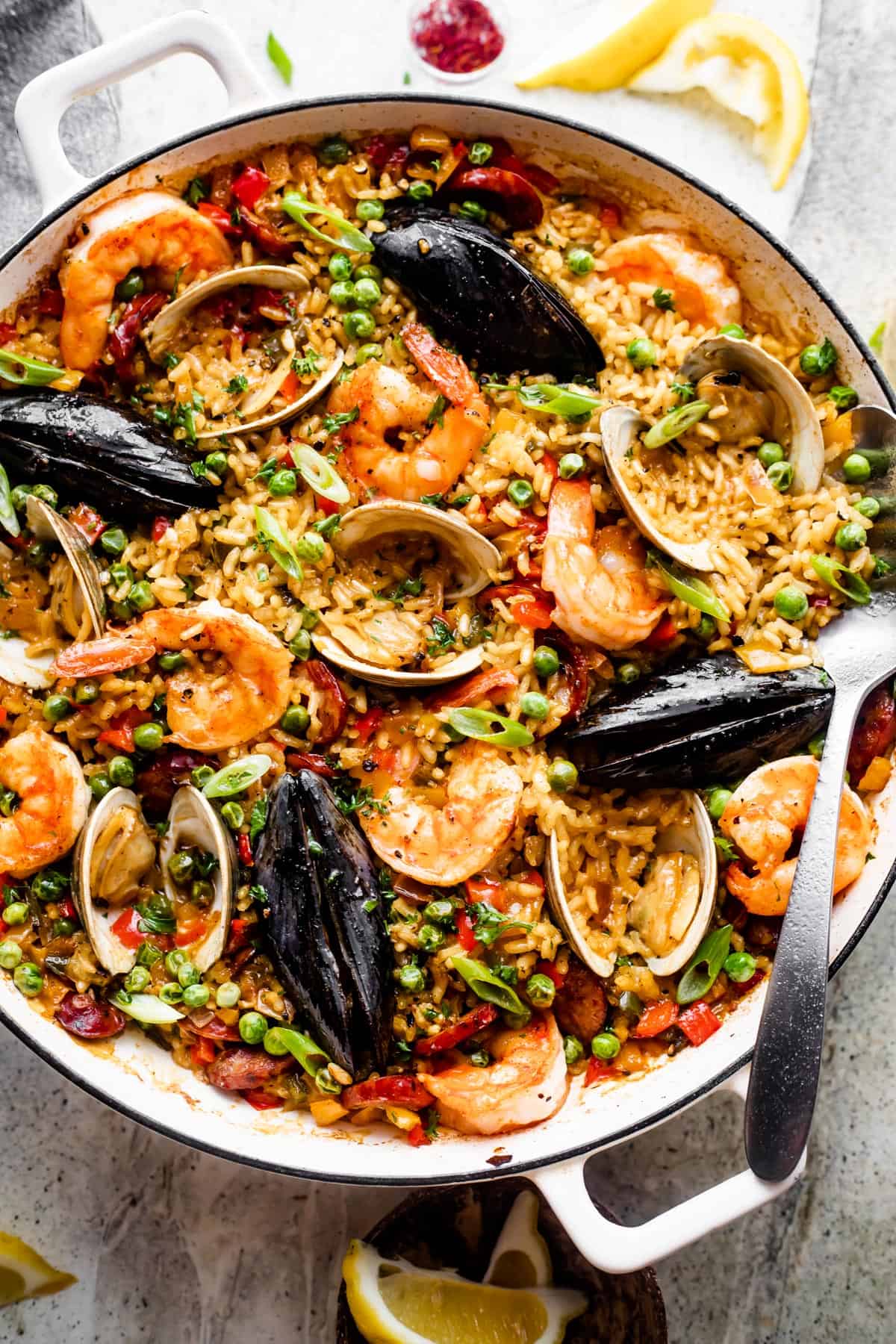 Recipe Tips And Variations
Paella Pan Options: Ideal choices are a paella pan, braiser, or a large 14-inch to 16-inch ovenproof frying pan like a cast-iron skillet.
Seafood Varieties: Feel free to use a range of seafood such as shrimp, shellfish, fish, lobster, scallops, calamari, or oysters.
Alternative Proteins: For a seafood-free version, try chicken, turkey, rabbit, duck, or pork, using chicken broth instead of seafood broth.
Vegetable Flexibility: Common veggies include bell peppers, onions, garlic, and peas, but feel free to add tomatoes, mushrooms, asparagus, green beans, or artichokes.
Preventing Mushy Rice: To avoid mushy rice, accurately measure the water and rice, avoid covering during cooking, and minimize stirring once the rice and liquid are added.
Serving Suggestions
Paella is so good on its own, but let us add a side of tasty Lavash Bread, some Roasted Parmesan Cauliflower Bites, or my Easy Roasted Green Beans are another perfect veggie option. Also, this Pan Roasted Asparagus Almondine recipe is an easy, classic dish. Don't forget the White Wine Sangria with a slice of Olive Oil Cake.
How to Store and Reheat Leftovers
To store Paella, transfer it to an airtight container and keep it in the fridge for 2 to 3 days or freeze for up to 2 months. To reheat, place the desired portion in a covered skillet, adding a splash of water or broth if it looks dry. Cook on low until heated through, stirring occasionally for even heating. Don't overcook.
More Seafood Recipes
Spanish Seafood Paella
Spanish Seafood Paella is a vibrant rice dish packed with juicy shrimp, a variety of shellfish, rich smoked sausage, and tender vegetables. It's an authentic fiesta of flavors in every bite!
Ingredients
¼

cup

olive oil,

divided

8 to 12

ounces

raw jumbo shrimp,

peeled and deveined

½

tablespoon

smoked paprika,

divided

2

teaspoons

salt,

divided

fresh ground black pepper,

to taste

1

small

yellow onion,

diced

6

ounces

smoked pork sausage,

sliced and cut into half-moons, (I use Andouille sausage)

1

small

green bell pepper,

diced

1

small

red bell pepper,

diced

6

cloves

garlic,

minced

2

teaspoons

saffron threads,

crumbled

2

cups

short grain rice,

I use Arborio Rice

1

cup

dry white wine

4

cups

seafood stock

1

pound

manila clams,

scrubbed and purged*

1

cup

fresh or frozen green peas

1

pound

mussels,

scrubbed and debearded

¼

cup

chopped fresh parsley
Instructions
Preheat oven to 375˚F.

Season the shrimp with half the paprika, 1/2 teaspoon salt, and fresh ground black pepper. Add the shrimp to the heated oil and cook for about 1 to 2 minutes per side or until no longer pink. Remove shrimp from pan and set aside; keep them covered.

Add remaining olive oil to the pan and stir in diced onions; cook for 1 minute. Stir in the sausage slices and cook for 2 minutes or until the sausage starts to brown.

Stir in the peppers; cook for about 5 minutes, or until soft and caramelized, stirring often. Stir in the garlic and saffron and cook for 20 seconds.

Add rice to the pan, season with remaining salt, a crack of black pepper, and continue to cook for 3 minutes, stirring frequently.

Pour in the wine and scrape up the browned bits from the bottom of the pan; cook for about 1 minute. Stir in the seafood stock; bring to a boil and reduce heat to a simmer. Cook for 5 minutes.

Stir, and then add in the clams, open edges facing up. Reduce heat to low and cook for 5 minutes

Stir in the peas and mussels, open edges facing up. Return shrimp to the pan and continue to cook for 10 minutes, undisturbed.

Transfer pan to the oven and cook for 10 more minutes, or until clams and mussels have opened up and most of the liquid is absorbed.

Remove from oven and cover the pan with a lid or foil. Let stand for 10 minutes.

Remove foil, garnish with parsley, and serve.
Notes
Paella Pan

: You can use a paella pan or a braiser or opt for a versatile 14-inch or larger ovenproof skillet, such as a cast iron skillet.

Seafood Selection

: The recipe is flexible with seafood choices – consider shrimp, various shellfish, lobster, scallops, fish, calamari, or even oysters.

Non-Seafood Options

: If you prefer not to use seafood, alternatives like chicken, turkey, or pork are great, paired with chicken broth.

Vegetable Options

: Staples like bell peppers, onions, garlic, and peas are great, but you can also experiment with tomatoes, mushrooms, asparagus, green beans, or artichokes.

Rice Cooking Tips

: To prevent your rice from becoming mushy, ensure the correct measurement of rice and water, refrain from covering the pan during cooking, and limit stirring after adding rice and liquid.
Purging Seafood: Most clams, mussels, and oysters you buy at the grocery store have been purged already. You will rarely need to purge your clams if you bought them at a supermarket, but it's always a good idea to double-check.
Nutrition
Calories:
569
kcal
|
Carbohydrates:
65
g
|
Protein:
24
g
|
Fat:
19
g
|
Saturated Fat:
4
g
|
Polyunsaturated Fat:
3
g
|
Monounsaturated Fat:
11
g
|
Trans Fat:
0.01
g
|
Cholesterol:
82
mg
|
Sodium:
1871
mg
|
Potassium:
607
mg
|
Fiber:
4
g
|
Sugar:
3
g
|
Vitamin A:
1286
IU
|
Vitamin C:
44
mg
|
Calcium:
113
mg
|
Iron:
6
mg
Nutritional info is an estimate and provided as courtesy. Values may vary according to the ingredients and tools used. Please use your preferred nutritional calculator for more detailed info.
Categories: