This post is sponsored by DUTCH FARMS, maker of your favorite cheeses, butter, eggs, and more! Thank YOU, friends, for supporting the brands that make Diethood possible!
White Chocolate Cheeseball – This White Chocolate Cheeseball made with cream cheese, nuts, and chocolate is an easy and quick no-bake dessert that's perfect for any party, holiday, or get together.
A.K.A. The Cheeseball that is the answer to the Superbowl party on Sunday AND our Valentine's Day date! Killing two birds with one stone. Poor birds.
Hi Hi! Happy TGIF! I am looking forward to just one thing this weekend; sleep. So.much.sleep. Please!
I WISH I had listened to my mom when she wanted me to go to bed early, all those years ago… listen to your moms, kids!
But But But. One thing has always stood between me and sleep; FOMO. I always was and always will be a FOMO.
You know what that is? I'll tell you! It means Fear Of Missing Out. The fear that if I went to bed early, my parents would have a huge party (or my friends, at my later age) and I would miss that party and all the greatness that happened! The struggle is real. Any other FOMOs out there? I get you, I understand you, I ❤ you!
Which brings me to my next point. Do not blink or fall asleep because, I DO NOT want you to miss out on the extraordinary that happens when cream cheese and white chocolate meet. With a sprinkle of nuts.
I've had a special place in my heart for cheesecakes since I was super young, but the discovery of a no-bake cheesecake changed my world tenfold. My favorite cheesecake, to this day, is the one that you don't bake, the one that is spread over crumbly, buttery graham crackers and the one that is topped with a store-bought cherry pie filling. Oh Oh Oh! The feelin'!
But then, when I found out that I could have my so-called cheesecake without crushing all the crackers and using up all that butter? 7th Heaven appeared.
And since 'tis the season for the annual gathering of friends to watch the Superbowl AND the season for all lovebirds to get together and eat, it seemed like the perfect time to share with you this super duper easy White Chocolate Cheeseball. It looks fancy, it's beautiful, it's super quick, and it needs only 5 ingredients.
The most important ingredient of them all? Cream Cheese. It's what most of this loveliness is made of. We are using Dutch Farms Cream Cheese in this recipe, just as we do in many of my dessert recipes; like so and like so.
You know who does dairy-products the best? DA DUTCH! Dutch Farms Inc. are a family-owned Chicago-based company with Dutch roots. They make everything, from cheeses, to puddings, to yogurts, juices, bagels, and so on.
In this recipe, their 1/3 Less Fat Cream Cheese totally shines. It doesn't have that low-fat-gummy-aftertaste, and the signature creaminess adds a perfect texture to our delicious Cheeseball.
Friends, your friends, neighbors and family, AND yourself need to be loved by this honestly amazing White Chocolate Cheeseball. I know you can do it because there's nothin' to it. Cream it, mold it, pop it in the fridge and voila – Superbowl party food! OR! Valentine's Day party food!
ENJOY!

CRAVING MORE? SIGN UP FOR THE DIETHOOD NEWSLETTER FOR FRESH NEW RECIPES DELIVERED TO YOUR INBOX!
FOLLOW DIETHOOD ON FACEBOOK, TWITTER, PINTEREST AND INSTAGRAM FOR ALL OF THE LATEST CONTENT, RECIPES AND UPDATES.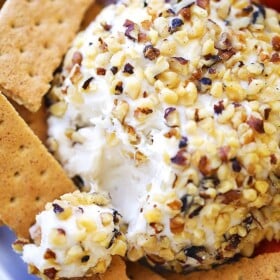 White Chocolate Cheeseball
This White Chocolate Cheeseball made with cream cheese, nuts, and chocolate is an easy and quick no bake dessert that's perfect for any party, holiday, or get together.
Ingredients
1

package

(8 ounces) Dutch Farms Cream Cheese, room temperature (You can use either, the Original Cream Cheese or 1/3 Less Fat Cream Cheese - Fat Free Cream Cheese does not hold up very well.)

2

tablespoons

light brown sugar

1/4-

cup

powdered sugar

3/4-

cup

white chocolate chips

, melted

1-1/4

cup

chopped nuts

, divided (I used walnuts, but you can use whatever nuts you like)

graham crackers

cookies

assorted fruits
Instructions
Line a round plate with a long piece of plastic wrap and set aside.

In your mixer's bowl, combine cream cheese, brown sugar and powdered sugar; beat until creamy and smooth, about 1 to 2 minutes.

*Add melted chocolate and 1/4-cup chopped walnuts; continue to beat until thoroughly incorporated. (see my NOTES for melting white chocolate)

Using a rubber spatula, scrape out the mixture and transfer it to the previously prepared plate lined with plastic wrap.

**Working with the plastic wrap, wrap and shape the cream cheese mixture into a ball. (see my NOTES)

Place the cheeseball in the freezer for about 2 to 2-1/2 hours, or until cold and firm, but NOT frozen.

Put the remaining chopped nuts on a plate.

Remove the cheese ball from the freezer and carefully unwrap.

Roll the cheeseball in the chopped nuts.

Place on a serving plate and serve with graham crackers, cookies, fruits, etc...
Notes
Best method to melt white chocolate chips is to place them in a microwave-safe bowl, mix in a tablespoon of vegetable oil, and microwave on HIGH for 40 seconds. Remove and stir until completely melted.
*I find it easier to continue shaping the ball while it's in the freezer; about every 45 minutes.
Nutrition
Calories:
112
kcal
|
Carbohydrates:
13
g
|
Protein:
1
g
|
Fat:
6
g
|
Saturated Fat:
2
g
|
Cholesterol:
2
mg
|
Sodium:
13
mg
|
Potassium:
51
mg
|
Fiber:
0
g
|
Sugar:
13
g
|
Calcium:
32
mg
|
Iron:
0.1
mg
|
Net Carbs:
13
g
Nutritional info is an estimate and provided as courtesy. Values may vary according to the ingredients and tools used. Please use your preferred nutritional calculator for more detailed info.
Categories:
TOOLS AND INGREDIENTS USED IN THIS RECIPE:
SIMILAR RECIPES:
BANANA FOSTER NO-BAKE CHEESECAKE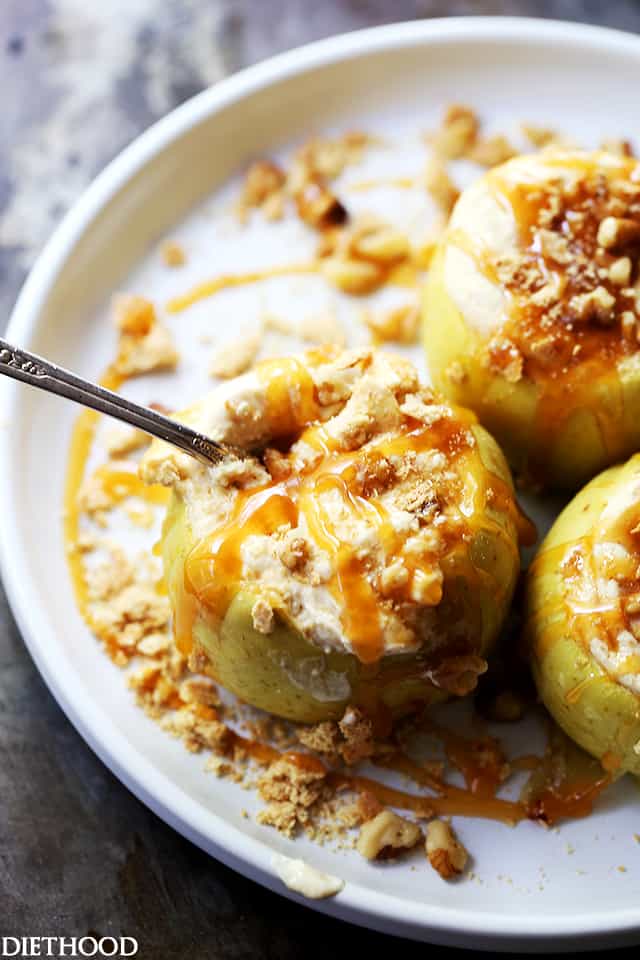 LIGHTER CARAMEL-CHEESECAKE STUFFED BAKED APPLES