These rich, sweet, and tasty Cheesecake Stuffed Baked Apples capture the essence of Fall baking. Freshly picked apples are filled to the brim with a cheesecake filling and crowned with a nutty caramel topping.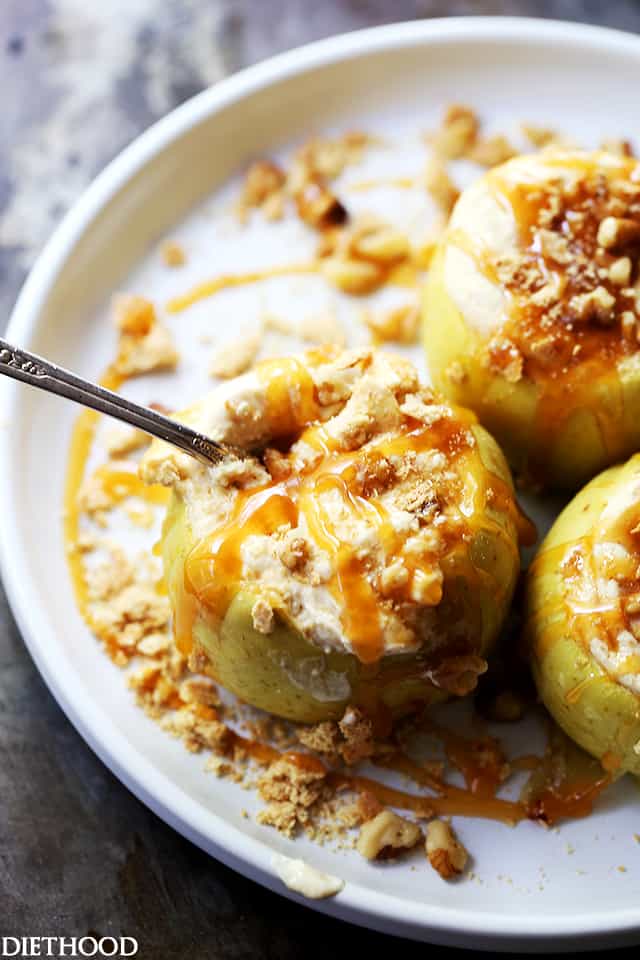 Stuffed Baked Apples Recipe
Friends, it is time to dive into the world of baked apples with a creamy twist! Introducing my Stuffed Baked Apples, where the warm, tender apple pairs deliciously with a light caramel cheesecake filling. If you're an apple aficionado like me – three visits to the apple orchard this month says it all – then this amazing treat is right up your alley.
I have fond memories of indulging in my mom's baked apples, which were generously filled with a mix of raisins, nuts, and oats. But imagine elevating that comfort to a new level by introducing the creamy delight of cheesecake into the equation. That's what we have here – an old-time favorite blended with a timeless dessert classic. Whether you're craving a dessert that's nostalgic yet innovative or simply want to impress at a dinner party, these Cheesecake Stuffed Baked Apples are the way to go. Each bite promises the best of both worlds: the earthy goodness of baked apples and the creamy dreaminess of cheesecake.
Why We Love This Baked Apples Recipe
Quick & Easy: In just 30 minutes, you can whip up this tasty treat, perfect for impromptu gatherings or to satisfy sudden dessert cravings.
Minimal Ingredients: No lengthy shopping lists here! With just a handful of ingredients, you can create this apple dessert.
Creamy Twist: The traditional baked apple gets upgraded with a luscious cheesecake filling, offering a unique taste experience.
Nostalgic Yet New: While reminiscent of classic baked apples, this recipe introduces a contemporary touch.
Perfect for Apple Lovers: If trips to the apple orchard are your thing, this dessert takes the best of the orchard and adds a creamy caramel twist.
How To Make Baked Stuffed Apples
These baked apples are an easy dessert that delivers big on flavor, making it a standout dish for any Fall gathering. They take very little time to prepare and about 25 more minutes to bake.
Ingredients You'll Need For Cheesecake Stuffed Apples
Apples: Our main star, the apples will be hollowed out to create a pocket for the creamy cheesecake filling.
Cream Cheese: Acts as the base for the luscious cheesecake stuffing.
Caramel Topping: Provides a sweet and buttery flavor, enhancing the cheesecake mixture.
Egg: A binding agent for the filling.
Granulated Sugar
Apple Pie Spice: Infuses a warm, spicy flavor reminiscent of classic fall desserts.
Caramel (for drizzling): Optional, but it intensifies the dessert.
Chopped Nuts: Another optional topping that adds crunch and nutty richness to the soft and creamy texture of the baked apple.
Directions
Prep Oven & Baking Sheet: Preheat the oven to 350°F and grease a baking sheet.
Mix The Filling: Combine cream cheese, caramel topping, egg, sugar, and apple pie spice in a mixer. Beat until creamy.
Prepare Apples: Hollow out each apple, being careful not to cut through. Fill 2/3 of each apple with the cheesecake mixture.
Bake: Place the apples on the baking sheet and bake for 22-25 minutes or until the filling sets.
Cool & Garnish: If desired, top with caramel sauce and nuts and enjoy.
Tips For Successful Stuffed Baked Apples
Apple Selection: Choose firm apples that hold their shape during baking, like Honeycrisp, Braeburn, or Granny Smith.
Hollowing Technique: Use a melon baller or a small spoon to carefully hollow out the apples. Don't cut through the bottom to ensure the filling stays inside.
Cream Cheese Consistency: Ensure your cream cheese is at room temperature before mixing. This ensures a smoother filling.
Variation: Add cinnamon or nutmeg to the filling for extra warmth and flavor.
Storage: Store leftovers in an airtight container in the refrigerator. Warm them slightly before serving for the best texture and flavor.
Garnish: Consider other toppings such as whipped cream, chocolate shavings, or even a sprinkle of sea salt to contrast with the caramel.
More Apple Recipes
ENJOY!
Cheesecake Stuffed Baked Apples
Baked Apples stuffed with a caramel cheesecake mixture and topped with nuts.
Ingredients
5

small

apples,

cored and scooped out (do not cut all the way through)

6

ounces

cream cheese,

softened, you can also use Neufchatel cheese

1

tablespoon

caramel topping

1

medium

egg

¼

cup

granulated sugar,

or any sweetener of choice

1

teaspoon

apple pie spice

¼

cup

chopped nuts,

for topping, optional

1

teaspoon

caramel

for drizzling over the baked apples, optional
Instructions
Preheat the oven to 350˚F. Lightly grease a baking sheet with cooking spray and set aside.

Place the cream cheese, caramel topping, egg, sugar, and apple pie spice in your mixer's bowl; beat until smooth and creamy, about 3 to 4 minutes.

Fill each apple 2/3-full with the cheesecake mixture. Do not fill to the top.

Transfer the apples to the baking sheet and bake for 22 to 25 minutes or until cheesecake is set.

Remove from oven and let cool.

Transfer the apples to a serving plate, and if desired, top with chopped nuts and drizzle with caramel sauce.

Serve.
Notes
Choose Firm Apples: Look for varieties like Honeycrisp or Granny Smith to hold the filling without getting mushy. When coring, don't cut through to the bottom.
Room Temp Cream Cheese: Ensure a creamier filling by using cream cheese that's at room temperature. You can also use reduced-fat versions if desired.
Monitor Baking Time: Apples should be tender but not overly soft; adjust cooking time accordingly.
Customize Toppings: Feel free to experiment with different toppings like chocolate chips, ice cream, or whipped cream.
Nutrition
Calories:
300
kcal
|
Carbohydrates:
37
g
|
Protein:
5
g
|
Fat:
17
g
|
Saturated Fat:
8
g
|
Polyunsaturated Fat:
4
g
|
Monounsaturated Fat:
4
g
|
Trans Fat:
0.004
g
|
Cholesterol:
67
mg
|
Sodium:
137
mg
|
Potassium:
250
mg
|
Fiber:
4
g
|
Sugar:
30
g
|
Vitamin A:
591
IU
|
Vitamin C:
7
mg
|
Calcium:
59
mg
|
Iron:
1
mg
Nutritional info is an estimate and provided as courtesy. Values may vary according to the ingredients and tools used. Please use your preferred nutritional calculator for more detailed info.
Categories: