This easy recipe for Macedonian Cabbage Rolls (Sarma) is hearty, flavorful, and vegan! You'll love the savory rice filling stuffed with herbs and spices in tender cabbage leaves.
A Traditional Vegan Cabbage Roll Recipe
Homemade cabbage rolls are a special meal, one that really says, "I love you!". No, I'm not exaggerating here – the time and effort that it takes to create these little bundles of goodness is a labor of love! But, like many cooking projects, it's also fun, and pretty straightforward. If you're ready to try your hand at traditional homemade cabbage rolls, this recipe is for you!
You'll notice that this recipe is a meatless version – in fact, it's vegan! There are no animal products of any kind in this recipe, probably because it was developed at a time and in a place where fasting from all animal products was the norm during Lent. Today, vegan dishes are highly popular no matter what time of year it is – and when they're this tasty, it's easy to see why.
This is also a less tomato-oriented cabbage roll. There is no tomato sauce, crushed tomato, or strained tomato in this recipe – just a bit of tomato paste and a couple of fresh chopped tomatoes to add tanginess to the rice filling. Garlic, paprika, lemon pepper, olive oil, and herbs bring tons of flavor though!
And! A walnut tucked in each roll adds a unique touch to this old-fashioned dish. You can skip the walnut, but don't. It adds flavor and a soft crunch.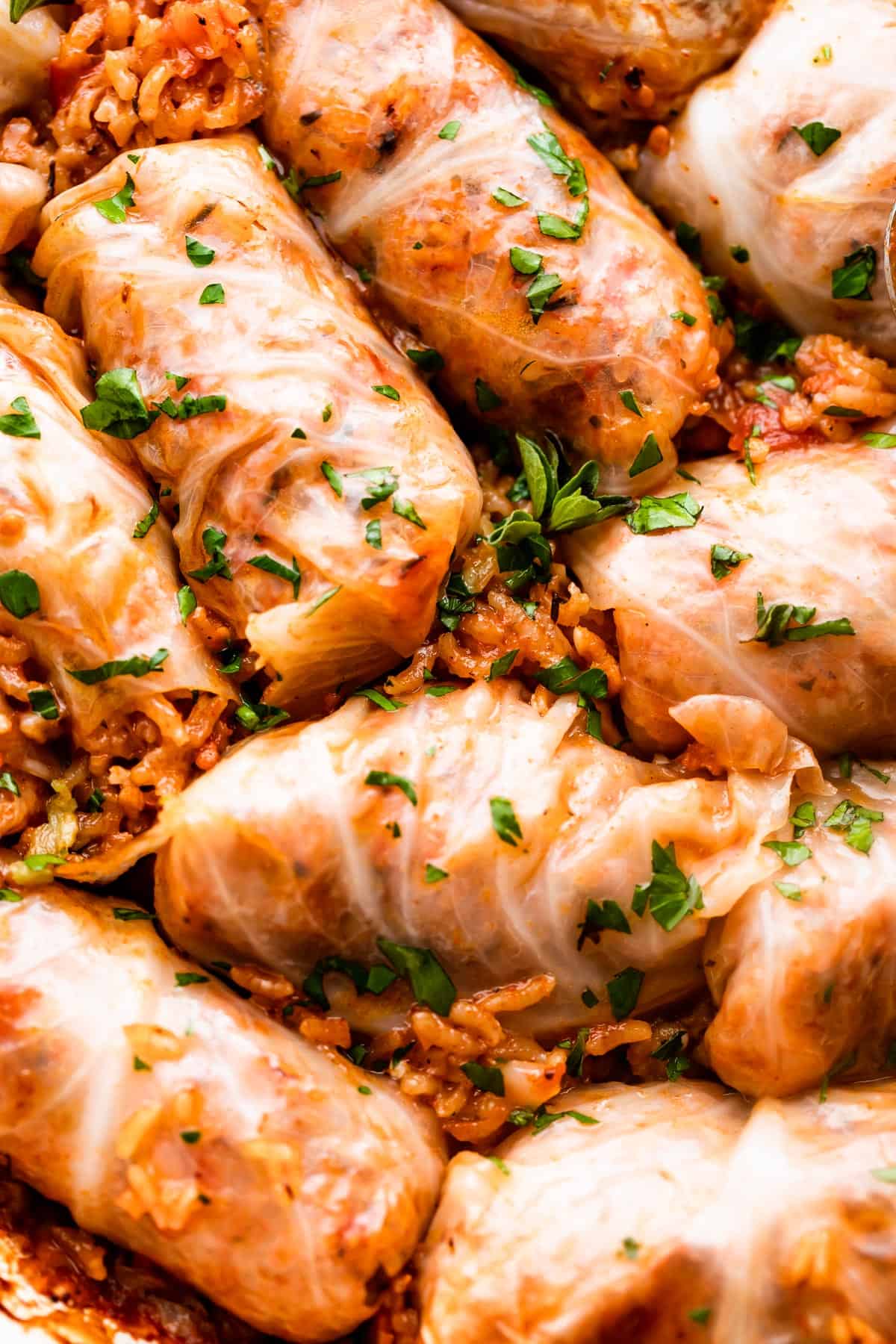 What Country Is Sarma From?
It might be easier to ask what country sarma is not from! These cabbage (and sometimes grape leaf) rolls are traditional foods in the Balkans, Central Europe, the Middle East, and the South Caucasus. That's a lot of cabbage! ?
But, it's no surprise this dish is beloved across cultures and countries. This recipe is a Macedonian version, with lots of paprika and not too much tomato, and authentic Macedonian Sarma is prepared with fermented cabbage leaves, but it's not a must.
The Ingredients You'll Need
While meat-filled cabbage rolls typically use ground meat such as beef, pork, lamb, or veal, this version is filled with veggies, seasonings, and rice. It's a comforting, carb-y dish that's guaranteed to fill you up.
For the Cabbage Leaves
For the Filling
Oil: Olive oil is my go-to for this recipe, but you could substitute another kind of oil as desired. Butter, ghee, and bacon grease would also work (keep in mind that animal fats would make this a meatless recipe rather than strictly vegan).
Onions: The onions should be finely diced.
Garlic: You want to use a generous amount of fresh garlic, minced or pressed through a garlic press.
Parsley: Like paprika, parsley is a must-have ingredient in Macedonian cooking.
Tomatoes: Take two fresh tomatoes, and chop them finely.
Tomato Paste: A small amount of tomato paste adds depth to the cabbage roll filling.
Paprika: You'll want sweet paprika here, not smoked or hot paprika.
Salt and Pepper
Dried Herbs: Oregano and thyme bring a pungent, herbal fragrance.
Lemon Pepper: Lemon pepper seasoning makes the rice filling irresistible!
Rice: Use your favorite long-grain white rice.
Walnuts: The final touch to the cabbage rolls is to include a halved walnut in each one.
For the Sauce
Oil: A little more oil for sauteing.
Garlic: Mince the garlic, or press it.
Paprika: Again, sweet paprika, rather than smoked or hot paprika.
Water: The water should be hot before adding it to the other ingredients.
Let's Make Some Cabbage Rolls!
Okay, now that we've covered the ingredients, let's talk about the cooking process. Making any type of cabbage roll can take some time, so be sure to set aside enough time to cook the cabbage, make the filling and the rolls, and bake.
Prep the Oven, Baking Dish, and Cabbage. To begin, set your oven to preheat to 350˚F. Next, get out a large baking dish (9×13) or a braiser, and grease it lightly. Set it aside. If using a head of fresh cabbage, heat a large pot of salted water over high heat. Once it comes to a boil, add the cabbage leaves, and cook them for about 4 minutes. Once they are pliable, drain them and set them aside. DO not cook for too long or they'll just get mushy. This is why I LOVE using the pickled cabbage leaves – you don't have to stress about cooking the leaves because they're already pliable.
Make the Filling Mixture. Next, heat up a generous amount of oil in a large skillet. Saute the onions for a couple of minutes, and then stir in the garlic and the parsley. Cook for about 30 seconds, to release the fragrance, and then add the tomatoes and seasonings. Cook this mixture for about 3 minutes, stirring frequently. Finally, add the uncooked rice to the filling mixture, and cook for one more minute. Take the filling mixture off the heat.
Roll the Sarma. Now, take a look at your cabbage leaves. Use a small knife, like a paring knife, to cut off the raised part of the vein on each leaf. Removing this part will make it easier to roll the sarma. Hold one cabbage leaf flat in your palm, and place a heaping spoonful of filling to one side. Don't overstuff because you won't be able to roll it up properly. Add one walnut half to the filling, and then roll up the cabbage tightly, tucking in the sides, like a burrito. Lay each roll seam-side down in your baking dish or braiser.
Season the Rolls and Add the Sauce. Generously sprinkle the cabbage rolls with salt and pepper, and then set them aside while you make the sauce. To make the sauce, heat the olive oil in a saucepan, and cook the garlic in it for about 15 seconds. Add the paprika, and then stir in the hot water. Bring this mixture to a boil, and then pour it right over your cabbage rolls.
Bake. Cover your baking dish with foil (or a lid, if it has an ovenproof lid). Bake the rolls for 45 minutes covered. Then uncover them, and bake for 15 more minutes. Once that time is up, check one of the rolls to see if the rice is soft and cooked through. If not, put the dish back in the oven for another 10 minutes or so.
Enjoy! Once the rice is soft, you can serve your cabbage rolls with your favorite sides.
What's the Best Way to Soften Cabbage for Cabbage Rolls?
There are different ways to do this – you can blanch the leaves only, as the recipe says, or you could…
Boil the Whole Head of Cabbage. Some recipes instruct you to boil the entire head of cabbage, pulling it out of a pot of boiling water every few minutes to peel off the outer leaves, and then sticking it back in to continue boiling. This method obviously can be a bit high-maintenance! However, it is very common.
Steam the Cabbage. This works much like the boiling method, but you place the cabbage in a steamer over boiling water, instead of in the boiling water. Peel away the outer leaves a few at a time, as they become soft.
Freeze the Cabbage. This method requires some planning ahead, but the idea is that a frozen and defrosted cabbage will be softened without needing to cook. Freeze your cabbage head a day or two in advance, and thaw it out before making your sarma.
Easy Tips and Variations
Macedonian stuffed cabbage is a simple, festive, and satisfying dish, and it comes in lots of variations! These are my top tips and easy adjustments for customizing your Macedonian cabbage rolls. Enjoy!
Seal with Cabbage Leaves: If you are using an ovenproof dish with a matching lid, it may not seal the cabbage rolls very well. To help keep in the steam and soften the rice, you can lay whole cabbage leaves over the top of your sarma before adding the lid.
Add "Smoke." Sarma recipes often include bacon, ham hock, or another smoky, meaty ingredient in the sauce. You can definitely do this, or just substitute smoked paprika for some of the sweet paprika, and use vegetable broth instead of water for depth.
Use Sour Cabbage: Some recipes for cabbage rolls actually use fermented cabbage, like sauerkraut but with the whole leaves instead of shredded leaves. If you can find this ingredient, feel free to use it – if not, you can "sour" the cabbage yourself by boiling it in water with a cup or two of vinegar and half a cup of salt. You want to achieve a "pickled" flavor.
Add Extra Veggies: If you'd like more variety in your filling mixture, feel free to include some of your favorite sauteed veggies. Finely chopped eggplant, mushrooms, zucchini, or bell pepper would all work well!
What to Serve with Sarma
To serve your Macedonian cabbage rolls, I recommend a side dish or two with some textural contrast. Cabbage rolls are warm, soft, and full of rice, so anything crunchy or crispy is a great choice. Here's some inspo:
Cucumber Salad: Crisp, cool, and creamy, this Radish and Cucumber Salad with Garlic-Yogurt Dressing is the perfect contrast to hot, steamy rice cabbage rolls.
Chickpea Salad: Protein-rich chickpeas and crunchy, colorful chopped veggies make this delightful salad shine! You'll love the tangy lemon dressing and creamy feta in my classic vegetarian Chickpea Salad.
Potatoes: It doesn't get much better than cabbage and potatoes, in my book – and these Crispy Air Fryer Potatoes with Herb Butter are a great potato dish to go with cabbage rolls, thanks to their golden-brown, crispy texture.
How to Store and Reheat Leftovers
To refrigerate, place leftover cabbage rolls and sauce in an airtight container, and place in the refrigerator. Leftover cabbage rolls will keep for 3 to 4 days.
To reheat, place the desired portion in an ovenproof dish, and bake at 350˚F for about 15 minutes, or until heated through. You can also microwave your cabbage rolls to reheat.
Can I Freeze These Cabbage Rolls?
Yes, you can freeze these! In fact, they freeze so well, you might want to make a double batch and freeze half for another dinner.
To freeze, place the desired portion into freezer bags, pressing out as much air as possible before sealing. You can freeze all the cabbage rolls together, or freeze in serving portions. They will keep for up to three months.
Thaw overnight in the refrigerator before reheating.
ENJOY!
Macedonian Cabbage Rolls (Sarma)
This easy recipe for Macedonian Cabbage Rolls (Sarma) is hearty, flavorful, and vegan! You'll love the savory rice filling stuffed with herbs and spices, in tender cabbage leaves.
Ingredients
FOR THE CABBAGE
25 to 30

pickled (fermented) cabbage leaves, if you can't find pickled cabbage leaves, use fresh cabbage, instead

1

head cabbage

leaves separated (use these if you can't find pickled cabbage leaves)

Water

Salt
FOR THE SAUCE
3

tablespoons

olive oil

4

cloves

garlic,

minced

1

tablespoon

sweet paprika

2

cups

hot water or vegetable broth,

you can also use chicken broth, or beef broth
Instructions
Preheat oven to 350˚F.

Grease a 9×13 baking dish, or a 3.5-quart braiser, with cooking spray and set aside.

If you are using fresh cabbage leaves:

Bring a large pot of well salted water to a boil.

Add cabbage leaves to the boiling water; cover and cook for about 4 minutes, or until the leaves are pliable.

Drain well and set aside on paper towels to dry.

Heat 3 tablespoons olive oil in a large skillet set over medium-high heat.

Add the onions to the heated oil and cook for 3 minutes, stirring occasionally.

Stir in the garlic and parsley; cook for 30 seconds.

Add in the tomatoes and stir in the tomato paste; season with paprika, salt, pepper, oregano, thyme, and lemon pepper seasoning, and continue to cook for 4 minutes, stirring frequently, until tomatoes are tender.

Add the rice and saute for 1 minute. Remove from heat.

Using a paring knife, cut off the raised part of the vein on each cabbage leaf. This will make it easier to roll.

Lay the leaf flat on your hands and place a heaping spoonful of the filling on one side of the leaf; add a piece of walnut in the middle of the filling. Don't add too much filling because it will be too stuffed to roll it up.

Roll it up tightly, tucking in the sides of the leaf, kind of like you would roll up a burrito.

Place the stuffed cabbage rolls in previously prepared baking dish, seam sides down. Season tops with salt and black pepper. Set aside.

Heat 3 tablespoons olive oil in a saucepan.

Add garlic to the heated oil and cook for 15 seconds.

Mix in the sweet paprika.

Stir in the hot water (or broth) and bring to a boil.

Pour the hot liquid over the cabbage rolls.

Cover the dish with a lid or aluminum foil.

Bake for 45 minutes.

Remove the cover and continue to bake for 15 minutes.

Remove from oven and check to make sure that the rice is cooked through; if not, put it back in the oven for 10 to 12 minutes longer.

Serve.
Notes
Fermented Cabbage: If you can't find fermented cabbage, but would like to try the cabbage rolls with it, you can "sour" the cabbage yourself by boiling it in water with a cup of vinegar and 1/4-cup of salt. You are looking to achieve a "pickled" flavor.
Tip for Fresh Cabbage: You can place a whole head of fresh cabbage into a pot of salted boiling water; reduce heat to a simmer and cook the cabbage for about 15 minutes, or until tender. Drain and set aside until cool enough to handle.Carefully peel away the leaves and place them on paper towels to dry off.
Nutrition
Serving:
3
cabbage rolls
|
Calories:
182
kcal
|
Carbohydrates:
40
g
|
Protein:
4
g
|
Fat:
1
g
|
Saturated Fat:
1
g
|
Polyunsaturated Fat:
1
g
|
Monounsaturated Fat:
1
g
|
Sodium:
635
mg
|
Potassium:
160
mg
|
Fiber:
2
g
|
Sugar:
1
g
|
Vitamin A:
1310
IU
|
Vitamin C:
2
mg
|
Calcium:
30
mg
|
Iron:
1
mg
Nutritional info is an estimate and provided as courtesy. Values may vary according to the ingredients and tools used. Please use your preferred nutritional calculator for more detailed info.
More Savory Vegetarian Recipes