Delicious roasted cabbage steaks coated with a blend of sweet and tangy balsamic and garlic glaze and baked until perfectly tender, crunchy, and creamy.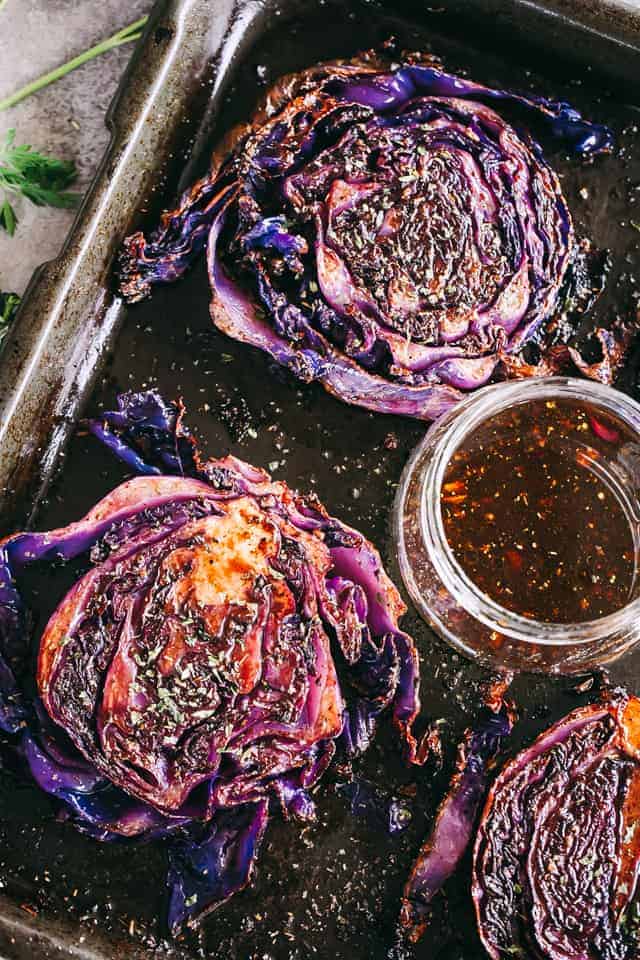 I've got a unique kind of "steak" for you to try! It's called Balsamic Roasted Cabbage Steaks. They are roasted to a crispy perfection on the outside but a creamy and tender goodness on the inside. These cabbage steaks are so, so good! It's just layers and layers of crunchy and creamy satisfaction with the bonus drizzle of garlic and balsamic vinegar.
We are basically taking a head of cabbage and cutting it into thick slices, then baking it until it's soft and sweet on the inside and golden and crispy on the outside. The whole thing is so tasty you won't be able to resist picking bits off straight from the pan! The best part? It's super easy to prepare, taking only about five minutes to get ready. You can cook it in the oven, in the air fryer, or on the grill, and it pairs well with just about any meal.
Why You'll Love This Recipe
Crisp and Tender: These cabbage steaks are baked to achieve the perfect texture balance – crispy and creamy.
Flavorful: The cabbages are brushed with a delicious mix of balsamic vinegar and garlic, providing an exceptional combination of sweet and savory flavors.
Versatile: You can bake these cabbage steaks in an oven, an air fryer, or even on the grill. They're a versatile side dish that pairs well with virtually anything.
Quick and Easy: The preparation for this recipe is super easy, taking only about five minutes.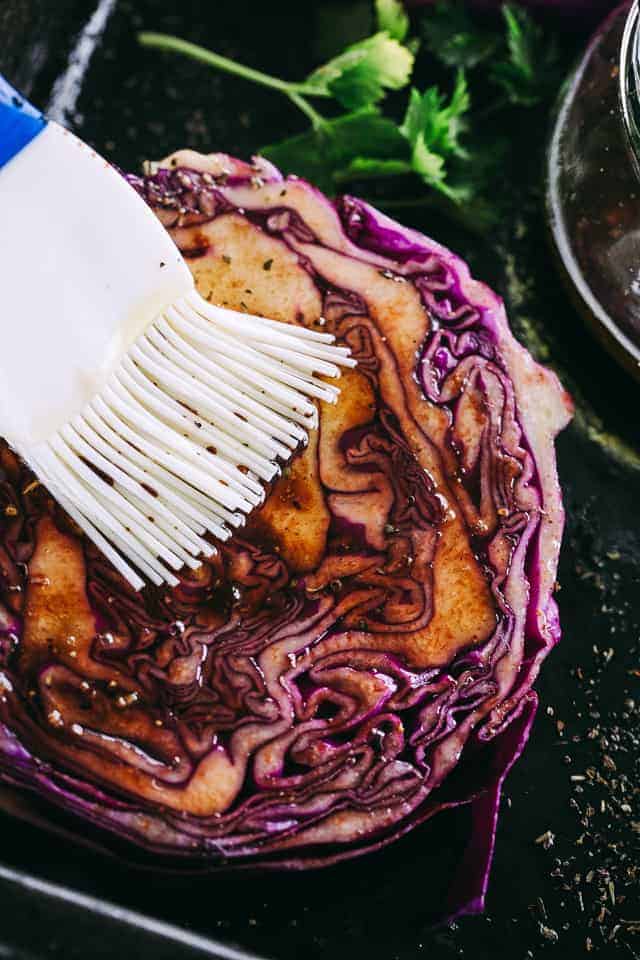 How To Roast Cabbage Steaks
Do you remember the cabbage diet craze? I DO. I did it! That's when I learned about roasting cabbage "steaks". Little did I know that I would actually and totally enjoy the roasted cabbage steaks to no end. Here's how to make 'em:
Ingredients For Cabbage Steaks
1 head red cabbage, cut into 1-inch thick slices
extra virgin olive oil
balsamic vinegar
dijon mustard
garlic
honey
salt & pepper
Directions
Prepare the Balsamic Glaze: Mix balsamic vinegar with garlic, honey, and mustard to create a flavorful glaze.
Slice the Cabbage: Cut a head of red cabbage into thick 1-inch "steaks".
Apply the Glaze and Bake: Brush the cabbage steaks with the prepared balsamic glaze and bake at 400˚F for about 20 to 25 minutes.
How To Make Cabbage Steaks On The Grill
Get the cabbage ready in the same way as you would for the oven technique. Heat your grill to a medium-high temperature (about 400˚F to 425˚F). Lightly oil the grill grates. Position each cabbage slice directly on the grill. Allow them to cook for roughly 5 minutes on each side until they're crunchy on the outside and tender on the inside. Or click over here and try my recipe for Grilled Cabbage Steaks.
How To Make Cabbage Steaks In The Air Fryer
To air fry the cabbage steaks, preheat the Air Fryer to 375˚F and cook the cabbage steaks for 15 minutes, flipping them halfway through the cooking time. Add a minute to the cooking time if you want them a little more tender.
How To Cut Cabbage For Cabbage Steaks
Remove Outer Leaf: Pull off and discard the outer leaf of the cabbage.
Trim the Root: Slice off the bottom (the root) of the cabbage, then place it flat-side-down on the cutting board for stability.
Slice the Cabbage: Cut the cabbage from top to bottom (bottom being the root) into 1-inch thick slices.
Delicious Roasted Cabbage Steaks Variations
Spicy Chili Cabbage Steaks: Add a kick by mixing a little chili powder or crushed red pepper flakes into your balsamic glaze before brushing it onto the cabbage.
Herb-Infused Cabbage Steaks: Mix fresh or dried herbs like rosemary, thyme, or oregano into the glaze to add an herby touch to the dish.
Asian-Inspired Cabbage Steaks: Substitute the balsamic glaze with a mixture of soy sauce, sesame oil, ginger, and garlic for an Asian twist.
Sweet Maple Cabbage Steaks: Swap out the balsamic glaze for a sweet glaze made of maple syrup, mustard, and a bit of apple cider vinegar.
Cheesy Cabbage Steaks: After grilling, sprinkle a layer of shredded cheese (like mozzarella or cheddar) on top of the cabbage steaks, then return them to the grill or oven until the cheese is melted and bubbly.
What To Serve With Cabbage Steaks
Cabbage steaks can be incredibly versatile as a side dish. Here are a few serving suggestions for your glazed cabbage steaks:
With Proteins: Serve them alongside this spatchcock grilled chicken, steak, pork loin, or fish. The crispiness of the cabbage steaks complements the texture of these proteins really well.
In a Salad: You can chop up any leftovers and toss them into a salad for a crunchy and flavorful addition.
With Grains: They pair nicely with this chicken broccoli casserole, or with a hearty grain like quinoa or cumin rice. You could serve a cabbage steak on top of a bed of grains for a plant-based meal.
With Potatoes: Cabbage and potatoes are a classic pairing. Serve with mashed potatoes, maple mustard roasted potatoes, or air fryer baked potatoes for a comforting meal.
More Cabbage Recipes to Try:
ENJOY!
Balsamic Roasted Cabbage Steaks Recipe
Deliciously crispy yet tender and flavorful roasted cabbage steaks brushed with a sweet and savory balsamic and garlic glaze.
Ingredients
For The Balsamic Glaze
¼

cup

extra virgin olive oil

2

tablespoons

balsamic vinegar

½ to 1

teaspoon

dijon mustard

1

clove

garlic,

minced

½ to 1

teaspoon

honey

salt and fresh ground black pepper,

to taste

chopped fresh parsley,

for garnish
Instructions
Grease a rimmed baking sheet with cooking spray and set aside.

Cut the bottom (the root) off of the cabbage and set it sitting up so that the flat end is on the cutting board; cut it into 1-inch thick slices.

Transfer the cabbage slices to the baking sheet and set aside.

In a mixing bowl, combine the extra virgin olive oil, balsamic vinegar, mustard, garlic, honey, salt, and pepper; mix well until combined.

Brush the cabbage steaks on both sides with the prepared balsamic glaze.

Roast for 20 to 25 minutes or until crisp-tender.

Remove from oven, garnish with parsley, and serve.
Notes
Choose the Right Cabbage: Use fresh, firm heads of cabbage for the best results. They hold their shape better when cut into steaks.
Cutting the Cabbage: Make sure you cut the cabbage into thick slices, about 1 inch wide. Any thinner, and they might fall apart while cooking.
Use a Sharp Knife: Cabbages can be quite tough, so using a sharp knife will make it easier to slice into steaks.
Brush Both Sides: Don't forget to brush both sides of the cabbage steaks with the glaze for maximum flavor.
Check for Doneness: Check the cabbage steaks at the 20-minute mark. They should be tender in the middle and crispy around the edges. If they're not done, continue roasting and check every 3 minutes.
Season to Taste: Don't forget to taste the finished cabbage steak and add additional seasoning (like salt or pepper) if needed.
Storage: Place leftover cabbage steaks in an airtight container and keep in the refrigerator for up to 4 days.
Nutrition
Serving:
1
cabbage steak
|
Calories:
87
kcal
|
Carbohydrates:
1
g
|
Fat:
9
g
|
Saturated Fat:
1
g
|
Sodium:
6
mg
|
Potassium:
5
mg
|
Sugar:
1
g
|
Vitamin C:
0.2
mg
|
Iron:
0.1
mg
Nutritional info is an estimate and provided as courtesy. Values may vary according to the ingredients and tools used. Please use your preferred nutritional calculator for more detailed info.
Categories: