Perfectly Crispy Baked Falafel are tender on the inside, crispy on the outside, and loaded with zesty flavor! Made with garbanzo beans, tahini, garlic, cilantro, and more, they're a satisfying vegetarian dish that can be served in all kinds of scrumptious ways.
The Best Homemade Baked Falafel Recipe
As the holiday season comes and goes, I think a lot of us are ready to pivot away from turkey and gravy, and make some lighter, fresher dishes for a tasty change of pace. Variety is the spice of life, right? And one of my absolute favorites is this easy falafel!
Made with garbanzo beans, garlic, tahini, and a blast of fresh cilantro, these homemade falafel are a super simple vegetarian dish that works beautifully for a main course, side dish, or appetizer. You can serve falafel as a sandwich, in a salad, or just as part of a yummy appetizer spread. It's perfection!
What Is Falafel?
If you've never had falafel before, get ready! It is a delicious treat, made with a perfectly balanced blend of garbanzo beans, fresh herbs, and garlic, along with various other ingredients depending on the recipe. Everything gets ground up together in your food processor, and then baked until crispy on the outside and steamy in the center. They're kind of like meatballs, but vegetarian!
Falafel are a popular street food and casual restaurants across the Middle East, where they are usually fried. For this homemade version, though, we'll skip the deep fryer and go with an easy baking technique instead.
Ingredients for Making Baked Falafel
Making baked falafel really isn't hard at all! And you don't need a ton of specialty ingredients to get an authentic, super flavorful result. All of these items are readily available at most grocery stores!
For the Patties
Garbanzo Beans: Canned garbanzo beans make this recipe super easy! Rinse your garbanzo beans well, and drain them thoroughly, before using.
Onion: Chop up one small onion: red, white, yellow, or sweet onions are all fine.
Garlic: I like the pop of flavor you get from fresh garlic in this recipe! Peel the papery skin off of several cloves.
Cilantro: You'll need quite a bit of fresh cilantro to make these bright and gorgeous falafel; pack it into measuring cups to measure accurately.
Tahini: Tahini is a condiment made from pureed sesame seeds, similar to how peanut butter is made from peanuts. You can find tahini in most grocery stores.
Cumin: Cumin adds a beautiful earthy spiciness to this recipe, without adding heat.
Cayenne: For a little kick, I add a small amount of cayenne pepper to my baked falafel. Feel free to omit the cayenne if you don't like it!
Salt and Pepper
Panko: You can use pork rind panko, or regular panko.
For the Sauce
Tahini: A base of nutty and savory tahini makes this sauce so easy, and so addictive!
Water: A little warm water gives your sauce the right consistency and flavor.
Lemon Juice: For the brightest flavor, I recommend using fresh lemon juice. Bottled is also fine.
For Serving
Pita Bread
Cucumber slices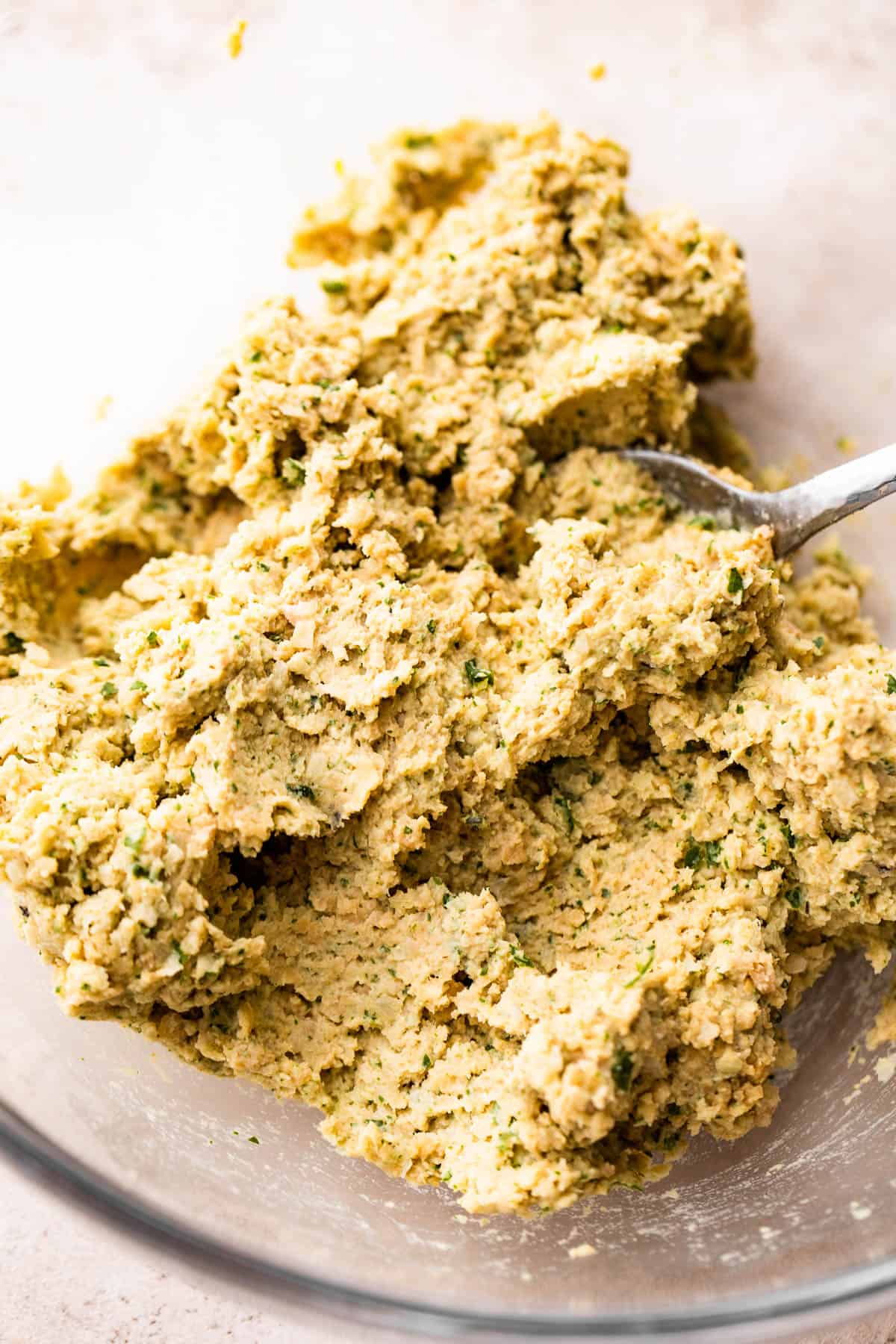 Let's Make Some Falafel!
It's very helpful to have a food processor when making falafel. You can definitely make it the old-fashioned way by crushing the garbanzo beans with a potato masher or similar, though! Use what you have. And away we go!
Heat the Oven and Baking Sheet. Set your oven to preheat to 450˚F, and slide a baking sheet in there to heat up right along with the oven.
Process the Falafel Ingredients (Except the Panko). Dump the rinsed and drained garbanzo beans into your food processor, along with the chopped onion, garlic cloves, cilantro leaves, tahini, cumin, cayenne, salt, and pepper. Process the ingredients until everything is finely chopped, and the mixture holds together.
Make Patties. Use a spatula to scrape the falafel mixture into a mixing bowl. Add the Panko, and stir well to combine. Pinch off pieces from the mixture, to make 12 patties or balls.
Bake! Using oven mitts, take the hot baking sheet out of the oven, and grease it with cooking spray. Arrange the patties on the baking sheet, and place it back in the oven. Bake the falafel for 10 minutes, flip them over, and bake for 10 more minutes, or until they are golden and crisp.
Make the Sauce. While the falafel are in the oven, combine the tahini, warm water, and lemon juice in a bowl. Stir with a fork or whisk, season with salt and pepper, and taste. Add more salt, if needed. If the sauce is too thick, you can add a little more warm water to thin it out.
Enjoy! Serve the falafel with warm pita bread, cucumber slices, and the prepared tahini sauce.
Easy Tips for the Best Baked Falafel
Are you feeling inspired to try your own baked falafel? I hope so! You will love them — promise. Especially if you use one or more of my favorite tips for ultimate falafel goodness!
The Dried Chickpea Option: Nothing beats canned chickpeas for convenience, and they taste great, too. But, if you have a little time, you can soak dried chickpeas overnight for an even more flavorful, from-scratch falafel. Just cover well with water, soak, and drain, before following the recipe as written.
Be Generous with the Oil: A generous brushing of oil on your baking sheet allows the falafel to "fry" in the oven. Sizzling! ?
Form the Patties Gently: Many recipes call for "a light hand" when it comes to shaping and baking, and falafel is definitely one of them. Avoid dense or hard falafel by forming the patties gently, not packing them together forcefully.
Double Up: Like meatballs, versatile and savory falafel are great to have in the freezer for a quick meal. So, if you have the ingredients and a little time, double the batch and freeze half.
My Favorite Serving Ideas
Serve your gorgeous homemade falafel any way you like! They go with just about any dipping sauce, are great on buns or pitas for sandwiches, and work well with any veggie side dish. Here are a few easy recipes to get you started!
In Pitas with Yogurt Sauce: A couple of these crispy, tender falafel are perfect tucked into a fresh pita, with a drizzle of my homemade Cucumber Yogurt Sauce.
Shopska: This gorgeous and flavorful Shopska (Mediterranean Chopped Salad) is full of fresh veggies and a creamy dressing. It's perfect with savory, crispy falafel!
Tabbouleh: There's never a time when this crunchy, fresh, and healthy Tabbouleh Salad isn't a good choice! And if you've never made tabbouleh, no worries! It's super easy.
Storing and Reheating Leftovers
Leftover falafel should be stored in the refrigerator within two hours of baking.
Cover well, or place in zip-top bags or airtight containers for the freshest falafel! They'll keep for 3 to 4 days.
To reheat, bake at 350°F for 5 to 10 minutes, or until hot.
Can I Freeze Falafel?
Sure! Just place your baked, cooled falafel on a baking sheet or tray, and freeze in a single layer until they're frozen solid.
Then, pack the falafel into freezer bags, and store in the freezer for up to 4 months.
To reheat from frozen, just bake on a greased baking sheet at 350°F for 15 to 20 minutes, flipping them halfway through the cooking time.
ENJOY!
Baked Falafel
Made with garbanzo beans, tahini, garlic, cilantro, and more, Baked Falafel are a satisfying vegetarian dish that can be served in all kinds of delicious ways.
Ingredients
For the Falafel
1

can (15 ounces)

garbanzo beans,

well rinsed and drained

1

small

yellow onion,

chopped

3

cloves

garlic

2

cups

cilantro leaves,

packed
For Serving
Pita Bread,

for serving

cucumber slices,

for serving

tomatoes,

for serving
Instructions
Place a baking sheet in the oven and preheat the oven to 450˚F with the baking sheet inside.

Meanwhile, in a food processor combine garbanzo beans, chopped onion, garlic cloves, cilantro leaves, tahini, cumin, cayenne, salt, and pepper; process until finely chopped and the mixture holds together.

Scrape the mixture into a mixing bowl.

Stir in the pork rind crumbs.

Pinch off from the mixture to make 12 balls or patties.

Using oven mitts, remove the baking sheet from the oven and grease the baking sheet with cooking spray.

Arrange the patties on the baking sheet and bake for 10 minutes.

Flip over the patties and continue to bake for 10 more minutes, or until golden and crisp.

In the meantime, prepare the Tahini Sauce by combining tahini, warm water, and lemon juice in a bowl; whisk until creamy.

Season with salt and pepper; taste and adjust with more salt, if needed. If it's too thick, add a little more warm water until you reach desired consistency.

Remove falafel from oven and transfer to a serving plate.

Serve the falafel with warm pita bread, cucumber slices, and tahini sauce.
Nutrition
Serving:
3
falafel
|
Calories:
253
kcal
|
Carbohydrates:
23
g
|
Protein:
11
g
|
Fat:
15
g
|
Saturated Fat:
2
g
|
Polyunsaturated Fat:
6
g
|
Monounsaturated Fat:
5
g
|
Cholesterol:
2
mg
|
Sodium:
342
mg
|
Potassium:
356
mg
|
Fiber:
6
g
|
Sugar:
1
g
|
Vitamin A:
631
IU
|
Vitamin C:
10
mg
|
Calcium:
89
mg
|
Iron:
3
mg
|
Net Carbs:
17
g
Nutritional info is an estimate and provided as courtesy. Values may vary according to the ingredients and tools used. Please use your preferred nutritional calculator for more detailed info.
More Vegetarian Classics