Ketchup Spaghetti with garlic and feta cheese takes your regular pasta night to a whole new level! In just 30 minutes, you'll be sitting down to a warm, hearty, and delicious meal.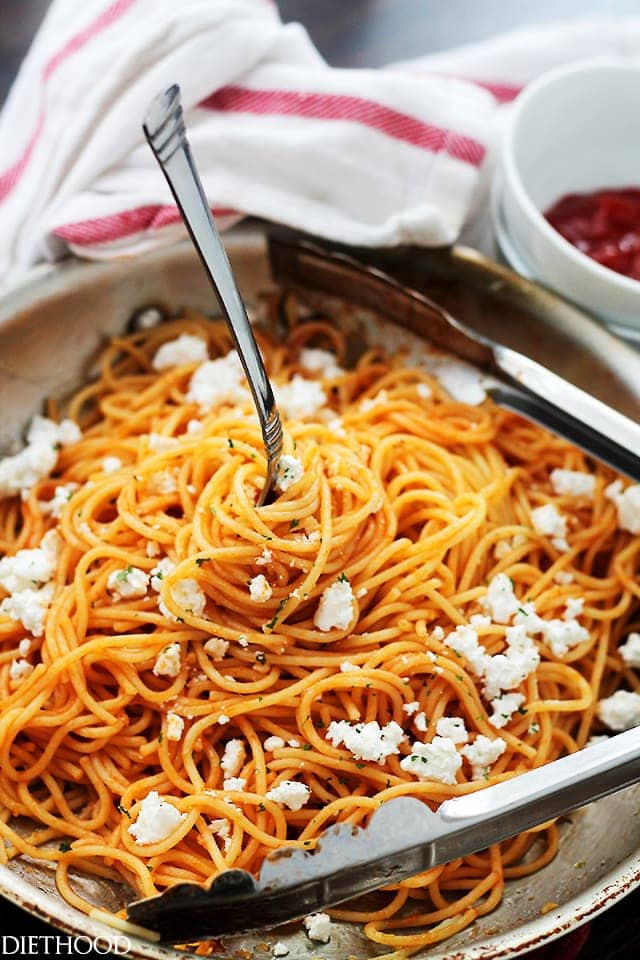 Quick Ketchup Spaghetti Recipe
Ketchup in pasta? Say what!? I know, friends! But I promise it's good. I grew up on it! Ketchup and feta cheese over spaghetti is one of my favorite childhood meals! This is what we call Macedonian-style spaghetti. Imagine tender spaghetti noodles, perfectly cooked and tossed in a unique, savory blend of garlic and ketchup. The garlic adds a burst of flavor that's mellowed by the sweetness of the ketchup, creating a delicious combination. And about the feta – it's not just a garnish! The crumbled cheese melts slightly when sprinkled over the hot pasta, adding a creamy texture and tangy taste that perfectly complements the garlicky ketchup sauce.
Why We Love This Spaghetti Recipe
Quick and Easy: This spaghetti recipe takes only 30 minutes from start to finish. It's a hassle-free meal that delivers both convenience and taste.
Unique Flavor Combination: The mix of ketchup, garlic, and tangy feta adds a spin to the usual spaghetti and tomato sauce dinner. It's a bold and unexpected pairing.
Wholesome: Made with straightforward, real ingredients, this spaghetti ensures you're serving a nutritious meal without any fuss.
Ingredients For Ketchup Spaghetti
Each ingredient plays a significant role in balancing the flavors and textures, making this spaghetti an awesome dish!
Whole Grain Pasta
Olive Oil
Garlic Cloves: These are minced and sautéed to infuse the oil and pasta with a fragrant and savory aroma, creating a deep flavor base.
Ketchup: Adds a sweet and tangy flavor, giving the pasta a vibrant taste.
Crumbled Feta Cheese: Offers a creamy and tangy contrast to the savory and sweet elements, adding a layer of richness and complexity.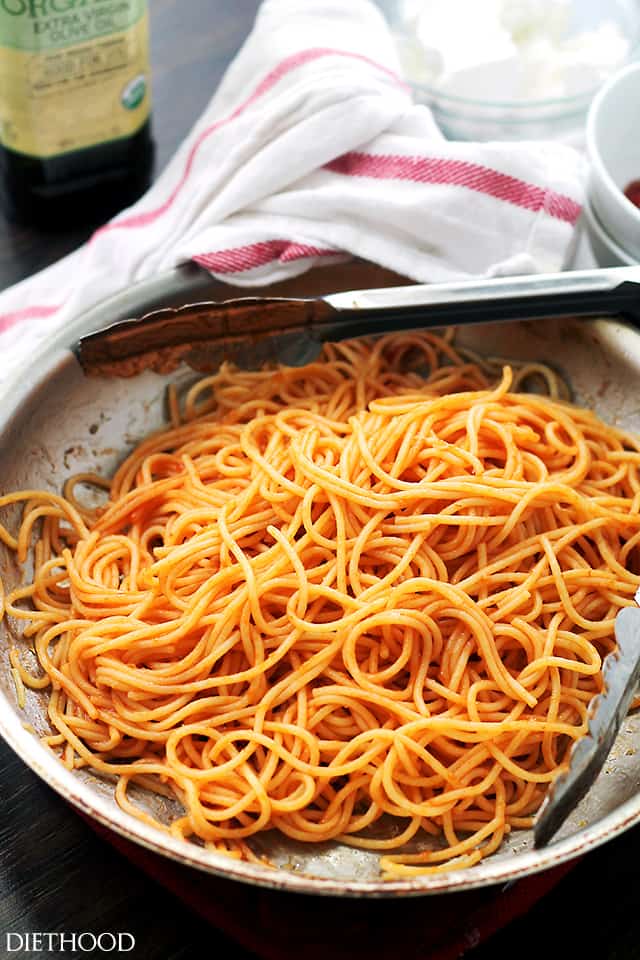 How To Make Ketchup Spaghetti
Now that I've given you a grocery list, I can only hope that you will go and get all the needed ingredients to make your new favorite meal! It's a great twist on a classic pasta dish, combining unexpected flavors in the most delicious way.
Cook the Pasta: Bring a large pot of salted water to a boil. Add the whole grain spaghetti to the boiling water and cook according to package instructions. After cooking, drain and rinse the pasta.
Sauté the Garlic: Heat the olive oil in a large skillet and sauté the minced garlic until it's lightly browned and fragrant. This infuses the oil with a rich garlic flavor, which will be absorbed by the pasta.
Toss the Pasta: Using tongs, toss the cooked pasta into the skillet with the garlic-infused oil, ensuring each strand gets nicely coated and absorbs the savory aroma and taste.
Add the Ketchup: Stir in the ketchup, mixing well to evenly distribute it through the pasta.
Plate and Garnish: Divide the pasta onto plates, and sprinkle each serving with crumbled feta cheese and a garnish of chopped fresh parsley.
Tips For Success
Pasta Cooking Water: Consider saving a cup of the pasta cooking water before draining. You can use it to adjust the consistency of your dish if needed.
Customize the Toppings: Get creative with additional toppings. Adding some roasted vegetables, grilled chicken, or a sprinkle of chili flakes can introduce new textures and flavors, making the dish even more exciting.
Cheese Variation: Try using goat cheese or Parmesan instead of feta. Each cheese brings its unique taste and texture.
Storage: This dish is best served immediately. If you have to store the cooked spaghetti in the fridge for later use, do not toss it with the ketchup until ready to serve.
What To Serve With Spaghetti
More Pasta Recipes
Ketchup Spaghetti
This garlicky Ketchup Spaghetti with feta is a flavorful twist on a classic dish, combining tender pasta with a savory garlic-infused ketchup sauce and topped with creamy, crumbled feta for a quick, delicious meal.
Ingredients
8 to 10

ounces

whole grain spaghetti

3

tablespoons

olive oil

3

cloves

garlic,

minced

¼

cup

ketchup

use more if you prefer it saucier

⅓

cup

crumbled feta cheese,

you can use more or less, depending on your personal preference

1

tablespoon

chopped fresh parsley
Instructions
Bring a large pot of salted water to a boil and cook the spaghetti according to the directions on the box. Drain and rinse; set aside.

Meanwhile, heat the olive oil in a large skillet over medium heat. Add the garlic and, stirring frequently, cook for 1 minute or until lightly browned and fragrant.

Using a pair of tongs, add the drained pasta to the pan and toss and stir until well combined. Add the ketchup and stir to combine; continue to cook for 1 minute or until heated through.

Remove from heat and divide evenly onto four dinner plates.

Top the spaghetti with crumbled feta cheese and garnish with chopped fresh parsley.

Serve immediately.
Nutrition
Serving:
1
cup
|
Calories:
336
kcal
|
Carbohydrates:
45
g
|
Protein:
10
g
|
Fat:
14
g
|
Saturated Fat:
3
g
|
Polyunsaturated Fat:
1
g
|
Monounsaturated Fat:
8
g
|
Cholesterol:
11
mg
|
Sodium:
148
mg
|
Potassium:
144
mg
|
Fiber:
0.1
g
|
Sugar:
1
g
|
Vitamin A:
137
IU
|
Vitamin C:
2
mg
|
Calcium:
90
mg
|
Iron:
2
mg
Nutritional info is an estimate and provided as courtesy. Values may vary according to the ingredients and tools used. Please use your preferred nutritional calculator for more detailed info.
Categories: