Savory Chickpea Patties are an easy vegetarian main course that comes together in a snap! You'll love these hearty patties, prepared with canned chickpeas, green onions, fresh garlic, and parsley.
A Simple, Flavorful Vegetarian Dinner Idea
Are you looking for a meatless meal option that's super easy, quick, and most important of all, delish? And satisfying? Look no further, because this recipe is all of that and more. Easy to make and easy to eat, chickpea patties bring you the meaty, zesty goodness of falafel, but are even easier to make.
These wholesome patties make great burgers, and are also delicious served with any side dish you like. They're flavored with earthy spices, fresh parsley, and pungent garlic. Best of all, you can easily whip them up from canned chickpeas in under 30 minutes.
Are Chickpea Patties Healthy?
For most people, including chickpeas in their diet is a great choice! They're a good source of healthy, natural carbs, with a decent amount of protein and some fat, as well. They contain most of your essential amino acids, plus magnesium, potassium, B-vitamins, and more.
The fiber in chickpeas can help keep you feeling full after your meal, and promotes good digestion, too. (If you are following a low-carb diet, be aware that chickpeas aren't considered low-carb – and always talk to your healthcare provider for information specifically tailored to your health needs.)
The Ingredients You'll Need
The main ingredients here are chickpeas, yogurt, eggs, and bread crumbs. I usually have pork rind crumbs on hand, but you can substitute panko bread crumbs, regular bread crumbs, Italian bread crumbs, etc.
Chickpeas: Canned chickpeas should be rinsed and drained before using, to remove that "canned" flavor.
Yogurt: A bit of plain yogurt adds flavor and a creamy richness.
Eggs: A couple of large, whole eggs bring everything together.
Olive Oil: A little bit for the patty mixture, and more for frying.
Seasonings and Spices: Ground cumin, coriander, paprika, and a little bit of salt – so yummy! You can use smoked paprika for a hint of smokiness, or sweet paprika for a more classic taste.
Bread Crumbs: These help give the chickpea patties their shape, as well as a good flavor and texture.
Green Onions: Thinly slice a couple of green onions.
Parsley and Garlic: I like minced, fresh parsley and garlic the best, but dried/powdered would also work perfectly.
To Serve: A bit more yogurt, along with some fresh lemon wedges, are just right for serving these savory patties.
Are Chickpeas and Garbanzo Beans the Same?
Yes, these are the same ingredient known by different names. Whatever you call them, they are easy to use and have a great mild flavor that's meaty and filling. I like to use canned chickpeas, rinsed and drained. You can also use dried chickpeas that you've soaked and cooked previously.
How to Make Chickpea Patties
Another great thing about chickpea patties is that they are a vegetarian option that takes so little time. If you can shape a hamburger patty and pan-fry it, you can make these!
Make the Patty Mixture. To begin, mash the chickpeas by placing them in a food processor, and pulsing about 10 times, or until they're ground coarsely. In a separate bowl, whisk the yogurt, eggs, two tablespoons of the olive oil, and the seasonings. Add the ground chickpeas, panko, green onions, parsley, and garlic to the bowl, and give it a stir.
Form the Patties. Working gently, form the mixture into six patties, each about one-inch thick. You want to pack the mixture together a bit, but not squish it too tightly.
Cook. Heat up the remaining oil in a skillet, and fry the patties in the oil for about 3 to 4 minutes per side. They should be browned and firm. Place them on a paper-towel-lined plate to drain a bit. You may have to cook the patties in batches, depending on the size of your pan.
Enjoy! Top each patty with a spoonful of yogurt (if using) and serve with lemon wedges.
Helpful Tips and Easy Variations
But wait, there's more! Each recipe has its own quirks and options, and I've collected a few here to help you customize this recipe for your kitchen and diet. Read on, and enjoy!
No Food Processor: Food processors are convenient, and I use mine a lot. But you can definitely make chickpea patties without any special kitchen equipment. Just mash or crush the chickpeas with a potato masher or a fork.
Handle with Care: Similar to making falafel, you don't want to pack the mixture too tightly as you form it. Shape the patties gently but firmly, and they'll stay tender instead of dense and heavy.
Add Spices: If you like, omit the spices I've listed here and use your favorite spice blend to flavor these versatile little patties. Curry powder, Montreal chicken seasoning, and lemon pepper seasoning to taste are all delicious ideas.
Add Vegetables: Finely chopped or minced onion, celery, bell pepper, and other veggies are all welcome here! If you are adding a lot, you may need to add additional eggs and panko to keep the mixture together.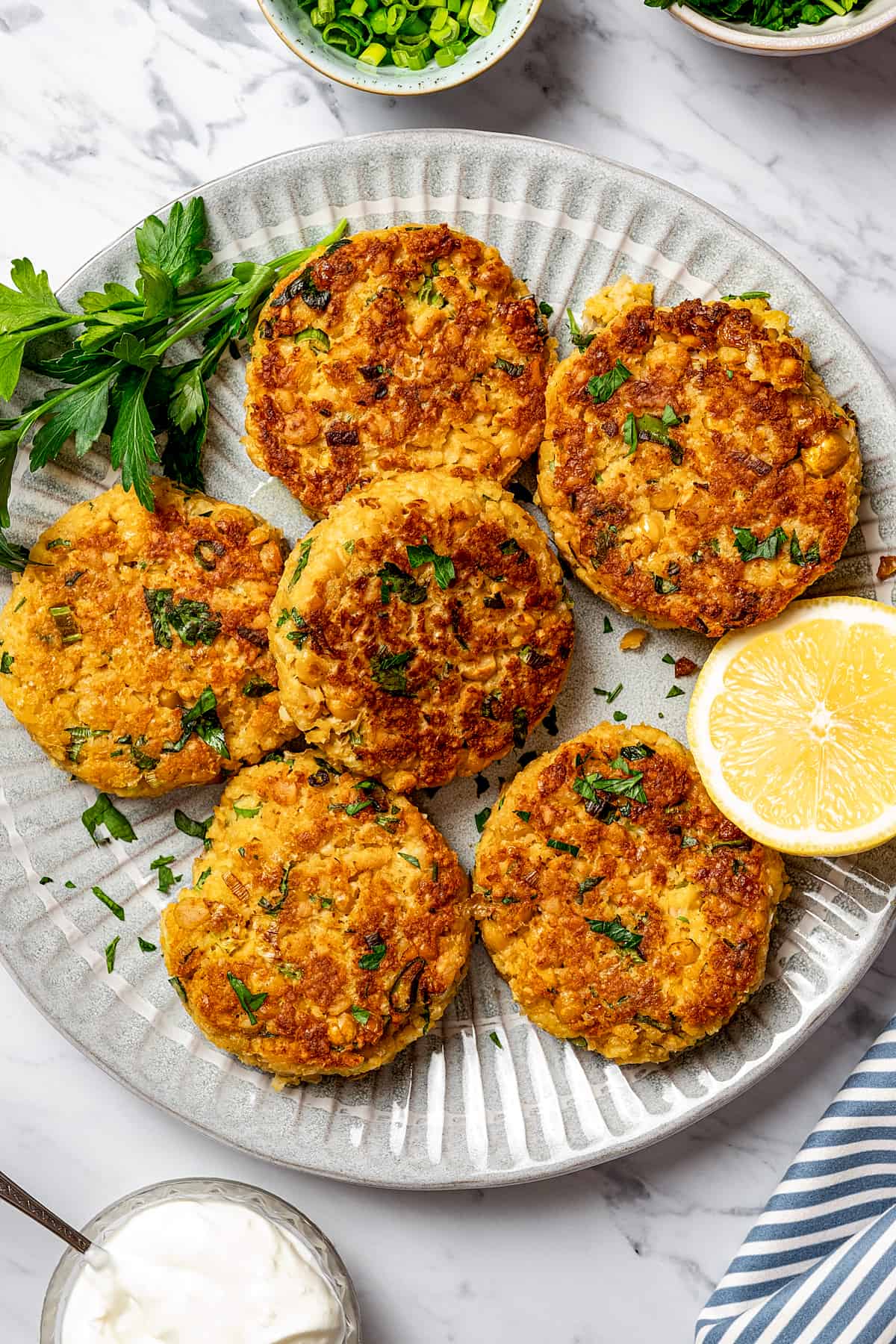 How to Serve Chickpea Patties
Serve chickpea patties any way you would serve a grilled chicken breast, turkey patty, or hamburger patty. They're wonderful on a bun with all of your favorite toppings, or…
In a Garden Salad: This ultra-summery Grilled Zucchini Salad with Corn and Tomatoes is colorful, nutritious, and hearty – especially when you pair it with homemade chickpea patties. Try cutting the patties into chunks and scattering them through the salad, or serving them simply on the side.
In Pitas: Stuff a pita with shredded lettuce, fresh tomato, feta, and chickpea patties – and don't forget a drizzle of creamy Cucumber Yogurt Sauce!
With Tabbouleh: Crunchy, fresh, and healthy Tabbouleh Salad is a classic of Middle Eastern and Mediterranean cuisine, and for good reason. Its vibrant colors and flavors are perfect with any savory dish, especially chickpea dishes like this one.
Storing, Reheating, and Freezing
Chickpea patties are easy to store and reheat, so you might want to double the batch and have extras on hand for later!
Store: Keep leftover patties in an airtight container or zip-top bag, in the refrigerator. They'll keep for 4 to 5 days.
Freeze: Moisture is the enemy, so make sure to cool the chickpea patties to room temperature before you freeze them. This will help prevent freezer burn. Seal the patties into a freezer bag (wrap each one tightly in freezer paper first, if you can, for even more protection against freezer burn). Freeze for three months.
Reheat: Reheat your chickpea patties in a covered skillet over medium heat. You can add a little oil to keep them from being dry. If you prefer, bake them at 350˚F, covered with foil. Frozen patties will take longer to reheat than refrigerated patties.
ENJOY!
Chickpea Patties
Chickpea Patties made with canned chickpeas, yogurt, green onions, fresh garlic, and parsley.
Instructions
Place chickpeas in a food processor and pulse until coarsely ground; pulse about 8 to 10 times.

In a medium mixing bowl whisk together the yogurt, eggs, 2 tablespoons oil, cumin, coriander, paprika, and salt.

To the yogurt mixture add the chickpeas, panko crumbs, sliced green onions, parsley, and garlic; stir until just combined.

Gently pack the mixture into six 1-inch thick patties.

Heat 2 tablespoons oil in a large skillet set over medium heat.

Add patties to the hot oil, about 3 patties at a time, and cook for 3 to 4 minutes per side, or until browned and firm.

Transfer patties to a paper towel lined plate.

Repeat the cooking process with the rest of the patties. Add more oil, if needed.

Top with a tablespoon of yogurt, if using, and serve with lemon wedges.
Nutrition
Calories:
325
kcal
|
Carbohydrates:
29
g
|
Protein:
12
g
|
Fat:
19
g
|
Saturated Fat:
3
g
|
Polyunsaturated Fat:
3
g
|
Monounsaturated Fat:
12
g
|
Trans Fat:
0.01
g
|
Cholesterol:
55
mg
|
Sodium:
555
mg
|
Potassium:
330
mg
|
Fiber:
7
g
|
Sugar:
2
g
|
Vitamin A:
396
IU
|
Vitamin C:
5
mg
|
Calcium:
127
mg
|
Iron:
3
mg
Nutritional info is an estimate and provided as courtesy. Values may vary according to the ingredients and tools used. Please use your preferred nutritional calculator for more detailed info.
More Mouthwatering Vegetarian Recipes