Cilantro Lime Chicken is prepared with boneless chicken thighs soaked in a flavor packed marinade and pan seared to a crispy and perfectly juicy deliciousness! You'll love how tender it turns out, and how simple and quick it is to make!
Juicy Cilantro Lime Chicken Thighs
Get ready to wake up those taste buds, guys! This recipe is full of bold and irresistible flavor! I'm taking things in a Tex-Mex direction with this recipe, thanks to the yummy Southwest flavors in the marinade. Plus, we'll be cooking on a good, hot, cast iron skillet to get a delicious "grilled" flavor.
Some people out there aren't too crazy about cilantro, and that's understandable! It took me a long while to come around to it and I finally love it, thanks to Chili's Restaurant menu. 😁
But, yeah, cilantro definitely has a very unique taste, and, for those of us who enjoy cilantro, this dish is simply awesome. Its amazing combination of garlic, lime, and spices can't be beat! I use fresh cilantro here to make a bold, fresh, herbal statement.
This Chicken Thigh Marinade is So Flavorful!
Okay, so first off, this recipe is based on cilantro and lime. Cilantro is the leafy portion of the coriander plant, and like coriander, cilantro has an unusual, complex flavor. I would describe cilantro as clean, herbal, and citrusy. It wakes up my mouth and it goes pretty darn well with lime.
And, I mean, let's talk about lime! Limes often get overlooked, because most of us reach for lemons when we need citrus flavor. But, limes have a special sweetness to them, a sort of tropical vibe. I think it's perfect with this tender, juicy chicken.
So, basically, the foundation of this marinade are two tasty powerhouses, lime and cilantro. Then we add a big punch of garlic, the sweetness of honey, the smoothness of olive oil, and some Southwest spices. Salt and pepper finish it off, and then in goes the chicken!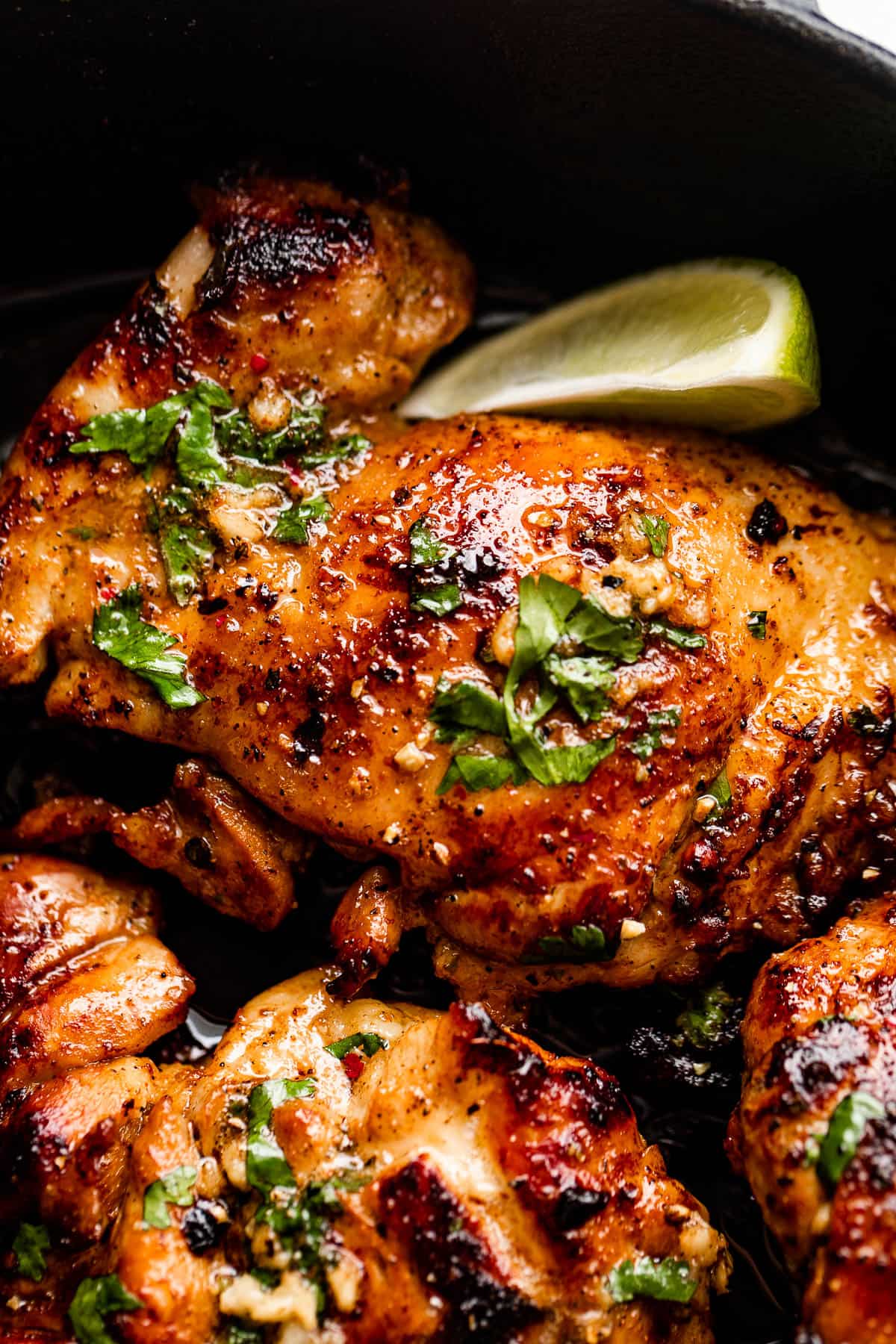 Recipe Ingredients
The ingredients for this dish are so fresh and zesty! You're gonna love this easy, flavor-packed way to prepare chicken thighs.
Olive Oil: You'll need ¼ cup of good olive oil for the base of this marinade.
Lime: Zest and juice two fresh limes.
Garlic: Four cloves of fresh garlic, minced or pressed, add a pungent bite to this dish.
Cilantro: The star of the show! I use about three tablespoons of chopped fresh cilantro here. You can use less or more, but I personally wouldn't use more than 1/4-cup, OR less than 2 tablespoons.
Honey: A tablespoon of your favorite honey adds sweetness and complements the chicken.
Chili Powder: You'll need a tablespoon of chili powder for this tasty marinade.
Red Pepper Flakes: I add a teaspoon for a spicy dish, but you can leave these out if you'd like it milder.
Cumin: An absolutely essential spice for this Mexican-inspired dish!
Salt and Pepper
Chicken: I use boneless, skinless chicken thighs; they're so good.
Lime Wedges: For serving.
Why Use Boneless Skinless Chicken Thighs?
You might be wondering why I use thighs in this dish, instead of chicken breasts. Sure, chicken breasts are really popular, and they can be super tasty. But, I prefer thighs here because they stay juicy and tender, and their slightly bolder flavor goes well with the marinade!
Can I Use Chicken Breasts?
Definitely! You can substitute chicken breasts for the thighs with no problem! The high-heat method used to make this dish will result in tender, juicy white meat. Just adjust the cooking time to get the correct internal temperature! (see below!).
How to Cook Chicken Thighs in a Skillet
This chicken is so easy to make! You can mix up the marinade in no time, and after as little as half an hour of marinating, the chicken is ready for the pan. Only several minutes to cook per side, and it's good to go!
Make the Marinade. In a mixing bowl (or a zip-top bag), combine the olive oil, lime juice and lime zest, minced garlic, chopped cilantro, honey, chili powder, pepper flakes, cumin, salt, and pepper; mix well. Measure out 1/4 cup marinade, put it in a bowl or cup for later.
Marinate the Chicken. Add the chicken thighs to the marinade, tossing around to coat well. Cover and let stand at room temperature for half an hour, or refrigerate for up to two hours.
Cook the Chicken. Set a cast iron skillet over medium-high heat until it is quite hot. Add the chicken thighs to the skillet—be careful, they will sizzle! Discard the remaining marinade. Cook the thighs for 5 minutes, or until nicely browned; flip and continue to cook for 7 to 8 more minutes, or until cooked through. Transfer to a serving platter or dish and drizzle with reserved marinade.
Serve this chicken with lime wedges and enjoy!
At What Temperature is Chicken Done Cooking?
It depends! Some cooks don't follow the USDA recommendations for doneness, but I think it's best to stick to them for food safety reasons. The USDA recommendations say that all chicken should be cooked to at least 165°F, so if you're substituting chicken breasts, shoot for that temperature. Please use an Instant Read Meat Thermometer to check for doneness.
Chicken thighs are also done at 165°F, but many chefs think that they have a better taste and texture at 175°F, or even 180°F. That's because thighs have more connective tissue to break down during cooking.
Tips for the Best Chicken Thighs
Keep reading for some of my favorite ideas to make and serve this delicious cilantro-lime chicken. These tips and tricks are great to know!
Marinade Secrets: The marinade is what really sets this dish apart, but did you know that you can make it ahead of time? That's right, you can make this marinade and store it in the refrigerator for up to a week! Also, if you want to make it really fast, try dropping the ingredients into your blender and pulsing until you have a chunky liquid.
Bone-In Thighs Option: If all you have on hand are bone-in thighs, those will work! Just de-bone them using a sharp knife or kitchen shears. Need a tutorial? This how to video is really helpful!
Double the Recipe: This is a really nice recipe that's very versatile! You can use the chicken in a lot of ways, so I think it's good to make extra for later in the week! I use it in salads, rice bowls, and tacos. LOVES it!
Serving Suggestions
Want to make this dish, but not sure what to make along with it? I have some easy and helpful recipes to help out!
Burrito Bowls: This awesome chicken makes a wonderful burrito bowl! I just make some white rice, brown rice, or Cauliflower Rice for the base, and then add the chicken, some sour cream, and some chopped tomato. Yum!
Roasted Squash: Beautiful, lightly caramelized chunks of Honey Roasted Butternut Squash make a wonderful side dish for this super-flavorful chicken.
Elote (Mexican Street Corn): My easy Elote recipe is mouthwateringly scrumptious, especially alongside these tasty marinated thighs!
How to Store and Reheat Leftovers
To store leftovers, place in shallow, airtight containers or in food storage bags. Leftover chicken will keep for up to three days in the fridge.
To reheat, place leftovers in a covered skillet over low heat. Cook until just heated through.
Can I Freeze Cooked Cilantro Lime Chicken Thighs?
Yes, you can! Separate the leftovers into portion-sized amounts, and place in freezer bags (or wrap in a layer of plastic wrap, followed by a layer of tin foil). Mark with the date, and use within three months.
Thaw in the refrigerator overnight before reheating.
ENJOY!
CILANTRO LIME CHICKEN THIGHS
A tender and juicy chicken thighs dish, starring a delicious and flavorful cilantro-lime marinade.
Ingredients
¼

cup

olive oil

Juice and zest of 2 limes

4

cloves

garlic,

minced

3

tablespoons

chopped fresh cilantro,

plus more for garnish

1

tablespoon

honey

1

tablespoon

chili powder

1

teaspoon

red pepper flakes,

(omit if you don't want a spicy dish)

¾

teaspoon

ground cumin

½

teaspoon

salt

¼

teaspoon

freshly ground pepper,

or to taste

2

pounds

boneless skinless chicken thighs

Lime wedges,

for serving
Instructions
In a mixing bowl (or a zip-top bag), combine olive oil, juice and zest of 2 limes, minced garlic, chopped cilantro, honey, chili powder, pepper flakes, cumin, salt, and pepper; stir or mix until well combined.

Remove 1/4-cup of the marinade and place it in a bowl; set aside for later.

Add chicken thighs to the marinade and toss around to coat well; cover with plastic wrap and let stand at room temperature for 30 minutes, or in the fridge for up to 2 hours.

Set a large cast iron skillet over medium-high heat. Heat it until hot.

Add the chicken thighs to the skillet - be careful, they will sizzle - discard the remaining marinade.

Cook the thighs for 5 minutes, or until nicely browned on the bottom; flip and continue to cook for 6 to 8 more minutes, or until cooked through. Chicken is done when internal temperature registers at 165˚F.

Remove from heat.

Brush chicken thighs with reserved marinade.

Garnish with chopped cilantro and serve chicken with lime wedges.
Notes
NET CARBS: 6 g
WW POINTS: NOTE that at least half of the olive oil does stay behind in the marinade, but I did calculate the entire 1/4-cup for the points.
Nutrition
Serving:
6
ounces
|
Calories:
419
kcal
|
Carbohydrates:
7
g
|
Protein:
44
g
|
Fat:
23
g
|
Saturated Fat:
4
g
|
Trans Fat:
1
g
|
Cholesterol:
215
mg
|
Sodium:
535
mg
|
Potassium:
630
mg
|
Fiber:
1
g
|
Sugar:
5
g
|
Vitamin A:
822
IU
|
Vitamin C:
1
mg
|
Calcium:
39
mg
|
Iron:
3
mg
|
Net Carbs:
6
g
Nutritional info is an estimate and provided as courtesy. Values may vary according to the ingredients and tools used. Please use your preferred nutritional calculator for more detailed info.
Categories:
More Chicken Thigh Recipes to Try