How to Make and Store Cauliflower Rice: Learn how to make, store, and cook cauliflower rice.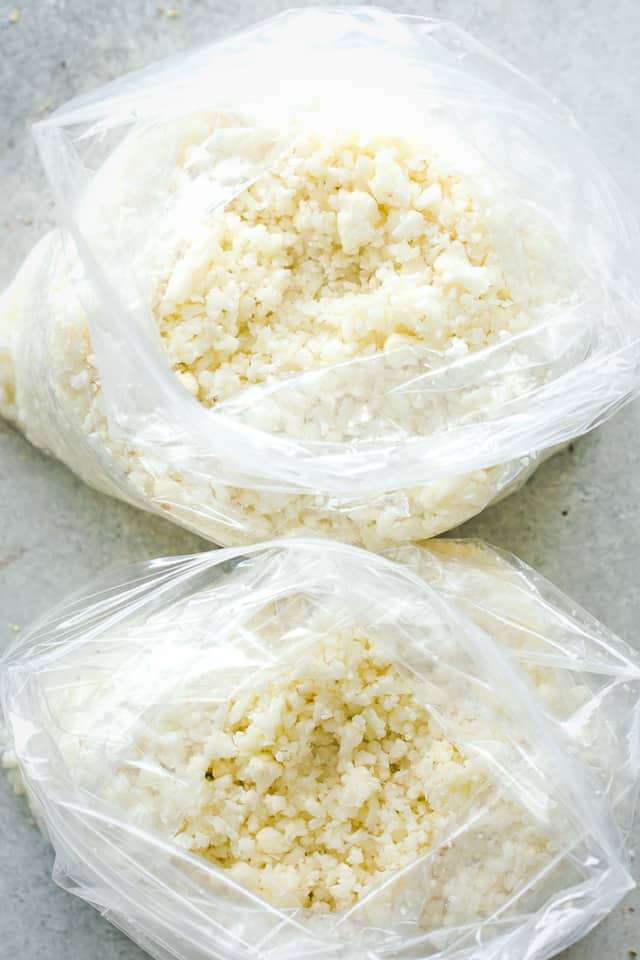 Friends, I am a huge fan of faux carbs, starting with all-the-things spiralized – Stir Fry Zucchini Noodles – and everything else "riced" – like, Carrots and Cauliflower Tots.
Cauliflower Rice is healthy, gluten-free, easy to make, easy to store, and it's totally delicious. It's also a great way to minimize starches and squeeze more vegetables into your day.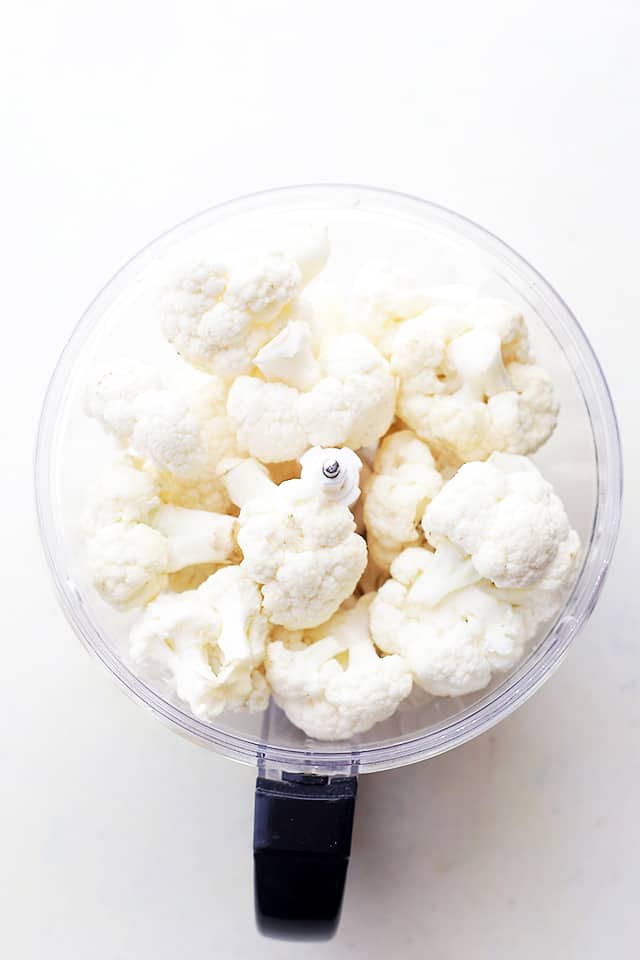 HOW TO MAKE CAULIFLOWER RICE
There are two ways to make cauliflower rice.
First, you can use a grater and, using the medium-sized holes, grate the cauliflower until it starts to resemble rice.
The second method, which is the one that I prefer, is to use a food processor or a blender with a "pulse" function.
First, you will want to cut up the cauliflower head into florets.
Place florets into the food processor and pulse several times, or until the cauliflower begins to resemble rice-like grains. Do not crowd the food processor, instead work in batches.

HOW TO STORE CAULIFLOWER RICE
After ricing the cauliflower in the food processor, you want to transfer it to ziploc bags.
If stored in the fridge, it will be good for up to 4 days. Stored in the freezer, it will keep good for 2 months.
The rice can be defrosted on the counter before cooking.
When making a larger batch to freeze, I like to use about 4 heads of cauliflower, which helps in significantly cutting my prep time for when I want to cook up some "rice".
TIPS FOR COOKING CAULIFLOWER RICE
Cook cauliflower rice in olive oil or butter, and add any of your favorite spices.
You can also fry some onions and garlic with it, and add a squeeze of lemon juice or lime juice.
Serve with fresh herbs such as basil, cilantro, rosemary, etc…
CAULIFLOWER RICE RECIPES TO TRY:
Honey Sriracha Chicken with Cauliflower Rice
ENJOY!

CRAVING MORE? SIGN UP FOR THE DIETHOOD NEWSLETTER FOR FRESH NEW RECIPES DELIVERED TO YOUR INBOX!
FOLLOW DIETHOOD ON FACEBOOK, TWITTER, PINTEREST AND INSTAGRAM FOR ALL OF THE LATEST CONTENT, RECIPES AND UPDATES.
TOOLS AND INGREDIENTS USED IN THIS RECIPE
How to Make and Store Cauliflower Rice
Cauliflower rice is healthy, easy to make, and it's so delicious. Learn how to make, store, and cook cauliflower rice with this easy and quick recipe!
Instructions
Remove all green leaves, then wash and dry the cauliflower completely.

Cut the cauliflower into florets.

Working in batches, place cauliflower florets in a food processor and pulse until broken down into rice-size pieces. Do not let the food processor just run because you will end up with mush.

Scoop UNCOOKED cauliflower rice into ziploc bags, squeeze any excess air out, and flatten the bags.

Place and store in the freezer for 2 months.

You can also keep it in the refrigerator for up to 4 days.

To cook, heat a tablespoon of oil in a large skillet; add cauliflower rice, cover and cook for 5 minutes. Remove lid and season with salt, pepper, and seasonings of choice. Serve.
Recipe Notes
If using a box grater, cut the cauliflower into 4 chunks and use the medium-sized holes to grate it.
Nutrition Facts
How to Make and Store Cauliflower Rice
Amount Per Serving (0.5 cup)
Calories 25
Calories from Fat 3
% Daily Value*
Fat 0.3g0%
Cholesterol 0mg0%
Sodium 30mg1%
Potassium 300mg9%
Carbohydrates 5g2%
Protein 2g4%
* Percent Daily Values are based on a 2000 calorie diet.
Want To Save This Recipe?
​Sign up to get new recipes via email & get an ebook with 9 favorite Thanksgiving Side Dishes!