Looking for inspiration to make basic chicken breast more interesting? These 12 Easy Chicken Breast Recipes will make you fall in love with them all over again! Baked, sautéed, air-fried, or smothered in sauce, there's something here for every taste.
Easy, Healthy Chicken Dinner Ideas!
Lots of cooks these days prefer to work with dark meat chicken, since it is known for being moist and easy to cook. But, when done right, juicy white meat chicken is a real treat! It pairs well with almost any sauce or side dish, and has a fantastic texture and mild taste. These twelve chicken breast recipes are just a few of my family's favorite dinners.
The best part is, each recipe is easy. These are tried-and-true, reliable favorites that anyone can make, with tons of helpful tips, side dish suggestions, and more. Each one offers a unique flavor profile and texture to keep your menus vibrant! Check them out, and you're sure to find a new favorite (or two, or three…)
Is Eating Chicken Breast Healthy?
For a long time, chicken breast was considered one of the healthiest proteins out there, mainly because it delivers plenty of protein power while still being extremely low in fat. (Low fat was a big thing, my friends. Big.) Now that health experts are reminding us more and more of the importance of healthy fat, chicken breast recipes may seem a little less appealing, but they shouldn't be! Cooking chicken breast in a healthy fat like olive oil, or adding healthy fats like avocado or wholesome, homemade sauces, is a great way to create a healthy and well-balanced plate. So feel free to enjoy your chicken breast, and maybe a little butter, too!
12 Easy Chicken Breast Recipes
Whether you need foolproof meal-prep tutorials, or scrumptiously saucy dinner ideas, I've got you covered. Without further ado: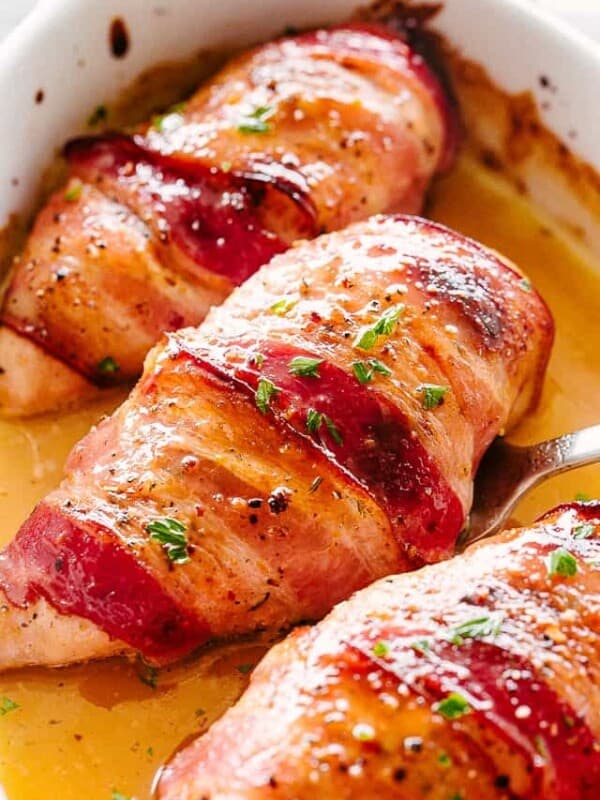 A low-carb, keto-friendly recipe featuring tender chicken breast wrapped in smoky bacon, with a mouthwatering Dijon and maple syrup glaze. So many good vibes here!
Get the Recipe
This simple oven method produces tender, juicy results, every time! It's easy to customize with all kinds of seasonings, too.
Get the Recipe
Simple, beautiful, flavorful, and low-carb, too! Creamy Lemon Parmesan Chicken is a zesty, satisfying one-pan dish that's perfect for weeknights, but festive enough for a special occasion.
Get the Recipe
Shredded chicken is one of those must-haves for a quick dinner or lunch. This easy tutorial delivers moist, flavorful shredded chicken that's perfect for piling on sandwiches, tacos, salads, and more.
Get the Recipe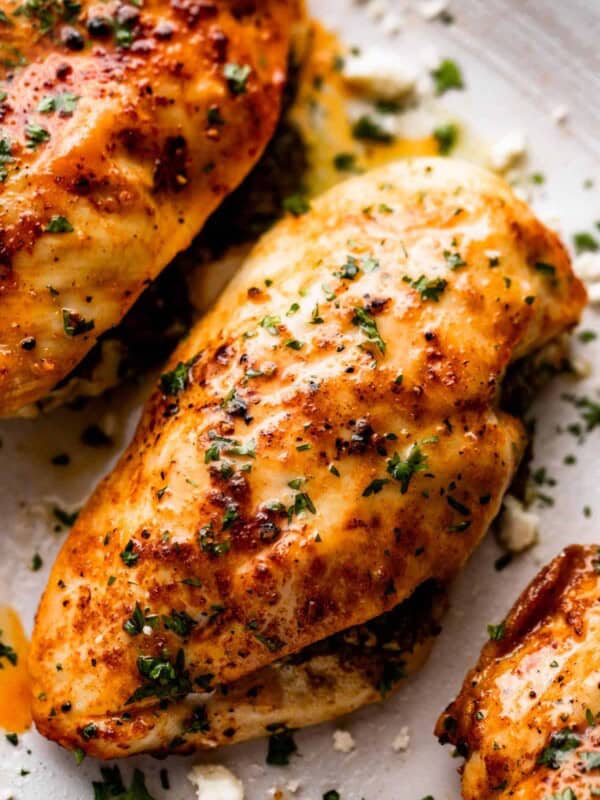 A savory filling of pesto and cheese makes boneless, skinless chicken breast zingy and appealing. Air-frying cooks it up quickly, wth a gorgeous golden-brown exterior and juicy interior.
Get the Recipe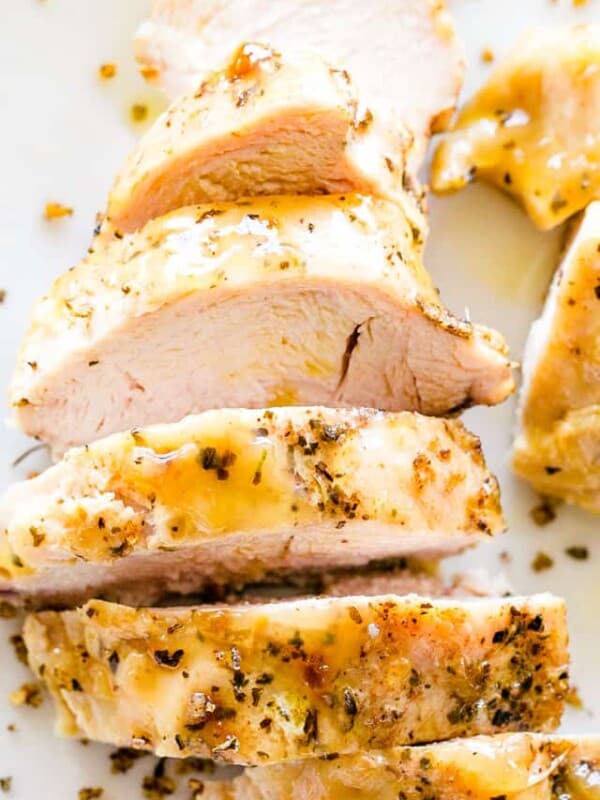 This beloved Instant Pot recipe works with fresh OR frozen chicken breasts, making it super convenient and flexible. You'll love the perfectly-seasoned, tender chicken, and the bonus tutorial for making homestyle chicken gravy in the Instant Pot.
Get the Recipe
This dish features a killer balsamic marinade that'll wake up your tastebuds and make your mouth water! Make it in the oven for a simple weeknight dinner, or throw it on the grill for a smoky, savory masterpiece.
Get the Recipe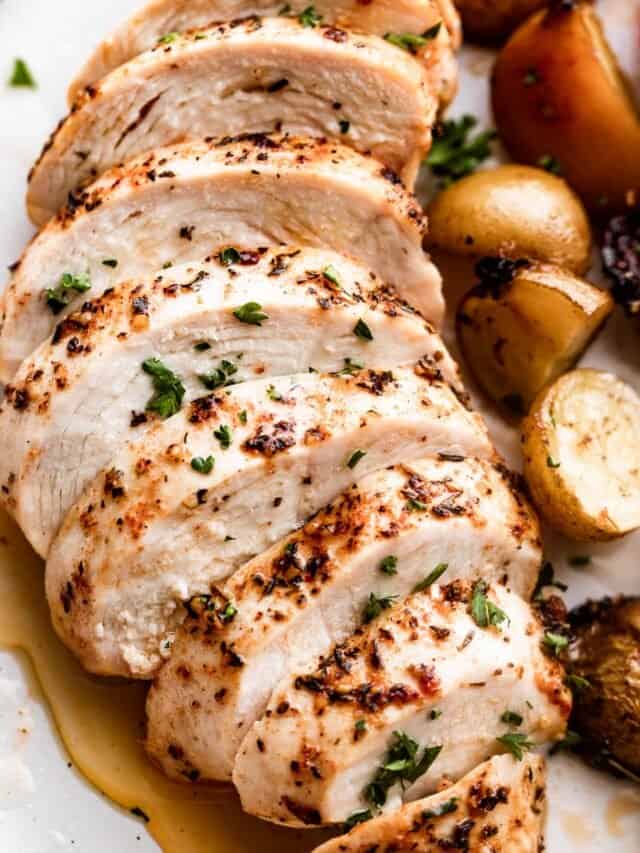 Take a break and let your Crockpot do the work, with this comforting recipe for herbed chicken breasts. Serve whole with mashed potatoes or rice, or shred it right into your favorite recipes.
Get the Recipe
Chicken marsala is all about rich, deep, golden flavor, from both the Marsala wine and the mushrooms. It might seem like a complex gourmet specialty, but this simple dish is actually a one-skillet, 30-minute meal!
Get the Recipe
Another easy oven method, this one uses a simple brining technique for flavor, tenderness, and a great juicy texture. Classic!
Get the Recipe
Does it get any more appetizing than this perfect combo? Tender asparagus, melting cheese, and juicy white meat chicken combine to make a dinner that'll have you swooning with delight. Easy and healthy!
Get the Recipe
What is "Crack Chicken," you ask? It's an addictively delicious combination of bacon, ranch, and chicken that'll have you begging for more! This utterly creamy, perfectly cooked chicken is kid-friendly and a grown-up favorite, too.
Get the Recipe
How Do You Cook Chicken Breast without Drying It Out?
Ah, the age-old question. How do I cook this without drying it out? You'll find people asking this about any lean meat, from pork tenderloin to filet mignon. That's because these naturally lean cuts (including chicken breast, of course) don't have a lot of fat to melt and baste them from the inside out.
However, that doesn't mean you're doomed to dry, boring chicken – ever! Marinating, brining, and basting are all great ways to infuse plenty of moisture into chicken breast. But my favorite two tips for keeping chicken moist and juicy are simple:
Cook to the Right Temperature: The most important thing is not to overcook your chicken breast. Chicken is cooked through when internal temperature registers at 165˚F. I highly recommend having an instant-read thermometer, so that you can cook just until the meat is done, and then take it off the heat. These digital meat thermometers tell you your chicken's temperature with no waiting or watching a little dial. So convenient, right?
Rest the Chicken: My second tip is super simple – just let your cooked chicken rest for 5 to 6 minutes, before you slice or serve. That way, the juices in the chicken have a chance to settle into the meat's fibers – instead of running out all over your plate. This works for almost all chicken breast recipes, and it's a super-easy, hands-off technique.
Storing and Reheating Leftover Chicken Breast
To store leftover cooked chicken is pretty straightforward. First, cool the dish down to about room temperature, and then transfer the chicken, along with any sauce or pan juices, to your favorite airtight container or food storage bag. It will keep in the fridge for 3 to 4 days.
To reheat most chicken breast recipes, place the chicken and a small amount of liquid (such as pan juices, sauce, or a bit of oil) in a skillet over low heat. Cover the skillet to trap the heat, and warm the chicken – but only until it's heated through. Then take it off of the heat right away, so it doesn't dry out!
Best Practices for Freezing
Freezing chicken breast is quick and easy, as well. If you're freezing chicken, however, it's even more crucial to cool the chicken down before you store it. Otherwise, steam will form into ice and freezer burn – not good.
Once the chicken is cooled down, place it in a freezer bag, and press out as much air as you can before you seal the bag. Freeze for up to three months, and thaw in your refrigerator before reheating.