These homemade pierogi are done in just 30 minutes! Make perfectly golden and crisp pierogi with a simple dough made with only two ingredients. You won't find a simpler or more delicious recipe!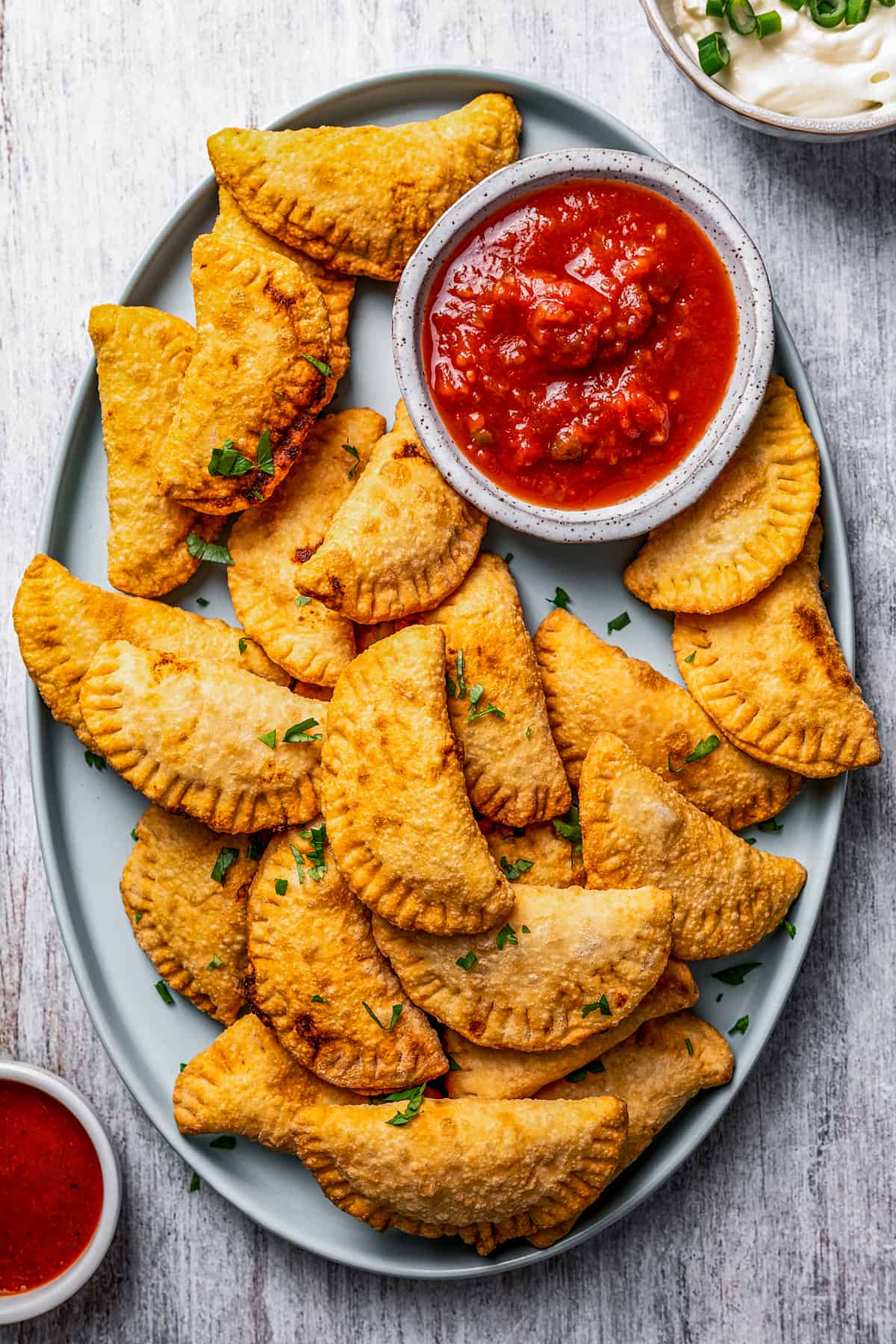 Easiest Ever Pierogi
I have always loved pierogi. My aunt's homemade pierogies are the stuff childhood memories are made of, so of course, when I was all grown up, I asked her for the recipe. I took one look at it, and I gave up. I threw my hands in the air and said, No Way! The recipe was two pages long, and I was not about to slave over pierogies for 3 hours.
But I still wanted to make pierogi. 🤷‍♀️ So I asked my mom. She made her pierogi (Macedonian: Piroshki) with only two ingredients: sour cream and flour. Whaaat? That's it?! Now that was a recipe I could get behind.
This is my mother's recipe, and it is simple, EASY, and makes perfectly crisp fried dumplings filled with a spicy feta cheese filling. And best of all? They're ready in 30 minutes!
Why You'll Love This Recipe
Easy. You won't find a simpler way to make delicious pierogi. They are totally delicious and ready in 30 minutes.
Flavorful. The spicy feta filling comes together in moments and perfectly complements the crunchy, golden fried dough.
Versatile. You can experiment with different kinds of fillings. A classic combo would be potato and cheese, but you can also add more adventurous options like meat, sauerkraut, or even sweet fillings.
Goes with lots of toppings. They can be served with a variety of toppings, such as sour cream, butter, sautéed onions, herbs, salsa, or even bacon bits. Find your favorite combo and go with it!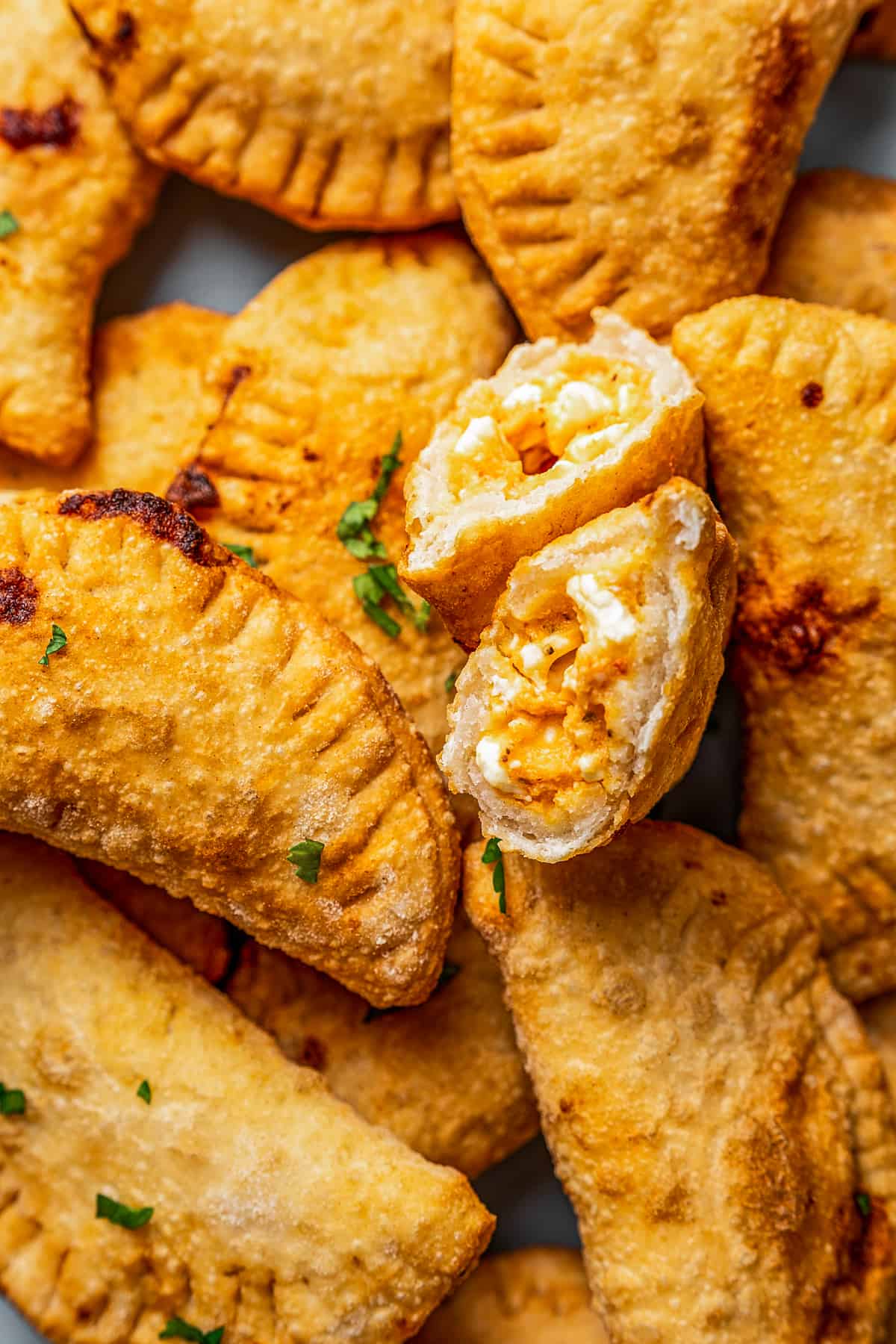 What Are Pierogi?
Pierogi, also called pierogis, are a popular type of dumpling originating in Central and Eastern European cuisines, particularly in Poland. They are made by wrapping a circle of unleavened dough around a savory or sweet filling, then folding it in half to create a crescent shape. Pierogis can be boiled, fried, or baked, depending on personal preference and the recipe being used.
The word "pierogi" is already plural in its original language, Polish. It is common for English speakers to use the term "pierogis" as the plural form, but technically, "pierogi" is the correct plural form of the word.
How to Make Pierogi
Here's a quick look at how to make this easy recipe.
Make the filling. Mix everything up in a bowl and set aside.
Make the dough. Combine all the dough ingredients and form into a soft dough.
Cut out circles. Roll out the dough and cut out circles to make the pierogi.
Add filling. Place it on one side, then close and shape the pierogi.
Cook. Lightly pan fry in oil until golden.
Serve! You can eat them plain or with a side of sour cream, melted cheese, marinara sauce or salsa.
What Goes With Pierogi?
Sour cream and onions. Traditional toppings include sour cream and caramelized onions. The tanginess of sour cream complements the flavors of the dumplings, while the caramelized onions add a savory and slightly sweet note. Drizzle some sour cream and sprinkle the onions over the pierogi before serving.
Melted butter or sauces. You can serve them with melted butter, garlic butter, tomato sauce, mushroom sauce, or even salsa.
Soup. In some culinary traditions, pierogi are served with a bowl of hot soup. Some of my favorite options include Lentil and Chorizo Soup, Cream of Mushroom Soup with Rice, and Split Pea Soup with Ham.
Essential Tips for Perfect Pierogi
With such a simple recipe, the quality of your ingredients can make a big difference. Use good-quality flour and sour cream for the best results.
Roll the dough out as thin as you can without it tearing. This will make your pierogi light and tender.
Do not crowd the pan – cook only 3 to 4 pieces at a time.
More Crispy Appetizer Ideas
ENJOY!
Pierogies with Spicy Feta Filling
These easy fried pierogi are done in just 30 minutes! Great as an appetizer, snack, or even dinner.
Ingredients
For the Pierogies:
2

cups

all-purpose flour

1 to 1.5

cups

sour cream
Instructions
For the Filling
Combine the feta cheese, hot sauce, and one egg in a medium-sized bowl and whisk until thoroughly combined; set aside.
For the Pierogies
Combine the flour and sour cream in your mixer's bowl; mix with the dough hook until you have a soft ball of dough. If too wet, add a tablespoon of flour, if too dry, add more sour cream, one tablespoon at a time.

Lightly flour your working station and turn out the dough.

Roll out the dough to a 1/4-inch thickness. Use several passes to roll it to the desired thickness. Don't try to flatten it with just one pass.

Using a 3-inch round cookie cutter, cut dough into 20 rounds, rerolling the scraps as needed.

Place filling into the center of each round and fold in half, closing the edges with the tines of the fork. Be sure all edges are sealed.

In a large skillet or saucepan, heat the oil to 350˚F.

Place 2 to 3 pierogies in the hot oil and cook for 2 minutes, or until the pierogies float to the top and the edges start to brown; flip and cook for another minute or two, or until completely browned.

Remove and drain on paper towels.

Serve the pierogi plain or with sour cream, caramelized onions, or salsa.
Notes
Don't overfill the pierogi. You only need about one tablespoon of filling inside each dumpling. Any more than that, and you risk the filling oozing out.
The pierogi dough should be smooth and stretchy. Add extra flour or sour cream if necessary.
Make sure the pierogi are completely sealed at the seams before frying them.
Don't crowd the skillet – fry them in batches.
Storing and Reheating Leftovers: Cool the fried pierogi, then put them in a container or sealable bag. Keep in the fridge for up to 5 days. Warm them in a skillet with a bit of oil. If you use a microwave, they may be less crispy.
Freezing Pierogies: Cool, then freeze the pierogi on a baking tray. Once solid, store them in a container or freezer bag and keep them frozen for up to 3 months. Thaw in the fridge and reheat as usual.
Nutrition
Calories:
88
kcal
|
Carbohydrates:
10
g
|
Protein:
3
g
|
Fat:
4
g
|
Saturated Fat:
2
g
|
Polyunsaturated Fat:
0.2
g
|
Monounsaturated Fat:
1
g
|
Cholesterol:
14
mg
|
Sodium:
124
mg
|
Potassium:
34
mg
|
Fiber:
0.3
g
|
Sugar:
0.4
g
|
Vitamin A:
106
IU
|
Vitamin C:
1
mg
|
Calcium:
51
mg
|
Iron:
1
mg
Nutritional info is an estimate and provided as courtesy. Values may vary according to the ingredients and tools used. Please use your preferred nutritional calculator for more detailed info.
Categories: