Phyllo Raspberry Pop Tarts: Layers of Phyllo Sheets filled with Raspberry Jam and topped with a sweet Vanilla Glaze.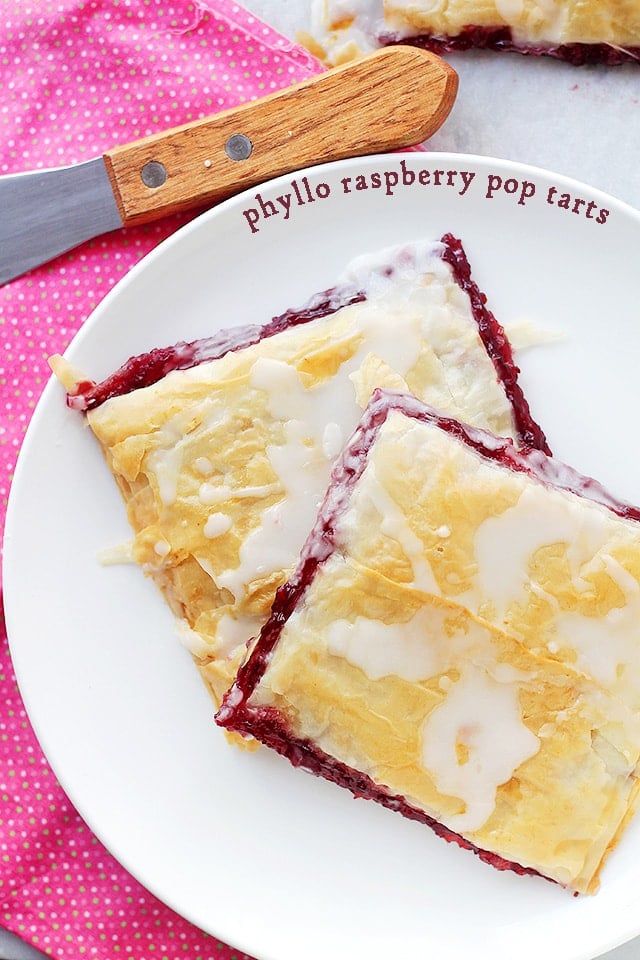 The other day I decided to pump some gas into my car, an activity I don't usually partake in. I ask my husband to take my car when it's on "E". buahahaha 🙂
Because my car eats up a whole truckload of gas, thus taking forever to fill-up, I clean the inside of the car to kill time. I'm very anxious – it's impossible for me to just sit in the car for those few minutes.
It must have been a while since the last time I pumped gas because I could have done it 100 times over and there would still be another 100 gum wrappers to throw away! AND water bottles. and gas receipts, and napkins…
Why do I keep these receipts, anyhow?? Like, who in the world is going to ask me for my gas receipt?
Also… do you remember when you were allowed to throw garbage out the window while driving? EWWW!! Imagine someone's chewed up gum slamming into your windshield while doing 65 mph! Could-ah killed ya!
…you should know that I laughed out loud while typing that.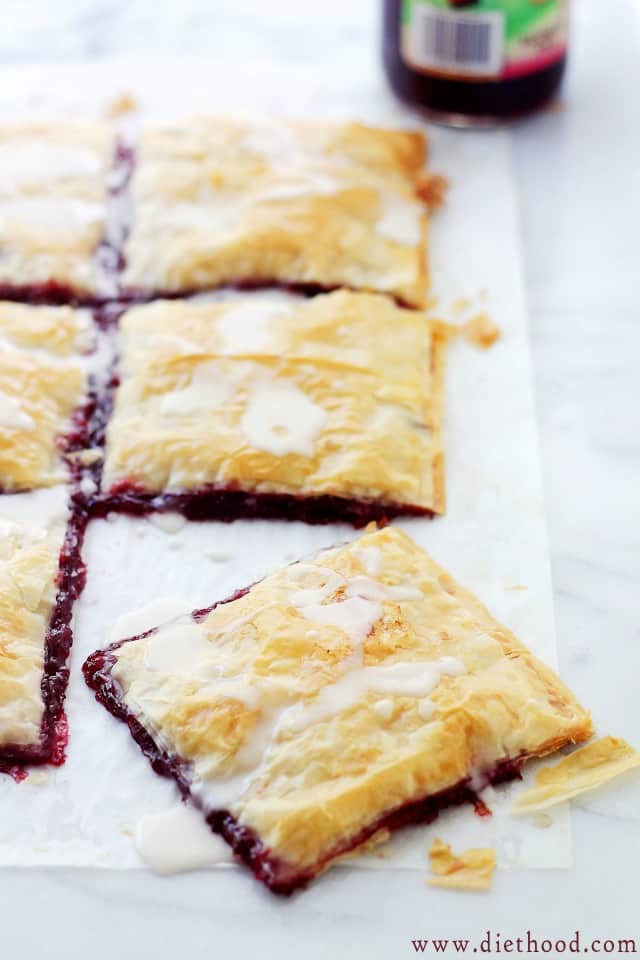 So how do I tie in Phyllo Raspberry Pop Tarts into a gas-pumping story? I honestly don't know :), but do you wanna talk about turning phyllo sheets into pop tarts?? ME, TOO!
In this house we are all about the quick-phyllo-fix meals and desserts. "We" should really say "I", but whatever.
Appetizer: Sun-Dried Tomatoes and Cheese Cups
Dinner: Butternut-Squash and Spinach Pie
Dessert: Apple Strudel Cake
I'm tellin' you – Phyllo sheets and I are like *THIS*. 
Recently, my lil' ones requested Nutella Pop Tarts for breakfast, but because I was just too lazy to go buy Nutella aaaaand roll out pie dough, I asked them to compromise. When I busted out the phyllo sheets, they were more than happy to oblige and enjoy this Mom's new version of homemade pop tarts.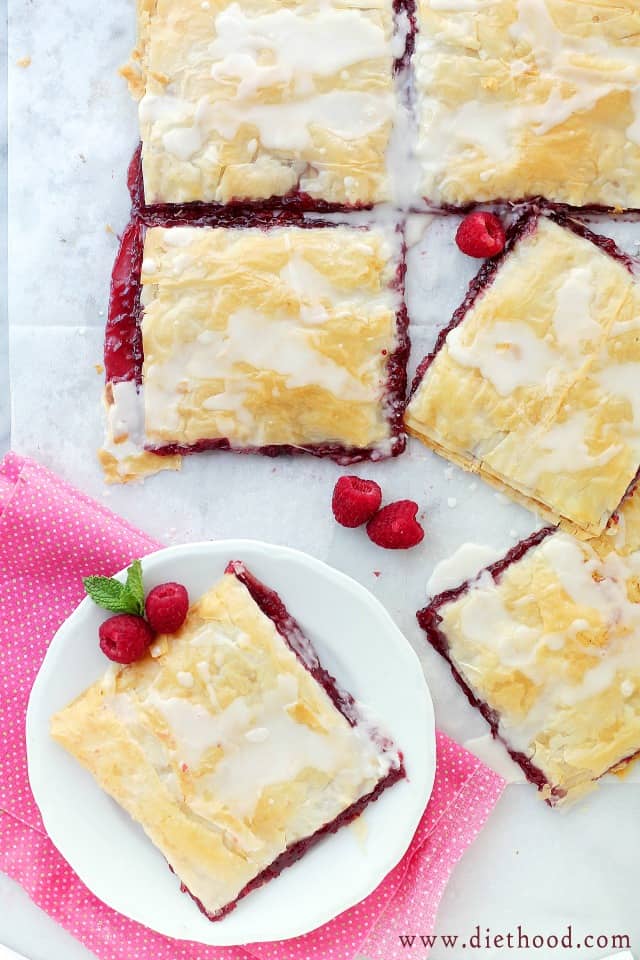 I was also itching to use up some of that delicious Farmer's Pick Raspberry Jam by Welch's – that stuff is SO GOOD! And it's one of the main reasons we ended up here; Phyllo sheets + Raspberry Jam + Vanilla Glaze = Phyllo Raspberry Pop Tarts. It is my bootleg, yet awesomely delicious version of homemade pop tarts.
Got 20 minutes to spare? Make 'em!
Got Milk? Drink it with 'em!
ENJOY!
Phyllo Raspberry Pop Tarts
Layers of Phyllo Sheets filled with Raspberry Jam and topped with a sweet Vanilla Glaze.
Ingredients
Pop Tarts
4

tablespoons

butter

, melted

10

phyllo sheets

, divided

1/2

cup

raspberry jam
Vanilla Glaze
1

cup

powdered sugar

1

teaspoon

pure vanilla extract

2

to 3 tablespoons water
Instructions
Preheat oven to 400.

Line a baking sheet with foil.

Layer 5 pieces of Phyllo sheets on prepared baking sheet, brushing each sheet with the melted butter before adding the next.

Brush the 5th sheet with butter and spread the raspberry jam, leaving a 1-inch empty border around the edges.

Layer the remaining 5 Phyllo sheets, brushing each sheet with butter before adding the next.

Brush the top layer with butter and cut the pastry into 8 rectangles. A pizza-cutter works best. DO NOT remove the pastries

Bake for 12 to 15 minutes, or until golden brown.

Remove from oven and let slightly cool.
Make the glaze.
In a small mixing bowl whisk together powdered sugar, vanilla and 2 tablespoons water; whisk until smooth and thoroughly combined. If the glaze is too thick for your liking, add 1 more tablespoon water and whisk until smooth.

Drizzle each pop tart with vanilla glaze. Glaze will harden as it stands.

Serve.
Nutrition Facts
Phyllo Raspberry Pop Tarts
Amount Per Serving
Calories 135
Calories from Fat 36
% Daily Value*
Total Fat 4g 6%
Cholesterol 12mg 4%
Sodium 46mg 2%
Potassium 13mg 0%
Total Carbohydrates 23g 8%
Protein 0g 0%
* Percent Daily Values are based on a 2000 calorie diet.
Want To Save This Recipe?
SUBSCRIBE TO GET FREE UPDATES & A FREE ECOOKBOOK!
GET AN EMAIL WHEN THERE'S A NEW RECIPE