This Juicy Slow Roasted Lamb Shoulder recipe sure sounds fancy, but it is incredibly easy to make. Tender lamb dressed in a rich sun-dried tomato sauce and slow roasted in the oven. Add some creamy mashed cauliflower on the side and dig in!
An Easy + Elegant Lamb Roast Recipe
As we head toward spring, my thoughts naturally turn to one of my favorite main courses: roast lamb! It's so lovely for a Sunday dinner, and it's a classic choice for Easter, especially. Whatever the occasion, I'll be cooking up a hearty bone-in lamb shoulder low and slow in the oven.
For this recipe, I'm also taking a classic mint sauce and giving it a major overhaul: sun-dried tomatoes, Worcestershire sauce, soy sauce and other goodies pack a flavor punch that works really well with the hearty flavor of lamb. So much deliciousness!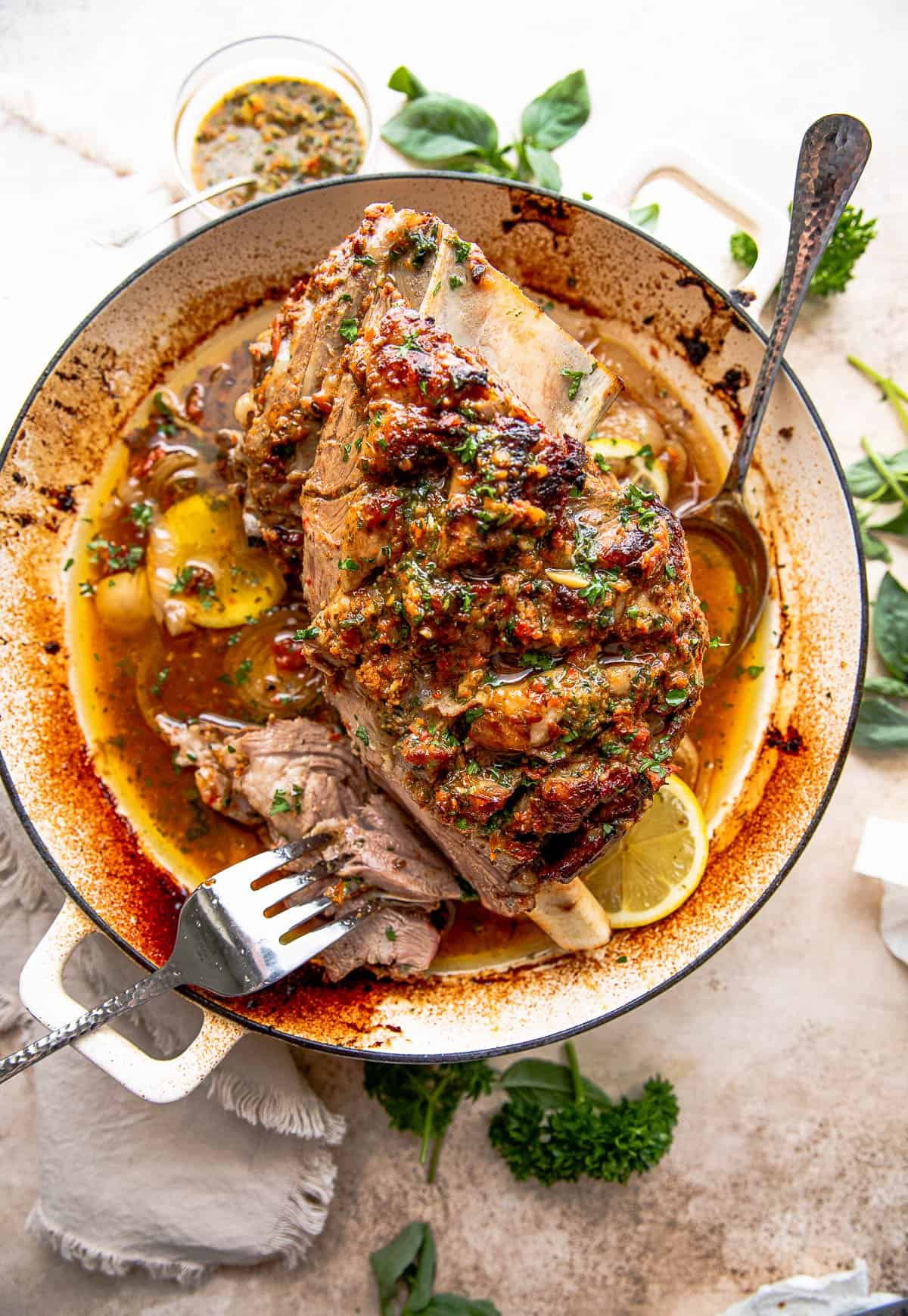 Why Use Lamb Shoulder?
You might be more familiar with lamb chops and leg of lamb, but if you're not on the shoulder bandwagon yet, you should be! Lamb shoulder is a cut that's perfect for slow-roasting, because of its rich connective tissue and higher fat content. All of that yumminess melts down as the meat slowly cooks, creating a tender, juicy result.
Recipe Ingredients
The ingredients for the lamb in this recipe are really simple; just lamb, aromatic veggies and some seasonings. The sauce, as you'll notice, has a bit more going on, but it's still really easy to make: just dump it all in a blender or food processor and go!
For the Sauce
Worcestershire Sauce: This savory condiment works so well in all kinds of meat dishes. It's great to keep on hand.
Apple Cider Vinegar: I often use ACV in place of white vinegar. It has a great depth of flavor, like wine, and works well for lots of dishes!
Fresh Garlic: For this recipe, I just give a rough chop to about 4 garlic cloves.
Sugar: You'll need a tablespoon of your favorite sugar; I often use raw sugar.
Soy Sauce: A tablespoon of low-sodium soy sauce really adds dimension to the sauce.
Fresh Mint Leaves: Lamb without mint? Not in my kitchen! Or at least, not in this recipe. Mint and lamb are a classic combo, so don't leave this out!
Fresh Parsley: You'll need one-third of a cup of fresh parsley.
Sun-dried Tomatoes: Get the kind packed in oil.
Lemon: You'll need the juice of two lemons for this sauce.
Hot Water: Add hot water to the sauce to get a good consistency.
For the Lamb
Lamb Shoulder: I usually buy a bone-in lamb shoulder, about 4 pounds in weight.
Olive Oil: For rubbing into the lamb.
Salt & Pepper
Onions: Cut up two large yellow onions into thick rings.
Garlic: Smash about six cloves of garlic with the side of your knife by laying the knife flat across the cloves and hitting it with the heel of your hand. Be careful not to cut yourself. Been there, done that. 😣
Water: A cup of water goes in the roasting pan.
Where to Buy Lamb Shoulder
If you don't usually see lamb shoulder for sale where you shop, try asking the manager of the meat department, or send an email. Grocery store personnel are usually motivated to stock what they think customers will actually buy, so if you reach out, it's very likely that they'll begin to carry the items you ask for.
Other places to look might be larger or more specialized grocery stores, such as Whole Foods; local, international grocery stores and markets; farmer's markets; and local farms and butchers.
How to Roast a Lamb Shoulder
To get a tender roast with a good crispy exterior, we're going to start off roasting low and slow with a covering of aluminum foil. Then, we'll remove the foil and finish up with high heat to brown and crisp the outside.
Bring Meat to Room Temperature: Take your lamb shoulder out of the fridge 1 hour before you're ready to start this recipe. Leave it in its wrappings, and place it on a large plate or tray if you think it might leak on the counter.
Prep Sauce & Oven: Preheat your oven to 450˚F. To make the sauce, combine all of the sauce ingredients in a food processor or blender and pulse until you have a chunky sauce.
Prep Lamb: When the lamb has come to room temperature, lay it on a large cutting board (make sure it's one for working with raw meat) or other work surface, fatty side up. Make slashes across the top, using a sharp knife. Rub with olive oil and season liberally with salt and pepper. Finally, coat the lamb with half of your prepared sauce.
Roast Lamb Covered: In the base of a roasting pan, place your onion rings and smashed garlic cloves. Lay the lamb shoulder on top, and pour a cup of water around it over the vegetables. Then, cover with aluminum foil, place the pan in the oven, and turn the heat down to 350˚F. Roast for 3 hours.
Finish Roasting Uncovered: After the 3 hours are up, remove the aluminum foil and increase the heat to 425˚F. Check to see if there's any liquid in the pan; if not, add a cup of water. Continue roasting the lamb for another 25 minutes, or until browned on top and the internal temperature registers at 145˚F. Start checking the internal temperature at around the 15-minute mark.
Let Rest & Serve: Once the lamb has cooked to an internal temperature of 145˚F, remove it from the oven. Transfer the lamb to a clean cutting board, and loosely cover it with foil; let it rest for 20 minutes. Finally, drizzle it with the remaining sauce and serve.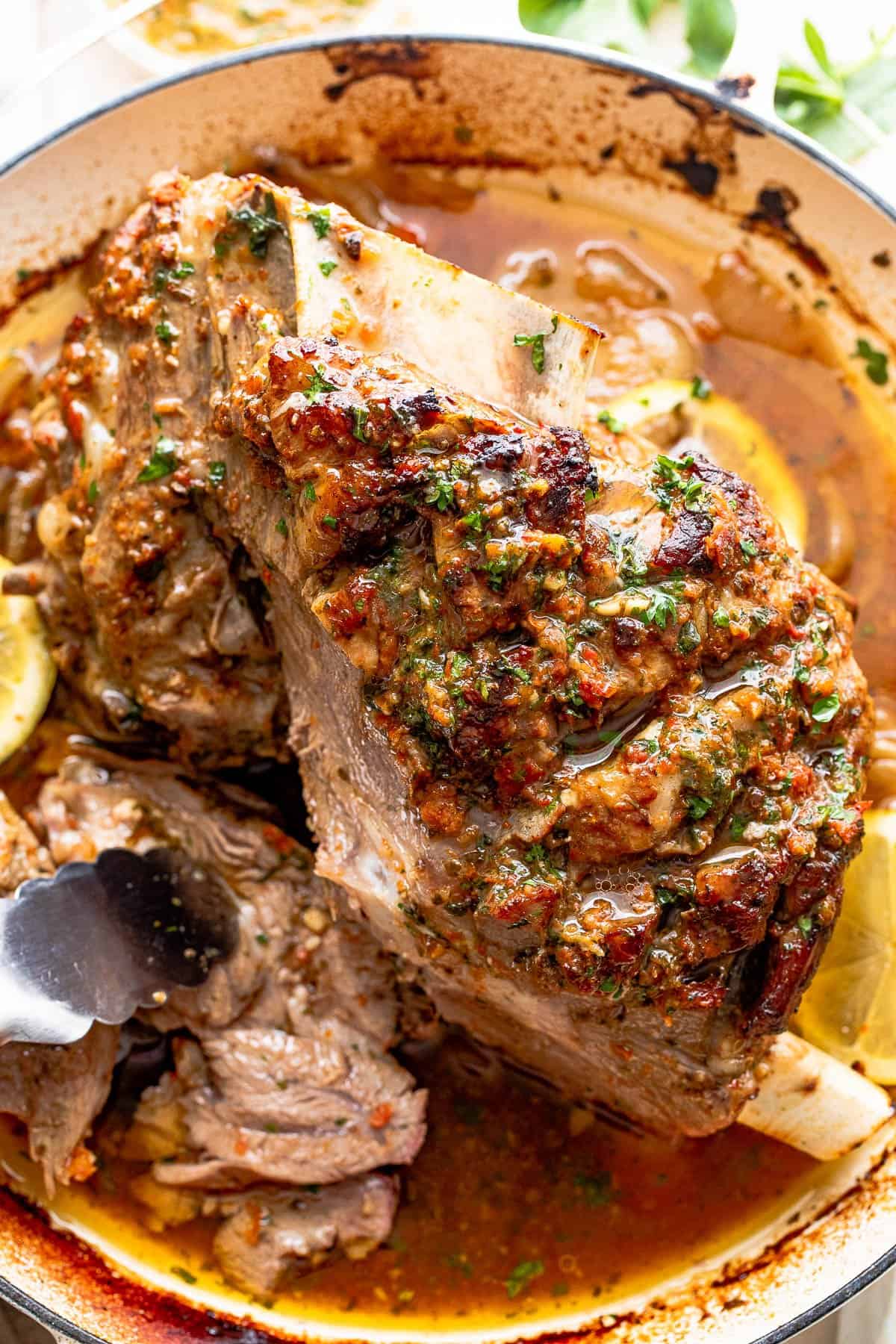 How Long to Cook Lamb Shoulder
If your lamb shoulder is smaller than 3-pounds, then you can cut about twenty minutes off of the cooking time while the pan is covered with foil, so roast it covered about 2 hours and 40 minutes, instead of 3 hours. The reason for this is that you don't want to dry out the meat, but you still have to cook it for a similar period of time in order to break down the tough connective fibers in the shoulder.
Internal Temperature for Lamb Shoulder
I like to take my roasted lamb shoulder out of the oven once it reaches the minimum safe internal temperature of 145˚F. You can leave it in a bit longer, to get it to 160˚F (considered medium) or even up to 170˚F (considered well done). Use an Instant Read Meat Thermometer to check for doneness.
Tips for Success
This recipe is so easy, you really can't go wrong! Still, I have a few little tips and tricks for ya! Read on for my best advice for succulent, delicious roasted lamb shoulder.
Grass-fed Flavor: Keep in mind that the lamb's diet will affect its flavor. Lamb that's been exclusively grassfed is less "sweet" than lamb fed with grain. The lamb that tastes the most… well… lamb-y? Grass-fed. But both can be great!
Slice Against the Grain: As much as possible, it's important to slice meat against the grain for maximum tenderness. Lamb shoulder is usually "filleted" off of the bone first, and then sliced. For a tutorial on how to do this, check here!
Change Up the Sauce: Not crazy about sun-dried tomatoes, or maybe you just want something a little spicier? No problem! The basic lamb recipe goes well with lots of sauce options, from chimichurri to tzatziki to pesto. Even a simple lemon-butter is great! Serve what makes you happy!
What Goes with Lamb Shoulder?
If you're not sure what to serve with slow roasted lamb shoulder, no worries. Any of the following dishes would be a perfect pairing!
Potatoes: My Maple-Mustard Roasted Potatoes are an out-of-this-world side dish for roasted lamb! Yum!
Salad: A simple green salad is always appropriate, but sometimes ya gotta go big or go home. In that case, I recommend this amazing Roasted Butternut Squash Salad, sparkling with pomegranate seeds and full of the flavor of goat cheese, roasted squash and crunchy walnuts.
Risotto: This lovely side dish made with tender sweet peas is a warm and comfy addition to the menu. Try my Sweet Pea and Crispy Bacon Risotto—it's sure to be a favorite!
How to Store and Reheat Leftovers
Have leftover roasted lamb shoulder? Here's how to store it and enjoy it later.
To Refrigerate: Place leftover lamb and sauce into shallow airtight containers or food storage bags. Leftover lamb will keep for 3 to 4 days in the fridge.
To Freeze: Place leftovers in freezer bags and press out as much air as possible before sealing. Frozen lamb will keep for 3 to 4 months.
To Reheat: First, thaw the leftover lamb in the refrigerator overnight (if frozen). Once thawed, place the leftovers in a lidded, ovenproof dish and bake at 350˚F until they reach the correct internal temperature (the same temperature you originally cooked it to, or higher).
ENJOY!
Juicy Slow Roasted Lamb Shoulder
Crispy, tender, and dressed in a bold sundried tomato sauce, this Juicy Slow Roasted Lamb Shoulder is incredibly easy to make. Plus, it just tastes heavenly!
Ingredients
For the Lamb
4

pound

bone-in lamb shoulder

2

tablespoons

olive oil

2

teaspoons

salt

1

teaspoon

freshly ground black pepper

2

large yellow onions,

peeled and cut into thick rings

6

cloves

garlic,

smashed

1

cup

water,

(you can also use red wine or broth)
Instructions
Take lamb out of the fridge 1 hour before you are ready to work with it.

Preheat oven to 450˚F.

In a food processor or blender, combine worcestershire sauce, apple cider vinegar, sugar, soy sauce, garlic, sun dried tomatoes, mint leaves, parsley, lemon juice, and hot water; pulse to make a chunky sauce. Set aside.

Lay lamb shoulder, fatty-side up, on a working surface, like a large cutting board.

Using a sharp knife, make several slashes across the top.

Rub the lamb with the olive oil; season with salt and pepper.

Coat lamb with HALF of the prepared sauce. Keep the other HALF in the fridge until ready to serve the lamb.

Arrange onion rings and smashed garlic in the base of a roasting pan.

Place the lamb shoulder on top of the onions, fatty side up.

Pour 1 cup of water in the roasting pan.

Cover with aluminum foil.

Put roasting pan in the oven and turn down the heat to 350˚F.

Roast for 3 hours.

Remove foil and increase heat to 425˚F. Check to see if there's any liquid in the pan; if not, add a cup of water.

Continue to roast for about 20 to 25 minutes, or until browned on top and internal temperature registers at 145˚F. Start checking internal temperature at around the 15-minute mark.

When done, remove from oven.

Transfer lamb to a cutting board and loosely cover with foil; let it rest for 20 minutes.

Drizzle with reserved sauce.
Notes
NOTE: 4-pound bone-in lamb shoulder yields around 1.8-pounds of cooked meat. This is because the meat shrinks while cooking; lamb shoulder has a thick layer of fat that will mostly melt, and there's also a bone that runs through the middle of the shoulder.
NET CARBS: 11 g
Nutrition
Serving:
3
ounces
|
Calories:
276
kcal
|
Carbohydrates:
13
g
|
Protein:
31
g
|
Fat:
11
g
|
Saturated Fat:
3
g
|
Cholesterol:
91
mg
|
Sodium:
812
mg
|
Potassium:
806
mg
|
Fiber:
2
g
|
Sugar:
6
g
|
Vitamin A:
362
IU
|
Vitamin C:
25
mg
|
Calcium:
61
mg
|
Iron:
4
mg
|
Net Carbs:
11
g
Nutritional info is an estimate and provided as courtesy. Values may vary according to the ingredients and tools used. Please use your preferred nutritional calculator for more detailed info.
Categories:
Other Easy Lamb Recipes
I love cooking with lamb, and I love eating it even more! Here are some other delicious ways to prepare it.