Italian Sausage and Eggplant Casserole – Layers of delicious Italian Sausage and eggplant slices covered in white (Bechamel) sauce and gooey cheese.
Hello almost Casserole Season! I like you thiiiiiis much!
Friends, get your forks ready because this is going to be a GREAT one!
Oh, HEY! How's it goin'? Did you sleep in? Go to Church? Sing in the shower?!? Whatever it was, I hope it made your Sunday that much better!
As far as I'm concerned – I know you didn't ask, but still – I, my friends, am a little weirded out by the fact that August is coming to a close. SO soon?!? Ugh.
I got a glimpse of Fall just yesterday during Ana's soccer game and it was aw.fall. <—Get it?! 😉
It was about 63°F, and it rained the entire time. Brrrrr! BUT, she scored 6 goals, so we're even.
Today, though! Today, we are going to celebrate her 6th birthday, which happened like almost a month ago, but as all summer-born kids know, you HAVE TO have a birthday party when school is in session so your friends can all come. Duhhh… <—- Meant for me because I had no idea that this is what it was going to be like. HAD I KNOWN, I would have planned their birth-days a bit better. Ahem.
… Life With Kids … is that a movie title? It should be.
Okay. Food it is.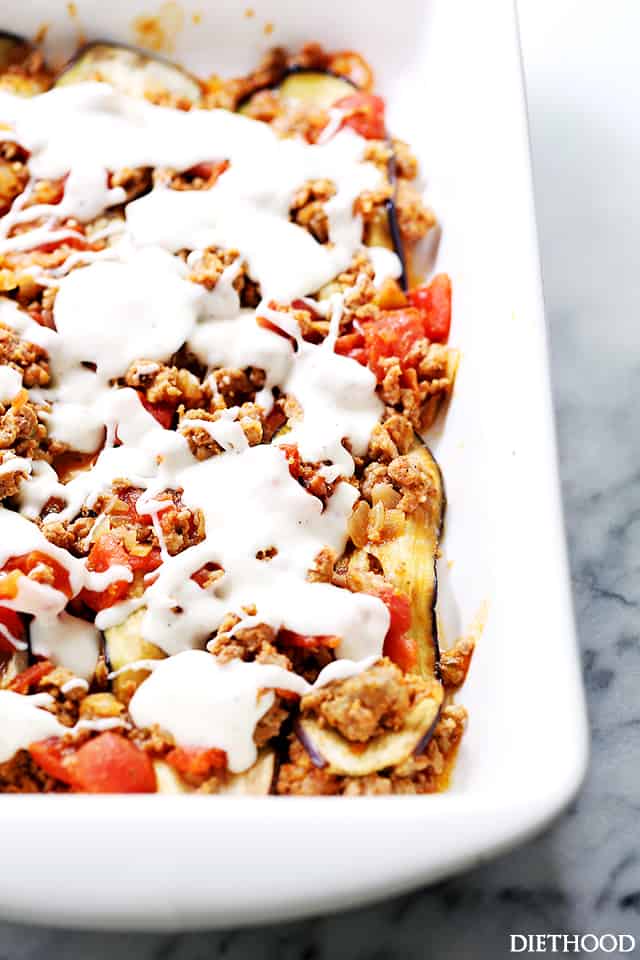 So. Let's see. How can I make you start loving eggplant?
I think I KNOW!
Drown it in cheese and sauce and meat, and serve it all hot and bubbly. Kind of like today's recipe with mildly spicy Italian sausage, and Bechamel sauce, and thin slices of eggplant.
You know what I didn't expect? The sausage to completely take over and rise up as this meal's superstar! I was counting more on the eggplant, but no siree bob. Sausage took over. Good news for those that don't like veggies, right? Honestly, though, the slightly wilted taste and texture with the salty bite of the eggplant paired with the gooey white sauce was like heaven to me.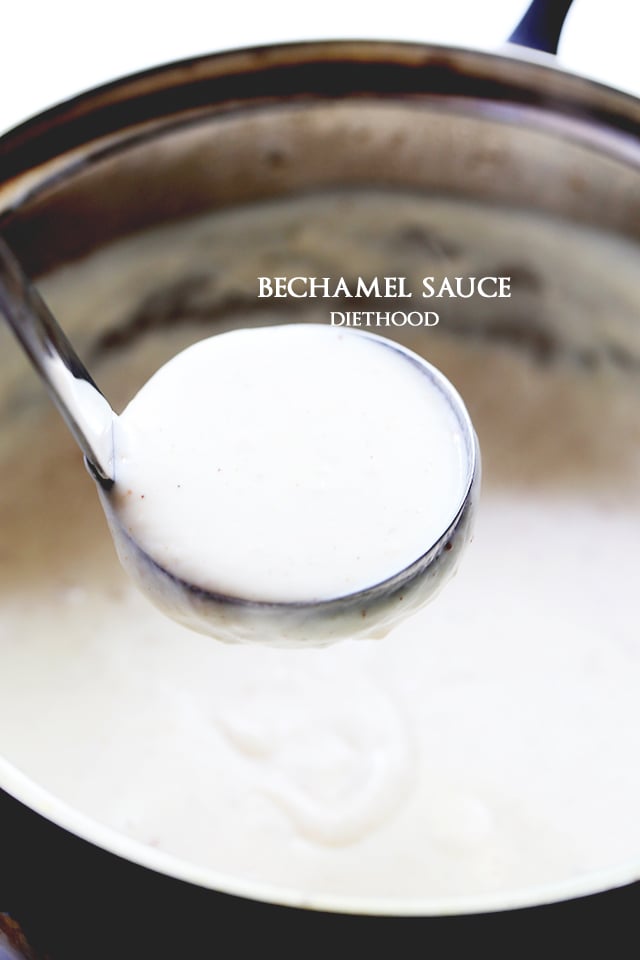 Wanna know something else? Bechamel Sauce. That right there totally reminds me of the '80s & '90s because it's what my Mom made whenever a dish called for sauce. It was her answer to anything that was a bit dry, including burgers and pastas. It's super easy to make, and even easier to eat!
One more thing you should know. This meal kinda takes a while. You have to brown the sausage, slice the eggplants, make the sauce… layer it all… bake it… and TADA! My apologies beforehand – you know I love our 30-minute meals – but this is totally worth the extra 30+ minutes. I promise!
Okay, I gotta go party it up with the 6 year olds!
Have a great Sunday!!
ENJOY!

Craving more? Sign up for the DIETHOOD Newsletter for fresh new content delivered to your inbox! Follow Diethood on Facebook, Twitter, Pinterest and Instagram for all of the latest recipes and updates.
Italian Sausage and Eggplant Casserole
Layers of Italian sausage and fresh eggplant slices covered in white (Bechamel) sauce and gooey cheese make up this Sausage and Eggplant Casserole. Drooling yet? Me too, let's get started on this hearty sausage casserole!
Ingredients
2

eggplants

, sliced lengthwise, about 1/8-inch thickness (use a mandolin to get perfectly uniform slices)

salt

1

teaspoon

olive oil

1

yellow onion

, diced

2

garlic cloves

, minced

pinch salt

1

pound

italian sausage

, casings removed

14.5

ounces

diced tomatoes

, undrained

Bechamel Sauce - click for recipe

1

cup

shredded Italian Blend Cheese
Instructions
Layer slices of eggplant on a large baking sheet; sprinkle each slice with salt and set aside.

Preheat oven to 400.

Heat olive oil in a large nonstick skillet.

Add onions and garlic; stir and cook for 1 minute.

Add sausage to skillet; continue to cook and stir occasionally for about 10 to 12 minutes, or until sausage is browned; drain.

Stir in diced tomatoes and set aside.

Heat 1/2 tablespoon olive oil in a nonstick skillet.

Pat dry the eggplant slices.

Add eggplant slices to skillet and cook just until lightly browned on both sides, about 1 to 2 minutes.
ASSEMBLE
Spread 1 cup of meat sauce in the bottom of a 9x13 inch baking dish.

Arrange about 6 slices of eggplant over meat sauce.

Add more meat sauce over eggplant.

Repeat with 2 more layers, and top with remaining bechamel sauce.

Sprinkle with cheese.

Bake for 25 to 30 minutes, or until bubbly and top is lightly browned.

Remove from oven and let stand 15 minutes.

Serve.
Notes
You will need about 18 to 20 thin slices of eggplant, therefore, depending on the size, you might not end up using both eggplants.
Nutrition
Calories:
290
kcal
|
Carbohydrates:
11
g
|
Protein:
13
g
|
Fat:
22
g
|
Saturated Fat:
7
g
|
Polyunsaturated Fat:
2
g
|
Monounsaturated Fat:
9
g
|
Cholesterol:
46
mg
|
Sodium:
518
mg
|
Potassium:
525
mg
|
Fiber:
4
g
|
Sugar:
6
g
|
Vitamin A:
87
IU
|
Vitamin C:
10
mg
|
Calcium:
69
mg
|
Iron:
1
mg
|
Net Carbs:
7
g
Nutritional info is an estimate and provided as courtesy. Values may vary according to the ingredients and tools used. Please use your preferred nutritional calculator for more detailed info.
Categories:
SIMILAR RECIPES:
Roasted Eggplant and Tomato Sauce Stacks