This Italian Sausage and Eggplant Casserole is prepared with creamy layers of Italian sausage and fresh eggplant slices smothered in béchamel sauce and melty cheese.
Italian Sausage and Eggplant Casserole
Ever wished to see eggplant in a new, tasty, and crave-worthy light? Well, I think you're in for a treat! Feast your taste buds on this combo of tender eggplant slices, savoury Italian sausage, and silky béchamel sauce. This Italian Sausage and Eggplant Casserole promises a burst of deliciously cheesy goodness in every bite.
Let's talk about the real scene-stealer here: the Italian sausage. When I first experimented with this recipe, I was certain that eggplant would be the star. However, to my surprise, the sausage effortlessly stepped into the spotlight. That said, the slightly soft and salty taste of the eggplant combined with the creamy white sauce was an absolute delight.
Why You'll Love This Casserole
Flavor Fusion: This casserole is a great blend of savory Italian sausage, delicate eggplant, and the rich creaminess of Bechamel sauce.
A New Take on Eggplant: For those who are hesitant about eggplant, this recipe might just change your mind. The eggplant is softened and layered with robust sausage and creamy sauce, adding an appealing texture and absorbing the flavors of the dish. It's a wonderful way to introduce this versatile vegetable to any skeptics.
Versatile Dish: This casserole can serve as a hearty main course for dinner, or as a side dish at a potluck. It's also a great option for meal prepping, as it reheats well and can provide several meals throughout the week.
Flexibility: The recipe is quite flexible and allows for customization. Your readers can substitute their favorite types of cheese, try a different kind of sausage, or add other vegetables into the mix.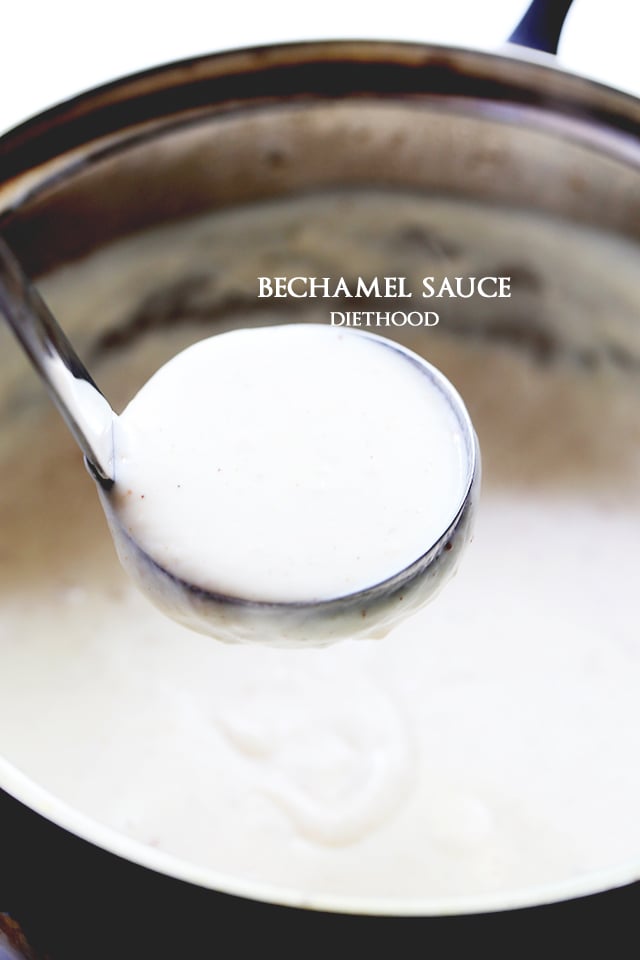 What's Bechamel Sauce?
Bechamel sauce, also known as white sauce, is a classic French sauce and one of the five mother sauces of French cuisine. It's a smooth, creamy sauce made from a roux – a mixture of butter and flour cooked together – and milk. The sauce is often seasoned with white pepper and a hint of nutmeg.
Sausage and Eggplant Casserole Ingredients
2 Eggplants, sliced longwise
Salt
1 tsp Olive Oil
1 Onion, diced
2 Garlic Cloves, minced
1 lb Italian Sausage, without casings
1 can (14.5 oz) Diced Tomatoes
Bechamel Sauce
1 cup Shredded Italian Blend Cheese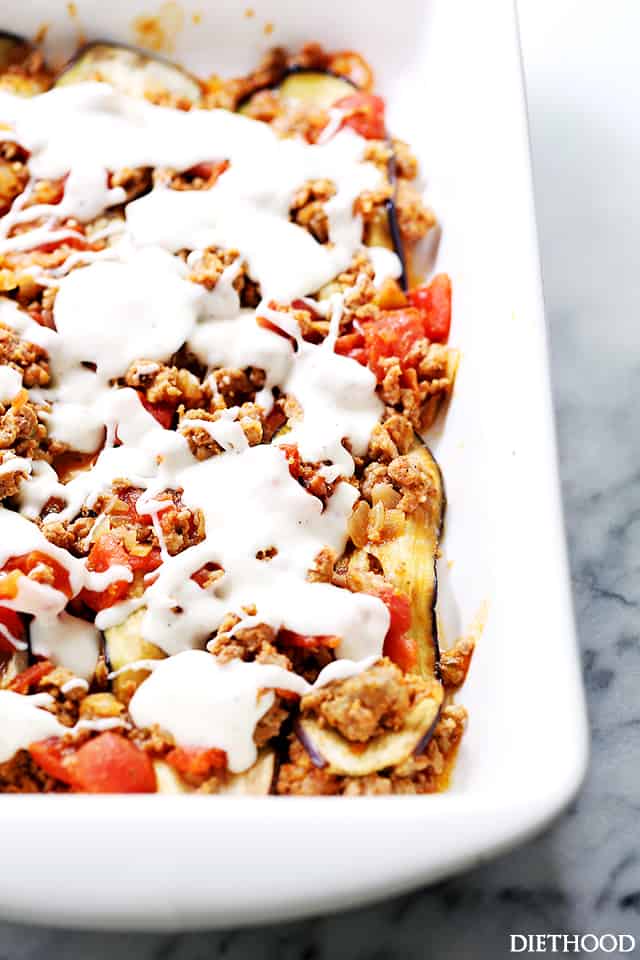 How To Make Sausage And Eggplant Casserole
Be prepared – this dish might take a little longer to prepare than your average meal, but trust me, every extra minute spent is worth it! The layered perfection of Italian sausage, eggplant slices, creamy béchamel sauce, and melted cheese is absolutely irresistible.
Salt the eggplant slices and set them aside.
Preheat your oven to 400°F.
In a big pan, sauté onions and garlic in olive oil.
Add sausage to the pan, cook until browned, then add the tomatoes.
Prepare this 👉 Bechamel Sauce.
In a separate pan, lightly fry the eggplant slices.
In a baking dish, layer meat sauce, eggplant slices, more meat sauce, and some Bechamel Sauce. Repeat this for 2 more layers, then sprinkle with cheese.
Bake for 25 to 30 minutes until bubbly and lightly browned on top.
Let it rest for 15 minutes before serving.
Tips & Tricks
Prepping the Eggplant: Salting the eggplant slices and letting them rest draws out the excess moisture and helps to remove any bitterness. Pat them dry before cooking.
Bechamel Sauce Substitute: If you can't use bechamel for any reason, you can make it with Alfredo sauce.
Layering: Assembling the casserole in layers of eggplant, sausage, and sauce ensures every bite is packed with flavor and the ingredients cook evenly.
Resting Time: Let the casserole rest after baking before serving. This helps the juices redistribute and the casserole hold its shape when cut.
Add-ins and Variations: Try adding other vegetables like zucchini or bell peppers, or swap the Italian sausage for a vegetarian substitute.
Cheese Topping: If you like a more browned, crispy top, place the casserole under the broiler for a couple of minutes after baking. Keep a close eye on it to prevent burning.
Storing and Reheating
Refrigerate: Once cooled, place the leftovers in an airtight container and keep refrigerated for up to 4 days.
Reheating: This casserole reheats well. You can cover it with aluminum foil and heat in a 350°F oven until heated through.
Freezing: Assemble the casserole in a freezer-safe dish, cover, and freeze for 2 to 3 months. When ready to eat, you can bake it straight from frozen, just add some extra time to the baking process.
More Eggplant Recipes
Italian Sausage and Eggplant Casserole
Italian Sausage and Eggplant Casserole is prepared with layers of Italian sausage and eggplant slices draped in béchamel sauce and melted cheese.
Ingredients
2

eggplants,

sliced longwise, about 1/8-inch thickness

salt

1

tablespoon

olive oil,

divided

1

yellow onion,

diced

2

cloves

garlic,

minced

pinch salt

1

pound

italian sausage,

casings removed

14.5

ounces

canned diced tomatoes,

undrained

Bechamel Sauce

1

cup

shredded Italian Blend Cheese
Instructions
Layer slices of eggplant on a large baking sheet; sprinkle each slice with salt and set aside for 10 to 15 minutes.

Heat 1 teaspoon olive oil in a large nonstick skillet. Add onions and garlic; stir and cook for 1 minute.

Add sausage to the skillet and continue to cook and stir occasionally for about 8 to 10 minutes, or until sausage is browned; drain, then stir in the diced tomatoes. Set aside.

Heat remaining olive oil in a nonstick skillet.

Pat dry the eggplant slices, add them to the skillet, and cook just until lightly browned on both sides, about 1 to 2 minutes.
Assemble The Casserole
Spread 1 cup of meat sauce on the bottom of a 9×13-inch baking dish.

Arrange about 6 slices of eggplant over the meat sauce.

Add more meat sauce over the eggplants.

Spread 1/3 of the bechamel sauce.

Repeat with 2 more layers, and top with remaining bechamel sauce.

Sprinkle the top with cheese.

Bake for 25 to 30 minutes, or until bubbly and top is lightly browned.

Remove from oven and let stand 10 to 15 minutes.

Serve.
Notes
Prepping the Eggplant: Salting the eggplant slices and letting them rest draws out the excess moisture and helps to remove any bitterness. Just remember to pat them dry before cooking.
Uniform Slicing: Using a mandolin to slice the eggplant ensures uniform thickness, allowing the slices to cook evenly. You will need about 18 to 20 thin slices of eggplant.
Swap Bechamel: Use a jar of Alfredo sauce if bechamel isn't an option.
Let it Rest: Let the casserole rest after baking for the best texture.
Try Variations: Add veggies like zucchini or peppers, or replace the sausage with a veggie option.
Nutrition
Calories:
290
kcal
|
Carbohydrates:
11
g
|
Protein:
13
g
|
Fat:
22
g
|
Saturated Fat:
7
g
|
Polyunsaturated Fat:
2
g
|
Monounsaturated Fat:
9
g
|
Cholesterol:
46
mg
|
Sodium:
518
mg
|
Potassium:
525
mg
|
Fiber:
4
g
|
Sugar:
6
g
|
Vitamin A:
87
IU
|
Vitamin C:
10
mg
|
Calcium:
69
mg
|
Iron:
1
mg
|
Net Carbs:
7
g
Nutritional info is an estimate and provided as courtesy. Values may vary according to the ingredients and tools used. Please use your preferred nutritional calculator for more detailed info.
Categories: