Eggplant Parmesan is a classic Italian dinner recipe prepared with eggplants, tomato sauce, and cheese!
Baked Eggplant Parmesan
Buon Appetito, Eggplant Parmesan lovers! Boy, have I got an amazing dish for us today… we'll lick our plates clean because nothing speaks comfort food quite like our Eggplant Parmesan recipe! Packed with layers of tender eggplant, zesty Tomato Basil Sauce, and ooey-gooey mozzarella, this dish is a crowd-pleaser in every bite.
This wonderful meal is a layered wonder, combining the flavors and textures that'll have your taste buds hollerin' for more. Starting with the tender eggplant, when cooked just right, turns into a melt-in-your-mouth marvel. And then we've got the robust Tomato Basil Sauce that's robust and packed with tangy, zesty goodness.
But let's not forget the creamy mozzarella. This Italian favorite melts into a dreamy, creamy layer, its rich and slightly tangy taste elevating the other ingredients and tying everything together in a beautiful, cheesy bow. 🙇
Reasons We Love Eggplant Parm
Versatility: It's a dish that can be served up as a hearty main or a side dish, making it perfect for any occasion or meal.
Vegetarian-friendly: With eggplant as the star, it's a vegetarian dish that doesn't skimp on flavor or heartiness.
Comforting: There's just something about that combo of melted cheese, hearty sauce, and tender eggplant that hits the comfort food spot right on the bullseye.
Healthy Option: Eggplant is a great source of vitamins and minerals. While the cheese adds a bit of indulgence, you can opt for low-fat versions if you're watching your intake.
Easy to Customize: Love garlic? Add more. Want a bit of heat? Sprinkle in some chili flakes. It's a dish that's just begging to be personalized to your taste.
Also, are you sitting down? Ok… Uhm… did you know that Chicken Parmesan is NOT Italian? What?! I know! I was just as shocked, but chicken parm is like an American-Italian invented version of Eggplant Parmesan, also known as Parmigiana di Melanzane in Italian. They just used chicken in place of eggplants, and boom! Chicken Parmesan was born.
Anywho. Onto the eggplants. And the rest of the ingredients.
Ingredients You Will Need
We start off with slices of eggplants seasoned with salt and fresh ground black pepper. The flavor profile gets a big kick from a combo of panko breadcrumbs, freshly grated Parmesan cheese, minced garlic, and a dash of dried oregano. As for the cheese factor, we're talking about layers of thinly sliced fresh mozzarella that melt to creamy perfection. All these ingredients are beautifully layered with a generous spread of Tomato Basil Pasta Sauce in between. Topping it all off, we've got another sprinkle of freshly grated Parmesan and a garnish of fresh basil leaves.
How To Make Eggplant Parmesan
This right here is definitely one Italian dish that needs just a bit of an introduction because my version of eggplant parmesan is inspired by the region of Naples. In Napoli, a.k.a. Naples, Italy, eggplant parmesan does not include flour and eggs, breadcrumbs are optional, and the sauce is all about tomatoes and basil.
Preheat oven to 425°F. Heat up a tablespoon of olive oil on a grill pan. Drizzle the eggplant slices with olive oil, season with salt and pepper, and sear them on the grill pan in batches.
Spread approximately 1/4 cup of the Tomato Basil Sauce over the bottom of a 9×13 baking dish. Lay out the cooked eggplant slices over the sauce.
Combine the panko crumbs, parmesan cheese, garlic, and oregano in a bowl. Sprinkle about 1/3 of this parmesan mixture over the eggplants.
Layer on the thin slices of fresh mozzarella, followed by another 1/3 of the Tomato Basil Sauce. Repeat these layers, finishing with a final spread of sauce on top. Dust the top with freshly grated parmesan.
Bake for 20 minutes or until it's bubbly and hot.
What To Serve With Eggplant Parmesan
Kick things off with a crisp, fresh salad – perhaps this Apple Bacon Salad or a vibrant mix of spring greens tossed in a light vinaigrette.
Pair this with a crusty baguette or warm garlic breadsticks, perfect for mopping up any leftover sauce on your plate.
Now, for the pasta lovers out there, you can't go wrong with a side of my Garlic Butter Pasta.
If you fancy a soup, a hearty Minestrone or a delicate tomato bisque would complement the flavors of the Eggplant Parmesan beautifully.
Lastly, don't forget the wine! 🍷 A nice, light-bodied red like Pinot Noir or a crisp white like a Sauvignon Blanc would round out your meal beautifully.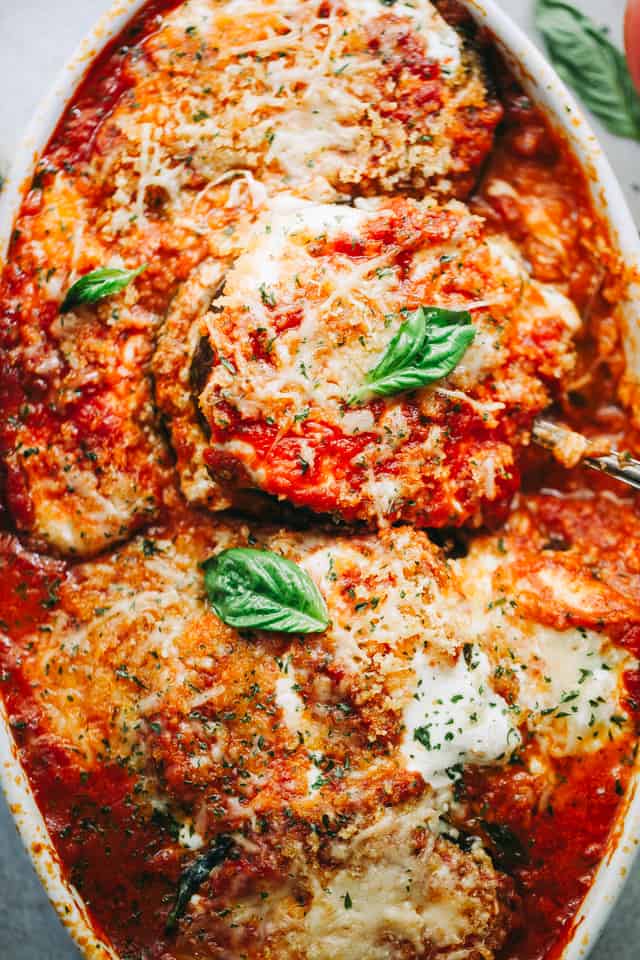 Storing Leftovers
Transfer leftovers to a secure airtight container. Keep refrigerated for about 3 to 5 days.
To Freeze: Assemble the dish but do not bake; wrap tightly with foil and freeze for up to 3 months. Thaw completely, then bake as directed.
More Eggplant Recipes
ENJOY!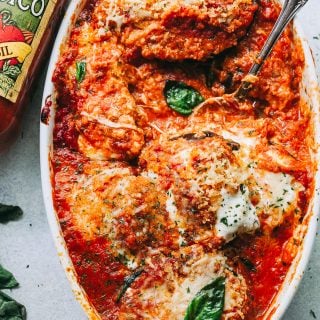 Eggplant Parmesan
A classic Italian baked Eggplant Parmesan prepared with eggplants, tomato sauce, and cheese!
Ingredients
2 to 3

eggplants,

about 2 pounds, sliced into 1-inch thick slices

3

tablespoons

olive oil,

divided

salt and fresh ground pepper,

to taste

1

cup

panko breadcrumbs

1

cup

grated parmesan cheese

2

tablespoons

minced garlic

1

teaspoon

dried oregano

8

ounces

fresh mozzarella,

cut into thin slices

15

ounces

Tomato Basil Sauce,

divided

½

cup

fresh grated parmesan cheese,

for topping

fresh basil leaves,

for garnish
Instructions
Heat 1 tablespoon olive oil in a grill pan over medium heat.

Drizzle a bit of olive oil over each slice of eggplant; season with salt and pepper, and transfer to the grill pan. You will need to cook them in batches.

Cook eggplant slices for about 4 minutes per side.

In the meantime, layer 1/4 cup of the Tomato Basil Sauce on the bottom of a 9×13 baking dish.

Arrange the cooked eggplant slices over the sauce and set aside.

In a mixing bowl, combine panko crumbs, parmesan cheese, garlic, and oregano.

Sprinkle about 1/3 of the parmesan mixture over the eggplants.

Top with thinly sliced fresh mozzarella, and layer 1/3 of the tomato sauce over the cheese.

Continue repeating the layers with the rest of the ingredients, finishing up with sauce on top.

Sprinkle freshly grated parmesan over the entire dish.

Bake for 20 minutes, or until hot and bubbly.

Remove from oven and let stand about 5 minutes.

Garnish with basil leaves and serve.
Notes
Sweat the Eggplant: To eliminate bitterness, sprinkle the eggplant slices with salt and let them sit for about 20 minutes. You'll see them start to "sweat" out their moisture. Pat dry before cooking to remove any excess salt and bitterness.
Flavorful Bread Crumbs: Consider using Italian seasoned breadcrumbs for added flavor. Alternatively, add your favorite dry herbs or spices to plain panko crumbs.
Quality Cheese: Using high-quality fresh mozzarella can make a world of difference in flavor and texture.
Sauce: You can use your favorite tomato or pasta sauce or the tomato basil sauce I used. The brand is Classico.
Let it Rest: Once your Eggplant Parmesan is out of the oven, let it rest for a few minutes before serving. This allows the cheese to set a bit and makes it easier to cut and serve.
Freezing: If you plan to freeze it, assemble it, but don't bake it. Thaw the eggplant parmesan before baking as directed.
Nutrition
Calories:
621
kcal
|
Carbohydrates:
43
g
|
Protein:
30
g
|
Fat:
37
g
|
Saturated Fat:
15
g
|
Polyunsaturated Fat:
2
g
|
Monounsaturated Fat:
14
g
|
Cholesterol:
77
mg
|
Sodium:
1527
mg
|
Potassium:
1029
mg
|
Fiber:
11
g
|
Sugar:
17
g
|
Vitamin A:
1407
IU
|
Vitamin C:
11
mg
|
Calcium:
715
mg
|
Iron:
3
mg
|
Net Carbs:
32
g
Nutritional info is an estimate and provided as courtesy. Values may vary according to the ingredients and tools used. Please use your preferred nutritional calculator for more detailed info.
Categories: