Tomato Parmesan Stuffed Eggplant is an easy main dish that's fresh, nutritious, and delicious! Made with tender eggplant, crushed tomatoes, fresh garlic, and plenty of herbs, this wholesome vegetarian dinner option is full-flavored and utterly satisfying.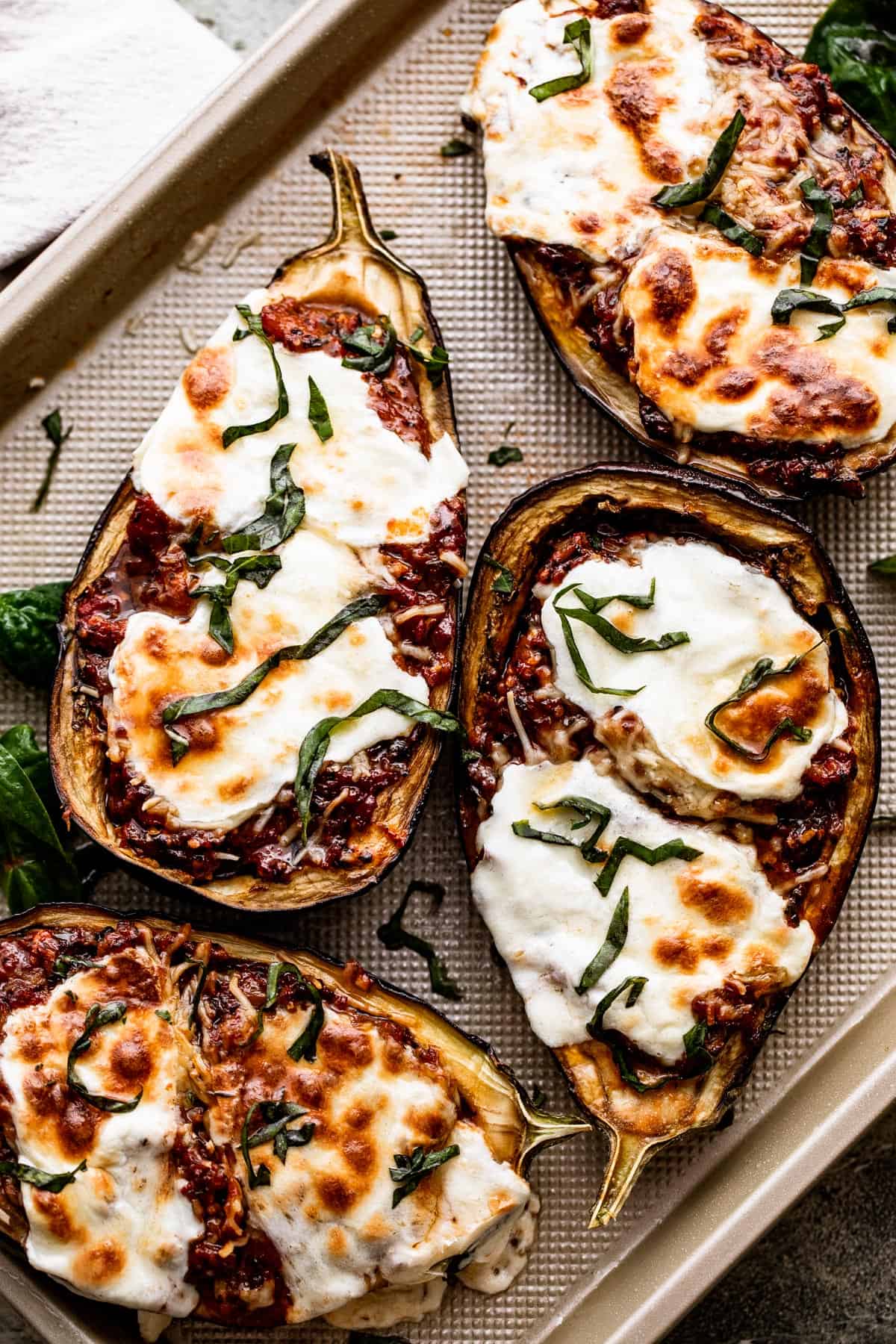 An Easy and Healthy Vegetarian Main Course
Are meatless meals an important part of your menus? I love to pivot to meatless meals now and then, focusing on the amazing produce options out there and letting them take center stage. As much as I love a good steak, there's nothing quite like a meal that's loaded with fresh vegetables, healthy olive oil, and topped with a sprinkling of feta or mozzarella. Definitely a moment of YUM for me. ?
This recipe is all about the eggplant, which is a silky-smooth veggie when roasted or baked correctly, with a mild and wholesome flavor similar to zucchini or squash. It plays well with garlic, onions, and spices, taking on those flavors and providing a warm, sunny taste of its own.
And, while this might sound like a complicated recipe, it's really not! Making the stuffing mixture is a snap, and from there, all you have to do is bake the stuffed eggplant until done. Easy peasy! ? Those that have made my Sausage Stuffed Eggplant can attest to the easiness of these recipes.
What's in This Stuffed Eggplant Recipe?
Great question! Let's dive into the mouthwatering ingredients. Just reading through this list makes me hungry!
Eggplant: This recipe makes four eggplant halves, if you're using large eggplants.
Oil: I always use olive oil in this recipe. Extra-virgin olive oil has the boldest flavor, but medium and light oils are also fine.
Onion: Dice up your onion. I typically choose yellow onions, but any onion is fine.
Parsley: Finely chopped fresh parsley brings a burst of freshness – if you must, swap in dried parsley, but if at all possible, use fresh.
Salt and Pepper
Garlic: Minced, fresh garlic gives the brightest flavor, but you can substitute dried or powdered garlic in a pinch.
Dried Herbs: A mix of dried basil, thyme, and oregano give this dish a heavenly fragrance and depth of flavor.
Tomatoes: Canned, boxed, or jarred tomatoes are fine; you'll want crushed tomatoes for this recipe.
Pesto: A bit of basil pesto is the perfect way to add pungent flavor and richness.
Cheese: I used sliced fresh mozzarella for a gooey, pizza-like result, and grated parmesan for that classic taste.
Water: To roast the eggplants, you'll want a little bit of hot water for the baking sheet. This will help to soften the eggplants shells.
Garnish: Chopped fresh basil makes an attractive optional garnish.
How to Make Tomato Parmesan Stuffed Eggplant
Now that we've covered the ingredients, let's talk about the process. One thing you'll notice is that the shells of the eggplant are salted, but the flesh is not. If you have young eggplants that feel light for their size, this shouldn't be a problem, but if you're concerned about excess water or bitterness, feel free to salt the flesh for 10 to 15 minutes, rinse it, and squeeze dry with paper towels.
Prep the Oven and the Eggplants. Start out by setting your oven to preheat to 400˚F. While it preheats, cut the eggplants in half, lengthwise. Use a large serving spoon or a melon baller to scoop out the flesh, leaving about ½-inch thickness on all sides. Salt and pepper the shells, and set them aside, cut-side up. Chop the flesh finely.
Cook the Vegetables, Tomatoes, and Seasonings. Next, heat up a swirl of olive oil in a large skillet over medium-high heat. Add the chopped eggplant and the onions, along with the parsley. Sprinkle with salt and pepper, and cook this mixture for about 5 minutes, stirring often. When the veggies are partially cooked, stir in the garlic and dried herbs, and then add the crushed tomatoes and the pesto. Let this cook for about one minute, stirring frequently, to heat through. Taste the mixture, and add more salt and pepper if needed.
Stuff the Eggplant. Take the stuffing mixture off of the heat. Wipe down the eggplant shells with clean paper towels to remove excess moisture. Place the shells on a baking sheet, and then fill them with the stuffing mixture. Top with the Parmesan cheese and mozzarella slices.
Bake. Pour hot water into the baking sheet, all around the eggplant shells. Carefully place the baking sheet into the preheated oven, and bake for about half an hour, or until the eggplants are tender. Take them out of the oven, and let stand for 5 minutes before garnishing and serving.
Should You Peel Eggplant for Baking?
That depends! For some recipes, especially blended recipes like dips and spreads, you'll want to peel your eggplant and just use the flesh. For this recipe, the shells still have their peels on, both for looks and for stability. Plus, the skins are entirely edible, and are considered very nutritious! ?
If your eggplants are young and tender, the skins will be delicious. If you are using older eggplants, the skin may be a little tough and can simply serve as a "bowl" for the tasty eggplant filling.
Tips and Variations
To make the most of your stuffed eggplant, be sure to read these easy tips and ideas for customizing the ingredients. Enjoy!
Get a Head Start: If you like, you can get ahead on this dish by roasting the empty eggplant shells and making the filling the day before. Store these in the fridge, and then stuff the eggplant, top with cheese, and bake the day of.
Optional Extras: Feel free to add or swap ingredients here, such as fresh chopped tomatoes instead of crushed, chickpeas or quinoa for protein, rice or couscous for carbs, additional chopped veggies, or golden raisins for a pop of sweetness.
Make It Vegan: An easy way to make this recipe vegan would be to omit the cheese. You can use vegan cheese instead, or top with a creamy substitute like tahini, avocado dressing, or vegan sour cream or cheese.
Yummy Serving Suggestions
To serve your eggplant, I recommend a simple side dish or two – let the eggplant be the star! However, stuffed eggplant also works well as a side dish, with a hearty main course like chicken or beef. Here are a few easy ideas to get you started:
Creamy Soup: Easy Roasted Garlic and Asparagus Soup makes a tempting appetizer to set the stage for this satisfying stuffed eggplant dish.
Bread: You can slice up a baguette, make some garlic toast, or serve Kifli – Macedonian Dinner Rolls with Feta Cheese. They're savory and special, a perfect partner for stuffed eggplant.
Lamb Chops: While tomato parmesan stuffed eggplant would be wonderful with your favorite steak or baked chicken, I think it really shines when served with lamb. Try these easy Macedonian Kebapi (Kebabs) with your stuffed eggplant for an unforgettable meal.
How to Store and Reheat Leftovers
To store your leftover tomato parmesan stuffed eggplant, place it in an airtight container or in a dish covered tightly with plastic wrap. Store in the refrigerator for up to 3 to 5 days.
To reheat, place the desired portion in an ovenproof dish, and bake at 350˚F until heated through.
Can I Freeze Stuffed Eggplant?
Yes, you can! Like stuffed peppers, stuffed eggplant is a good dish for freezing, and in fact, you might want to double this recipe so that you can freeze half for later!
To freeze, line up the baked eggplants on a dry, clean baking dish or tray. Place in the freezer until frozen solid. Then transfer the frozen eggplants to freezer bags, pressing out as much air as possible before sealing.
Freeze for up to 3 months, and thaw overnight before reheating in the oven.
ENJOY!
Tomato Parmesan Stuffed Eggplants
Made with tender eggplant, crushed tomatoes, fresh garlic, and plenty of herbs, Tomato Parmesan Stuffed Eggplant is a full-flavored and utterly satisfying vegetarian main dish.
Instructions
Preheat oven to 400˚F.

Cut eggplants in half, lengthwise. Scoop out the flesh, leaving a ½-inch border around the eggplant shell.

Finely chop up the eggplant flesh/pulp and set aside.

Place empty eggplant shells on a rimmed baking sheet; season the empty shells with salt and pepper, and let sit for 10 to 15 minutes, cut-side up.

Heat olive oil in a large skillet over medium-high heat.

Add diced onions and chopped eggplant-flesh to the skillet; stir in the parsley and season with salt and pepper. Cook for 5 to 7 minutes, or until tender. Stir frequently.

Stir in the garlic; season with basil, thyme, and oregano, and cook for 30 seconds.

Add crushed tomatoes and stir in the basil pesto.

Continue to cook for 1 minute, or until heated through, stirring frequently.

Remove from heat and taste the mixture for salt and pepper; adjust to taste.

Using paper towels, wipe down the eggplant shells.

Spoon the tomato mixture evenly into the eggplant shells.

Top with grated parmesan cheese and slices of mozzarella.

Pour hot water inside the baking sheet, all around the eggplants.

Bake for 25 to 30 minutes, or until eggplants are tender.

Remove from oven and let stand 5 minutes.

Garnish with chopped basil.

Serve.
Nutrition
Calories:
429
kcal
|
Carbohydrates:
29
g
|
Protein:
17
g
|
Fat:
29
g
|
Saturated Fat:
9
g
|
Polyunsaturated Fat:
1
g
|
Monounsaturated Fat:
8
g
|
Cholesterol:
36
mg
|
Sodium:
799
mg
|
Potassium:
940
mg
|
Fiber:
10
g
|
Sugar:
15
g
|
Vitamin A:
1527
IU
|
Vitamin C:
22
mg
|
Calcium:
421
mg
|
Iron:
3
mg
Nutritional info is an estimate and provided as courtesy. Values may vary according to the ingredients and tools used. Please use your preferred nutritional calculator for more detailed info.
Categories:
More Tempting Vegetarian Recipes
Vegetarian Moussaka with Portobello Mushrooms