This Enchilada Sauce comes together in just ten minutes. When you see how easy it is to make homemade enchilada sauce, you will never get the store-bought stuff again. The flavor is out of this world!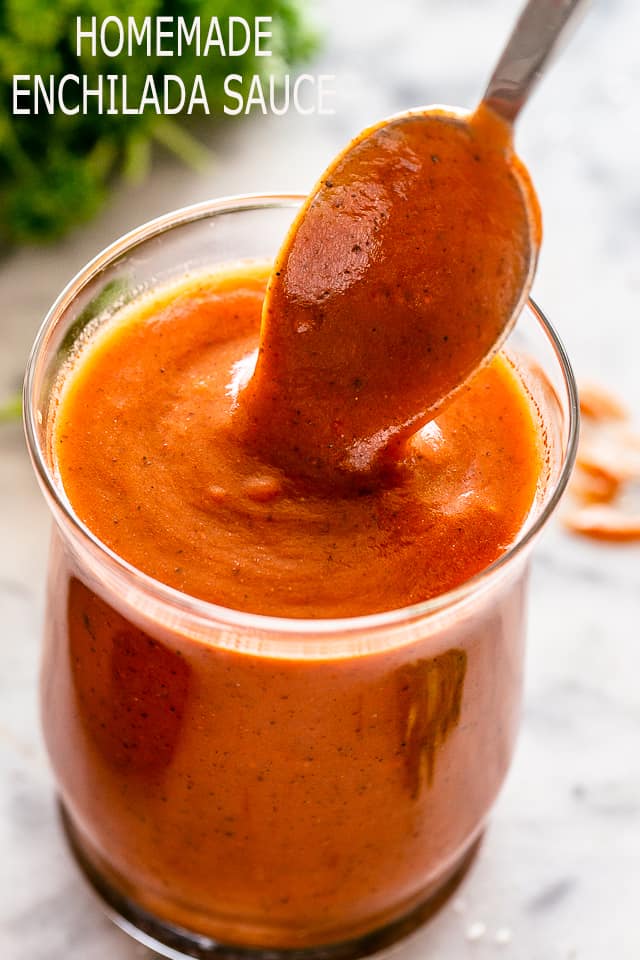 The Best Homemade Enchilada Sauce
Made with spicy chili powder, paprika, and fragrant cumin, all you need is a few simple pantry ingredients to make this bold and rich red Enchilada Sauce. Once you taste it, you are going to want to keep this recipe on hand for forever and a day. The wonderful thing about making your own Enchilada Sauce is that you can control the ingredients and keep the bad stuff out. That, and the fact that you can also make my Ground Turkey Black Bean Enchiladas whenever hunger strikes. I often make a double batch and keep half of the sauce in the freezer for future use, and to keep it away from my husband, who will dip all-the-foods in his favorite red sauce. He says it's his "special ketchup".
What Is Enchilada Sauce
Enchilada sauce is a chili-based sauce used in Mexican cuisine, primarily to dress enchiladas. It's characterized by its rich, flavorful, and sometimes spicy profile. Enchilada sauce adds a lively kick and depth of flavor, making it a versatile foundation for various Mexican dishes. It's perfect for drizzling over tacos or boosting the taste of burritos and chimichanga fillings.
Reasons To Make This Enchilada Sauce
Quick & Homemade: My easy red enchilada sauce is quick, incredibly flavorful, and can be made ahead of time.
Robust Flavor: This sauce embodies the essence of Mexican cuisine. Its vibrant taste is derived from a blend of dehydrated spices, gently fried in oil to heighten their flavor, and a robust tomato paste that's rich in umami. You can choose to skip the cinnamon if you're not a fan of its presence in savory dishes, though a mere smidgen can enhance the overall taste.
Healthy: Steering clear of the unnecessary additives and MSG found in store-bought enchilada sauces, this homemade version is a healthier alternative.
Enchilada Sauce Ingredients
Vegetable Oil
All-purpose Flour: Helps thicken the sauce by creating a roux when combined with the oil.
Chili Powder: Adds a deep, smoky flavor and mild heat.
Paprika: Enhances the sauce's color and adds a sweet-peppery taste.
Ground Cumin: Introduces a warm, earthy flavor characteristic of enchilada sauce.
Water or Chicken Broth: Provides the liquid base for the sauce.
Tomato Sauce: Gives the sauce its rich tomato flavor and contributes to the color and consistency.
Tomato Paste: Intensifies the tomato flavor and helps thicken the sauce.
Onion Powder: Offers a mild, sweet onion flavor without the texture of fresh onion.
Garlic Powder: Infuses the sauce with a subtle garlic note.
Ground Cinnamon: Adds a hint of warmth and sweetness.
Salt & Pepper
How To Make Enchilada Sauce
This recipe goes really fast so I suggest you prepare all the ingredients before you start.
Heat up the skillet: Grab a large skillet and heat up the oil over medium heat; whisk in the flour, chili powder, paprika, and cumin, and cook for a minute, stirring constantly.
Introduce the liquid: Add some water or broth and whisk until it all turns into a thick paste. Whisk in remaining water or chicken broth, tomato sauce, tomato paste, garlic powder, onion powder, cinnamon, salt, and pepper.
Cook: Continue to cook for 5 minutes or until the sauce thickens; whisk frequently. For this recipe, the whisk is your BFF.
Remove from heat; let it cool before putting it away.
Tips For Success
Bloom The Spices: Don't skip this part. Sautéing your spices in oil for a minute or so (a process known as "blooming") before adding other ingredients enhances their flavors.
Adjust to Taste: Feel free to adjust the amount of chili powder, cumin, or other spices to suit your taste.
Consider a Slow Simmer: Let your enchilada sauce simmer slowly on the stove after all the ingredients are mixed in. This can help to meld the flavors together.
Blend for Smoothness: If you prefer a smoother enchilada sauce, you can blend it using an immersion blender or a countertop blender.
Storage: Homemade enchilada sauce can be stored in the refrigerator for up to a week or frozen for longer storage. Just remember to leave room for expansion if you're freezing it.
More Homemade Condiments Recipes
If you haven't noticed, I love making homemade sauces, homemade spices, salad dressings, seasonings, and whatnot. Here are a few to start making at home asap.
ENJOY!
Enchilada Sauce
Learn how to make easy and delicious Enchilada Sauce that comes together in just ten minutes.
Ingredients
3

tablespoons

vegetable oil

2½

tablespoons

all-purpose flour

2

tablespoons

chili powder

1

teaspoon

paprika

1

teaspoon

ground cumin

2

cups

water or chicken broth

1

can (8 ounces)

tomato sauce

1

tablespoon

tomato paste

½

teaspoon

onion powder

½

teaspoon

garlic powder

⅛

teaspoon

ground cinnamon

¼

teaspoon

salt

¼

teaspoon

fresh ground black pepper
Instructions
Heat oil in a large skillet over medium heat. Whisk in the flour, chili powder, paprika, and cumin. Cook for 1 minute while constantly whisking.

Add 1/2 cup water and whisk until it all turns into a thick paste.

Pour in the rest of the water (or chicken broth), tomato sauce, tomato paste, onion powder, garlic powder, ground cinnamon, salt, and pepper; whisk until thoroughly combined.

Bring the mixture to a boil; reduce heat to medium-low and continue to cook for 5 minutes or until the sauce thickens; whisk frequently.

If sauce is too thick for your liking, add a bit more water or broth to thin it out.

Taste for seasonings and adjust accordingly.

Remove from heat; let cool before storing away.

Store in an airtight container or a jar; keep in the fridge for 1 week.
Notes
Storage: Any leftover enchilada sauce can be safely stored in the fridge for up to a week, or consider freezing it for up to 3 months. Let the sauce cool to room temperature before putting it in a mason jar. Leave some space at the top for the sauce to expand, and avoid fully tightening the lid until it's completely frozen. Alternatively, you could use a freezer bag; squeeze out any excess air before sealing it.
Variations: While chili powder, cumin, and garlic powder remain key ingredients, feel free to alter the remaining spices in accordance with your taste preferences.
Nutrition
Serving:
2
tablespoons
|
Calories:
69
kcal
|
Carbohydrates:
4
g
|
Protein:
1
g
|
Fat:
5
g
|
Saturated Fat:
4
g
|
Cholesterol:
0
mg
|
Sodium:
270
mg
|
Potassium:
163
mg
|
Fiber:
1
g
|
Sugar:
1
g
|
Vitamin A:
870
IU
|
Vitamin C:
2.4
mg
|
Calcium:
13
mg
|
Iron:
1
mg
Nutritional info is an estimate and provided as courtesy. Values may vary according to the ingredients and tools used. Please use your preferred nutritional calculator for more detailed info.
Categories: