What's on the menu? How about a hearty, homemade Black-Eyed Peas Soup with Sausage and Kale! Healthy black-eyed peas and kale mingle in a savory broth, with the spicy kick of andouille sausage and a trio of onions, peppers, and garlic.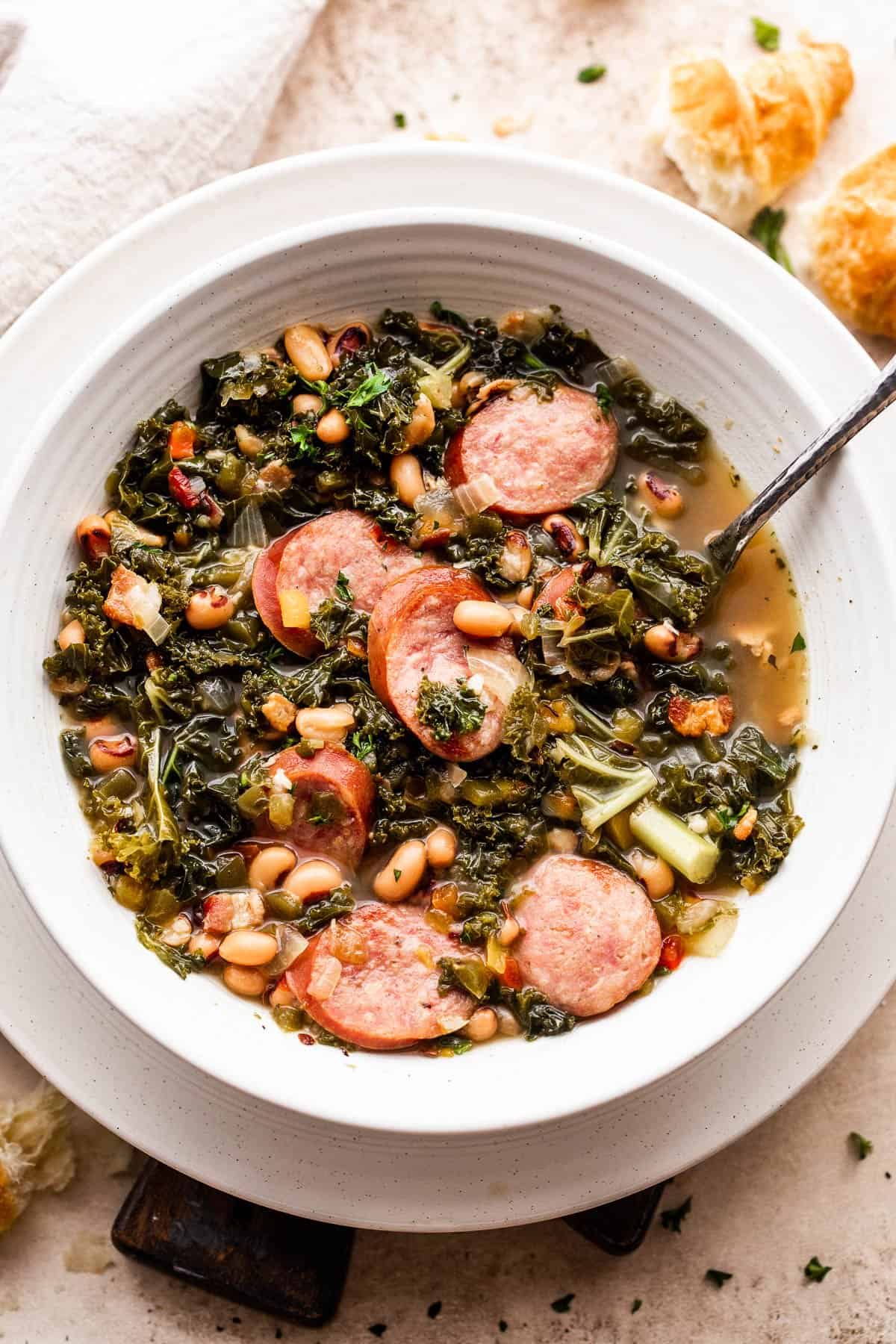 A Savory, Southern-Style Soup Recipe
Do you eat black-eyed peas for New Year's Day? Black-eyed peas are said to bring good luck for the coming year, and it's becoming quite the tradition to whip up a pot of them. I say, the more good luck, the better. And, black-eyed peas are so good for you, why not eat them all year long? ?
This soup is a Hoppin' John-like recipe, perfect for getting through the frosty days of January and February. It's full of sliced andouille sausage, dark-green kale, and a medley of aromatic veggies. You can serve it just the way it is, or eat it over hot buttered rice. It's a great way to incorporate more legumes into your diet, without hassle and with tons of flavor.
Are Black-Eyed Peas Healthy to Eat?
Yep! Like most legumes, black-eyed peas are full of healthy protein, fiber, and complex carbs. They'll keep you full, assist your digestive processes, and help your body rebuild its tissues, so a meal including black-eyed peas is both satiating and nourishing. ?
On top of that, black-eyed peas are a good source of all kinds of vitamins and minerals, including calcium, vitamin A, iron, zinc, and lots more! Black-eyed peas also pack a punch of folate, which is very important if you're expecting. Plus, they are known to be a good source of antioxidants!
The Ingredients List
The ingredients for this black-eyed pea soup are basic, but each one adds an important element of flavor, from the earthy fragrance of the herbs to the gentle bite of the bell pepper. Here's the skinny:
How to Make It, Step-By-Step
The great thing about black-eyed pea soup is that it all comes together in one pot, without a lot of steps and without a lot of time! And, even though it's so easy, it's a complete, nutritious meal.
Cook the Bacon and Sausage. In a Dutch oven, or heavy soup pot, set over medium-high heat, saute the bacon for about one minute, and then stir in the slices of sausage. Cook the bacon and sausage together until the sausage is browned and the bacon is nice and crispy, stirring from time to time so that everything cooks evenly.
Cook the Onion, Pepper, and Garlic. Using a slotted spoon, take the cooked sausage and bacon out of the grease, and set it aside for a bit. Carefully add the diced onions and peppers to the pot, and cook them in the bacon grease for several minutes to soften. Stir the garlic into the mixture, and saute for a few seconds to release the fragrance.
Add the Black-Eyed Peas, Herbs, and Kale. Now add the black-eyed peas and the Italian seasoning (or whatever herbs you choose) to the pot, followed by the kale. If you have trouble fitting the fresh kale in all at once, add it in bunches, stirring it to wilt before adding the next bunch.
Add the Chicken Broth and Simmer. Finally, pour the chicken broth over the ingredients, and give everything one last good stir. Let the soup come to a boil, and then reduce the heat so that the soup simmers for about 20 minutes.
Enjoy! Taste the soup for salt and pepper. I usually don't need to add salt since the sausage is salty and adds a lot of flavor, but if you need more, add it now. Ladle the finished soup into bowls, and serve hot.
Helpful Tips
Black-eyed pea soup with sausage and kale is just the thing for cold winter days. If you make it once, you'll find yourself reaching for those cans of black-eyed peas at the grocery store again and again! With these easy tips and variations, there's no reason not to make it often – you've got to try all the options, right?
The Best Sides to Serve with This Soup
A soup like this is a meal in a bowl! But, you could definitely also enjoy it with a classic side or two. Here are some of my very favorite Southern sides:
Storing Your Leftovers (Fridge or Freezer)
ENJOY!
Black-Eyed Peas Soup with Sausage and Kale
Black-Eyed Peas Soup with Sausage and Kale is made with healthy black-eyed peas and kale in a savory broth, with the spicy kick of andouille sausage and a trio of onions, peppers, and garlic.
Instructions
Set a 5-quart dutch oven, or soup pot, over medium-high heat.

Add the diced bacon to the dutch oven and cook for 1 minute.

Stir in the sliced sausage and continue to cook for about 5 minutes, or until sausage is browned and bacon is crispy.

Using a slotted spoon, remove sausages and bacon from the pot.

Add the onion and diced peppers to the bacon grease in the pot and cook for 3 minutes, or until softened.

Stir in the garlic and cook for 15 seconds.

Add in the drained black-eyed peas and the Italian seasoning.

Stir in the kale and continue to cook for 2 minutes, stirring frequently.

Stir in the chicken broth; bring to a boil.

Stir the sausages and bacon back into the soup.

Reduce heat to a steady simmer and continue to cook for 20 minutes.

Taste the soup and add the salt and pepper, if needed. The andouille sausage adds saltiness to the soup which is why I almost always omit the salt for this soup.

Remove the pot from the heat.

Ladle into soup bowls and serve.
Nutrition
Serving:
1.5
cups
|
Calories:
260
kcal
|
Carbohydrates:
24
g
|
Protein:
16
g
|
Fat:
12
g
|
Saturated Fat:
4
g
|
Polyunsaturated Fat:
2
g
|
Monounsaturated Fat:
5
g
|
Trans Fat:
1
g
|
Cholesterol:
24
mg
|
Sodium:
304
mg
|
Potassium:
600
mg
|
Fiber:
6
g
|
Sugar:
4
g
|
Vitamin A:
2823
IU
|
Vitamin C:
39
mg
|
Calcium:
77
mg
|
Iron:
3
mg
Nutritional info is an estimate and provided as courtesy. Values may vary according to the ingredients and tools used. Please use your preferred nutritional calculator for more detailed info.
More Hearty Soup Recipes