Asparagus with Lemon Butter Sauce is a budget friendly side dish the whole family will love. This recipe makes quick, and easy crisp-tender asparagus drizzled with an amazing lemon butter sauce and a sprinkle of parmesan cheese. It's the best asparagus side dish of ever!
Looking for more easy ways to make asparagus? Try my Cheesy Grilled Asparagus in Foil Packs or this Easy Oven Roasted Asparagus with Hollandaise Sauce recipe.
I Love How Quick This Asparagus Side Dish Is To Make
It's done in like 13.7 minutes. AND it's been far too long since we last talked about asparagus… Creamy Chicken Asparagus, anyone?
P.S. HAPPY FRIDAY! It deserves a Hallelujah!! Rough week, people. Can't understand why I couldn't wait to grow up. This adulthood thing is wack! And I've been a "grown-up" for 20 years now. I should be used to it, but nah. Responsibilities, deadlines, parenting, mortgages, bills… shoooot…
Can't I just shop?!? Which I do. And I CAN because I'm an adult and don't have to tell anyone why I felt it was cool to get an Oscar-esque dress just because I felt like it, but have nowhere to wear it to. By the way, Rent the Runway is my new fave spot. Dresses galore, purses, accessories… I could live there!
Enough about my obsession. P.S. If I wasn't a food blogger, I'd be a fashion blogger.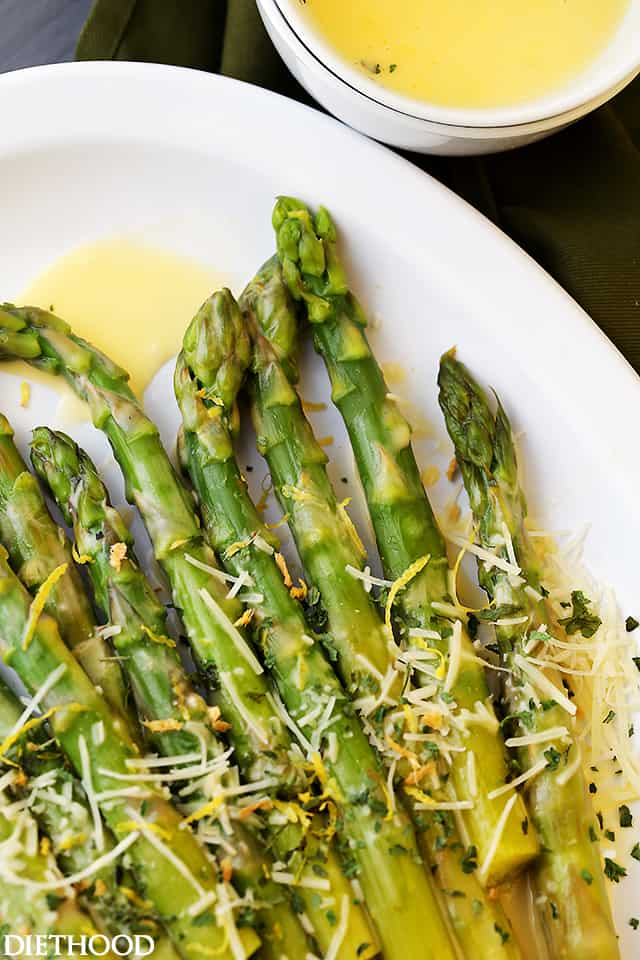 Asparagus With Lemon Butter Is One Of My favorite Side Dish Recipes
But food is where my ❤ IS! And Asparagus with Lemon Butter Sauce is where my obsession started.
I was around 12 years old when I went to a fancy shmancy dinner and was introduced to this beautiful, (at the time it was a VERY UGLY and EWWWW and YUCKY!!), vegetable.
When the plate was set in front of me, I didn't want to touch it. I started talking to myself, quietly, saying things like, ewwww they want me to eat a tree branch! ewwww! I hate my parents! At which point, my mom pinched me under the table so dang hard, and without a peep I knew that she expected me to eat what was on my plate because, the look on her face was all about, "wait until we get in the car…" Sssscarrrry.
So I gave in and I ate it. All of it. And I LIKED it! waaaah! I was too embarrassed to admit that I loved it because I was 12. I shouldn't have LOVED asparagus at the very young age of 12. BUT I DID! And still do. Very, very much. And broccoli, and green beans, and spinach, and kale… I truly am a green-veg lovah. There. Now I said it and I feel damn good about it. Admitting is the first step.
Oooh, see this supercalifantastic dish below? How could you not love it!?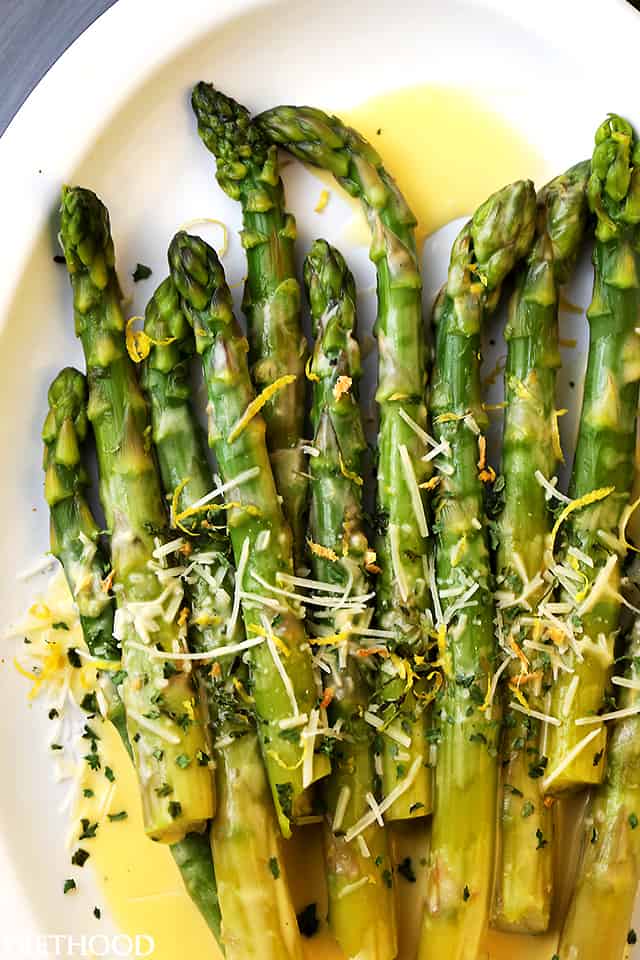 The Lemon Butter Sauce Is So Good You'll Want It On Everything
Oooh, that sauce. THAT SAUCE. It's everything. A bit of lemon, some veggie stock, cream, and a few tablespoons of butter get it on in a saucepan and do wonderful things. You'll see. Just know that it goes with everything and anything. Fish, chicken, veggies… it's a recipe that you should keep for forever. The End.
ENJOY!
CRAVING MORE? SIGN UP FOR THE DIETHOOD NEWSLETTER FOR FRESH NEW RECIPES DELIVERED TO YOUR INBOX!
FOLLOW DIETHOOD ON FACEBOOK, TWITTER, PINTEREST AND INSTAGRAM FOR ALL OF THE LATEST CONTENT, RECIPES AND UPDATES.
Asparagus with Lemon Butter Sauce Recipe
Budget friendly, quick, and easy crisp-tender asparagus drizzled with an amazing lemon butter sauce and a sprinkle of parmesan cheese.
Ingredients
FOR THE ASPARAGUS
water

salt

2

pound

asparagus

, trimmed
FOR THE LEMON BUTTER SAUCE
3

tablespoons

fresh meyer lemon juice

3

tablespoons

organic

, low-sodium vegetable broth

1

teaspoon

white vinegar

3

tablespoons

heavy cream

1

teaspoon

sugar

4

tablespoons

unsalted butter

, cut into pats*

salt and fresh ground pepper

, to taste
OPTIONAL
Garnish with parmesan cheese

, fresh chopped parsley and lemon zest
Instructions
FOR THE ASPARAGUS
Fill a large pot with about 2 inches of salted water and bring to a boil.

Add asparagus to the boiling water; cover with a lid and let it steam until it's cooked to your liking, about 5 to 8 minutes, depending on the thickness of the asparagus.

Drain. Transfer asparagus to a large bowl of ice water to cool, and drain again.
In the meantime, prepare the LEMON BUTTER SAUCE
In a saucepan combine lemon juice, vegetable broth, and white vinegar. Cooking over medium heat, reduce the sauce by half.

Turn heat down to a simmer and whisk in the cream; keep whisking to break up the curds.

Add sugar and continue to whisk while adding the pats of butter, letting each pat melt into the sauce before you add the next.

Season with salt and pepper.

Simmer until sauce begins to thicken.

Remove from heat and let stand couple of minutes. Sauce will thicken as it stands.

Taste for seasonings and adjust accordingly.

Transfer cooked asparagus to a serving plate.

Serve the lemon butter sauce by drizzling over the asparagus or on the side.
Notes
*IF you prefer a creamier sauce, add more butter, about a tablespoon at a time.
Nutrition
Calories:
95
kcal
|
Carbohydrates:
5
g
|
Protein:
2
g
|
Fat:
7
g
|
Saturated Fat:
4
g
|
Cholesterol:
22
mg
|
Sodium:
27
mg
|
Potassium:
234
mg
|
Fiber:
2
g
|
Sugar:
2
g
|
Vitamin A:
1125
IU
|
Vitamin C:
8.5
mg
|
Calcium:
33
mg
|
Iron:
2.4
mg
|
Net Carbs:
3
g
Nutritional info is an estimate and provided as courtesy. Values may vary according to the ingredients and tools used. Please use your preferred nutritional calculator for more detailed info.
Categories:
More Easy Asparagus Recipes You Might Like:
Roasted Asparagus with Bacon and Feta Cheese