These sweet Mini Lemon Cakes are moist, airy, and light, with the sunshiny taste of lemon. And, with just two simple ingredients, they're super fast and easy to make, even at the last minute. Enjoy!
Easiest-Ever Mini Lemon Cakes with Fresh Berries
Have you ever tried two-ingredient lemon bars? This recipe is based on the same idea, but instead of bars, tender little cakes in ramekins are the result. Pretty, light, and utterly scrumptious, mini lemon cakes are the perfect light spring dessert. Served with tea (or a teacup of icy cold milk for the littles) these are the makings of a magical tea party – even if just for one!
The best thing about this elegant recipe is that you literally only need two store-bought items: angel food cake mix and lemon pie filling. Mixed together, these humble ingredients make one divine dessert! If you'd like to make a treat that one of the kiddos can help with, this is a great choice – there are no complicated steps, and cleanup is absolutely minimal.
What You'll Need
Well, I guess I already let the cat out of the bag with this, didn't I? Yes, there are just two ingredients to this simple cake – but I do like to add some garnishes. Here's my list, with some extra details:
Angel Food Cake Mix: You'll need one standard-sized box (16 ounces) of angel food cake mix, any brand.
Lemon Pie Filling: That's one large can (20 to 22 ounces) of lemon pie filling, any brand.
Garnishes: Powdered sugar and fresh fruit are the perfect garnishes! I like to use blueberries, raspberries, and some lemon slices.
What Is the Difference Between Angel Food Cake Mix and Regular Cake Mix?
Angel food cake and regular cake are definitely two different cakes, even if you make them out of a box. Angel food cake gets its "heavenly" name because of the lightness of the mixture. It contains no butter, oil, or even egg yolks! The simple, airy, white-as-snow cake is made with just egg whites for leavening.
Ordinary cake mixes mimic traditional layer and sponge cakes, with more moisture and a slightly denser texture. Think birthday cake, chocolate cake, or even pound cake. With added oil, butter, milk, and other rich ingredients (as well as leaveners like baking powder or baking soda), these cakes don't have the same lightness as angel food cake.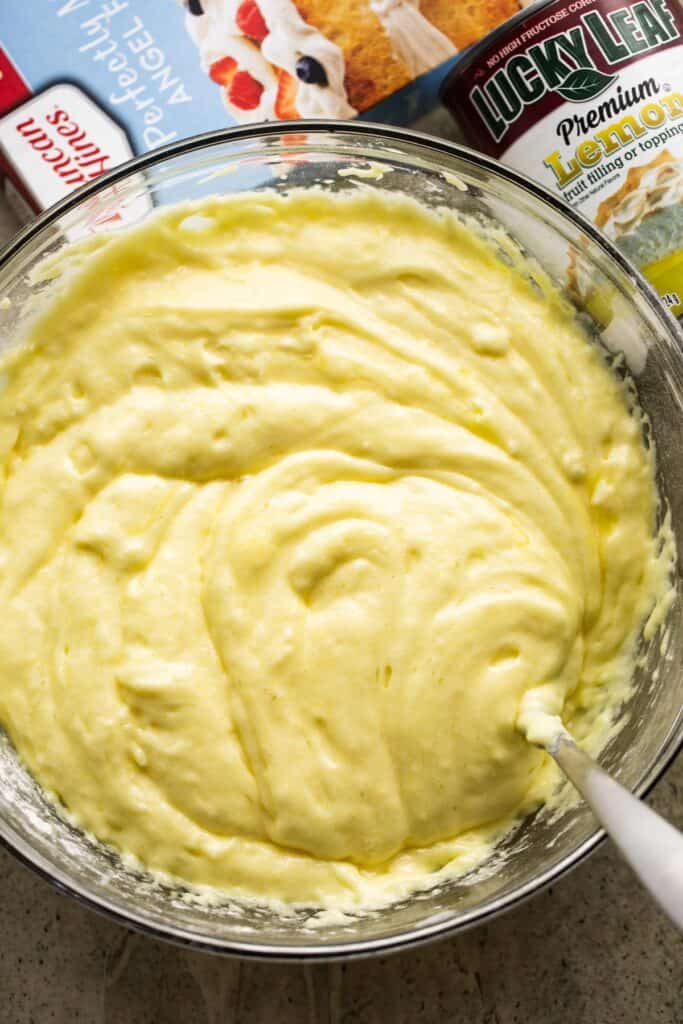 How to Make Two-Ingredient Mini Lemon Cakes
Curious to see how this unusual recipe comes together? Let's take a closer look at the steps. They are so simple, you'll be making these mini lemon cakes in your sleep!
Prepare the Ramekins and Preheat the Oven. To start, preheat your oven to 350˚F. Then grease 12 six-ounce ramekins with nonstick baking spray, or rub them lightly with butter or oil. I like to use a small piece of clean paper towel for this. A pastry brush would work well, too. Place the ramekins on a baking sheet(s), and set aside.
Make the Cake Batter. Combine the cake mix and the lemon pie filling in a big mixing bowl. Whisk together to thoroughly combine, but don't overbeat the batter or it could become tough.
Bake. Pour the batter into the ramekins, as evenly as you can. Move the whole baking sheet to the oven, and let the cakes bake for 18 to 20 minutes, or until done. Start checking for doneness around the 18 minute mark. Cool for about 15 minutes before serving.
Enjoy! Garnish the cakes with powdered sugar and berries, and serve.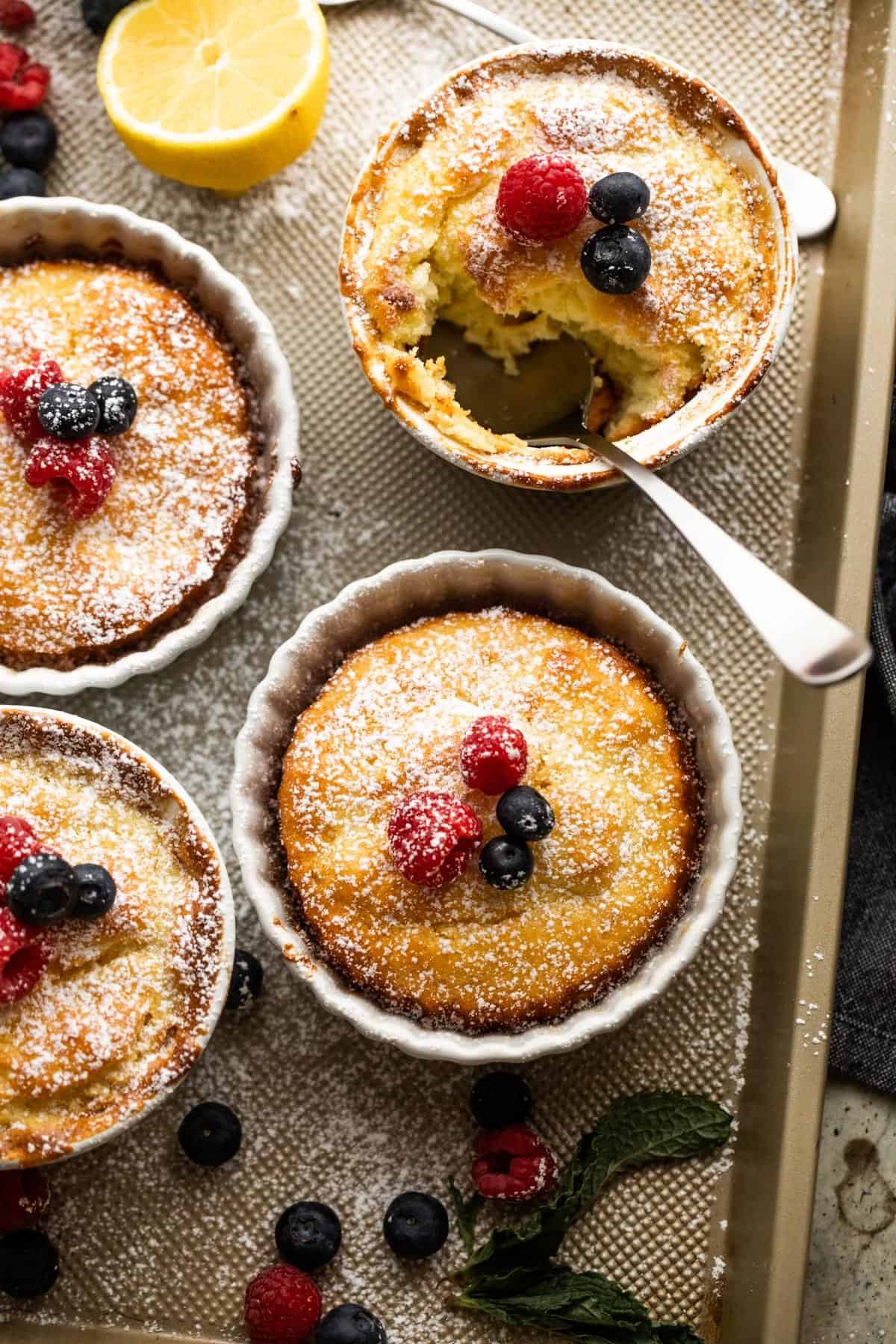 Tips for Success
With a recipe as easy as this, it's basically guaranteed to turn out perfectly every time! Still, I do have a couple of tips to share that I hope will make your mini lemon cakes even more tempting and tasty.
Use Lemon Curd: Instead of lemon pie filling, store-bought or homemade lemon curd can be used instead.
Make Lemon Bars: If you would rather use one big pan instead of ramekins, spread the batter into a brownie pan (9×13) and bake that way. Cut into squares or bars, and you're good!
Cake Mix: Be sure to use angel food cake mix in this recipe, not white cake mix. Although they look similar, the two mixes are very different in terms of ingredients!
Easy Recipe Variations
With such an easy recipe, there's practically no limit to the fun variations you can try! Here are just a few simple ideas for customizing your mini lemon cakes!
Lemon Poppyseed Cakes: As long as you're making these luscious little cakes, why not fold in a tablespoon or so of poppyseeds? Yum! Dust with powdered sugar, or drizzle with your favorite sweet glaze. Try the vanilla glaze from this yummy donut recipe!
Lemon Coconut Cakes: Fold in ½ to 1 cup of sweetened, shredded coconut. These little cakes are simply destined to be topped with dollops of luscious whipped cream.
Lemon Strawberry Cream Cakes: Let the cakes cool slightly, and then spoon a little strawberry jam on top of each. Smooth out the jam, and then top that with piped whipped cream – or a dollop of clotted cream, if you can get some! Serious good vibes, right?
Storage Instructions
Store any leftover lemon cakes wrapped in plastic wrap, or popped into an airtight container with a lid. They'll keep for one or two days at room temperature, or up to four days in the fridge.
Can I Freeze Mini Cakes?
Sure! All you have to do is wrap the cooled lemon cakes tightly in a couple of layers of plastic wrap and freeze them for up to 3 months.
Thaw to room temperature before reheating.
More Easy Dessert Recipes
ENJOY!
Two-Ingredient Mini Lemon Cakes
These sweet Mini Lemon Cakes are moist, airy, and light, with the sunshiny taste of lemon. With just two simple ingredients, they're super fast and very easy to make!
Instructions
Preheat oven to 350˚F.

Grease 12 six-ounce ramekins with butter or nonstick baking spray.

Place the ramekins on a baking sheet and set aside.

In a large bowl combine the angel food cake mix and the lemon pie filling; mix and stir with a large spoon until completely incorporated.

Pour the batter into the ramekins, coming only half way up the ramekin. If you overfill, the cakes will rise too high and spill over while baking.

Bake for 18 to 20 minutes, or until a toothpick inserted in the center comes out clean. Tops should be golden brown.

Cool cakes for about 15 to 20 minutes before serving.

Garnish with powdered sugar and berries.
Nutrition
Calories:
202
kcal
|
Carbohydrates:
48
g
|
Protein:
2
g
|
Fat:
1
g
|
Saturated Fat:
1
g
|
Polyunsaturated Fat:
1
g
|
Monounsaturated Fat:
1
g
|
Cholesterol:
8
mg
|
Sodium:
427
mg
|
Potassium:
34
mg
|
Fiber:
1
g
|
Sugar:
36
g
|
Calcium:
58
mg
|
Iron:
1
mg
Nutritional info is an estimate and provided as courtesy. Values may vary according to the ingredients and tools used. Please use your preferred nutritional calculator for more detailed info.
Categories: