Homemade Gurabii Shortbread Cookies are a traditional Macedonian treat! Crumbly, buttery cookies made with a few simple ingredients and a splash of whisky. These easy shortbread cookies are perfect for a Christmas cookie platter, I just know they'll make your holidays the merriest ever!
Must-Make Christmas Shortbread Cookies
I know, I know. 'Tis the season when literally everyone is saying, "If there's ONE cookie you must make this Christmas, THIS is it!" Still, I'll go ahead and say it: these are the shortbread cookies you NEED to make this year! I may be a little biased, but I'll let these crumbly, melt-in-your-mouth shortbread cookies speak for themselves.
Gurabii ("Goo-rah-bee") cookies are a shortbread type kolache, or cookie, made with a nice amount of butter, powdered sugar, and a splash of warming whisky. They're easy to make, yet undeniably delicious! I'm so excited to share this special family recipe with you all.
I'm not saying these Gurabii cookies will make your Christmas the brightest and merriest it's ever been… but I'm not not saying it, either, if you know what I mean.
What's So Special About This Recipe?
For my family, Gurabii butter cookies hold so many cherished memories. This recipe is an authentic Old Macedonia treat, making an appearance on special occasions like Saint Patron days, Name days, and holidays.
They take me back to memories of my Mom sternly telling us that we couldn't have any cookies until they cooled down (what she really meant was that we couldn't have any until the guests arrived).
As soon as Mom would take them out of the oven, my sister and I would sneak behind her, grab a cookie each and run, giggling and tossing the piping hot cookies between our hands so we wouldn't burn our fingers! Anything for these delicious Christmas cookies.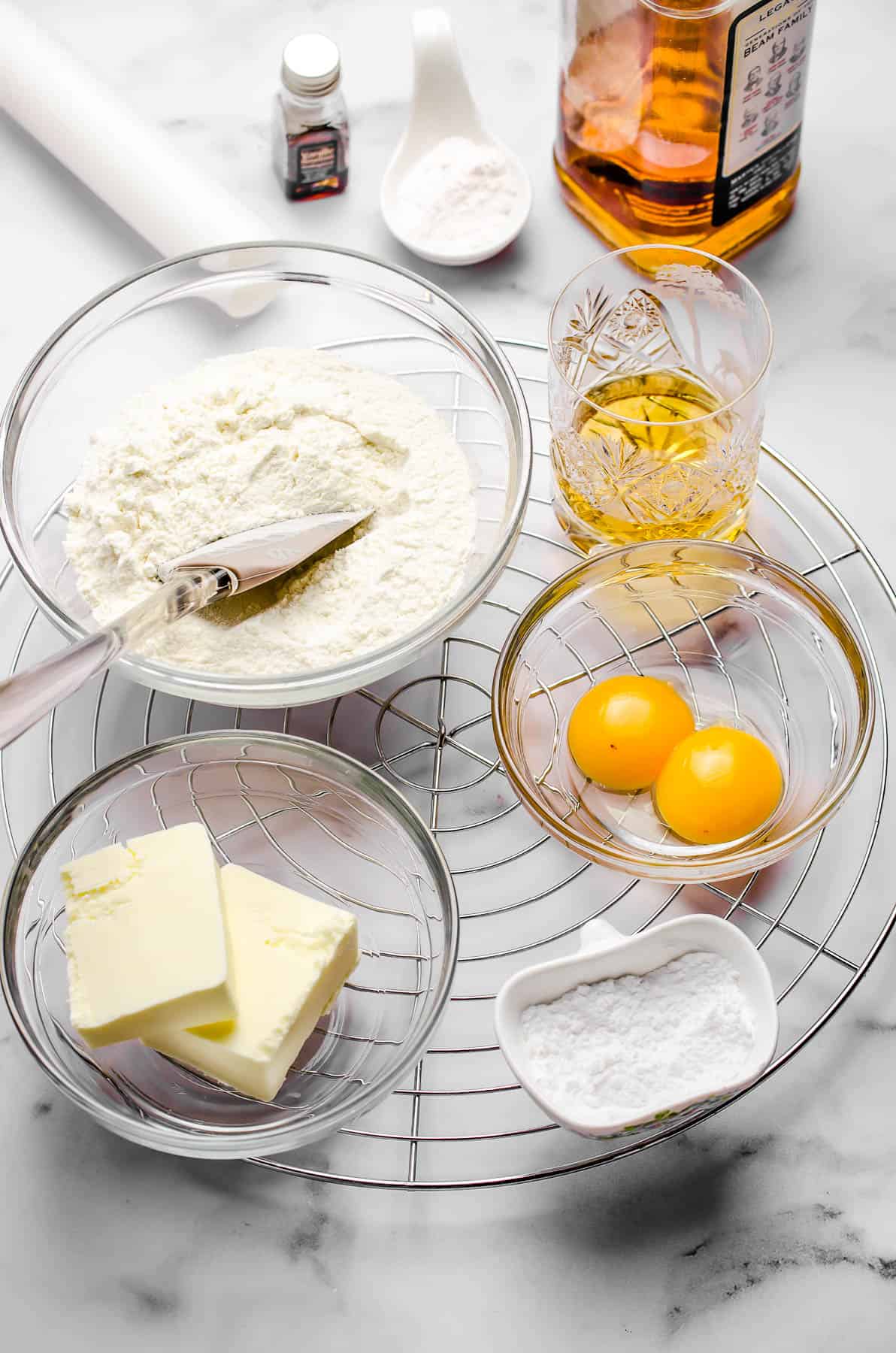 Ingredients You'll Need
You likely have most of the ingredients for this shortbread recipe in your kitchen already! Here's what you'll need.
Sweet Butter: Also known as Unsalted Butter, this is my go-to for baking!
Egg Yolks: Just the yolks, separated from the whites. (Use leftover egg whites in other holiday recipes like these Black and White Meringue Cookies!)
Powdered Sugar: For the shortbread cookie dough, plus extra for dusting on top after baking.
Whisky: Just a splash. The choice of whisky is up to you! Scotch is always a good bet for these traditional Macedonian cookies.
Vanilla Extract: Pure vanilla extract is the best, in terms of natural flavor.
All-Purpose Flour
Baking Powder
How to Make Macedonian Shortbread Cookies
My Mom always made this cookie recipe look so easy. Little did I know then, it's because it is!
To get started, you'll set your oven to preheat and get all your ingredients at room temperature. Then follow these steps to make these special homemade shortbread cookies:
Make the Cookie Dough: Before adding the other ingredients, beat the butter with an electric mixer for ten (yes, ten!) minutes at high speed. Beat in the yolks, powdered sugar, baking powder, whisky and vanilla. Finally, you'll sift the flour into the butter mixture and mix just until it becomes a soft dough.
Rest: Leave the shortbread dough to rest for 15 minutes.
Roll Out the Cookie Dough: Roll the dough into small balls and place them on a baking sheet, pressing the balls with the bottom of a glass to flatten them a bit.
Bake: Pop the cookies into the preheated oven to bake until they're barely browned.
When the cookies are ready, grab one out of the oven… and make a run for it! Just kidding (with age comes wisdom, amiright?). When your Gurabii shortbreads are completely cooled, give them a nice dusting of powdered sugar and then store or serve!
You can also decorate these cookies however you'd like, see below for some ideas!
Can I Make These in Advance?
You can definitely make the shortbread cookie dough in advance and freeze it for up to 2 months.
Wrap the dough tightly in plastic wrap or store it fully airtight in a freezer bag, then thaw it when you're ready to roll out the dough and bake it.
Tips for Success
Don't Over-Mix the Dough: Over-mixing is the number one culprit for cookies that are tough and/or too dry. Make sure you mix in the flour until just combined, and then leave the cookie dough alone to rest.
Don't Let the Shortbread Brown: Remove the cookies from the oven the moment they begin to become golden around the edges.
These Cookies Won't Expand: The powdered sugar in these cookies means they'll keep their shape while baking, with little expansion. So press them to about a half inch thick, as they'll bake at the thickness they're pressed to.
Decorating Ideas
Like any proper holiday cookie, these easy shortbread cookies are the perfect blank canvases for decorating! Here are some of my favorite ideas for decorating Christmas cookies:
Coated in sprinkles
Piped with icing
Drizzled with melted chocolate
Dusted with sanding sugar (in all the colors!)
Topped with red and green candied cherries
Dipped in glaze or frosted
Topped with fruit preserves (orange marmalade, apricot jam, raspberry jam, etc.)
How to Store Homemade Shortbread Cookies
Store your finished cookies airtight and at room temperature for up to one week.
You can also keep them in the fridge to extend their shelf life by a couple of days.
I also love storing these traditional shortbreads in individual jars for easy gifting!
Can I Freeze These?
You can freeze the shortbread dough as well as the baked cookies for a month or two, making this an easy make-ahead cookie idea. As mentioned earlier in this post, the dough can be frozen tightly wrapped or airtight in a freezer bag. Just thaw, roll, and bake!
To freeze baked shortbread cookies, I'd recommend freezing the cookies on a baking sheet, and then transferring the solid cookies to a freezer bag or freezer-safe container.
Thaw the cookies outside of their containers at room temperature.
More Easy Christmas Desserts to Try
Homemade Shortbread Cookies (Gurabii)
These easy homemade Shortbread Cookies are a traditional Macedonian treat! Crumbly, buttery "Gurabii" holiday cookies made with a few simple ingredients and a splash of whisky. Perfect for a Christmas cookie platter, or for serving with coffee and tea!
Ingredients
1

cup (227 grams)

unsalted butter,

at room temperature

1

tablespoon

baking powder

2

egg yolks,

at room temperature

1

teaspoon

pure vanilla extract

3

tablespoons

powdered sugar

2 ½

cups

all-purpose flour

½

ounce

whisky

powdered sugar,

for dusting on top
Instructions
Preheat oven to 350F.

Have all ingredients at room temperature.

Place the butter in a large bowl and beat for 5 to 10 minutes at high speed with electric mixer, until creamy and smooth.

Add the egg yolks, 3 tablespoons powdered sugar, baking powder, whisky and vanilla.

Continue beating until well blended.

Sift the flour and mix it in with the butter mixture.

Mix enough to make a soft, pliable dough.

Let the dough stand for 15 minutes.

Shape the dough into small balls and place on an ungreased cookie sheet.

With a glass flatten the dough balls to 1/2 inch thickness.

Bake for 20 to 25 minutes or until the shortbreads are lightly browned.

When they are completely cooled, sprinkle generously with powdered sugar.
Notes
Store cookies airtight at room temperature for up to one week.
Nutrition
Calories:
125
kcal
|
Carbohydrates:
11
g
|
Protein:
2
g
|
Fat:
8
g
|
Saturated Fat:
5
g
|
Polyunsaturated Fat:
1
g
|
Monounsaturated Fat:
2
g
|
Trans Fat:
1
g
|
Cholesterol:
36
mg
|
Sodium:
2
mg
|
Potassium:
69
mg
|
Fiber:
1
g
|
Sugar:
1
g
|
Vitamin A:
255
IU
|
Calcium:
28
mg
|
Iron:
1
mg
|
Net Carbs:
10
g
Nutritional info is an estimate and provided as courtesy. Values may vary according to the ingredients and tools used. Please use your preferred nutritional calculator for more detailed info.
Categories: