Grilled Peach-Glazed Pork Tenderloin Foil Packet with Potatoes – Glazed with peach preserves and flavored with a hint of garlic, this easy to make meat and potatoes dinner in a foil packet is impressive, incredibly delicious, and since it's grilled in foil packs, cleanup is a snap!
A surefire way to start your summer AND take your glamping game to whole new levels! ⬆⬆⬆
Hey Hey! Happiest of Wednesdays! How goes it? Where have you been? How was Memorial Day?! We paid respect to our Heroes and then we grubbed. A lot.
There was shrimp, there was kebapi, ginormous salads aaaand these guys: Grilled Peach-Glazed Pork Tenderloin Foil Packet with Potatoes. Tummy full, tummy happy.
I can't forget about our Happy Hour Lemonade on tap. It was beautiful!
Let's take a timeout and talk about what is before us.
Something odd is happening, and it's not only that I've committed to salads every single day of my life for the past 15 years, but it's that I've also apparently, as of late, committed to suddenly BBQing all-the-things. Over charcoal, gas, wood chips… don't matter to me, just fire it UP!
This particular pork tenderloin recipe started with me experimenting a bit with that one other recipe I did for us few months back – Garlic and Rosemary Balsamic Roasted Pork Loin – and I wanted to see how well that would work in a foil packet. I mean, everyone is foil-packing everything nowadays so why not. And I did. And it was amazing. And I made a similar version of it for today. NO balsamic, but the peach preserves did the delicious trick, just as well. 👌
I'd even argue that preparing our meat in this way is better than cooking it in the oven because, this method will prevent the meat's natural moisture from escaping into the heat. What's more is that we can also add some veggies and/or potatoes in the same foil, allowing the potatoes to cook in the flavorful steam that the pork loin creates as it cooks. I mean… are we winning or ARE WE WINNING?! Yeah!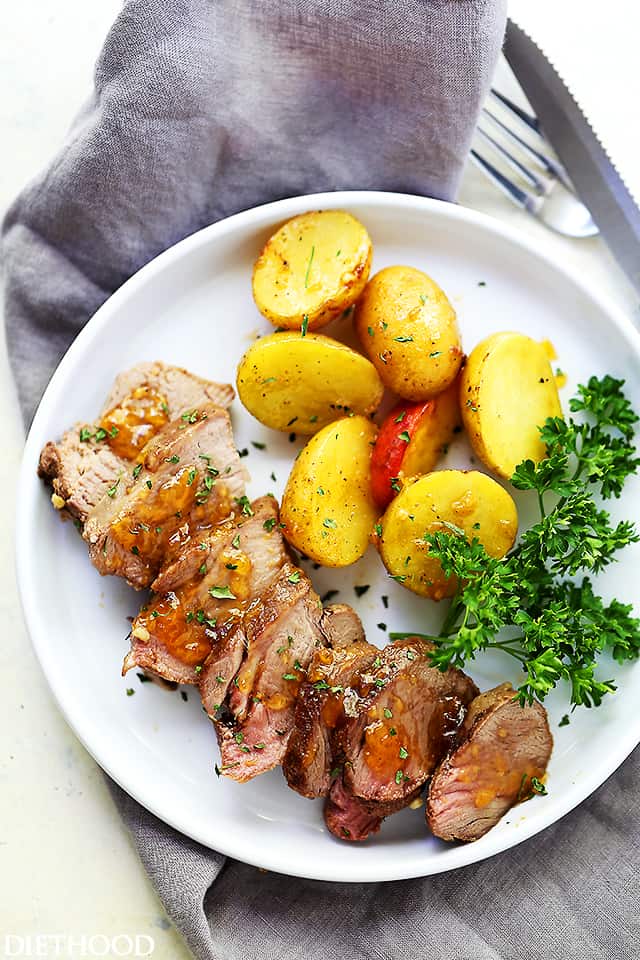 Now if you could please throw this on the barbie ⬅ Aussie for GRILL – and meet your new favorite bbq din din! 🍴
ENJOY!

CRAVING MORE? SIGN UP FOR THE DIETHOOD NEWSLETTER FOR FRESH NEW RECIPES DELIVERED TO YOUR INBOX!
FOLLOW DIETHOOD ON FACEBOOK, TWITTER, PINTEREST AND INSTAGRAM FOR ALL OF THE LATEST CONTENT, RECIPES AND UPDATES.
TOOLS USED IN THIS RECIPE
Grilled Peach-Glazed Pork Tenderloin Foil Packet with Potatoes
Ingredients
1/4

cup

sugar free peach preserves

1

tablespoon

dijon mustard

1/2

to 1 teaspoon Sriracha

3

garlic cloves

, minced

1

peach

, sliced

1

pound

pork tenderloin

salt and fresh ground pepper

, to taste

1-1/2

pounds

new potatoes

1

tablespoon

olive oil

3

garlic cloves

, minced
Instructions
*In a small mixing bowl combine peach preserves, dijon mustard, sriracha, and garlic; mix and stir until thoroughly incorporated.

Season pork tenderloin with salt and fresh ground pepper and coat with the peach mixture.

Place the pork tenderloin on a large sheet of aluminum foil, cut several slits across the top and insert peach slices in each slit. Set aside.

Cut the new potatoes in half, place in a bowl, season with salt and pepper, and toss with a tablespoon of olive oil.

Transfer potatoes to prepared foil, arranging them around the pork tenderloin.

Seal the foil packet well and place in the refrigerator for an hour or two.

Preheat your grill for 10-15 minutes with all the main burners on high.

Remove prepared foil packet from refrigerator and let stand at room temperature for about 15 minutes. DO NOT OPEN THE PACKET.

Place the foil packet over high heat on the grill; about 425 degrees F.

Cook for 25 to 30 minutes, turning, until internal temperature of pork reaches at least 150 degrees F.

Remove from grill and let stand a few minutes.

Open up the packet and serve.
Recipe Notes
*If you'd like, make additional glaze to serve over the pork tenderloin after it is done cooking.
WW Smart Points: 8
Nutrition Facts
Grilled Peach-Glazed Pork Tenderloin Foil Packet with Potatoes
Amount Per Serving (1 g)
Calories 322
Calories from Fat 94
% Daily Value*
Total Fat 10.4g 16%
Cholesterol 68.2mg 23%
Sodium 65mg 3%
Total Carbohydrates 30.5g 10%
Protein 28g 56%
* Percent Daily Values are based on a 2000 calorie diet.
SIMILAR RECIPES
Grilled Barbecue Chicken and Vegetables in Foil