You have to try this Garlicky and Cheesy Cauliflower Broccoli Bake – a lighter twist on that classic cheesy veggie bake we all love! Should we call it a casserole or gratin? Who cares! All that matters is that it's insanely tasty!
Cauliflower and Broccoli Bake
Savory, garlicky, cheesy cauliflower and broccoli bake with just a handful of ingredients required! The perfect healthy, comforting side dish for holidays and every day! It's creamy, it's golden, and it's extra delicious!
I've got a super tasty dish for you today that's just perfect for any day of the week or even a special holiday meal. Picture this: a super cheesy, creamy bake filled with cauliflower and broccoli. Yeah, I thought that might get your attention! This bake isn't just any old veggie dish. We're talking about bite-sized cauliflower and broccoli florets smothered in the dreamiest cheese sauce. We're bringing in the big guns here: cheddar and mozzarella, melting together into one mouthwatering cheesy heaven.
And don't worry, this dish is as easy as it gets. A few simple steps and you'll have a casserole that will have everyone at the table asking for seconds (and maybe even thirds!). Plus, it's the perfect companion for your favorite main dishes – roast chicken, pork chops, steak, you name it!
Why You Will Love This Recipe
Quick and Easy: This dish is a breeze to put together. From stovetop to oven, the simple steps make this recipe a winner for any night of the week. Plus, it's a great way to sneak in those veggies.
Versatile: This bake pairs beautifully with just about any main dish, and it's the ideal sidekick that will complement and elevate your main dish.
Lighter Choice: Even though it's a cheesy bake, it's a lighter option thanks to the use of reduced-fat cheeses and fat-free evaporated milk.
Crowd-Pleaser: This dish is a total crowd-pleaser. It's perfect for family dinners, potlucks, holidays, you name it!
Comfort Food: Last but not least, this cheesy cauliflower and broccoli bake is the definition of comfort food. The tender veggies coated in a creamy, bubbling cheese sauce provide a heartwarming and comforting meal that's hard to resist.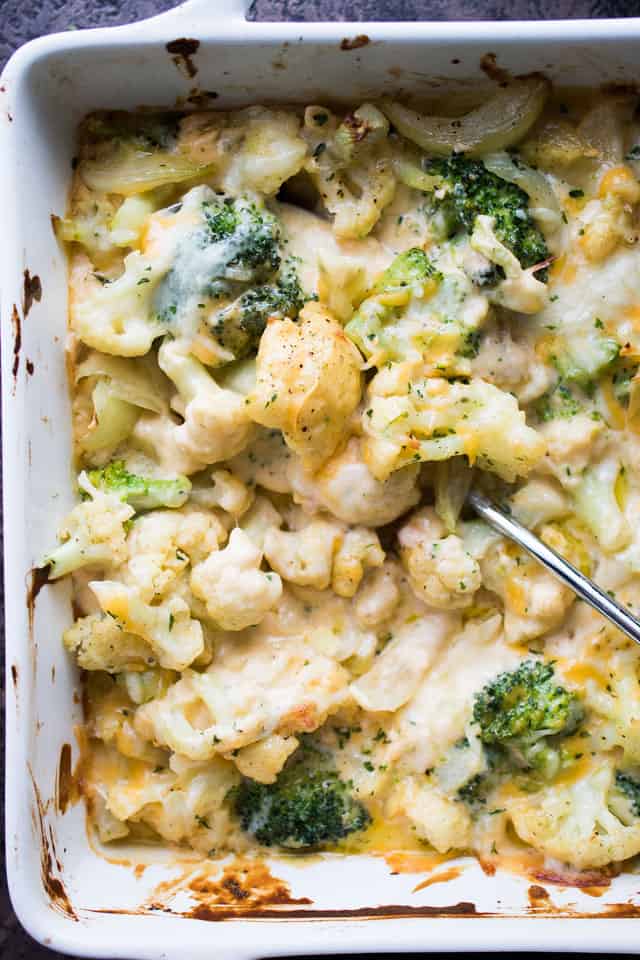 Can I Use Frozen Vegetables?
Yes, you can use frozen cauliflower and broccoli florets, but cook them according to the instructions on the package and drain any excess liquid before combining the veggies with the cheese sauce.
You can also swap out the cauliflower for another veggie. Any vegetable that's been lightly roasted, given a quick steam, or even blanched would be a great fit. Try Brussels sprouts, green beans, or more broccoli; they all work brilliantly.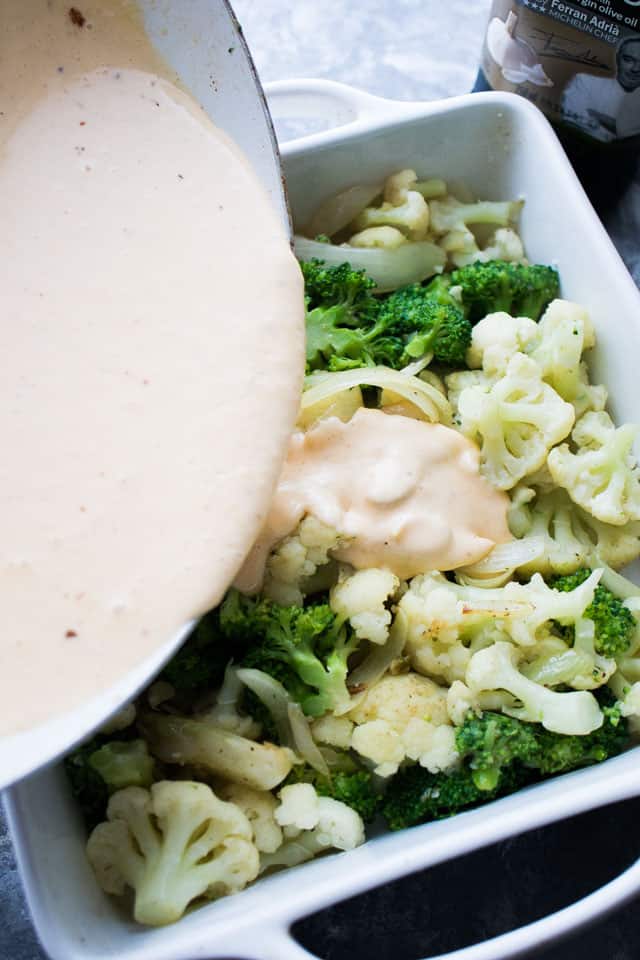 How To Make Cheesy Cauliflower Bake
This casserole can be assembled up to one day in advance, then baked just before serving. Make sure to scroll down to the recipe card for full recipe instructions and ingredients.
Ingredients
broccoli florets
cauliflower florets
onion & garlic
garlic flavored olive oil or regular olive oil
reduced-fat shredded cheddar cheese & low-fat part-skim shredded mozzarella cheese
cornstarch
Dijon mustard
smoked paprika
Directions
We'll quickly steam our cauliflower and broccoli, then sauté them with some onion and garlic tossed in delicious garlic-flavored olive oil.
In the meantime, we'll whip up a simple lightened-up cheese sauce. Here's my secret: I found this recipe gem in an old Weight Watchers cookbook, and I've been hooked ever since. It's just evaporated milk, shredded cheddar, and a touch of cornstarch.
One pro tip: Keep your flame low while making the sauce. High heat makes the sauce grainy, especially with reduced-fat cheeses. Nobody wants grainy cheese sauce, am I right?
Next, we'll marry our sautéed veggies and glorious cheese sauce, then slide it into the oven. Around 20 minutes later, you'll be face-to-face with a hot, bubbly, and insanely delicious cheesy cauliflower bake.
Tips & Variations
Veggie Prep: You want your veggies crisp-tender for the best texture in the casserole. Be careful not to overcook during the initial steaming phase.
Cheese Sauce: Remember to keep the heat low when you're making the cheese sauce to avoid a grainy texture. Stir continuously for a smooth, creamy sauce.
Switch up the Cheese: Feel free to play around with the types of cheese in this dish. A blend of cheddar and gruyere or a sprinkle of parmesan can add a different twist to your casserole.
Add-ins: Want to make this a standalone dish? Add some protein like cooked chicken, bacon, or even some canned tuna.
Seasoning: Don't forget to season your veggies during the sautéing phase. A little salt and pepper can make a huge difference in the overall flavor of the dish.
What To Serve With Broccoli Cauliflower Bake
This cheesy cauliflower and broccoli bake is a versatile side dish that pairs well with a variety of mains. Here are some suggestions:
How To Store & Freeze
To Store: Transfer leftovers to an airtight container and keep in the fridge for 2 to 3 days.
To Freeze: After cooking, just split this casserole into single portions and store them in little zip-top containers in your freezer.
To Reheat from Frozen: Place it in your microwave on high for around 3 to 4 minutes. The exact time might vary based on your microwave's power. Let it sit briefly after you take it out.
ENJOY!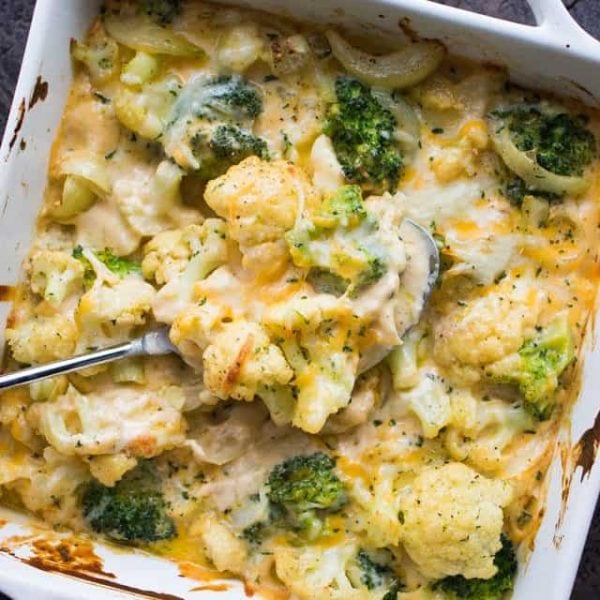 Garlicky and Cheesy Cauliflower Broccoli Bake
This Cauliflower Broccoli Bake is a lighter take on everyone's beloved garlicky, cheesy classic! It packs all the flavor without the extra calories.
Ingredients
1

pound

broccoli florets

1

pound

cauliflower florets

3

tablespoons

garlic flavored olive oil,

divided, you can also use regular olive oil

1

large

yellow onion,

thinly sliced

2

cloves

garlic,

minced

salt and fresh ground black pepper,

to taste
FOR THE CHEESE SAUCE
1

cup

reduced-fat shredded cheddar cheese,

divided

1

tablespoon

cornstarch

1

can (12 ounces)

fat free evaporated milk

½

teaspoon

dijon mustard

¼ to ½

teaspoon

smoked paprika,

or to taste

¼

cup

low fat part skim shredded mozzarella cheese
Instructions
Preheat oven to 400˚F. Drizzle a little olive oil on the bottom of a square baking dish; spread it around and set aside.

In a large skillet, bring 1/2 inch of salted water to a boil. Add the broccoli and cauliflower; cover and cook over high heat until crisp-tender, about 4 minutes. Drain the vegetables in a colander and set aside.

Wipe out the skillet, add 2 tablespoons olive oil, and heat over medium-high heat. Add onions and cook for 2 to 3 minutes or until softened.

Stir in the minced garlic and continue to stir and cook for 1 minute. Add broccoli and cauliflower to the skillet. Season with salt and pepper and continue to cook for about 2 minutes, or until lightly golden.

Remove from heat and transfer the vegetables to the baking dish; set aside.

Wipe the skillet and add 1 tablespoon olive oil, 3/4 cup shredded cheddar cheese, cornstarch, evaporated milk, mustard, salt, pepper, and paprika.

Cook over low heat, stirring constantly with a whisk, until melted and thickened, about 2 minutes.

Pour the cheese sauce over the broccoli and cauliflower; stir to combine. Sprinkle the remaining cheeses over the top.

Bake for 20 minutes or until lightly browned and bubbly.

Remove from oven and let stand 5 to 8 minutes, then serve.
Notes
This casserole can be assembled up to one day in advance, then baked just before serving.
Swap out the cauliflower for another veggie. Brussels sprouts and green beans will work.
Aim for crunchy, not soggy, veggies in the first steaming step.
For a velvety cheese sauce, keep your heat low and keep stirring.
Mix up your cheese game – consider a mix of cheddar and gruyere or a dash of parmesan.
Want to make it a main course? Throw in some cooked chicken, crispy bacon, or even canned tuna.
Don't forget to season your veggies when frying them.
Nutrition
Calories:
252
kcal
|
Carbohydrates:
20
g
|
Protein:
15
g
|
Fat:
14
g
|
Saturated Fat:
4
g
|
Polyunsaturated Fat:
1
g
|
Monounsaturated Fat:
9
g
|
Cholesterol:
10
mg
|
Sodium:
297
mg
|
Potassium:
788
mg
|
Fiber:
6
g
|
Sugar:
6
g
|
Vitamin A:
863
IU
|
Vitamin C:
159
mg
|
Calcium:
264
mg
|
Iron:
2
mg
|
Net Carbs:
14
g
Nutritional info is an estimate and provided as courtesy. Values may vary according to the ingredients and tools used. Please use your preferred nutritional calculator for more detailed info.
Categories: