Tender, juicy, flavorful pork? You got it! These easy pork loin recipes make tender, juicy dinners everyone will love. Whether you need an elegant main course or a simple weeknight dinner, you'll find it here.
Easy Recipes for Juicy, Flavorful Pork Loin!
When it comes to dinner, pork recipes are always a winner in my house. From bacon and ham to pork chops and pork tenderloin, there's pretty much no way to go wrong with pork. That is if you cook it correctly. Luckily, make perfect pork every time is incredibly simple to do!
One of my favorite cuts of meat to work with is pork loin. Larger and a little more moist than pork tenderloin, pork loin is ultra-versatile, working beautifully with almost any flavor profile.
And speaking of versatility, pork loin can be cooked in the Instant Pot, slow cooker, on the grill, roasted in the oven… you name it. These six recipes will show you how.
What's the Difference Between a Tenderloin and a Pork Loin?
While both pork loin and pork tenderloin come from the same loin muscle, they are really different.
Size. For one thing, as mentioned above, a pork loin is usually much bigger – often twice as big or more than a pork tenderloin. Tenderloins usually only weigh a pound or two, while pork loins often weigh four pounds or so.
Fat. Pork loins are also a tiny bit fattier, although both cuts are very lean.
Bone. Finally, pork loin may be bone-in or boneless, while tenderloins never have bones.
Color. Pork loin is usually pale pink, while pork tenderloin tends to be dark pink or red.
Is Pork Loin a Good Cut of Meat?
Yes, pork loin is an excellent cut of meat. It's so versatile that you can cook it in many ways with many different flavor profiles. Keep reading for six of my favorite ways to make juicy, tender pork loin using a variety of cooking methods.
6 Easy Pork Loin Recipes
Okay, let's get into the recipes! Each one is a bold, vibrant, yet easy preparation for basic loin, turning this simple cut of meat into a masterpiece of juicy, tender yumminess. Here we go!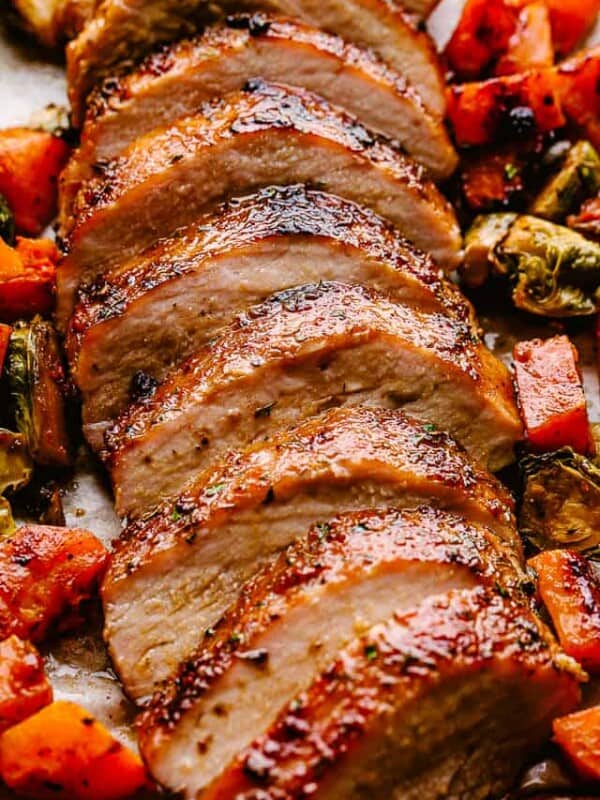 This simple recipe is easy to make, and perfect anytime! Just rub with spices, smother with glaze, and roast until juicy and tender.
Get the Recipe
It doesn't get any easier than this Crockpot favorite – slow-cooked pork loin with two different green salsas! Let it go, low and slow, until it's fork-tender. Then serve up on tacos, rice, or whatever you like!
Get the Recipe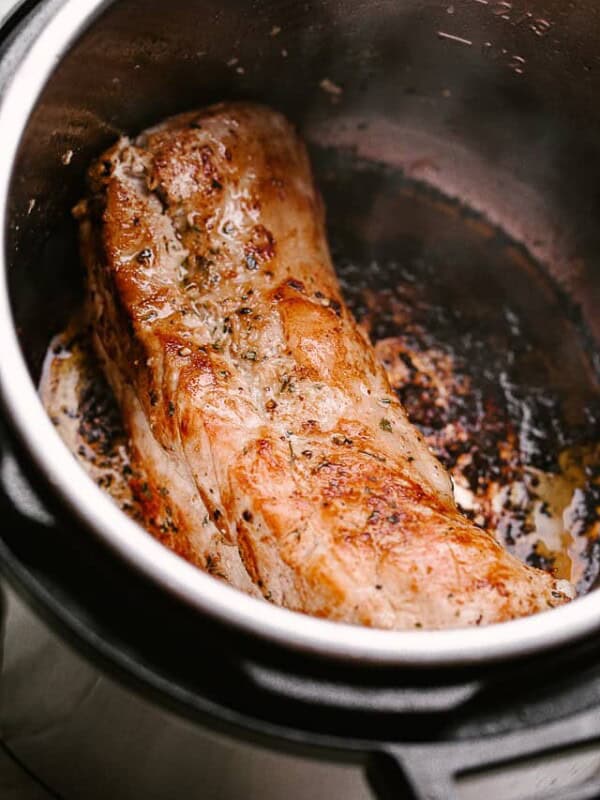 Pressure cook a whole pork loin to tender, juicy perfection in just 30 minutes! You'll love the garlicky topping with brown sugar and soy sauce. Perfect for busy weeknights – and it's low-carb and-keto friendly.
Get the Recipe
Easy to make and perfect for any occasion, this savory grilled pork loin roast feeds a crowd. A simple spice rub and killer marinade gives the meat juiciness and an unforgettable, sweet and zesty flavor.
Get the Recipe
This impressive dinner option is actually one of the most low-maintenance meal preps ever! With garlic, Italian seasoning, and balsamic vinegar, it's a melt-in-your mouth, family-friendly favorite that's easy enough for a weeknight, but special enough for a holiday feast.
Get the Recipe
This amazing roasted pork gets a major flavor upgrade, thanks to an easy filling bacon, mushrooms, spinach, and cream cheese. Make this one for the holidays, a special birthday or anniversary, or just when you're craving a satisfying pork dinner!
Get the Recipe
How Do I Cook a Pork Loin Without Drying It Out?
There are a lot of different ways to make sure your pork loin turns out moist and tender instead of dry!
Roasting with the fatty side up so that the fat bastes the meat is a great option for oven methods. Brining and marinating can be helpful also.
But my hands-down most important tip? Make sure you use an instant read meat thermometer to check for doneness, and prevent overcooking. Overcooking lean pork is probably the most common reason that it dries out.
How to Store Extras
Storing leftover pork is very easy:
Fridge: Let the food cool to room temperature, then place it in a food storage bag or an airtight container and store it in your refrigerator. It will keep for 3 to 4 days.
Freezer: You can also freeze leftover pork loin in freezer bags, for up to three months. Make sure to press out as much air as you can before sealing the bags, to prevent freezer burn. Thaw overnight in the fridge when you're ready to reheat.
The Best Way to Reheat Pork Loin Leftovers
It's best to reheat this lean cut of meat in a covered skillet over low heat. Gently reheating will help the pork heat through without becoming dry. If you have leftover sauce to add to the skillet, that will help keep things even more moist. Heat until the meat is just heated through, and then immediately take it off the heat to prevent overcooking.