Banana Cake with Cream Cheese Frosting – Decadent, easy to make Banana Cake topped with a smooth Cream Cheese Frosting.
Happy Monday!! Here's to a great start to the week!
Truth? I'm high on Milky Ways! I had more than one-too-many.
I am the Mom that all kids should hide their candy bags from. NO one is safe.
I normally do not buy candy. If I want something sweet, I make it. From scratch. Like a Banana Cake! Otherwise, no. I cook and bake all too much – there's no room for more candy.
… hence why I went a bit berzerk with the candy I bought to give out on Halloween.
How about them PB + Pumpkin Reese's?! Holy Mother of Candy Bars! I honestly thought I was the only one that whipped-up the whole Chocolate Pumpkin Peanut Butter Cups. I swear! I had NO idea that these were really out there. Man, they ARE good.
Treadmill and I are about to get a little closer…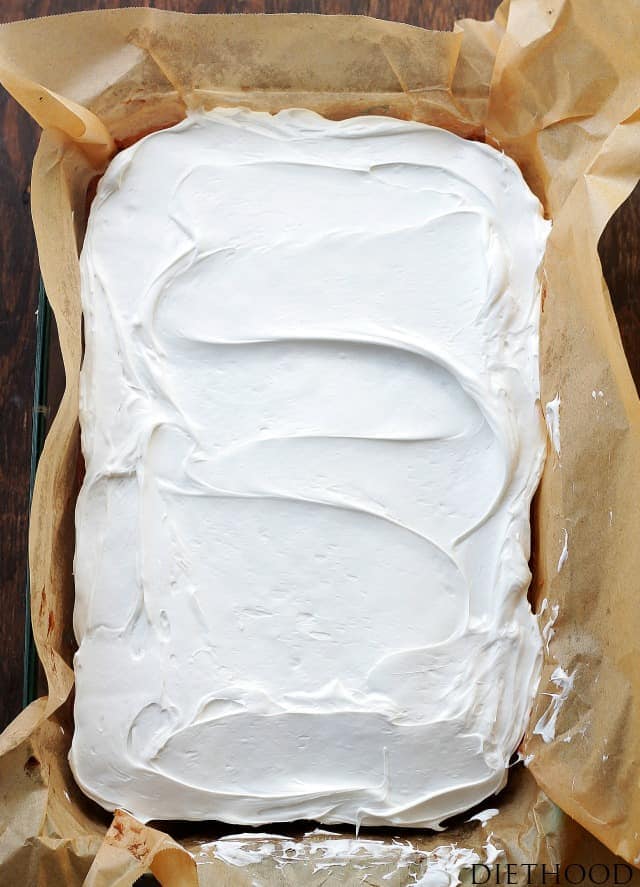 Did you see this? I made us a snack. (Another good reason for the treadmill…)
You know how we talked about the Better Homes and Gardens New Cook Book the other day? Well. I just couldn't put that book down. As soon as I got it, I made 2 cookie recipes, Spaghetti Sauce and this Banana Cake. I also made a German Chocolate Cake, but that one didn't last long enough for me to photograph it. The chocoholic in this house thought that it was a surprise for him. HA!
My blacker than black bananas that I kept in the fridge for 4 days were crying to be used, of course, but I was not about to make one more Banana Bread. Besides, my favorite one is this Blueberry Banana Bread, but since blueberries cost, like, $30 a pint this time of year, I've had to rethink my Saturday morning breakfast.
Thus in an effort to salvage the blackest bananas, ever, I turned to BHG's cook book and made this cake. Which, by the way, they call it Banana Bars. I think it's cake. It's very cakey. It's also moist, nutty, and sweet. Just what your morning coffee/tea needs.
ENJOY!
Banana Cake with Cream Cheese Frosting
Decadent, easy to make Banana Cake topped with a smooth Cream Cheese Frosting.
Total Time
1
hour
10
minutes
Ingredients
CAKE
1

stick

(8 tablespoons) butter, softened

1-1/3

cups

sugar

1-1/2

teaspoons

baking powder

1/2

teaspoon

baking soda

1/4

teaspoon

salt

1

egg

1

cup

mashed ripened bananas

, about 2 to 3 bananas

1/2

cup

sour cream

1

teaspoon

pure vanilla extract

2

cups

all-purpose flour

1

cup

chopped pecans
CREAM CHEESE FROSTING
1

package

(8-ounces) cream cheese, softened (I use 1/3 Less Fat Cream Cheese)

1

stick

(8 tablespoons) butter, softened

1

tablespoon

pure vanilla extract

5

cups

powdered sugar
Instructions
CAKE
Preheat oven to 350.

Lightly grease a 9x13 glass baking dish with cooking spray; set aside.

In a large mixing bowl beat butter on high until creamy; about 30 seconds.

Add sugar, baking powder, baking soda, and salt; beat until combined.

Add egg, mashed bananas, sour cream and vanilla; beat until incorporated.

Mix in the flour; continue to mix until combined.

Stir in pecans.

Transfer batter to previously prepared baking dish and, using an offset spatula, spread batter evenly.

Bake for 30 to 40 minutes, or until a toothpick inserted in the center comes out clean.
In the meantime, prepare the Cream Cheese Frosting.
In your mixer's bowl, combine cream cheese, butter and vanilla; mix until fluffy and completely combined.

Slowly add powdered sugar, about 1/3-cup at a time; continue to mix until smooth and thoroughly incorporated.

Remove cake from oven and let cool on a wire rack.

Frost with previously prepared Cream Cheese Frosting.

Cut and Serve.