These easy Banana Bread Scones have the sweet and delicious taste of Banana Bread in a scone! A.K.A. Comfort Food. This scone recipe is perfect for breakfast or a quick snack.
THE PERFECT FLUFFY SCONES FOR BANANA LOVERS
HEY YOU!! Happy, HAPPY MONDAY!
Cool people put bananas in their scones! But, first. Should I tell you about my Frozen-filled weekend? Yes. Yes, I should.
Ana's Birthday Party was yesterday and, if you ask me, it looked more like we were celebrating Elsa and less like we were celebrating Ana's 5th. We had the movie Frozen playing on our 1000-inch TV (exaggerating!), Frozen soundtrack BLASTING from her bedroom, and 8 little girls singing Let It Go as loud as they possibly could.
Do you know how loud a bunch of 5 and 6 year-old girls ARE? HOLY ears-ringing!!
Another thing? Instead of cleaning up the mess, I watched Sweet Home Alabama after everyone left. I had to unwind. That bottle of Chardonnay was of huge help!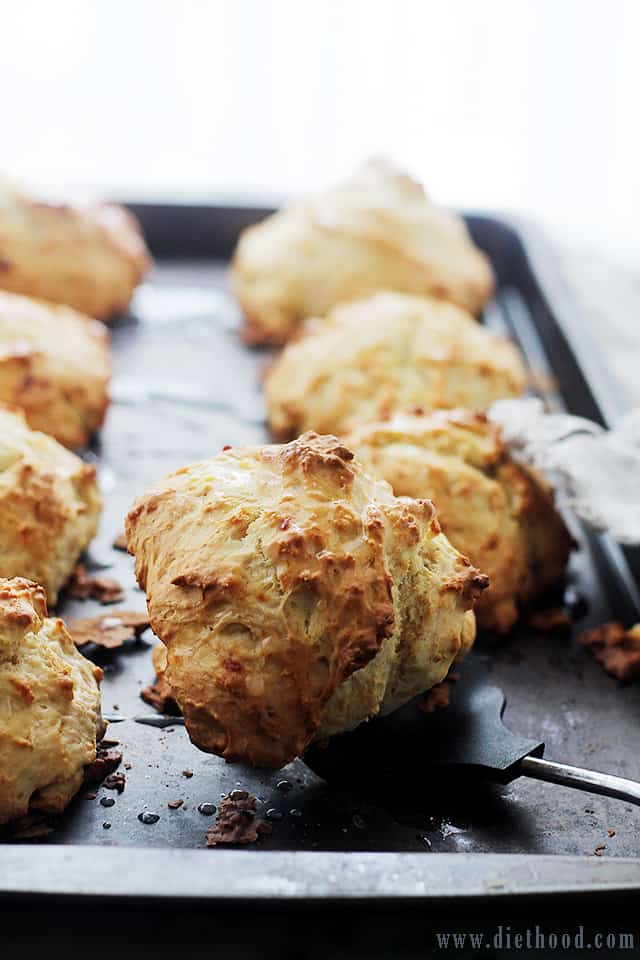 You know, I also have to let you in on a little secret.
I don't measure flour. I don't measure sugar, either. I just eyeball every.thing.
This is me talking to myself, out loud, which is pretty normal:
"Meh. That looks like 1/2-cup… THAT is definitely about a teaspoon… Hm… This is about 1/4-ish cup… give or take…"
You know what happens when you eyeball? When BAKING?!?
Yah. Sometimes (alotta times) it does.not.work.out.
It's cool, though… I just get to eat 3-times more banana bread scones than you.
Have to admit, I'm SO glad that my dad also could care less about perfect texture thus he always helps me out with eating up my imperfect sweets. It happens very, veeery often… Not to worry – I always figure it out by whipping-out those measuring cups and spoons.
The thing about scones is that, one, they're good for breakfast, and two, they're good for a snack, and three, they're good for any time of the day.
Since staring at these scones should totally convince you to make them, I will not make a big closing argument about why you SHOULD make them! AND, while I'm still telling you what to do, make sure to measure out 1-CUP mashed banana. 😀
ENJOY!
Banana Bread Scones
These easy Banana Bread Scones have the sweet and delicious taste of Banana Bread in a Scone! A.K.A. Comfort Food. This scone recipe is perfect for breakfast or a quick snack.
Ingredients
For the Scones
3

cups

flour

1/3

cup

sugar

1

tablespoon

baking powder

1/2

teaspoon

salt

4

tablespoons

cold butter

, cut into 1/4-inch pieces

1/2

cup

milk

(may need to add more)

1

egg yolk

, lightly beaten

1

teaspoon

pure vanilla extract

1-

cup

mashed banana
For the Glaze
1

cup

powdered sugar

1

teaspoon

pure vanilla extract

2

to 3 tablespoons water
Instructions
Preheat oven to 400 Fahrenheit.

Grease a large, heavy baking sheet with cooking spray and set it aside.

In a large mixing bowl, combine flour, sugar, baking powder, and salt; mix until well combined.

Rub the butter into the dry ingredients with your fingers, or with a pastry cutter; rub until the mixture resembles fine crumbs.

Make a well in the center and pour in milk, egg yolk, and vanilla.

Add mashed banana.

Using a wooden spoon, combine all the ingredients just until the dough comes together.

Transfer the dough onto a lightly floured surface and knead the dough five times.

Flatten ball into a disk; cut dough-ball into 8 wedges or rounds.

Put all the wedges on the baking sheet, leaving about 1/4-inch space between them.

Bake the scones for 15 to 18 minutes, or until golden brown.

Let cool for a few minutes and then transfer the scones to a wire rack.
In the meantime, make the glaze.
In a small mixing bowl whisk together powdered sugar, vanilla and 2 tablespoons water; whisk until smooth and combined. If the glaze is too thick, add 1 more tablespoon water and whisk until smooth.

While still warm, brush each scone with the glaze.

Serve.
Nutrition
Calories:
357
kcal
|
Carbohydrates:
67
g
|
Protein:
6
g
|
Fat:
7
g
|
Saturated Fat:
4
g
|
Cholesterol:
40
mg
|
Sodium:
206
mg
|
Potassium:
322
mg
|
Fiber:
2
g
|
Sugar:
27
g
|
Vitamin A:
250
IU
|
Vitamin C:
2.5
mg
|
Calcium:
95
mg
|
Iron:
2.4
mg
|
Net Carbs:
65
g
Nutritional info is an estimate and provided as courtesy. Values may vary according to the ingredients and tools used. Please use your preferred nutritional calculator for more detailed info.
Blueberry Scones with Blueberry Cream Cheese Frosting