Cheesy, creamy and delicious, this Apple and Cheddar Cheese Soup is made with tart apples and shredded cheddar cheese. It's a quick and easy weeknight meal the whole family will love!
If you love apples and cheddar together as much as I do, you should also try my Apples and Cheddar Chicken Salad Recipe and my Polenta Cakes with Apples and Cheddar.
I Love Apple Recipes During The Fall
Don't know about you, but Pumpkin and Apples are my favorite Fall foods. As if you couldn't tell…
If you've been around these parts for just a few weeks, you have noticed that I'm pretty much obsessed with these two lovelies. Then again, how can you go wrong with Apple Rings and Chocolate Pumpkin Peanut Butter Cups!! You just can't.
My apple recipes have all been inspired by my apple tree. It's huge. It's beautiful. And IT.IS.FULL! Well, it was full … now it's on its last few apples and those are about to come down because of the first frost that we had last night. Blah. Can't buhlieve we're that much closer to winter. GAH! Anyways!
… okay, now that I think about it, this weather-thing ain't that bad… before you know it, we will be knee-deep in peppermint and chocolate! YAY!
But, for now, it's about the apples. (I'm still thinking about peppermint and chocolate) … focussss! Apples.
I asked my Facebook followers what apple recipe they would like to see first and the vote for soup won by a landslide!
This Apple Soup Recipe Is One of My Favorites
Have you ever had apples in soup? The first time I tasted apples in soup, I was at this little French Bistro called Bon Femme Cafe. It was small, it was dark, and very colorful. I loved it! Playing 1920's jazz made me love it that much more! I used to frequent that place with my friends and the whole apples-in-soup just stuck with me.
I don't have their recipe, nor is this soup anywhere near their version, but I love it. In fact, I love it more! As far as I see it, if it comes straight from your own kitchen, it will always taste better because of one extra ingredient – love! I sound like Marie from Everybody Loves Raymond, but that's the truth… you agree, right?!
How To Make Apple Cheddar Soup
This soup starts off as any other soup recipe – onions, carrots, broth. I use my homemade veggie broth, but you are welcome to use whatever you've got. Chicken broth is fine, too. I also added a bit of apple juice to it! Don't worry, it tastes great! If you don't think you will like that, use broth or water instead. But I think you need to try it with the juice, first. Come awwwwn! Live on the edge for a bit, you daredevil, you!! 😉
ENJOY!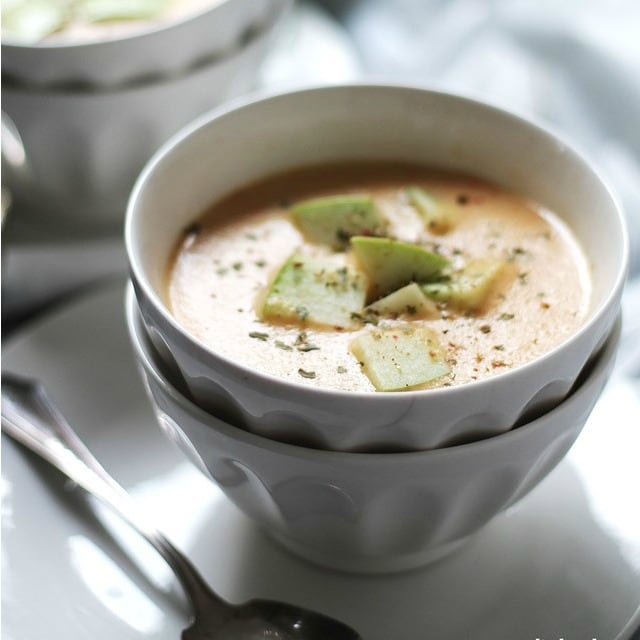 Apple and Cheddar Soup
Cheesy, creamy and delicious, this Apple and Cheddar Cheese Soup is made with tart apples and shredded cheddar cheese. It's a quick and easy weeknight meal the whole family will love!
Ingredients
3

tablespoons

butter

1

yellow onion

, diced

1

large carrot

, sliced into thin rounds

salt and fresh ground pepper to taste

1/4

cup

all-purpose flour

2

teaspoons

chili powder

4

cups

vegetable broth

1

large tart apple

, diced

1

cup

apple juice

1-1/2

cups

shredded cheddar cheese

salt and fresh ground pepper

1

tart apple

, diced, for garnish (optional)
Instructions
Melt butter in a large saucepan or soup pot.

Add onion and carrot; cook over medium-low heat for 7 to 8 minutes, or until vegetables are tender.

Stir in flour and chili powder.

Slowly add broth and continue to stir until everything is well combined.

Add apple to soup and cover.

Reduce heat to a simmer and continue to cook for about 10 minutes, or until soup is thick and apples are tender. Stir occasionally.

Slowly stir in apple juice and shredded cheddar cheese.

Continue to cook and stir until cheese is completely melted.

Remove from heat.

Let cool for 2 minutes.

Transfer to a blender and blend until smooth.

Taste for salt and pepper.

Ladle soup into bowls and garnish with diced apple.

Serve.
Nutrition
Calories:
235
kcal
|
Carbohydrates:
33
g
|
Protein:
5
g
|
Fat:
10
g
|
Saturated Fat:
6
g
|
Cholesterol:
25
mg
|
Sodium:
1132
mg
|
Potassium:
277
mg
|
Fiber:
3
g
|
Sugar:
19
g
|
Vitamin A:
3685
IU
|
Vitamin C:
7.7
mg
|
Calcium:
86
mg
|
Iron:
0.9
mg
|
Net Carbs:
30
g
Nutritional info is an estimate and provided as courtesy. Values may vary according to the ingredients and tools used. Please use your preferred nutritional calculator for more detailed info.
Categories: