Garden fresh tomatoes stuffed with a mixture of orzo and ricotta cheese.
Hi sweethearts! Happy hump-day!
Wanna know what I'm doing? I'm searching travel sites. No, I'm not going anywhere, but I feel like if I just go and search for some vacation packages, that I'm somehow closer to planning a trip to paradise. Do you do that, too!? It's a fun game to play with your brain… let it believe that you're going to take a rest.
Soooo, Punta Cana looks good. So does Madrid. And Aruba…
In all honesty, Wisconsin Dells will do me just fine at this point! We just better get to it before the snow gets to us. You know that's going to happen, right? I mean, we've had a weird summer – 60 degrees in July, 102 degrees in August. Nuts! The pattern will surely continue and we will have snow on the ground by October. Mark my words. Or not. 🙂
Oh. My bad. I'm supposed to talk about these Ricotta and Orzo Stuffed Tomatoes.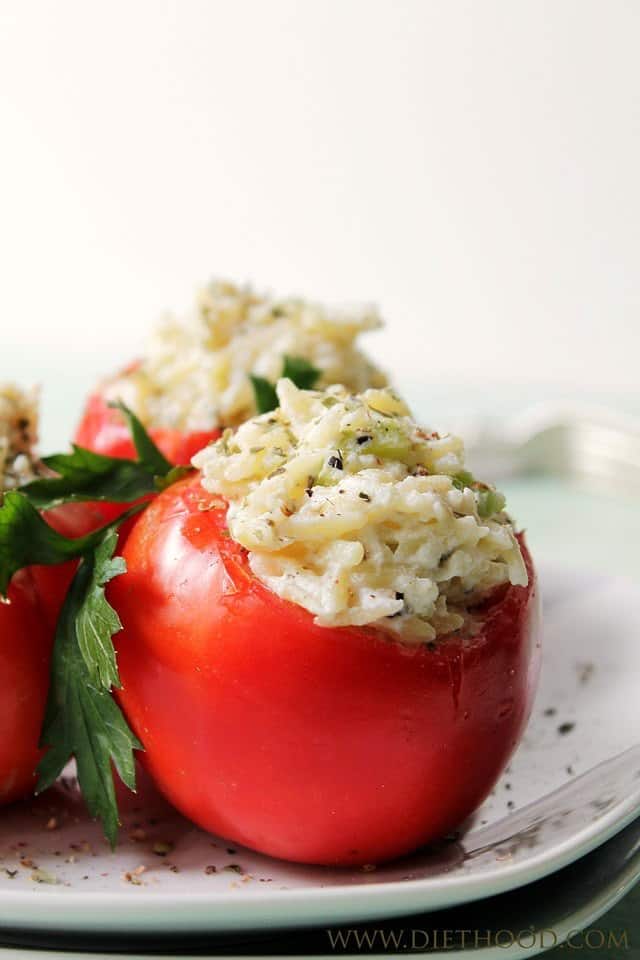 Well. In case you didn't notice, my stuffing-food adventures continue… We've got stuffed peppers, stuffed burgers, stuffed cannelloni, etc…
And now, again, I stuffed some tomatoes! What else can I do with all of this love that my garden is giving us?
See?!?
I made some spaghetti sauce, a bunch of salads, salsas… I also ate them plain with a sprinkle of sea salt. And I made those Quinoa and Spinach Stuffed Tomatoes for the umpteenth time this summer.
Now that I wrote it all down, I come to think of it, we eat pretty damn good around this household! Lucky them to have me!
Anywho. Back in the day, when I lived in Chicago, I used to frequent this authentic Italian restaurant and I always ordered the same appetizer, Ricotta Orzo Salata. It was out of this world delicious! I don't know what was all in it, but it stuck with me. I often try to remake it, but it never comes out quite like it. I'm thinking the chef, a.k.a. Nonna, had a secret ingredient that she didn't want to share.
This is my version of that salad, and it's not that it isn't just as delicious, because it is, but it's still not quite like the one. Normally, I don't stuff this salad into anything but my mouth, however, this time, because of the onehundredthousandbillion tomatoes that we have, I stuffed it in there and it turned out really, really good. I mean great. I mean WOW! Finger lickin', lip smackin', mouth droolin', WOW!
SO! GOOD!
Make it! Pronto!
ENJOY!
Ricotta and Orzo Stuffed Tomatoes
Garden fresh tomatoes stuffed with a mixture of orzo and ricotta cheese.
Ingredients
8

to 10 tomatoes

boiling water

1

cup

uncooked orzo

1-1/2

cups

Ricotta

1

green bell pepper

, finely diced

2

tablespoons

dried oregano

1/4

cup

fresh parsley

, chopped

3

garlic cloves

, minced

salt and fresh ground pepper

, to taste

1

lemon

, zested and juiced

3

tablespoons

olive oil
Instructions
Line a large plate or a baking sheet with foil.

Slice off the stem end of the tomatoes and hollow out the inside.

Slice just a small section off the bottom of the tomatoes so that they will sit flat on a plate.

Sprinkle salt in the hollow portion of each tomato and place hollow-side down; set aside.

Stir 1 cup uncooked orzo into boiling water.

Cook for 5 minutes.

Drain and wash with cold water.

Let completely cool.

In a large mixing bowl, combine ricotta, diced pepper, oregano, parsley, garlic, zest, lemon juice, salt, pepper, and olive oil; mix it all together.

Gently fold in the orzo.

Taste for salt and pepper, and adjust.

Using a large spoon, fill the tomatoes with the orzo mixture and set them on a serving plate.

Refrigerate for 1 hour.

Garnish with parsley flakes and dried oregano.

Serve.
Notes
*** "Total Time" includes refrigeration time.
Nutrition
Calories:
141
kcal
|
Carbohydrates:
18
g
|
Protein:
4
g
|
Fat:
6
g
|
Saturated Fat:
1
g
|
Cholesterol:
6
mg
|
Sodium:
18
mg
|
Potassium:
339
mg
|
Fiber:
2
g
|
Sugar:
3
g
|
Vitamin A:
1060
IU
|
Vitamin C:
31
mg
|
Calcium:
62
mg
|
Iron:
1.1
mg
|
Net Carbs:
16
g
Nutritional info is an estimate and provided as courtesy. Values may vary according to the ingredients and tools used. Please use your preferred nutritional calculator for more detailed info.
Categories: