Are you on the lookout for easy and healthy soup recipes? This roundup of My 20 BEST Soup Recipes is full of flavorful, nutritious soups that are perfect for hearty lunches and quick dinners!
The Best Healthy Homemade Soup Recipes
There's nothing better than a piping-hot bowl of soup or stew to warm up with in the cold weather. Plus, when you make a big batch of it, you've got multiple servings for quick lunches or dinners throughout the week ahead! Here a list of 20 homemade soup recipes of varying flavors and types for you to choose from and try out.
CLICK ON THE TITLES TO GET THE RECIPE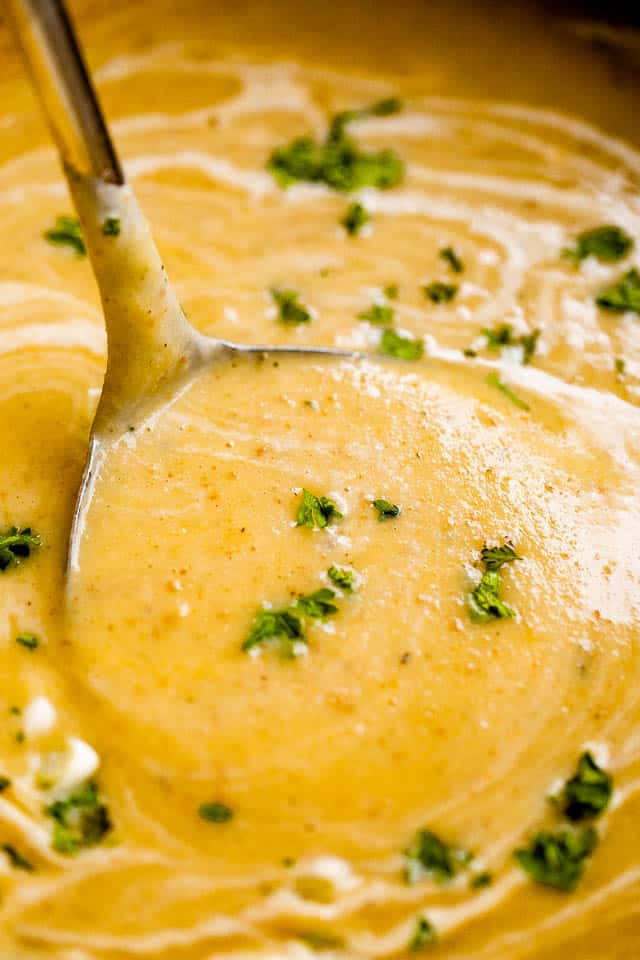 To start off, I want to introduce you to this slow cooker cauliflower soup! Made with cauliflower, baby potatoes, and cheddar cheese, it's both healthy, and deliciously rich and creamy. The earthy herbs and root vegetables also make it the perfect soup for fall or winter. But best of all, it's a slow cooker recipe, so you can just put everything in the cooker, set a timer, and walk away until it's ready!
This broth-based soup also cooks up into a hearty meal that will get you through the winter months. It has smoky cubed ham, onions, carrots, and protein-filled great northern beans. Not only is this savory soup nourishing, but it's also ready in just 30 minutes!
Instant Pot Chicken Pho is a Vietnamese noodle soup that the whole family will love. Like chicken noodle soup, it's got carrots and juicy chicken thigh meat, but it also has rice noodles and an abundance of spices and herbs that will make your mouth water! Made in the Instant Pot, you can have a bowl of this homemade pho on the table within 40 minutes.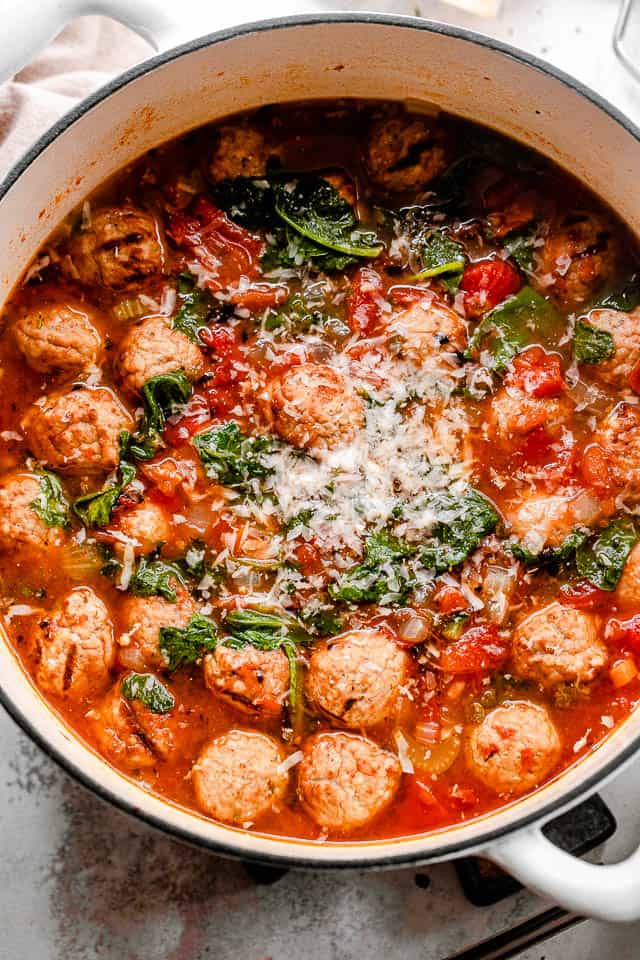 Meatball soup, made with juicy, tender meatballs and a rich tomato broth, is exactly the easy soup to start off your fall with. Mixed in with carrots, celery and kale, this soup is both healthy and hearty. Feel free to serve some toasted bread with a bowl of this yummy soup!
If you're looking for a light and healthy vegetable soup, this is the soup for you. Cabbage soup is made with zucchini, peppers, broccoli florets, a fire roasted tomato broth, and of course, cabbage. Low calorie soups like this one can make dieting a delicious experience!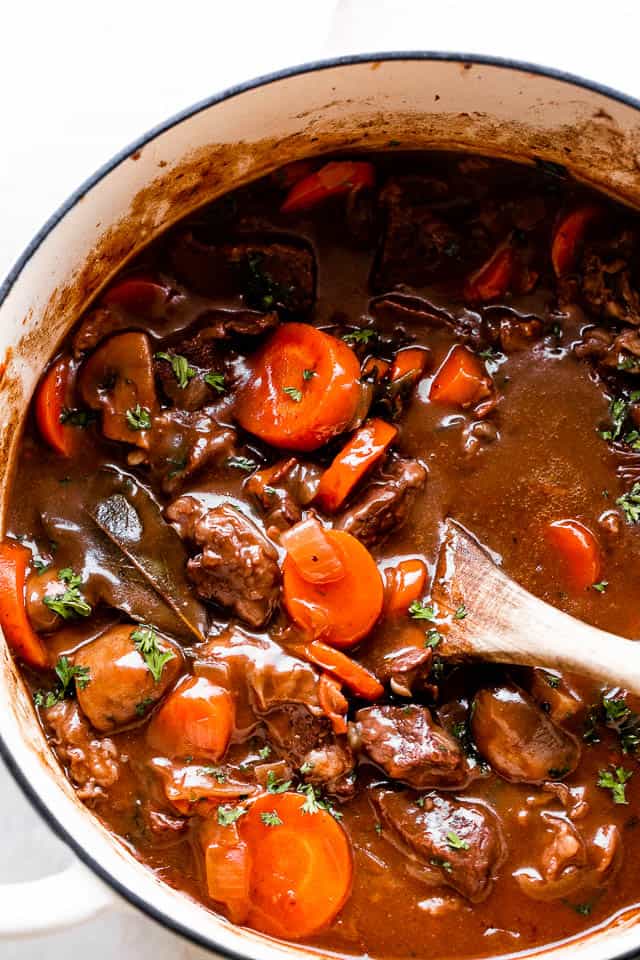 This Beef Bourguignon is technically a stew, but its red wine sauce makes it kind of soup-like! Regardless of whether you consider it to be a soup or a stew, it's something you must try. Tender beef simmers in beef broth with bacon and mushrooms, filling your kitchen with a heavenly scent that will have the whole household excited for dinnertime!
You're reading that correctly! Cheeseburgers are not just for the grill anymore, you can also enjoy them in soup form. When it's wintertime and you're craving a juicy, cheese-covered burger, make a pot of this soup instead. Gather up some ground beef and cheddar cheese to prepare the base for the soup, and then top it all off with some bacon, tomato, and pickles!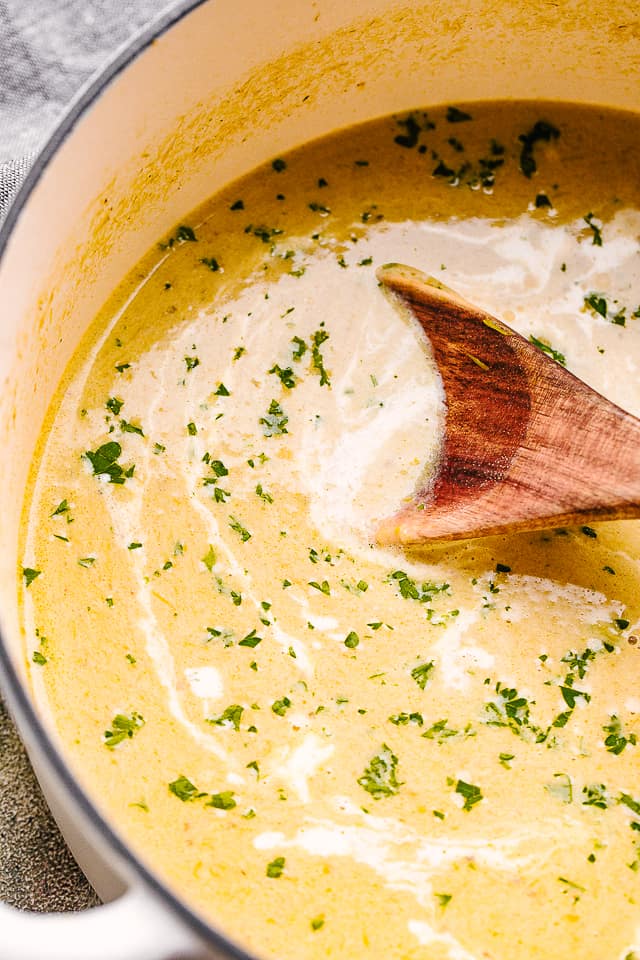 Preparing a meal doesn't get much easier than this asparagus soup. It's made in 30 minutes with just 6 ingredients and a couple of seasonings! This creamy vegetarian soup prepared with stalks of asparagus is low carb, keto-friendly, and perfect for a light lunch or appetizer.
Quick and easy comfort food is the name of the game here. Creamy broccoli cheese soup prepared with chicken is done in 20-25 minutes, and it's a total hit with everyone in the family every time we make it. Plus, you can load it up with broccoli, carrots, and onions, and other vegetables if you want, to up that daily veggie count!
Sometimes there's nothing better than a warm bowl of rich tomato soup, served with a gooey grilled cheese sandwich. Made with cherry tomatoes, garlic, and basil, this roasted tomato soup is flavorful and lively. Why eat canned tomato soup when you can make your own with healthy, fresh ingredients?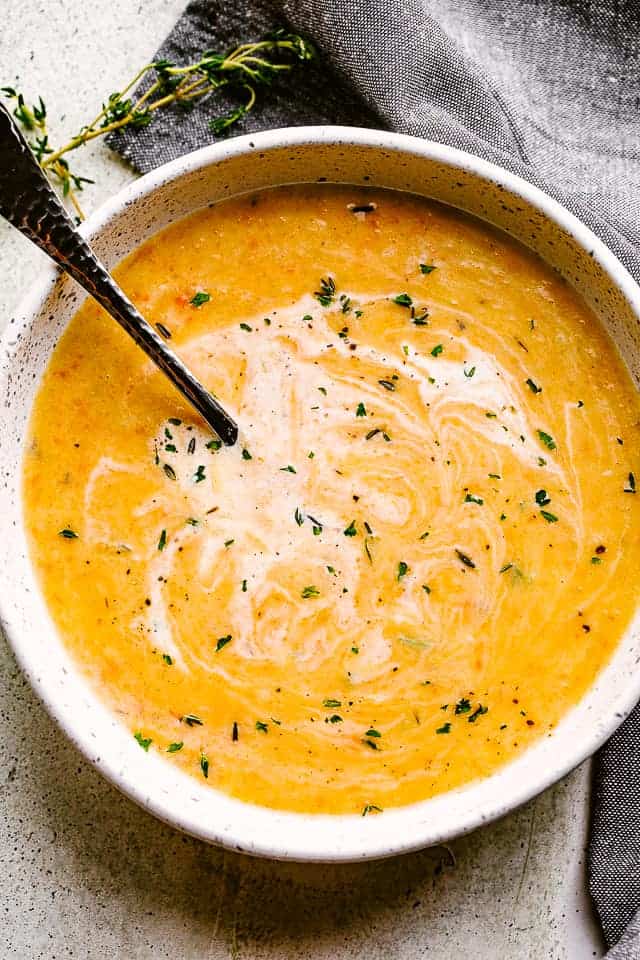 If you're on the lookout for more filling vegetarian dinners, I highly recommend this leek and potato soup. It's made with tender, Yukon Gold potatoes and flavorful leeks, and each creamy mouthful is a treat. I love preparing this French soup in the slow cooker because even though it takes 8 hours to cook, I can do all the prep work in the morning and then go about my day!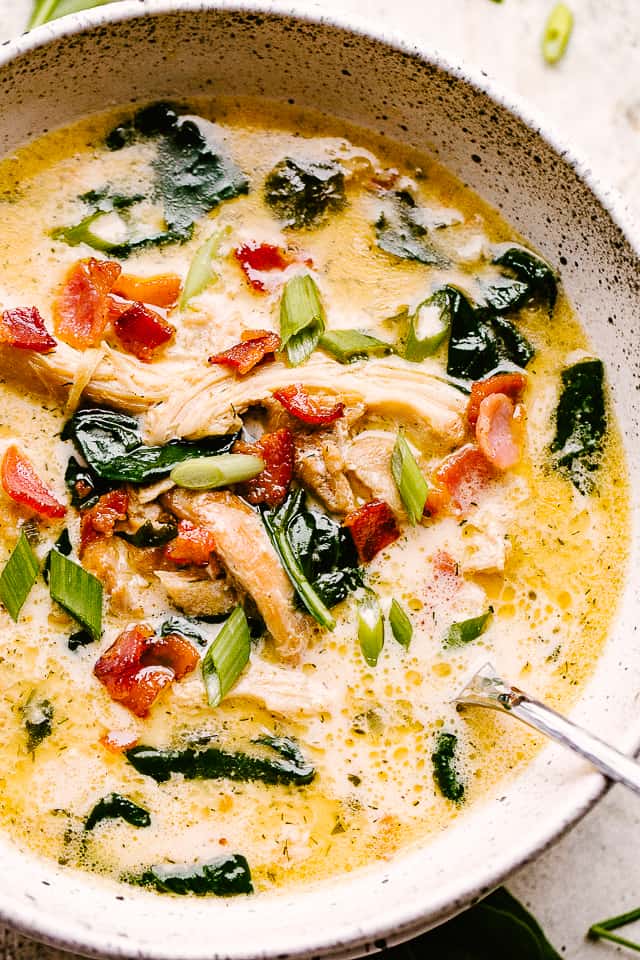 Have you tried crack chicken before? If you haven't, you definitely should, and you should definitely try this crack chicken soup too! It's totally rich and creamy, and every yummy bite is filled with chicken, bacon, spinach, and cheesy ranch flavor. Take your regular chicken soup and turn it up a notch!
If you're a fan of creamy tortellini dishes, you will absolutely love this chicken tortellini soup. It's packed with healthy veggies like carrots, celery and spinach, it's got juicy, cubed chicken, and of course, cheesy tortellini. Treat yourself to a big bowl of creamy tortellini soup, cooked in just 15 minutes in the Instant Pot!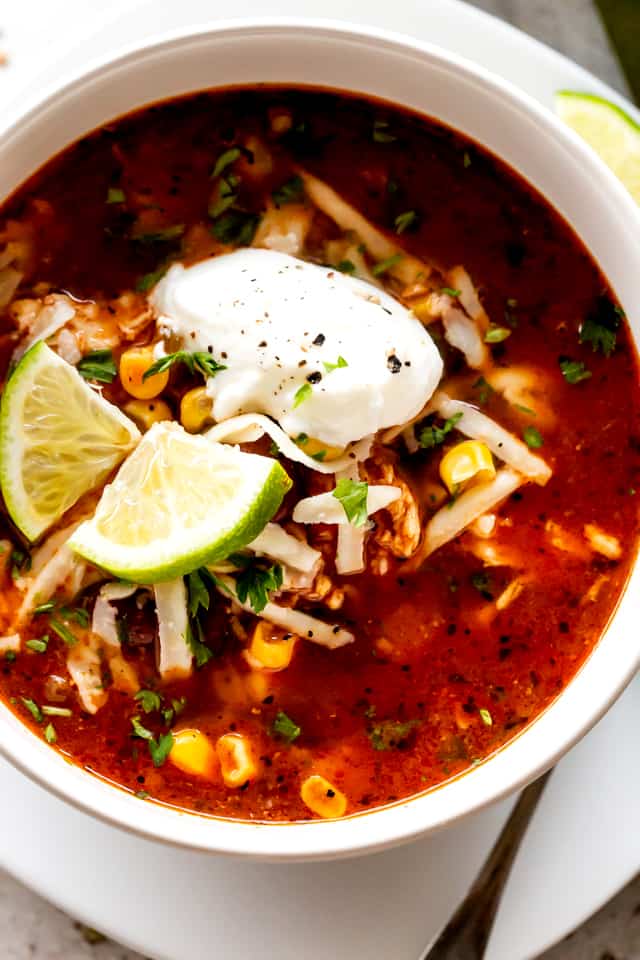 Like I mentioned above, slow cooker soup recipes are the best friend of families on the go. Do the prep work in the morning, and then come home to a delicious dinner like this chicken enchilada soup! With chicken, beans, tomatoes and corn, it tastes just like your favorite spicy chicken enchiladas recipe, right down to the sour cream and shredded cheese toppings.
If you're looking for lighter soups that aren't as rich and creamy, give this white bean soup a try. Tuscan white bean soup is prepared with great northern beans, carrots, corn, spinach, and other vegetables. It's a super easy one pot meal that makes a great lunch and a quick dinner, when paired with some toasted bread and grated parmesan!
Got any leftover turkey sitting around in your fridge or freezer? If so, I definitely recommend making this orzo soup – it's my go-to recipe after Thanksgiving. Start with a tomato broth, and then add some more tomatoes, spinach, orzo, and turkey. A pot of this 30-minute soup makes a great light dinner that the whole family is bound to enjoy.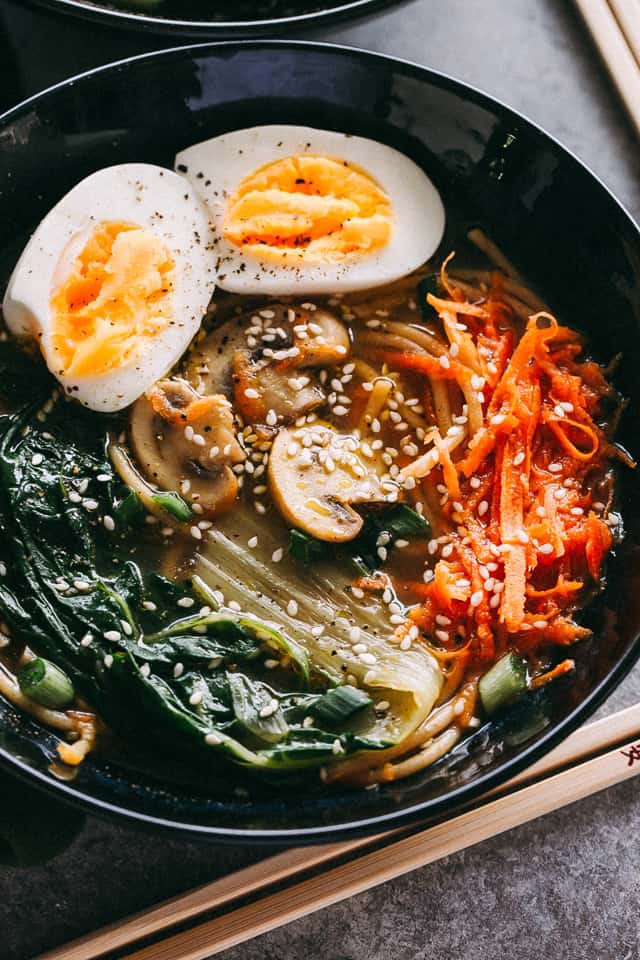 Soba noodle soup is an easy Japanese soup recipe that is traditionally eaten on the last day of the year for good luck. However, I like to make it throughout the year because it's just so darn tasty! You can put it together in 30 minutes, with the help of some mushrooms, bok choy, hard boiled eggs, and soba noodles.
If you're in the mood for a zesty, hearty Mediterranean soup, this Italian sausage soup is the perfect choice. It's loaded with onions, fresh kale, cannellini beans, and sausage links. In just 40 minutes you can have a bowl of this healthy, aromatic soup on the table and ready to be eaten. Add it to your must-make list of soup recipes, your stomach will thank you!
I love butternut squash soup. It's THE soup for fall, and I make it all through the winter, too. There's nothing like sitting down to a silky smooth bowl of creamy squash soup, with it's subtle yet rich flavors. If you've got a butternut squash that you're trying to decide what to do with, make this soup! You won't have any regrets, I promise.
To finish off the list, we have Gnocchi Zuppa Toscana Soup. If you're a fan of the Olive Garden classic, I have a homemade version that is going to blow your mind. It's composed of Italian sausage, potato gnocchi, fresh kale, and more! Serve up a bowl of this creamy soup with some crispy toasted bread, and you've got dinner in the bag.
I hope you enjoy these soup recipes as much as I do!