This easy Coffee Smoothie recipe is the perfect way to start your morning! Made with coffee, oats, flaxseeds and bananas it's a healthy coffee recipe for people on the go.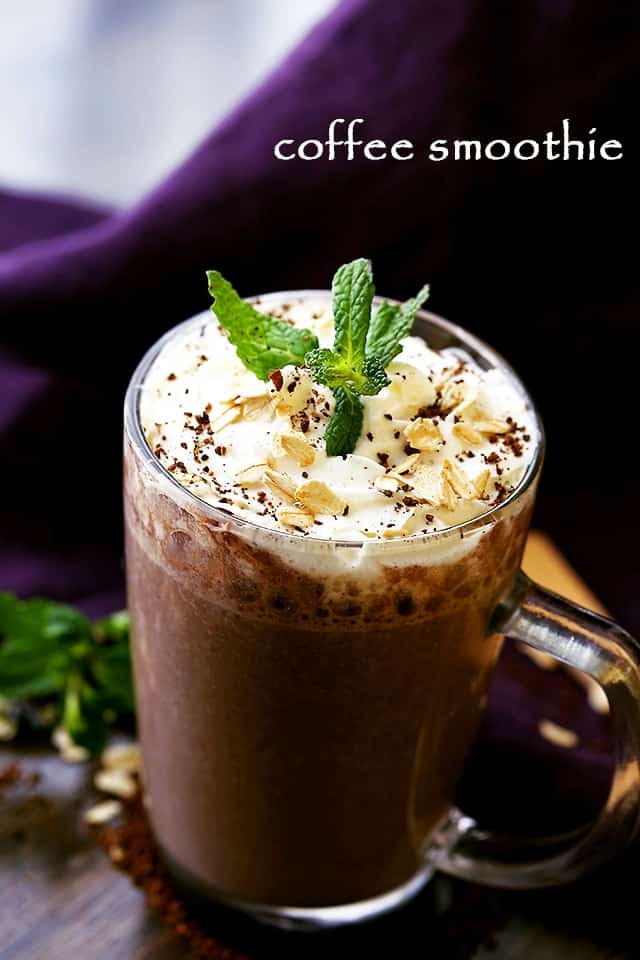 EASY AND HEALTHY COFFEE SMOOTHIE RECIPE
So much romance and poetry comes to mind when I think of this coffee smoothie. Written words like, wake me UP before you go-go, don't leave me hanging on like a yo-yo…
Hey Hey, pretties!! High-Fives to all the Broncos fans! That was a fantastic game. I enjoyed it all, through and through. The food, especially.
P.S. Remember what I told you yesterday about Peyton not being so "hot"? Another reason to NOT listen to the InternetS. Thank goodness I don't gamble. I'm too cheap for that.
P.P.S. I missed 99% of the commercials because that's when I would head over to the buffet spread and fill up my plate, again and again and again. Today's workout is going to be 6 hours long.
Also? Gaga! Did you love her, or did you LOVE her?! I sat with my mouth open. In.credible. She's all of that, plus a bag of chips and a diet coke, with a double combo of a whopper and a big mac.
Can I also tell you about the two most searched recipes on my blog as of this morning? Apple Chips and Green Berry Smoothie. Something tells me I wasn't the only one hogging the buffet spread last night.
Can I also just tell you some truth? I almost always think that it's a cop out to share a smoothie recipe. Like, seriously, you're telling people how to throw stuff in a blender. Like, really??
BUT! There's always a but.
Sometimes, I feel, it is unfair NOT to share something that you know is amazing, and that your friends must also have it and would possibly benefit from it.
Currently, I'm feeling selfish because, since last June, this has been my go-to breakfast smoothie about twice a week. The other times, it's a green smoothie or a berry smoothie. That's my rotation. P.S. My husband does all the blending, I just tell him what to throw in there.
Plus, plus, plus! When I can eat nothing else but simple things to grab on the go, throwing a bunch of good-for-your-bod things in a blender totally works!
So anywho. This recipe makes just one coffee smoothie. My other half is not into coffee – sidenote: people that don't drink coffee?!? are they human?! – thus I am on my own Monday mornings and Friday mornings. If y'all want more than 1 cup, double the recipe. Triple it, quadruple it. Whatever works for you. ☕ Just don't omit any of the things in here. All the ingredients work perfectly together to make a very healthy and incredibly delicious Coffee Smoothie. I promise. ♥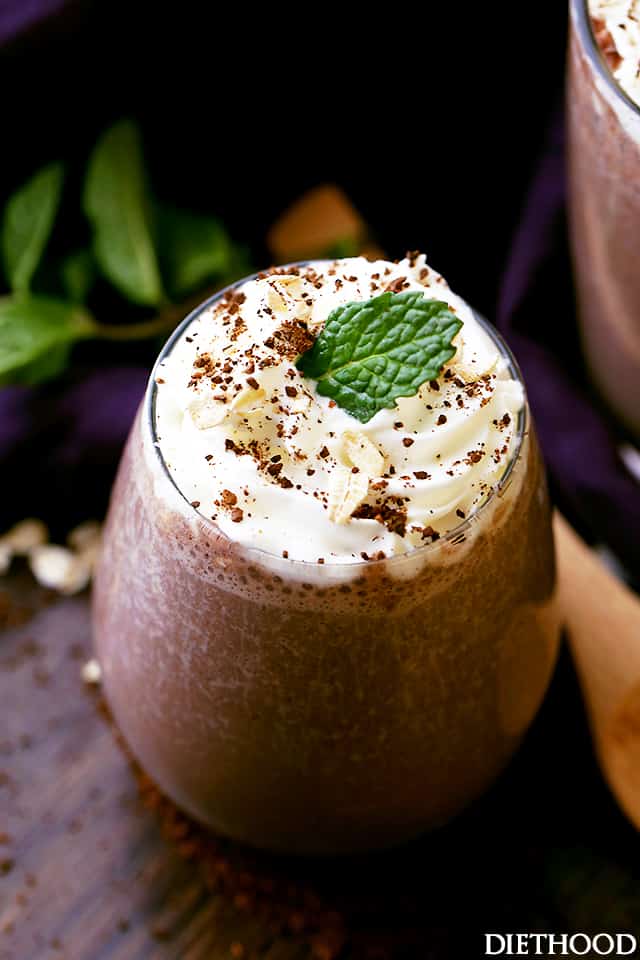 One more thing. Make the coffee the night before because you will need to pour it into an ice cube tray and freeze it before adding it to the blender the following morning. It's my way of allowing you to hit that snooze button a few times tomorrow morning.
ENJOY!
CRAVING MORE? SIGN UP FOR THE DIETHOOD NEWSLETTER FOR FRESH NEW RECIPES DELIVERED TO YOUR INBOX!
FOLLOW DIETHOOD ON FACEBOOK, TWITTER, PINTEREST AND INSTAGRAM FOR ALL OF THE LATEST CONTENT, RECIPES AND UPDATES.
WATCH HOW TO MAKE COFFEE SMOOTHIE
Coffee Smoothie
This easy Coffee Smoothie recipe is the perfect way to start your morning! Made with coffee, oats, flaxseeds and bananas it's a healthy coffee recipe for people on the go.
Ingredients
1

cup

strong brewed coffee

1

banana

1/4-

cup

rolled oats

1

tablespoon

cocoa powder

1

tablespoon

flaxseeds meal

1/8

teaspoon

ground cinnamon

1

cup

soy milk or almond milk

1

teaspoon

honey
Instructions
Pour coffee into an ice cube tray and freeze overnight.

Combine all the ingredients in a blender, including the coffee ice cubes and blend until smooth.

Taste for sweetness and adjust accordingly.

Serve.
Nutrition
Calories:
144
kcal
|
Carbohydrates:
26
g
|
Protein:
3
g
|
Fat:
4
g
|
Sodium:
167
mg
|
Potassium:
372
mg
|
Fiber:
4
g
|
Sugar:
10
g
|
Vitamin A:
40
IU
|
Vitamin C:
5.1
mg
|
Calcium:
164
mg
|
Iron:
1.1
mg
|
Net Carbs:
22
g
Nutritional info is an estimate and provided as courtesy. Values may vary according to the ingredients and tools used. Please use your preferred nutritional calculator for more detailed info.
SIMILAR RECIPES:
BLUEBERRY POMEGRANATE SMOOTHIE