Apples and Celery Pasta Salad with Light Caesar Dressing – Penne Pasta tossed with Gala apples, celery, walnuts and a lightened-up, homemade Caesar Dressing. The textures and flavors make this salad absolutely irresistible!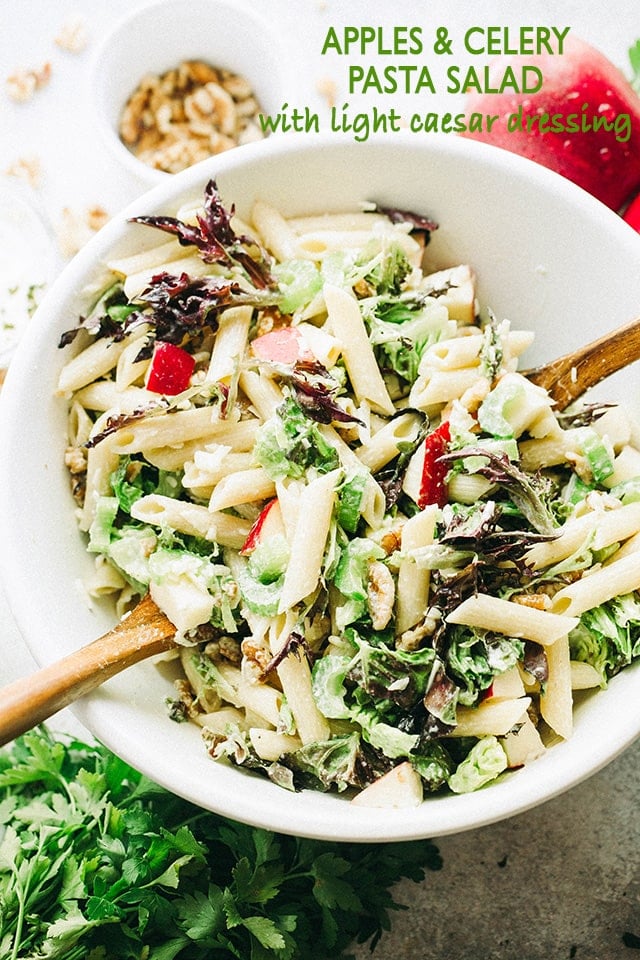 That one time I put [homemade!! lightened-up!!] Caesar Dressing on all the food I ate.
Hello, YOU! What's going on? Still getting over the Seahawks? (Superbowl 2015) Have a cupcake; that's the cure.
This recipe was originally published on February 4th, 2015. Updated with new photos and fresh content on June 18, 2017.
I need to come clean… I cannot stop singing Missy Elliott's Get UR Freak ON! It's been stuck in my head since Sunday night and it just won't leave!
Hunny, I must say that I FUH-LIPPED as soon as I heard that iconic Missy Elliott sound! My heart literally skipped a beat. YOU, TOO? Wasn't that awesome? I forgot to mention all this on Monday because I was still in shock! tuhn-tuhn-tuhn-tuhnahnahnahn! get-your-freak-ahn-get-your-freak-ahn!
Then I was hoping for New Kids On The Block to pop-out of somewhere, too! THAT would have been the best-est-est show on Earth!
I know I know… Salad!
p.s. my current fave Salmon Cobb Salad
I made you something really good, kind of familiar, but kind of not. Think Grandma's crunchy, mayo-creamy macaroni salad, however this ONE is not IT.
BUT.I.AM.IN.LOVE. This my was my lunch 3 days in a row! Swear it was. Cross my heart.
I'd just like to say I'm sorry for not posting enough salad recipes. I make some mean ones, too! Mean, as in damn good!
If you'd believe it, I eat a salad every.single.day. And because I am always starving, that salad-of-the-day is literally as big as my head and inhaled in about point-2 seconds. Then that salad is followed up by a granola bar, a small container of yogurt, and 3 m&m's.
Let's not mention the White Chocolate Chunk Cookies, m'kay?
So I bought this plastic container filled with baby sweet lettuce and in my attempt to use it all up, I tossed it with some apples and celery just to see what it would do. A quick taste-test told me to reach for the Caesar Dressing, so I did. On the other hand, everything tells me to reach over for that dressing…
A taste-test here, a taste-test there, penne pasta ended up in the mix, walnuts, too, and of course, cheeeeeese! White cheddar, to be exact.
Gosh golly. This salad is pretty loaded, ha? Just make it. I promise you'll love it!
ENJOY!

CRAVING MORE? SIGN UP FOR THE DIETHOOD NEWSLETTER FOR FRESH NEW RECIPES DELIVERED TO YOUR INBOX!
FOLLOW DIETHOOD ON FACEBOOK, TWITTER, PINTEREST AND INSTAGRAM FOR ALL OF THE LATEST CONTENT, RECIPES AND UPDATES.
TOOLS AND INGREDIENTS USED IN THIS RECIPE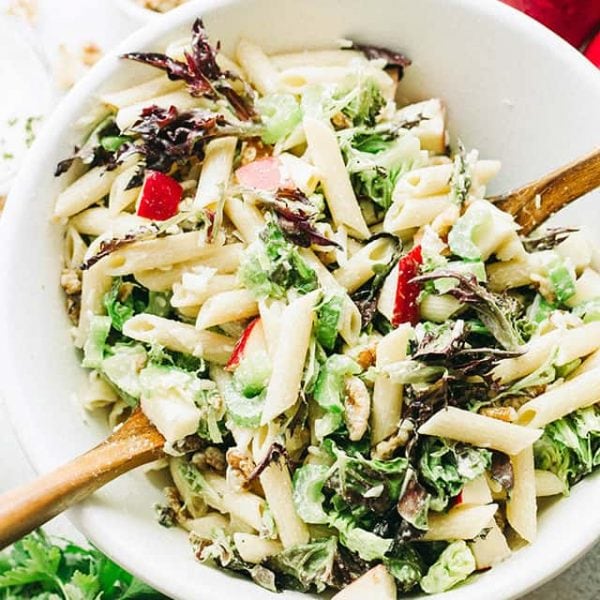 Apples and Celery Pasta Salad with Light Caesar Dressing
Penne Pasta tossed with Gala apples, celery, walnuts and a lightened-up, homemade Caesar Dressing.
Ingredients
FOR THE SALAD
2

cups

low carb penne pasta

, uncooked

1

to 2 Gala Apples

, washed and cut into cubes (leave the skins on)

3

celery stalks

, thinly sliced

lemon juice of 1 whole lemon

4

cups

fresh sweet baby lattuce blend

(you can also use about 2 to 3 romaine hearts, chopped)

1/2-

cup

chopped walnuts

1

cup

shredded white cheddar cheese
FOR THE LIGHT CEASAR SALAD DRESSING
1/2-

cup

NonFat Plain Yogurt

(I use Dannon)

1-1/2

tablespoons

dijon mustard

1

garlic clove

1

tablespoon

water

(add 1 more tablespoon for a thinner consistency)

2

tablespoons

grated parmesan cheese

salt and fresh ground pepper

, to taste
Instructions
Cook pasta according to the directions on the box.

Drain pasta and let stand under cold running water until completely cooled. Set aside.

In a mixing bowl, combine chopped apples and celery; add lemon juice and toss to combine. Set aside.

Arrange lettuce on a large serving plate or a large salad bowl.

If wet, pat dry the penne pasta and add it to the salad.

Top with apple-mixture, walnuts and cheese. Set aside.

Prepare the dressing by combining all ingredients in a blender.

Blend until creamy and smooth.

Drizzle over salad.

Taste for seasoning and adjust accordingly.

Serve.
Notes
This salad can be served as a main, a side, a delicious lunch, an appetizer, or bring it to a potluck!
WW SMART POINTS: 5 (based on 8 servings)
Nutrition
Calories:
192
kcal
|
Carbohydrates:
15
g
|
Protein:
14
g
|
Fat:
10.3
g
|
Saturated Fat:
3.3
g
|
Polyunsaturated Fat:
3.6
g
|
Cholesterol:
14.1
mg
|
Sodium:
236.5
mg
|
Fiber:
4.2
g
|
Sugar:
6
g
|
Net Carbs:
11
g
Nutritional info is an estimate and provided as courtesy. Values may vary according to the ingredients and tools used. Please use your preferred nutritional calculator for more detailed info.
Categories:
SIMILAR RECIPES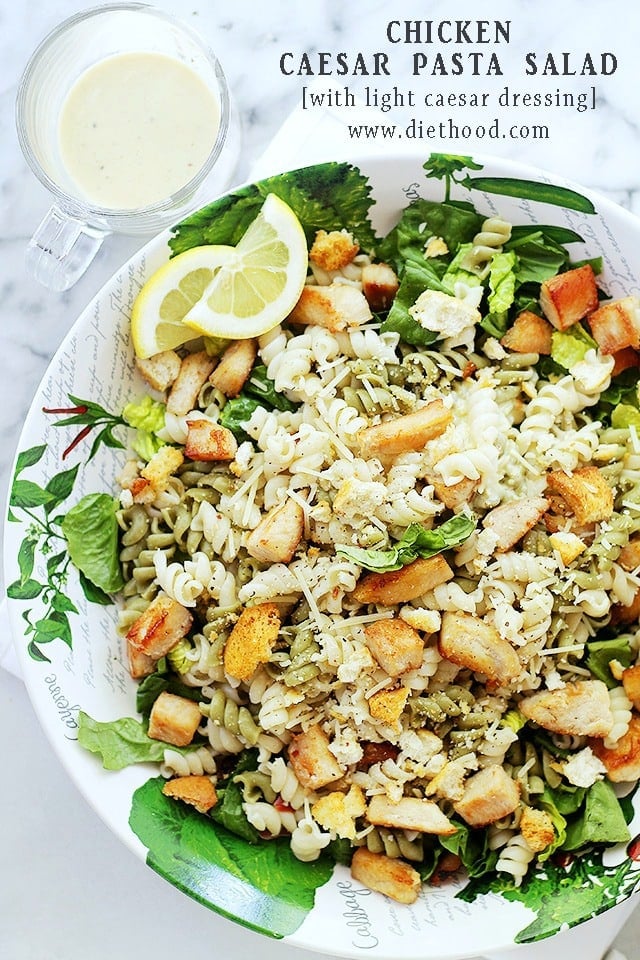 Chicken Caesar Pasta Salad with Light Caesar Dressing