I have to talk about something… Something funny, but always weird… We people are a funny bunch.
The other day I went to the docs for an annual check-up. Don't worry, I'm not about to share a story that involves heartburn and postpartum hip/pelvic pain.
Okay. So. I walked into the reception area, signed some papers, moved onto the waiting room area and spotted only one available seat. I sat down, took out my phone to look like I have something to do, and then it happened; the lady to my left turned toward me and started to stare.
I looked at her, I smiled, thinking that she just wanted to say Hi, but no. She just kept on staring. I said, "HI!". She smiled back, and kept staring! Now I'm thinking, great, the freakin' prunes I had this morning are stuck in my teeth. Or maybe I have a coffee mustache. Whatever it is, maybe if I mind my own business, she will look away. Aha, right.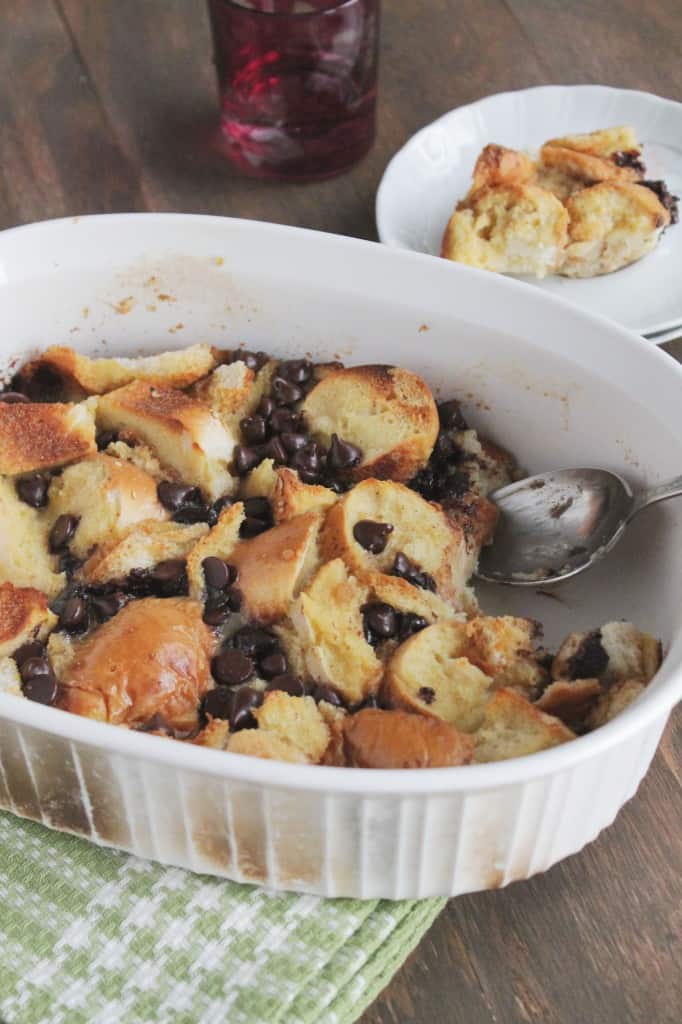 Then the next thing happened… She started talking. Oh my bejesus, she didn't stop! Talking about her kids, and the one that was on the way, her job, her husband, her in-laws…
Really? Is this what you want to share with strangers? If she was fishing for sympathy, epathy, and all other athys that exist, I could have maybe helped, but this lady? NO. She just wanted to talk, and talk…
Look, it's all good that you want to get it all off your chest, but I don't know you. And quite frankly, do you think that anybody cares about how you want to drop kick your husband and his mom? Don't we all?!?
I have to say, I have never been so excited to hear my name called by the nurse that's about to do my annual exam. But, before I left, I advised her to start a Blog because it is totally acceptable to dish it out on a blog. 😉
And about this bread pudding! Don't ever let me catch you throwing away stale bread! If it's stale, you need to turn to this recipe… It is that awesome. It is all that you think it is. Chocolate and cinnamon. The best marriage of all.
ENJOY!
Chocolate Cinnamon Bread Pudding
Chocolate and cinnamon spice up this bread pudding recipe.
Ingredients
6

cups

cubed stale bread

1/2

cup

chocolate chips

2

cups

milk

3

eggs

1

tablespoon

ground cinnamon

1/2

cup

packed light brown sugar

1

teaspoon

pure vanilla extract

Whipped Cream

(optional)
Instructions
Preheat oven to 350.

Place the bread cubs in a greased 2-quart baking dish.

Add the chocolate chips over the bread cubes.

In a medium-sized mixing bowl whisk together the milk, eggs, cinnamon, light brown sugar, and vanilla extract.

Pour the milk mixture over the bread cubes.

Bake for 40 to 45 minutes, or until the custard is set.

Serve warm with a side of whipped cream.
Nutrition
Calories:
306
kcal
|
Carbohydrates:
47
g
|
Protein:
9
g
|
Fat:
9
g
|
Saturated Fat:
4
g
|
Cholesterol:
92
mg
|
Sodium:
227
mg
|
Potassium:
213
mg
|
Fiber:
2
g
|
Sugar:
33
g
|
Vitamin A:
285
IU
|
Calcium:
189
mg
|
Iron:
1.8
mg
|
Net Carbs:
45
g
Nutritional info is an estimate and provided as courtesy. Values may vary according to the ingredients and tools used. Please use your preferred nutritional calculator for more detailed info.