These easy Air Fryer Fish Cakes are savory and lightly sweet on the inside and crispy on the outside! They're made with tender white fish, fresh cilantro, and sweet chili sauce and cook up sizzlingly perfect in the air fryer.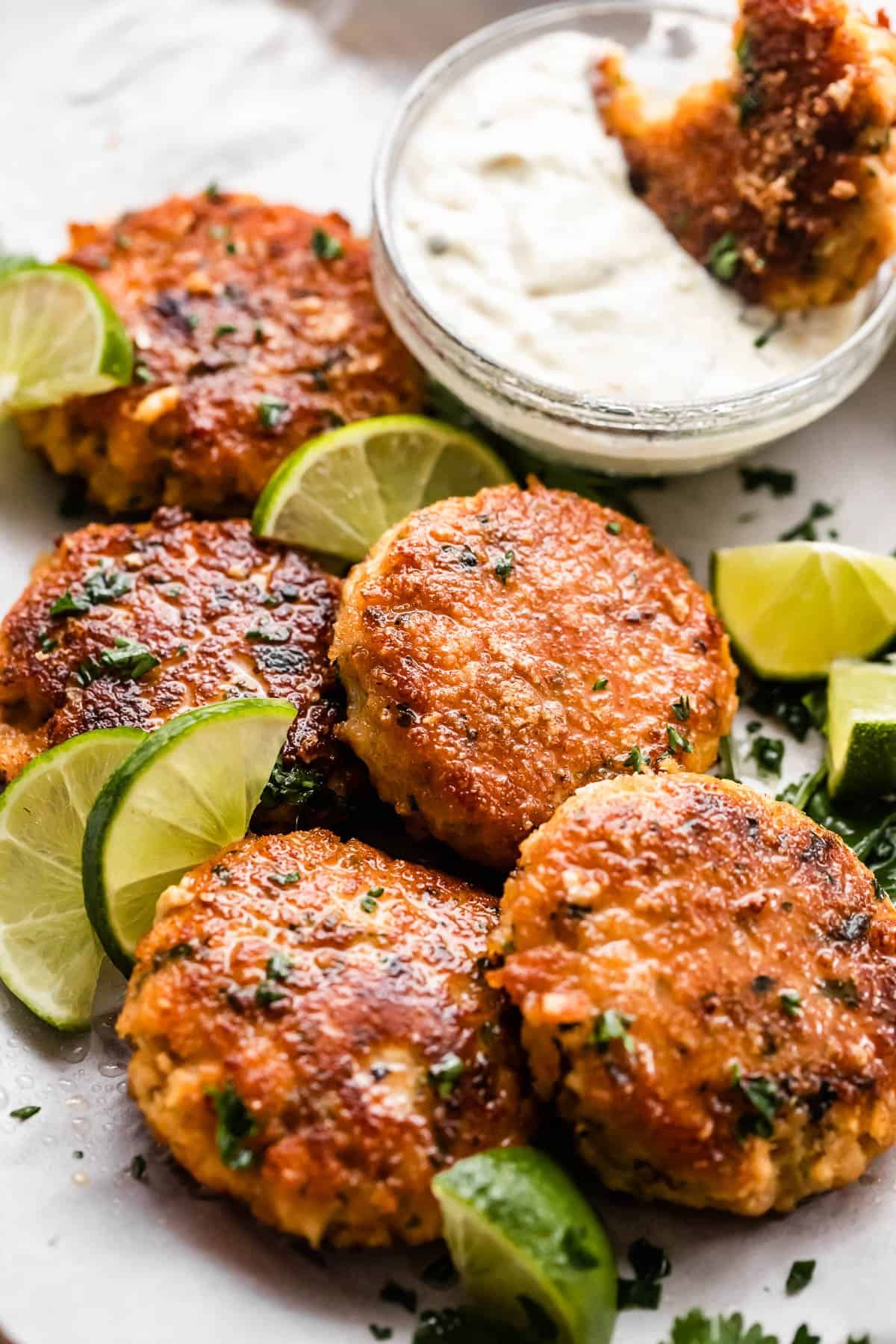 Quick & Easy Air Fryer Fish Cakes
As you all know, I am a huge fan of all things seafood. From calamari to tilapia, salmon to shellfish, the amazing flavors and nutrition in seafood just make me happy! Sometimes, I channel that love into making the perfect lobster or some awesome fish and chips. Other times, it's a simple recipe like these beautiful fish cakes made quick and easy in the air fryer!
My secret ingredient for making the best fish cakes is sweet chili sauce. As much as I love Old Bay and other classic seasonings, I find that the gentle tangy kick of sweet chili sauce goes amazingly in a white fish cake, adding tons of flavor and a little bit of moisture to the golden-brown, crispy patties. These super easy fish cakes make a fantastic appetizer with any dipping sauce that you like. You could also use them to make seafood burgers or sliders, on sweet rolls or buns, with a little bit of lettuce and tomato.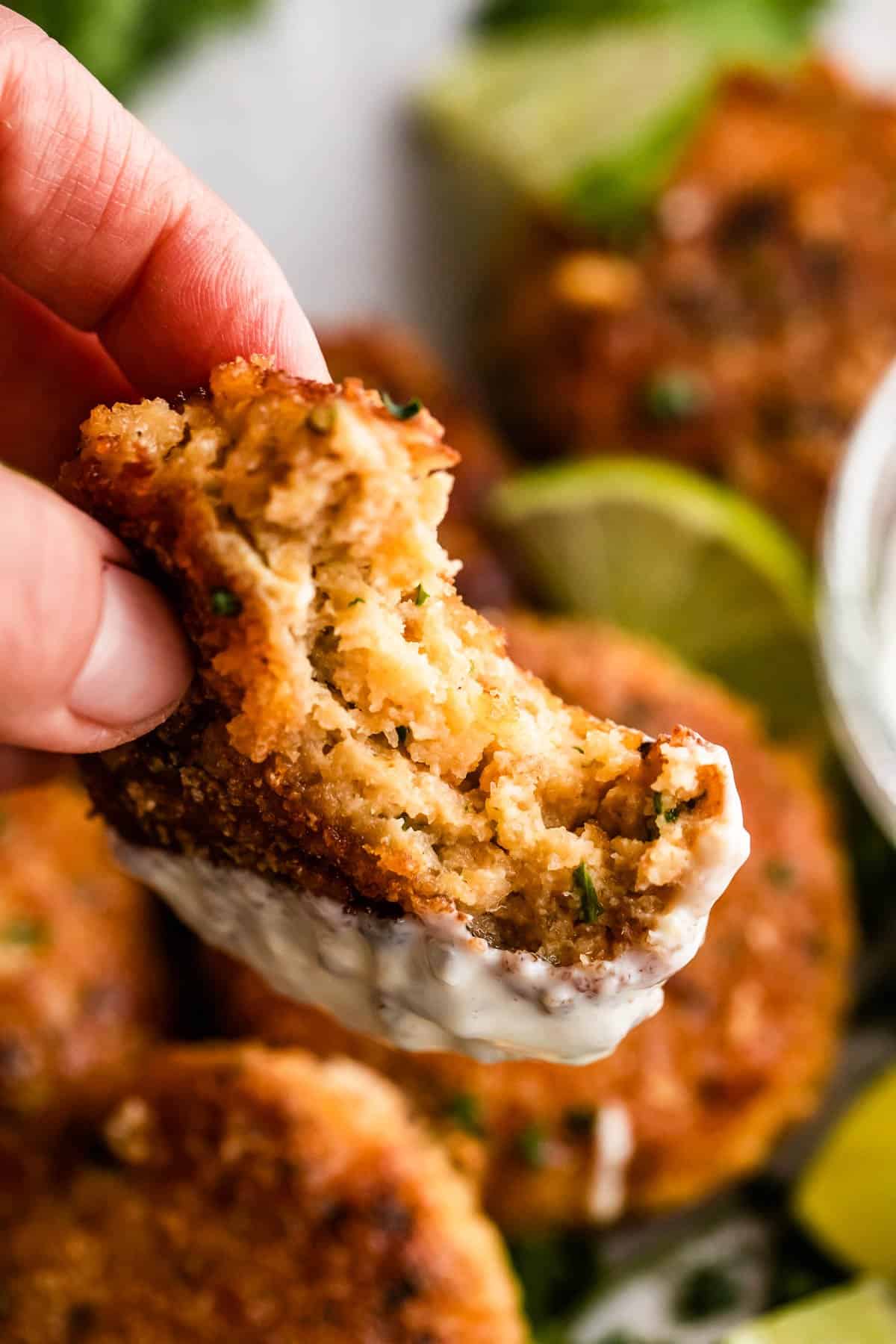 Ingredients For Fish Cakes
Since these air fryer fish cakes get so much flavor from the sweet chili sauce, mayonnaise, and cilantro, there's no need to chop up onions or mince garlic here. That makes this recipe extra easy!
White Fish Fillets: Cod fillets work nicely in fish cakes, but any white fish fillets are fine.
Panko: Pork rind panko are my go-to, and keeps the dish low-carb, but regular panko can be used as well.
Cilantro: Finely chopped fresh cilantro adds a much-needed fresh, zingy herbal note. Don't like cilantro? No problem! Chives, parsley, or dill are good options, too!
Sweet Chili Sauce: This ingredient makes fish cakes so amazingly delicious! Just a little spicy with a lovely tangy sweetness, it's the perfect partner for savory white fish.
Mayonnaise: To help bind the mixture, add a dollop of your favorite mayonnaise.
Egg: One whole egg also helps the patties hold their shape, and adds texture and richness.
Salt and Pepper
Lime Wedges: For serving.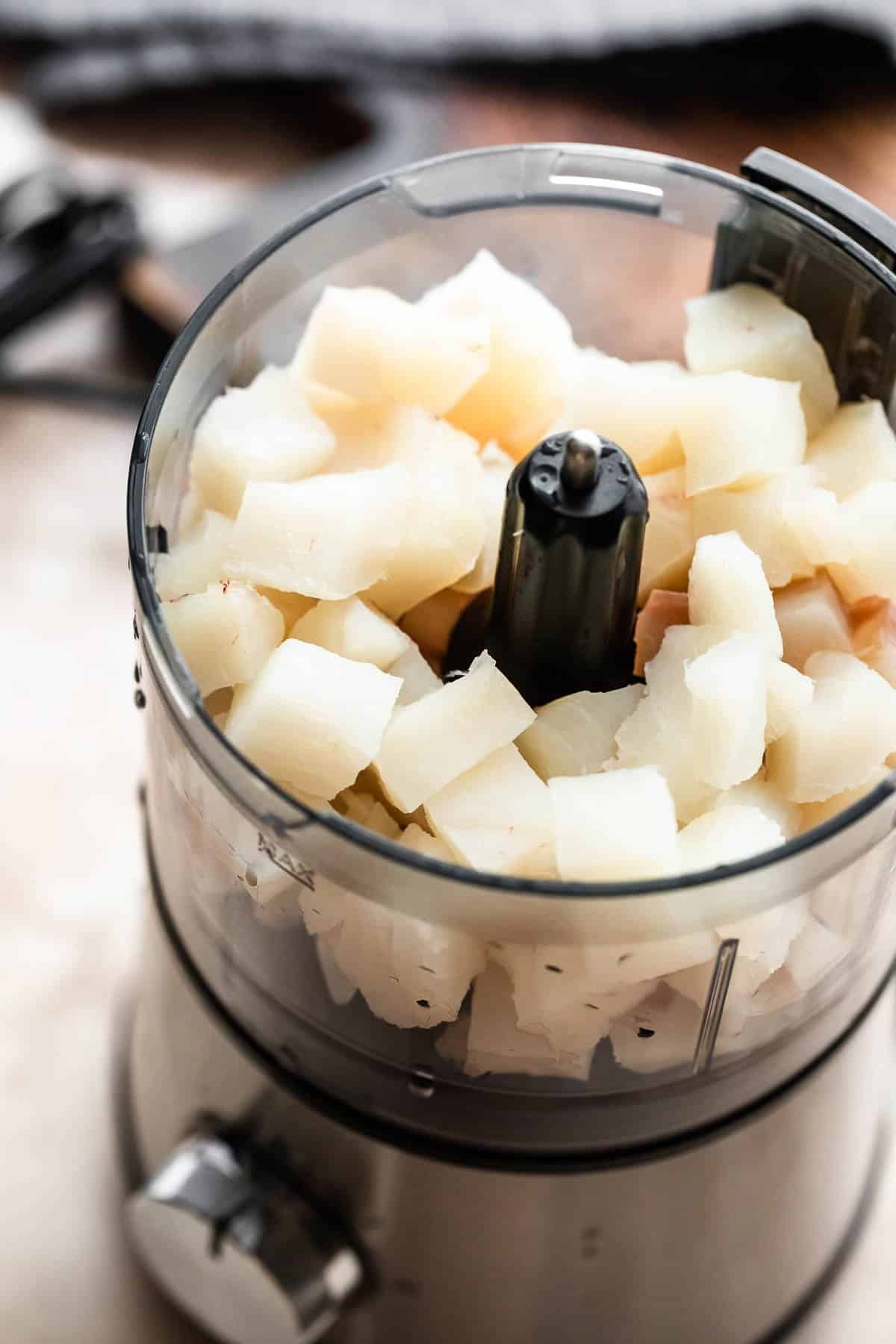 How to Make Air Fryer Fish Cakes
It is super simple to pull this easy recipe together! Keep in mind that it makes four patties, so if you'd like leftovers or want to feed a bigger group, double the recipe and budget enough time to cook two batches.
Prep the Air Fryer and Basket. Before you start making the fish cakes, preheat the Air Fryer to 400˚F, and grease the basket with non-aerosol cooking oil spray.
Make the Fish Cake Patties. In a medium-sized bowl, combine the chopped white fish, the Panko crumbs, the cilantro, chili sauce, mayonnaise, egg, salt, and pepper. Stir everything together until well incorporated. Divide and shape the mixture into four patties or cakes.
Air-Fry the Patties. Place the patties in the air fryer basket, and spritz them with the cooking spray. Place the basket in the air fryer, and cook them for 5 minutes. Then flip over the fish cakes, grease with cooking spray again, and cook for 4 to 5 more minutes.
Enjoy! When the fish cakes are golden-brown on both sides, remove them from the air fryer basket, and serve the fish cakes warm, with lime wedges.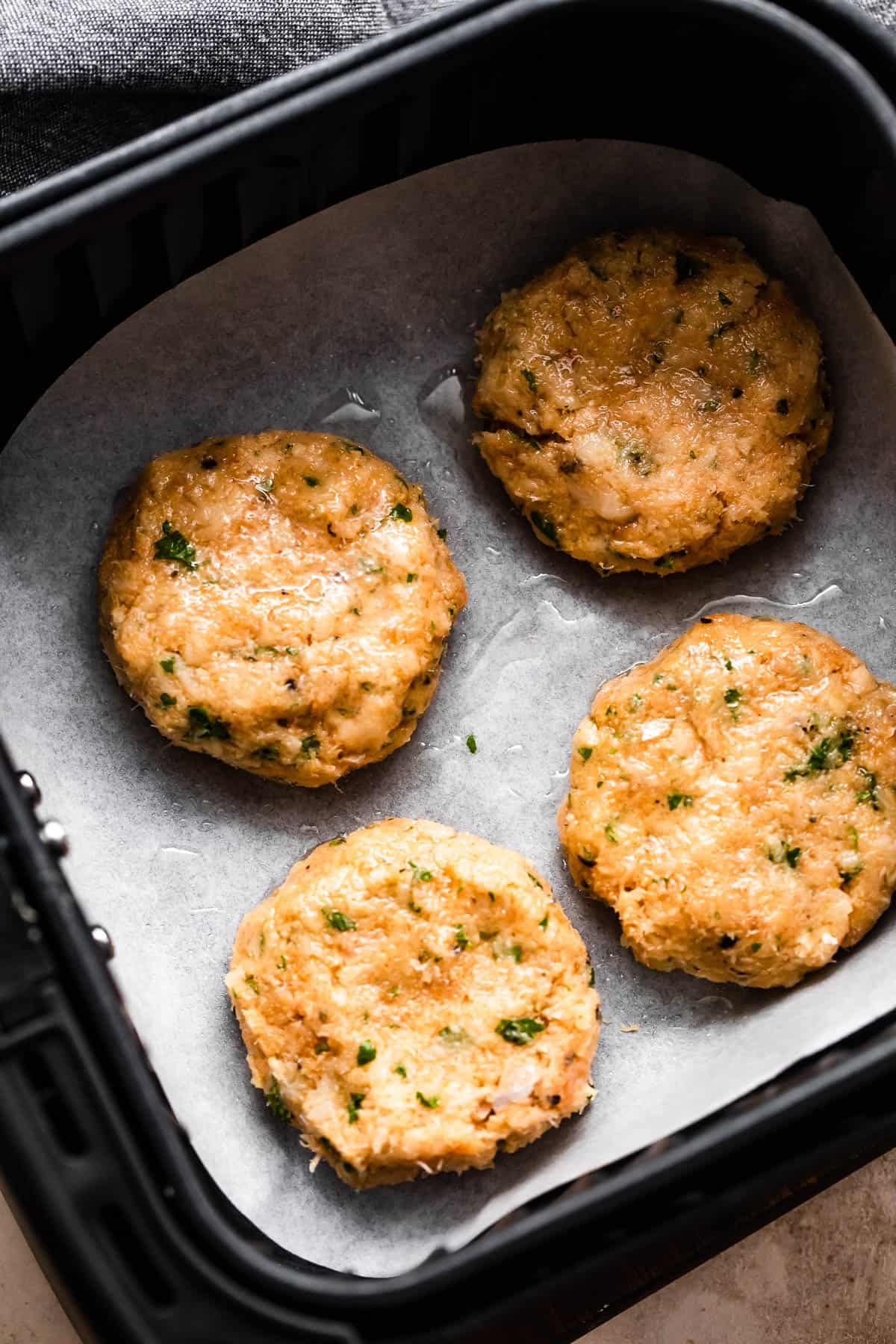 Tips for Making Air Fryer Fish Cakes
Substituting fish? Concerned about sogginess? Never fear—here are my top three tips for making the best fish cakes ever! These helpful hints will ensure a crispy, satisfying result. Bon appetit!
Use Firm Fish: While any white fish roll will work, it's best to avoid very delicate or flaky fish like whiting and flounder. A sturdy fish cooks up better in a fish cake without smushing or falling apart.
Substitute Salmon: If you don't have fish fillets, you can also make this recipe with canned salmon. Just make sure you pick out the larger bones and the skin.
Chopping The Fish: If you don't have a food processor, chop the fish with a knife until finely minced.
Avoid Soggy Fish Cakes: If the mixture seems wet once you have mixed it, try adding extra panko to soak up some of the liquid. A soggy mixture will make the cooked fish cakes soggy, as well.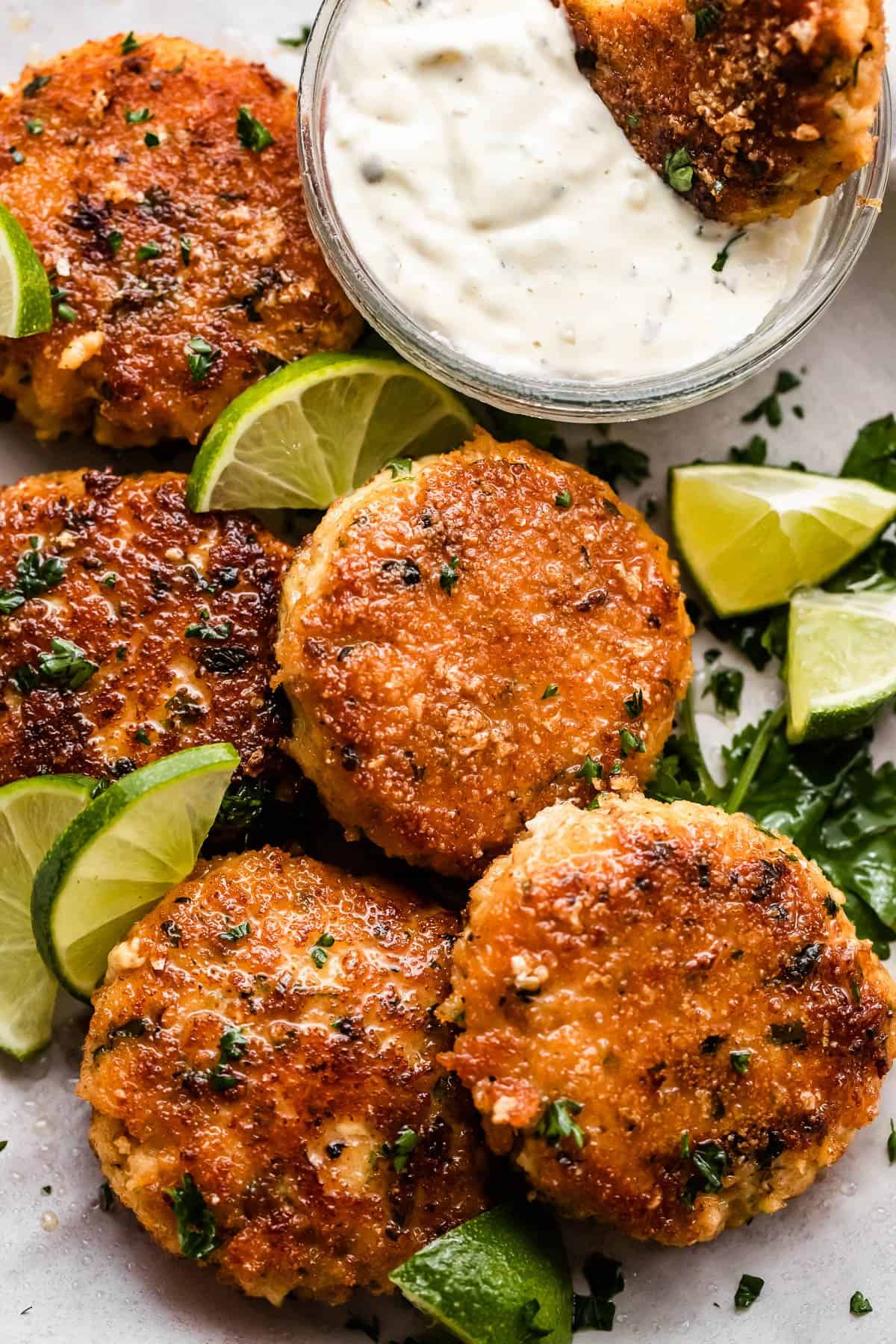 What Goes with Fish Cakes?
I like to serve these easy fish cakes as an appetizer with a simple aioli, cocktail sauce, or more sweet chili sauce for dipping. However, to make them a meal, try serving them with one (or more, or all!) of these tasty sides!
Sweet Potato Wedges: These addictively delicious Sweet Potato Wedges are crispy on the outside, steamy on the inside, and perfectly seasoned with garlic and herbs.
Cucumber Salad: The delicate Asian-inspired crunch of Sesame Cucumber Salad goes beautifully with the sweet chili notes in these fresh hot fish cakes.
Broccolini: The perfect skillet side dish, bright green Easy Garlic Broccolini turns out crisp-tender, with a light lemon twist.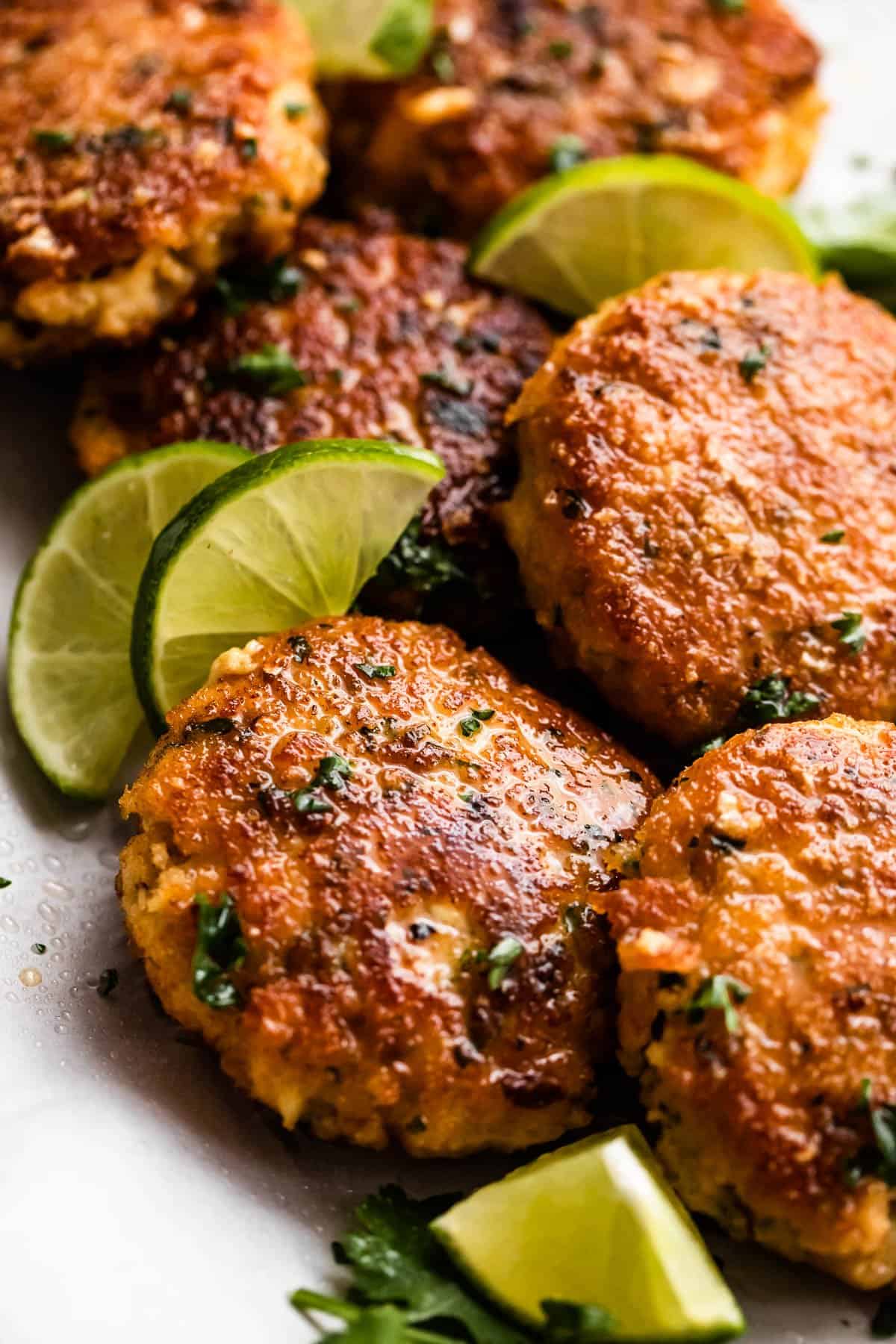 How to Store and Reheat Fish Leftovers
To refrigerate, store leftover fish cakes in airtight containers in the fridge for up to 3 days.
To reheat, place fish cakes on a cookie sheet lined with parchment, and bake at 400˚F until heated through. You could also briefly air-fry at 400˚F until heated through.
To freeze fish cakes, I recommend freezing them uncooked and then frying them on the day you plan to eat them. Place the shaped patties on a parchment-lined tray or cookie sheet and place them in the freezer until they are frozen solid. Then, stack in airtight containers, with parchment or wax paper between the patties to prevent sticking. Freeze for up to 4 months. You won't have to thaw them before frying but increase the frying time to 6 or 7 minutes per side.
ENJOY!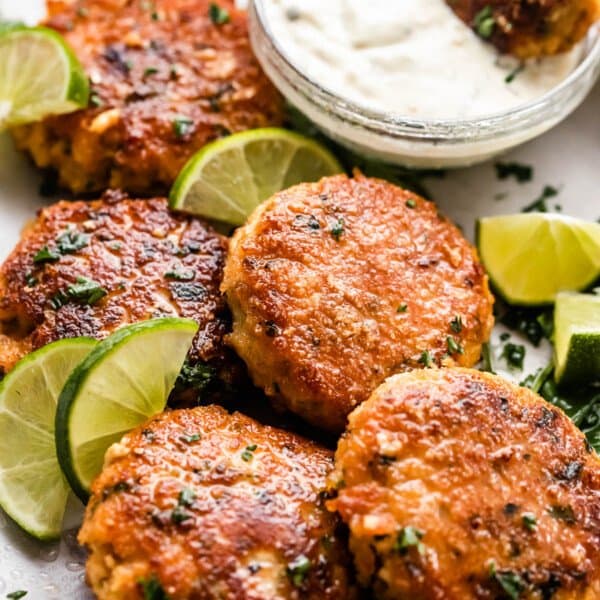 Air Fryer Fish Cakes
Crispy and golden, these easy Air Fryer Fish Cakes are savory and lightly sweet on the inside, made with tender white fish, fresh cilantro, and sweet chili sauce.
Ingredients
12

ounces

cod fillets,

or any other firm white fish, coarsely chopped

⅔

cup

pork rind panko crumbs,

you can also use regular breadcrumbs

2

tablespoons

finely chopped fresh cilantro

2

tablespoons

sweet chili sauce

2

tablespoons

mayonnaise

1

egg

¼

teaspoon

salt,

or to taste

¼

teaspoon

fresh ground black pepper,

or to taste

Lime wedges,

for serving
Instructions
Preheat air fryer to 400˚F.

Grease the basket of the air fryer with non-aerosol cooking spray, or line it with parchment paper.

Transfer the chopped fish to a food processor and process until crumbly. (see notes below)

In a bowl combine the crumbled fish, pork rind crumbs, cilantro, chili sauce, mayo, egg, salt, and pepper; stir until well incorporated.

Shape the mixture into four patties.

Place the patties in the air fryer basket and coat them with cooking spray.

Cook for 5 minutes; flip over the fish cakes, spray with cooking spray, and continue to cook for 4 to 5 more minutes, or until golden brown and crispy.

Remove from air fryer basket.

Serve fish cakes with lime wedges.
Notes
Preheat the Air Fryer: Always preheat your air fryer for at least a few minutes before adding the fish cakes. This ensures even cooking.
Manual Chopping: If you don't have a food processor, finely mince the fish using a knife.
Avoid Overcrowding: Place fish cakes in a single layer without them touching to allow proper air circulation and ensure they cook evenly.
Oil Spray: Lightly spray both sides of the fish cakes with cooking spray or brush them with a thin layer of oil. This promotes a golden and crispy exterior.
Regular Flipping: Halfway through cooking, gently flip the fish cakes to ensure they brown evenly on both sides.
Temperature Check: Fish cakes should be cooked to an internal temperature of 145°F (63°C). Use a meat thermometer to check.
Cooking Time: Depending on the thickness and size of your fish cakes, cooking times can vary. Start with the recommended time and add additional minutes if necessary.
Post-Cooking Rest: Let the fish cakes sit for a minute or two after cooking. This allows them to firm up slightly, making them easier to handle.
Nutrition
Serving:
4
ounces
|
Calories:
176
kcal
|
Carbohydrates:
4
g
|
Protein:
20
g
|
Fat:
8
g
|
Saturated Fat:
2
g
|
Polyunsaturated Fat:
4
g
|
Monounsaturated Fat:
2
g
|
Trans Fat:
1
g
|
Cholesterol:
85
mg
|
Sodium:
422
mg
|
Potassium:
371
mg
|
Fiber:
1
g
|
Sugar:
4
g
|
Vitamin A:
114
IU
|
Vitamin C:
1
mg
|
Calcium:
23
mg
|
Iron:
1
mg
Nutritional info is an estimate and provided as courtesy. Values may vary according to the ingredients and tools used. Please use your preferred nutritional calculator for more detailed info.
Categories:
More Easy Fish Recipes