This post is sponsored by STAR Fine Foods, maker of awesome Olive Oils, Vinegars, glazes, capers, anchovies, onions, and the list goes ON and ON! Thank YOU, friends, for supporting the brands that make Diethood possible!
One Pot Lemon Garlic Chicken and Veggies – Tender, garlicky, seared chicken thighs baked with sweet peppers, onions and tomatoes.



Lemon Garlic Chicken – music to my ears. I WISH you could smell THIS! We're eating so, so much deliciousness up in hurr.
Hey Hey, buddies! Guess where I'm at?! MACEDONIA! I feel so lucky to be here. In the words of Melissa Gorga, Thank You, JESUS!
I wish I could promise you TONS of pictures when I get back, but I'll be honest with you… I am really bad about documenting my travels. I'm also the worst travel-photographer. I forget to bring my camera with me, or if I do bring it with me, I find myself way too involved in everything around me that I completely forget about snapping a picture. I feel like I'll miss something so super important while I'm trying to prep for that kodak-moment. Besides, my camera is mostly meant to take pictures of the food I make, so that's that. #truth #foodbloggerslife
Speaking of. Question for you. Does it matter that I still don't have a photo-print of our 3 year old? Is that like really bad? I mean, we have thousands of pics in our Dropbox and on 2 external drives, but we have YET to develop – is that still the word used for print-pictures ??? – a single photo of her. AND most of them were taken with a phone!! Oh my gosh. She is going to hate us, isn't she?
I just had an AHA moment… Note taken! This is definitely a good time to start using my camera for things other than food.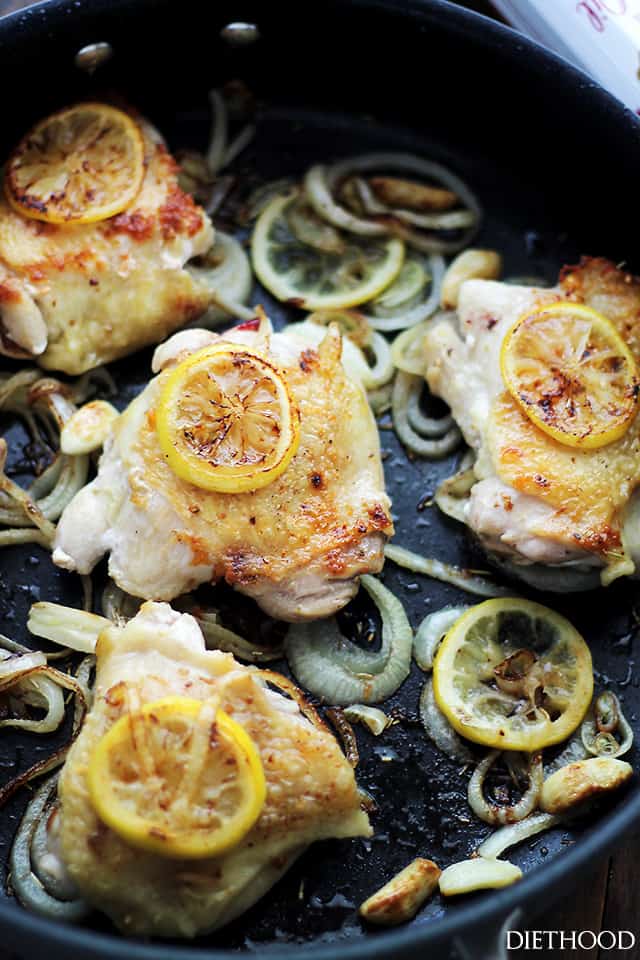 But, since we're here for the food, this one-pot wonder will make your belly sing because, what makes chicken thighs 500 times better than they already are?! GARLIC!
Here's what though. Normally, to get all that garlic flavor we all crave, I would have to use at least 10 garlic cloves, but I found a way around that.
Meet my friend, STAR's Roasted Garlic Oil. This little guy right here adds so much flavor, that it honestly took me by surprise. I used about 4 garlic cloves in this recipe and that was plenty. The Garlic Oil took care of the rest.
I also have to brag about the rest. The sweet peppers, especially. Oh my! SO GOOD! I buy those bags of mini sweet peppers all the time and almost always throw them in a pan for a quick sear. They add an amazing flavor to everything, as well as extra texture. Then again, I'm a little nutty over pan-seared veggies which is why I added a couple more friends, tomatoes and onions.
I originally had a fabulous vegetarian, summery recipe planned for today, but I couldn't go one more day without sharing this. I couldn't let you go one more day without knowing about Roasted Garlic Oil with Chicken Thighs. MMM. MMM. SO GOOD!
Please make it today and let me know if you loved it!
I'm off to hang out at the nearest cafe and drink all the Nescafes and Frappes and Macchiatos that I can get my hands on. Coffee-drinking and coffee-conversation-ing is like a sport out here, and that makes me really, really happy!
For more information on STAR Fine Foods Products, please check them out on Facebook,Twitter,and Pinterest.
STAR's Roasted Garlic Oil Savemart, select Walmart stores and online at http://bit.ly/StarGarlicEVOO.
ENJOY!
Craving more? Sign up for the DIETHOOD Newsletter for fresh and new content delivered to your inbox!
Follow Diethood on Facebook, Twitter, Pinterest and Instagram for all of the latest recipes and updates.
One Pot Lemon-Garlic Chicken and Veggies
Tender, garlicky, seared chicken thighs baked with sweet peppers, onions and tomatoes.
Ingredients
3

tablespoons

+ 1 teaspoon STAR Roasted Garlic Oil

, divided

6

bone-in chicken thighs

salt and freshly ground pepper

, to taste

4

garlic cloves

, smashed

1

large yellow onion

, thinly sliced

8

to 10 mini sweet peppers

1

cup

grape tomatoes

, halved

1

lemon

, thinly sliced, seeds discarded

2

tablespoons

chopped fresh parsley

, plus more for garnish

salt and fresh ground pepper

, to taste

Juice of 1 lemon
Instructions
Preheat oven to 350F.

Heat the garlic oil in a large oven-safe skillet over medium-high heat.

Add chicken, season with salt and pepper and sear for 5 minutes, or until golden brown.

Add the smashed garlic cloves to the pan and flip the thighs over; continue to cook for 3 minutes, or until garlic is a little browned.

Remove chicken and garlic from skillet and set aside.

Place skillet over medium-high heat and heat 1 teaspoon garlic oil.

Add onions to skillet and cook for 2 minutes.

Add peppers, tomatoes, lemon slices and fresh parsley.

Season with salt and pepper and continue to cook for 5 minutes, or until onions are tender.

Arrange the chicken skin-side-up over the vegetable mixture.

Add the smashed garlic and pour lemon juice over the chicken.

Bake for 45 minutes, or until internal temperature of chicken reaches 165F.

Remove from oven and let stand few minutes.

Serve.
Nutrition
Calories:
448
kcal
|
Carbohydrates:
15
g
|
Protein:
25
g
|
Fat:
31
g
|
Saturated Fat:
7
g
|
Cholesterol:
141
mg
|
Sodium:
121
mg
|
Potassium:
756
mg
|
Fiber:
4
g
|
Sugar:
8
g
|
Vitamin A:
5400
IU
|
Vitamin C:
219.3
mg
|
Calcium:
39
mg
|
Iron:
2
mg
|
Net Carbs:
11
g
Nutritional info is an estimate and provided as courtesy. Values may vary according to the ingredients and tools used. Please use your preferred nutritional calculator for more detailed info.
Categories:
SIMILAR RECIPES
ONE POT LEMON CHICKEN AND POTATOES