Chocolate Crackers: No butter, no sugar, Chocolate Crackers made with just a few basic ingredients, including olive oil and cocoa powder.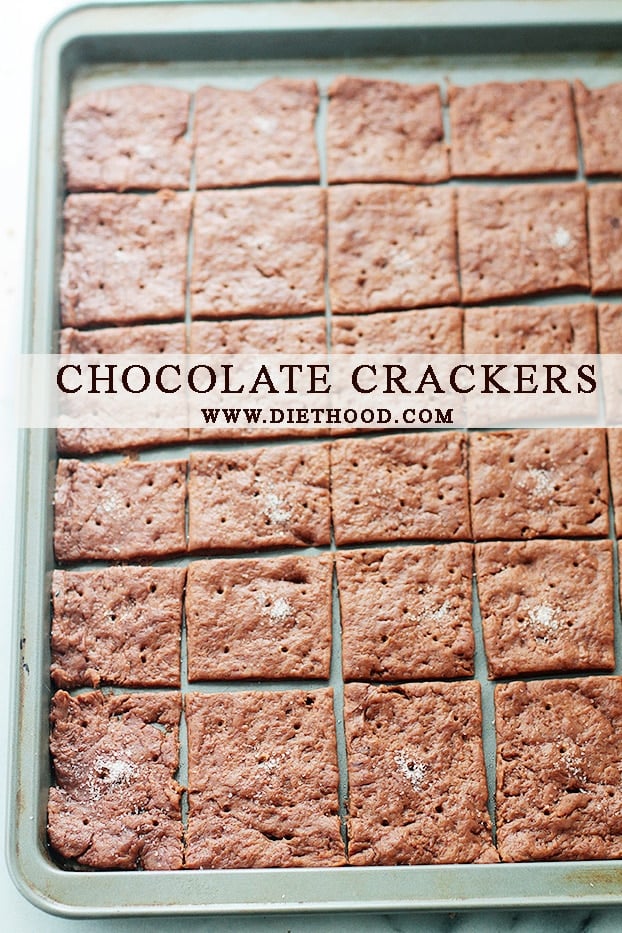 It's crackers, chocolate-fied.
By the wayz, Happy Friday!
You know, I'm really NOT into celebrity-gossip things – I don't even know most of the new ones in that HollyHood place – buuuuuut, since I DO know OF Angie and Brad, I have to say I was pretty happy to hear that they're finally married! Yay!
Why does this matter to me?! Umm, honestly? I dunno. Really, it has no affect on my life what.so.ever.
Nevertheless, I am happy for them. So that's that. I had to get it off my chest.
Also? Kendall Jenner dropped her last name for her carreer. Ugh. What.EVER.
Then there's that bit about Britney catching her boyfriend with another woman…
AND! The "Friends" reunion on Kimmel is EVERYTHING!
I watch TMZ once in a while…
Despite all that, in an ever-changing world, you can always find some familiarity and consolation in chocolate.
Remember that one time, like a few years ago, when I posted this recipe for Rosemary and Garlic Crackers? Them things have become one of the more popular recipes on zee bloggy. I don't blame you for clicking over to get that recipe. They are the best, most flavorful homemade crackers on the planet of EVER. Many 'a times I make them for myself, and myself, only.
Other times, I load 'em up with good ol' cocoa powder and go to town! Or go to my couch…
Exactly how many chocolate crackers I can stuff into my mouth all at once remains a secret.
But, here's what I want you to know about these crackers; they are pretty amazing. And why are they amazing?? Because. It's chocolate 'n stuff. And because you only need olive oil and a bit of salt and flour to get 'er done.
Also, the few sprinkles of raw sugar on top, or sea salt, make the experience that much better.
Make 'em this weekend – you only need 25 minutes, from start to finish.
ENJOY!
Chocolate Crackers
No butter, no sugar, Chocolate Crackers made with just a few basic ingredients, including olive oil and cocoa powder.
Ingredients
2

cups

flour

1

teaspoon

baking powder

1/4

cup

cocoa powder

(I use Ghirardelli's)

pinch of salt

2/3

cup

warm water

1/3

cup

olive oil
Instructions
Preheat oven to 400.

Grease two baking sheets (13x9-inches) with cooking spray and set aside.

In a large mixing bowl combine flour, baking powder, cocoa powder and salt.

Combine water and olive oil in a separate bowl; whisk together until combined.

Add oil mixture to the flour mixture.

Using a wooden spoon, stir it all together until you get a smooth ball of dough.

Cut the dough in half; cover one of the dough pieces with a kitchen towel and set aside.

Take the other dough-ball and, using your hands and fingers, flatten the dough on the bottom of one of the previously prepared baking sheets. Get the dough as flat and as thin as possible. I find that using a tall glass as a rolling pin works best.

Take the other dough-ball and repeat the process, pressing the dough on the bottom of the second baking sheet.

Sprinkle with either sea salt or raw sugar.

Using a pizza cutter, cut the dough into squares.

Bake for 12 minutes.

Remove from oven and let cool completely in baking sheets.

Serve.
Notes
RECIPE SOURCE: DIETHOOD
I find it best to bake the crackers one baking sheet at a time.
For a sweeter taste, add a tablespoon of honey to the dough. The dough will be sticky - flour your hands and/or the rolling pin.
The crackers get crunchier as they sit longer. I like them best the day after.
Nutrition
Calories:
26
kcal
|
Carbohydrates:
3
g
|
Protein:
0
g
|
Fat:
1
g
|
Saturated Fat:
0
g
|
Cholesterol:
0
mg
|
Sodium:
0
mg
|
Potassium:
16
mg
|
Fiber:
0
g
|
Sugar:
0
g
|
Calcium:
4
mg
|
Iron:
0.3
mg
|
Net Carbs:
3
g
Nutritional info is an estimate and provided as courtesy. Values may vary according to the ingredients and tools used. Please use your preferred nutritional calculator for more detailed info.
Chocolate Peanut Butter Banana S'mores